Harry Potter and the Soft Openings
The exact opening date of the Wizarding World of Harry Potter – Diagon Alley has been all over the place as of late, and for good reason: there's been delays, construction hang-ups, and other assorted craziness that happens on a project of this scale, making predictions a little on the impossible side.
(A quick sidebar while we're on the subject: we previously reported that one of the major snafus affecting the pace of progress on the Hogwarts Express was an incorrect installation of brickwork in King's Cross Station. One of our most reliable sources has put the kibosh on that rumor, advising us that the real reason both train stations had lagged behind for so long was due simply to the exacting level of detail that both J.K. Rowling and Warner Bros. are demanding out of all of Diagon Alley. In any case, it's all back on track [no pun intended].)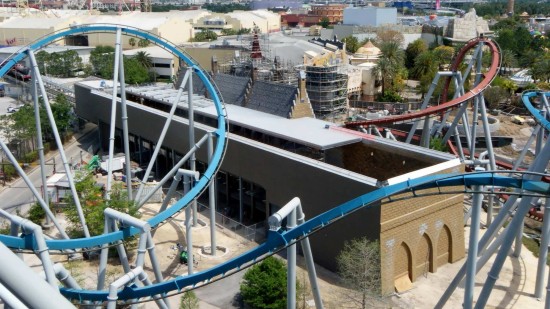 Things have been going so well recently, actually, that it's time to put worrying about the release date behind us, and, as of today, we're officially kicking off our watch for Diagon Alley soft openings. (What? You don't know what a soft opening is? We'll provide an explanation in just a moment.)
We feel confident doing this because our network of Bothan spies – no, none died in the smuggling of the information, thank you very much – have gotten us enough intel to allow us to provide our dear readers with this handy, dandy chart showing the likelihood, in percentages, of soft openings happening each week, beginning on May 4 (hence our Star Wars reference) and going all the way 'til the last week of June:
Our predictions have been removed from this post to avoid confusion.
The most up-to-date predictions can be found on our main Diagon Alley article.
From what we've been told, it looks as if each of these soft openings will be limited, possibly to select visitors, on-site hotel guests, and/or Team Members, or some combination thereof – not unlike the first Wizarding World. Whatever pool of candidates Universal will ultimately draw from, it's almost always first come, first serve, so you better get your Quidditch World Cup tents ready to start camping out.
Our Bothans being Bothans, they went above the call of duty and also provided enough information for us to give you the likelihood of Diagon Alley being officially opened to the general public, using the same calendar:
Our predictions have been removed from this post to avoid confusion.
The most up-to-date predictions can be found on our main Diagon Alley article.
The reader may deduce from these numbers that, yes, we are back to anticipating a Diagon Alley grand opening sometime during the last two weeks of June.
While we're very confident in these projections, please remember that they are subject to change. I'm sure you already know that Orlando Informer is not an official representative of Universal Orlando Resort – we're an independent, unaffiliated resource for guests visiting the parks – so we can't guarantee anything. You make your travel plans at your own risk. That being said, Rumor Round-Up was the first to name Cowfish Sushi Burger Bar as the replacement for the upstairs Starbucks at CityWalk months before Universal announced it, and we were the first to provide you with the name of Diagon Alley's star attraction, Harry Potter and the Escape from Gringotts – so we're getting pretty good at this.
What is a soft opening?
A soft opening, referred to by the parks as a technical rehearsal, is an opportunity for Universal Team Members to become fully trained in running attractions in a live environment. Soft openings happen before an attraction (or group of attractions, in this case) officially open, and their schedule is never announced or published by the parks. In addition, there is no guarantee that attractions will be running to their full potential, or even running at all.
By their very nature, soft openings are sporadic: they can be for 10 minutes, two hours, or the full day. When they first start happening, they usually begin during the last few operating hours of each day, and then slowly expand from there, day by day.
How can I be among the first to hear that Diagon Alley has soft opened?
Not to toot our own horn, but the truth is, because of the popularity of our site and the extent of Universal information available to our readers for free, we have dozens of fans visiting Universal Studios Florida and Islands of Adventure each day (we love you, fans!). While we hope to be present the very first time Diagon Alley soft opens for the general public, we're certain at least a few of our fans will be – they'll let us know, and then we'll let you know instantly via Twitter. We'll also post updates on our site and elsewhere, but the very first news will come via Twitter.
#DiagonAlley soft openings, King Kong's secrets, and @UniversalORL's new ride (literally) http://t.co/Cj5LfmMH9W pic.twitter.com/3mb79X3AGt — Orlando Informer (@OrlandoInformer) April 11, 2014
Quick hits: Universal's next five years will "blow your mind"
In their zealous quest for information, our sources not only uncovered intel for the next several weeks, they also dug up some pretty hefty bombshells for the next several years.  Unfortunately, we can't share all of it with you right now – there was something about the possibility of Comcast hit squads being deployed – but we're more than happy to share a few choice morsels to gnaw on while waiting in line for Diagon Alley technical rehearsals.
2016: in case you didn't already know, King Kong will be making his triumphant return in the form of Skull Island in Islands of Adventure. Word from our sources not only corroborates nearly all of the original ride details that were leaked three months ago by others, it also goes one step further to make mention of a projection tunnel that your ride vehicle will venture down, presumably in the climax that features Kong on the rampage.
2016/2017: with the addition of a killer new water park and a fifth on-site hotel – both of which may be connected, incidentally – word has now sprung up that Universal is currently R&Ding a Disney-like monorail system to connect all three parks, all five resorts (yes, even Cabana Bay Beach Resort), and CityWalk. In one fell stroke, Universal would be mitigating the major drawback of its new properties – their distance from everything else – and coming that much closer to being on Disney's own level (save for the 12,000 acres in difference between their two sizes, of course).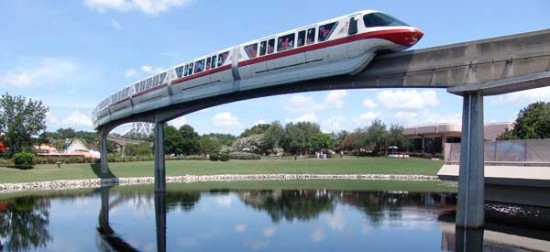 2020: the last of Universal's "crazy" projects will have finished construction and be opened to guests, literally changing the face of Universal Orlando Resort. Some of these enterprises are so top-secret right now, only the vaguest of hints are being whispered, and then only in the shadows. You want our best (public) guess as of this moment? Let's say four parks total, with somewhere around six or seven hotels/timeshare complexes, that include whole swaths of rides, attractions, and restaurants that are entirely, built-from-the-ground-up new.
How's that to get your heart pumping and your tongue wagging?
Keep the conversation going!
Agree or disagree with the latest intel? Think we forgot something juicy? Want to offer your own take on the wildest rumors?
Well, then, join us at the brand-new OI Forums and tell us – in fact, we've got a great new poll we'd love you to vote in.
What's more, we're celebrating our Grand Opening all throughout the month of April – meet our community and enter for your chance to win one of three $100 Universal gift cards! Here's the grand opening announcement.
NOTE FROM THE EDITOR
Orlando Informer will be viewed over 10 million times in 2014, and among those viewers are some folks with pretty strong connections to Universal Orlando. As they contact us with insider intel, we collect their information and combine it with our own research to produce our weekly Rumor Round-Up. When information comes to us directly, we cite "our sources"; when information comes from outside our network, we always cite it as such and provide links to the original source. This is our 107th rumor post, and we're proud to have provided our readers with compelling stories as we share our thoughts and actively promote dozens of other websites.
Despite the excitement that can come with covering rumors, we ask our readers to be ever-mindful that, unless explicitly stated as fact, everything we cover here must be considered a rumor and unofficial. If you're ever confused by what is what, we invite you to join us for free in the OI Forums, where you can ask our vacation planning community for clarification and seek advice for anything else regarding your plans to visit Orlando.
Get your questions answered in the OI Forums
View all of our Rumor Round-Ups
[sws_author_bio user="msunyata@yahoo.com" size="105″ authorposts="More OI posts by Marc" name_format="About the author"] [/sws_author_bio]