It isn't just with park-connecting rides and compelling merchandising opportunities that Universal plans on expounding upon the Wizarding World of Harry Potter formula that it nearly perfected four years ago – there are a whole slew of other methods, both incredibly big and microscopically small, that will help transport you more fully into Harry's wondrous world. When taken together, they create one of the most highly detailed and thoroughly immersive environments anywhere on the planet.
Care to take them out for an early spin? Thanks to the likes of Jim Hill, Parkscope, and Central Florida Top 5 – along with some of our own inside sources – you can do just that right now.
Atmospherics
The streets of Hogsmeade, with their constant swirl of scenery, motion, and music, are already nearly pitch-perfect, but Universal Creative is looking to up the ante by deploying a whole swath of additional little touches around nearly every corner – and Diagon Alley is going to have a lot of corners.
The single most pervasive element guests will be enveloped in is sound, which will be used to not only help sell the hustling, bustling nature of the new Wizarding World, but also its sheer verticality; speakers will be placed all along the area's numerous five- and six-story-tall buildings and will offer a barrage of different "scenes" that will constantly play throughout the course of the day.
When first entering Diagon Alley, for instance, various witches' and wizards' conversations – along with their sometimes-backfiring magical spells – can be heard above and to the rear of you, where the Leaky Cauldron's "inn" is located. At Carkitt Market's public conveniences, the ever-popular WWN radio station drifts down from an open window. And a series of trains – which may or may not be meant to be the Hogwarts Express – crisscross overhead at a regular interval.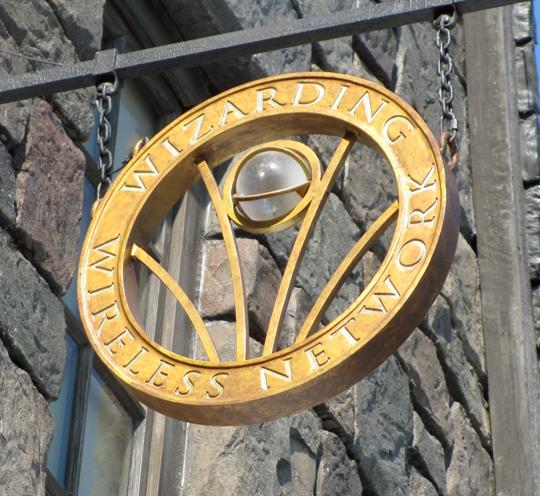 And then there's the series of storefronts that line the area's four(!) alleyways, which will put the limited movement seen in Hogsmeade's displays to shame. The best example we've been able to pin down thus far is Markus Scarr's tattoo shop in Knockturn Alley, which will feature fully animated tattoos that dance around for guests' delight (or horror – whichever the case may be).
Food
Let's be honest: for as much fun as eating (or just sipping on a frozen butterbeer) at Three Broomsticks is, the food often leaves much to be desired. It seems that the Leaky Cauldron is going to rectify that, offering a lineup – including bangers and mash, steak-and-ale pies, and apple red currant tarts – that looks to be both authentic and actually good.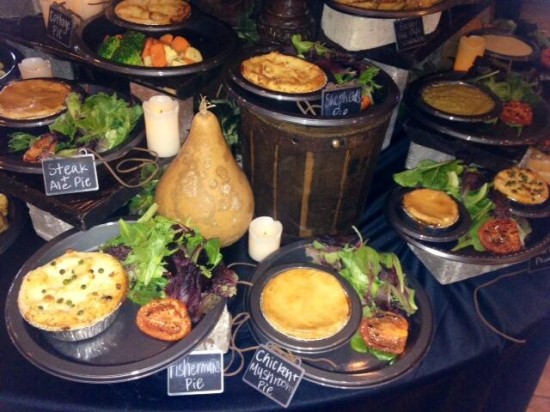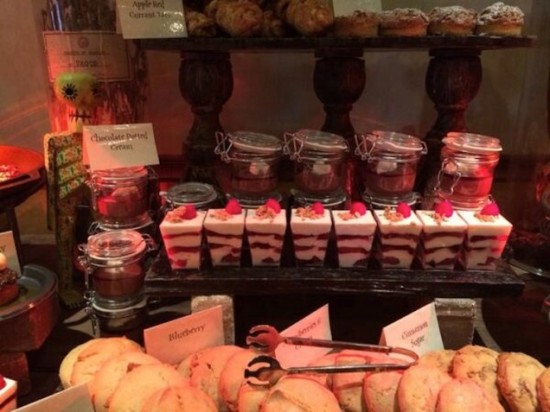 But Universal, of course, isn't stopping there. Florean Fortescue's Ice-Cream Parlor, which we already know will serve at least 20 unique flavors in soft-serve form, has gotten its culinary offerings expanded: in addition to offering hard-packed versions of all of its ice cream delights, it'll also be serving breakfast foods in the mornings. Although we have no confirmation, either officially or unofficially, of what will be on tap, one can expect a similar approach to the Leaky Cauldron: take Three Broomsticks' breakfast offerings and expand upon them.
And, lastly, Muggle London will also be getting in on the action. In what has to be one of the single coolest flourishes that Universal, Warner Bros, and J.K. Rowling have cooked up (no pun intended), Cabman's shelters are being erected at either end of the waterfront section. Have no idea what that is? Don't worry – most people outside of London don't, and Urban 75 is here to help you out.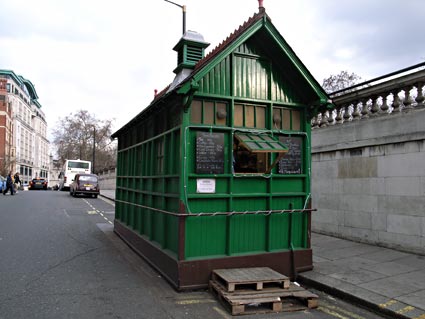 The drivers of hackney carriages (taxies) weren't allowed to leave their vehicles while on the clock, so the Earl of Shaftesbury headed a philanthropic effort called the Cabman's Shelter Fund to create the very first drive-through food stops, offering "good and wholesome refreshments at moderate prices." But because they were located on public highways, the police stipulated that they weren't allowed to be any larger than a horse and cart. Still, 61 of these shelters were erected between 1875 and 1914 – and now two more are headed to Universal Studios Florida, where they're going to be turned into "sausage-focused" food carts.
Thirteen Cabmen's shelters are still standing all throughout London, and Urban 75 has a listing, if you care to visit them first. Just be aware that the 19th century rules strictly prohibiting gambling, drinking, and swearing might still be enforced.
Easter eggs
This is where Universal – and Jo Rowling herself – is apparently having the most fun. While still adhering to the author's ironclad edict that no other actor ever portray the characters from the films, along with Daniel Radcliffe's aversion to ever donning his school robes again, the company has found several interesting (and entertaining!) workarounds to put Harry right next to you.
On the Hogwarts Express, the fabled trio of Harry Potter, Ron Weasley, and Hermione Granger will already be seated in their compartment, and while you won't be able to actually see them – their door will be shut and the curtains drawn – you'll certainly be able to hear them talking furiously away. And once you're seated in your own cabin and the train has already begun its trek, you'll similarly hear the Food Trolley Witch asking her "dears" if they'd like any sweets.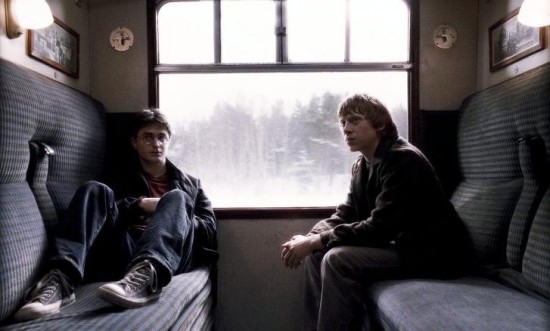 But the main actors aren't the only ones who will be represented in the new Wizarding World. Kreacher, Sirius Black's house-elf, will occasionally pop his ugly little head out from behind the curtains of one of 12 Grimmauld Place's windows on the London waterfront. In front of the building, the Knight Bus's shrunken talking heads will be interacting with the wizard attendant, who will, in turn, talk and pose for pictures with guests. (Visitors can also peer inside the bus, which will be lavishly decorated with props and other little touches.) And, as previously reported, Mr. Ollivander himself will be making an appearance in the pre-show at the newly expanded Ollivander's Wand Shop.
Finally, the coolest Easter egg of them all has actually nothing to do with either the characters or the actors who portray them: a certain telephone box that just so happens to double as the secret (public) entrance to the Ministry of Magic will be installed off to the side on the waterfront. If guests wish to brave what will most likely be an unbelievably long line to get inside, they can dial M-A-G-I-C to activate a secret.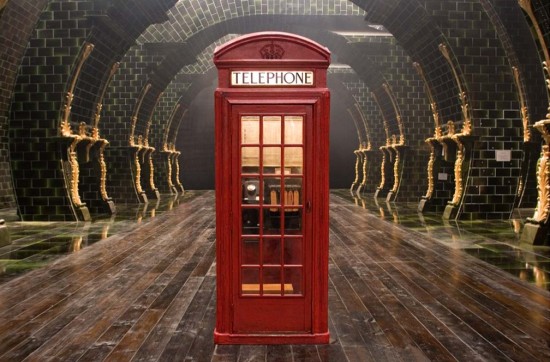 To keep learning about the incredible Harry Potter expansion at Universal Orlando, visit our main Diagon Alley page in the OI Universal Center, which includes our latest speculation regarding the soft opening schedule and a grand opening date.
NOTE FROM THE EDITOR
Orlando Informer will be viewed over 10 million times in 2014, and among those viewers are some folks with pretty strong connections to Universal Orlando. As they contact us with insider intel, we collect their information and combine it with our own research to produce our weekly Rumor Round-Up. When information comes to us directly, we cite "our sources"; when information comes from outside our network, we always cite it as such and provide links to the original source. This is our 109th rumor post, and we're proud to have provided our readers with compelling stories as we share our thoughts and actively promote dozens of other websites.
Despite the excitement that can come with covering rumors, we ask our readers to be ever-mindful that, unless explicitly stated as fact, everything we cover here must be considered a rumor and unofficial. If you're ever confused by what is what, we invite you to join us for free in the OI Forums, where you can ask our vacation planning community for clarification and seek advice for anything else regarding your plans to visit Orlando.
Get your questions answered in the OI Forums
View all of our Rumor Round-Ups
[sws_author_bio user="msunyata@yahoo.com" size="105″ authorposts="More OI posts by Marc" name_format="About the author"] [/sws_author_bio]