Magic Kingdom: Seven Dwarfs Mine Train opens May 28
The lovable world of Sleepy, Doc, Grumpy, Bashful, Sneezy, Happy and Dopey comes excitingly to life starting May 28, 2014 when the Seven Dwarfs Mine Train takes New Fantasyland guests on a rollicking, musical adventure into the mine "where a million diamonds shine."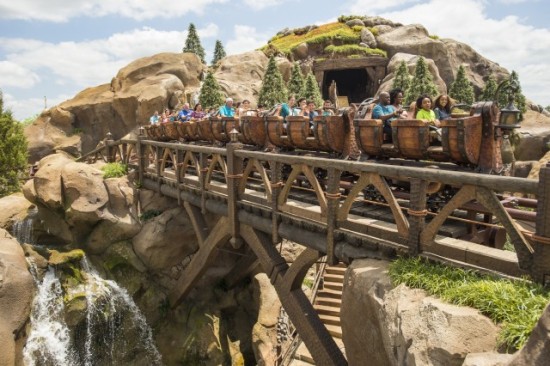 The "crowning jewel" of New Fantasyland, the Seven Dwarfs Mine Train represents the completion of the largest expansion in Magic Kingdom history. The family-style coaster features first-of-its-kind ride vehicles that swing back and forth during the ride. Adding to the fun, the journey will be accompanied by music from the film classic and scenes filled with Snow White, the Seven Dwarfs and playful forest critters.
Attention to Detail
Inspired by the Disney animated film classic "Snow White and the Seven Dwarfs," the story begins as guests cross a stone bridge and walk through a beautiful forest with the Dwarfs' cottage in the distance. Then, they step into the attraction entrance and into the timeless story of the radiant and kindhearted Snow White and her forest friends led by the lovable Dwarfs.
When designing the cottage, Walt Disney Imagineers referenced the film in order to plan details as intricate as the color combination of roof shingles, the slope of the roof's eaves, the shape of a lantern, and especially the etched woodland creatures that decorate the house. Props – including lanterns, ropes, pulleys and buckets of shiny jewels – were inspired by items found in the mine scenes of the film. According to Walt Disney Imagineering, jewels appear throughout the mine in four different sizes and in six different colors: red, green, amber, purple, blue and clear.
[youtube_video]ZFBeZqZcU_c[/youtube_video]
After passing through an interactive pre-show area with fun activities themed to mining – such as washing and sorting gems, see in the video above – guests will proceed to the mine train. Picks, shovels, barrels and hoists are scattered throughout the queue tunnel and at the load-in area.
"Rocks" 'n' Roll
Guests board the specially-designed mine cars and launch into their journey through the mine. Each "train" consists of five mine cars, which seat four guests each. The individual mine cars are designed to reflect similar vehicles that appear in the film, hand-made of wood by the Dwarfs, shaped by an axe, and used to haul rocks and jewels.
As guests twist and turn through the mine, the cars rock back and forth, adding an extra family-friendly thrill element. Riders tour through the cavernous mine's winding track – jutting outside to climb and dip through the wooded landscape, and then re-entering the mine at different points in the attraction.
[youtube_video]vMw6lLJWIgA[/youtube_video]
As with any classic Disney "dark ride," the Seven Dwarfs Mine Train features spectacular Audio-Animatronics – with cars slowing down so guests can spot favorite characters making an appearance in different scenes.
Note: FastPass+ reservations are now open for Seven Dwarfs Mine Train.
Disney's Hollywood Studios: Star Wars Weekends
The power of the Force returns to Disney's Hollywood Studios for five consecutive weekends (every Friday, Saturday and Sunday) from May 16 to June 15, 2014 for the park's annual Star Wars Weekends.
Guests will enjoy a galactic event jam-packed with out-of-this-universe entertainment and their favorite Disney's Hollywood Studios attractions. More than 60 characters from the Star Wars saga appear in the theme park, and each evening will end with "Symphony in the Stars," a special pyrotechnics salute to the films. Also adding to the fun, two new character dining options celebrating the Star Wars saga will be available to guests for breakfast and dinner.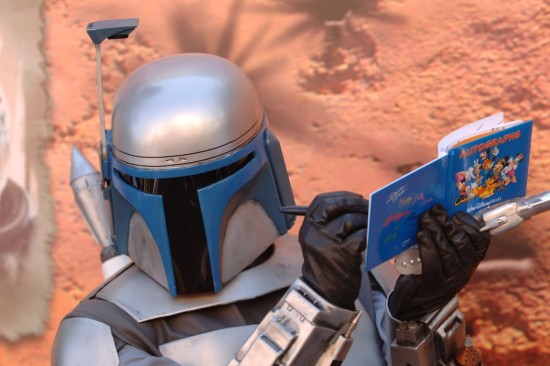 Continuing the galactic experience, Star Wars celebrities will make special appearances in star conversations, autograph sessions and photo opportunities throughout each day. Also a highlight: the "Legends of the Force" parade, which features a cavalcade of Star Wars characters, Disney characters and more parading down Hollywood Blvd. Fans also get the chance to purchase limited-edition and event-exclusive items in "Darth's Mall."
Most Star Wars Weekends activities are included in regular admission to Disney's Hollywood Studios. For more information and the latest updates, guests can visit DisneyTheForce.com or StarWars.com.
New Experiences at Epcot invite guests to sample, sip & stay longer
IllumiNations Sparkling Dessert Party
The magic doesn't end once the sun sets during the 21st Epcot International Flower & Garden Festival. A new after-dark experience gives guests one more taste of World Showcase excitement like never before.
After a day of blooms and bulbs, the IllumiNations Sparkling Dessert Party bursts with color in the sky, and bubbles in the glass. Guests can sample decadent desserts from around the world, paired with the perfect international sparkling wines in an intimate and exclusive environment – all while watching Epcot's nightly fireworks spectacular, IllumiNations: Reflections of Earth.
Menus at the various Epcot pavilions include: Italy: Tiramisu, France: Vanilla Pot de Crème, United Kingdom: Shortbread Cookies, Morocco: Traditional Baklava, American Adventure: Sugar Dusted Cronis with Strawberry Sauce and Whipped Cream, Disney Parks ice cream novelties, Lemonade, coffee, teas, Sparkling wine from Washington State and Prosecco from Italy. (Menus subject to change)
Guests can book the experience by calling 407-WDW-PLAY or by visiting Disneyworld.disney.go.com/destinations/epcot for more information.
Epcot After Hours Wind Down
Walt Disney World Resort guests can now sample and savor flavors from around the world after the nightly finale with the Epcot After Hours Wind Down, an intimate experience at one of four authentic and exclusive lounges. Award-winning Epcot Chefs and Sommeliers pair a beverage flight with cultural cuisine.
Guests can book the experience, which is featured weekly Thursday through Sunday from 9:20 to 11:00pm, at Disneyworld.com/Spring. Locations include: La Cava del Tequila (Mexico), Spice Road Table (Morocco), Tutto Gusto Wine Cellar (Italy), Rose & Crown Pub (United Kingdom)
The menu includes a selection of appetizers and one beverage flight (cash bar option available to purchase additional beverages) and the price is $35 per person/per location (tax and gratuity not included, must be at least 21 to attend).
Disney wants you to 'Rock Your Disney Side' with 24-hour event
Disney Parks guests are invited to show their "Disney Side" and kick off summer during a bi-coastal, all-night extravaganza — "Rock Your Disney Side: 24-Hours." Taking place this Memorial Day Weekend, known as the traditional start of the family travel season, the event at Walt Disney World Resort in Florida and Disneyland Resort in California features select parks for 24 hours nonstop.
Magic Kingdom in Florida and Disneyland Park and Disney California Adventure in California will be filled with great Disney heroes and villains from 6:00am, May 23 to 6:00am., May 24, 2014, local time, marking the beginning of a summer of fun at Disney Parks. The celebration on both coasts will feature a cavalcade of events showcasing the good-versus-evil of classic Disney stories including character meet-and-greets throughout the parks, special entertainment, event merchandise, and food and beverage offerings. Along with the entertainment guests have grown to love every day, they'll discover surprise additions and special events throughout the 24 hours.
To keep reading about Disney, visit WaltDisneyWorld.com or check out the WDW archive on the OI Blog.