Our site is the world's most popular independent guide to Universal Orlando Resort — comprehensive, obsessively updated & completely free — and used by more than 300,000 unique site visitors each month. That's why we are so excited to provide our readers with a much-sought-after site feature: real guest reviews of the attractions and restaurants at Universal Orlando!
After a successful launch of this new feature last summer, and with the over 400 submissions sent in during this past weekend as part of our Review & Win contest, we are now proud to host well over a thousand of our readers' reviews in the OI Universal Center.
In this post we will highlight some of our favorites from the new batch collected this past weekend, and if you wrote one of the first three listed, you've won a prize!
Three IMPORTANT notes: All the links in this post will open in a new window for your convenience; please remember that guest reviews may contain spoilers; and the images and videos that appear below have been added by us.
The Incredible Hulk Coaster
First Time Thrill Ride | Submitted by Kevin
When visiting Islands of Adventure in 2012 with my family, I remember telling my wife, "there is not a chance in the world I'd ever go on that thing." I always had some fear of roller coasters and the whole concept of being shot of a cannon to start the ride made me say "no way" even more. Just watching from the ground, you can see how fast it is moving when it hits the pinnacle and hear the screams of the riders. The size of loops and turns make Hulk just look imposing.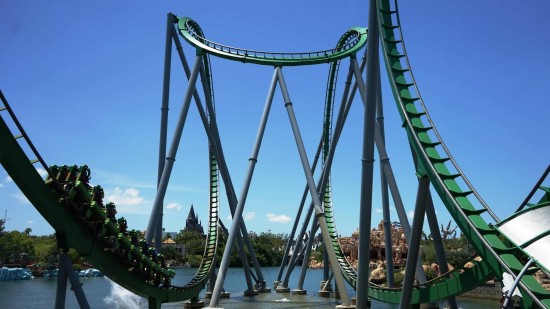 Jump ahead two years and my wife and I visited Universal three weeks after the sudden passing of a close friend. I realized during that trip that life is too short to be afraid of things without trying them, so I made up my mind that I was going on this coaster. Before this ride, I had only rode one coaster (then dueling dragons – now Dragon challenge) in my life and had my eyes closed the whole time! So I consider this my first-ever true coaster ride.
We had express passes so we zipped through the line quickly. I will say that the line to ride in the front of the car was substantially longer than the rest of the lines.
Once you're loaded up into the car, you have about all of five seconds tops before the ride kicks into gear and launches you to to the top. It's literally, slow, slow, slow, goodbye! Honestly, this was fun for me since I realized I'd get more nervous the slower the ride would go.
Looking at the size of the turns, loops and corkscrews from the ground, I was thinking it would've been a rougher ride than it was. I thought that the ride was incredibly smooth. For as high and as fast as it goes, I don't really feel like it was jerking at all. I kept my eyes open the entire time and am glad I did, while it's not as high as Rip Rockit or Dr. Doom, the views are still pretty solid.
I had such a blast riding this on day one, that when my wife had a small headache on day three, I rode it on my own and it was even better the second time around.
Don't let the imposing size and the starting launch of this ride make you afraid of it. It lives up to its incredible name.
Learn more about this attraction or share your own review
Congratulations, Kevin, your review was our top pick in our Review & Win contest — you've won a $100 Universal gift card from Orlando Informer! Please visit the inbox of the email you used when submitting this review and look for a message from us.
Storm Force Accelatron
A smile is worth a thousand twirls | Submitted by Mary
It was late in the afternoon, we'd ridden The Hulk, Spiderman, Forbidden Journey etc several times. Our feet were tired and we still wanted to ride something but weren't keen on walking around the park one more time It was later in the day and the line was pretty short. As we watched the riders ahead of us on the ride, I noticed not just the kids but the adults were all smiling and laughing like this was the most fun they had all day and no one looked ready to hurl. Ok, well I still wasn't expecting much having ridden these "tea cup" style rides many times before. However, when we got on and starting to spin, we couldn't keep the smiles away!
[youtube_video]OUPb6F0yiBc[/youtube_video]
This ride seems to spin a little faster and has a giggle factor that we didn't get on any other rides! We were laughing, smiling, giggling, and not hurling at all! It may not be The Hulk, but when you need a smile, this is it at IOA!
Learn more about this attraction or share your own review
Congratulations, Mary, your review was our second place pick in our Review & Win contest — you've won a $50 Universal gift card from Orlando Informer! Please visit the inbox of the email you used when submitting this review and look for a message from us.
Green Eggs & Ham Cafe
I do not like green eggs and ham | Submitted by Ty Miller
I had lunch at the Green Eggs and Ham Cafe on May 14, 2013. My order consisted of the Green Eggs and Ham Sandwich, Fries and a Chocolate Chip Cookie. Here is my review of that lunch.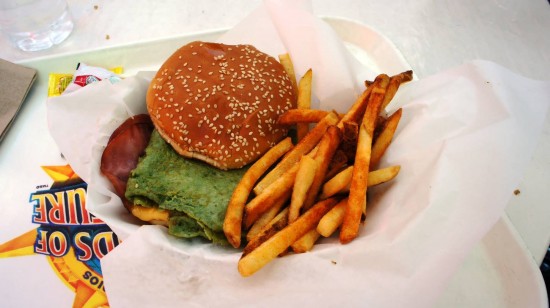 I will tell you no lies, I loved the Fries,
not a bit of grease, on any one piece.
And oh lookie, what a huge Cookie,
I did much savor, the wonderful flavor.
But the ham, I will slam,
it was just as tough, as leather stuff.
And the eggs, were the dregs,
they had a bad taste, so into the waste.
I do not like them,
Sam-I-am.
I do not like
green eggs and ham.
Learn more about this venue or share your own review
Congratulations, Ty, your review was our third place pick in our Review & Win contest — you've won a $50 Universal gift card from Orlando Informer! Please visit the inbox of the email you used when submitting this review and look for a message from us.
E.T. Adventure
Oooo, That Smell! | Submitted by Jennifer Joyner
Dated and not extremely exciting.
Maybe it's because I'm a child of the 80s, but those descriptions don't stop the E.T. Adventure from being my favorite attraction out of BOTH Universal Resort theme parks.
I have ridden this ride more times than I can count, but it never gets old. As I wait in line, I can't help but think that I actually WANT to wait. Unfortunately, the sweaty tourists in line move along quickly and I have but a few minutes to enjoy my quick hike through the forest where E.T. was left behind. As the line moves along I almost break my neck to look behind and get just one more look at the contraption E.T. used to signal home.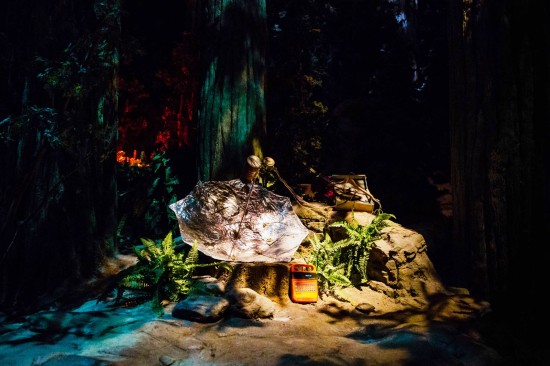 And that smell! THAT is why I don't want the queue to move! Musty, dingy, woodsy. Forget alcohol, Facebook, cigarettes, and coffee. If there is one thing I'm addicted to in life it's that intoxicating smell. That's what makes the whole experience worth while!
Finally, I reach my bicycle and hop on to help E.T. make it home. The ride is relaxing as I swoop up and down. Then, with E.T.'s help, I begin to take flight. I enjoy watching the cheesy animatronic sheriff below. His lips don't even move as he speaks and I always find myself laughing at him shouting an insincere, "WHOA!" as we fly a little to close to him. Very cheesy indeed, but I'm loving it. The highlight of the ride, though, is coming up. I look down and see how high I'm really flying. Tiny buildings and cars of a city beneath me glow in the night. I could get stuck at this point and enjoy sitting here for hours. Continuing on, I'm so high that my silhouette is cast upon the moon just like in the movie. Finally, we get a peak at E.T.'s home planet. Little funky aliens of every size serenade me as they dance on colorful flora from the Green Planet. As I sit beside my son and watch him enjoying the show I get a lump in my throat and my eyes get a bit misty.
I never know what it is that makes me emotional on this ride. Is it the ride itself or the fact that I'm able to enjoy and share something from MY childhood with my son? And as my journey comes to an end, E.T. tells me goodbye by name. Sometimes I understand him, sometimes he speaks gibberish, but all is good. I take in one last whiff of the musty air and look forward to my next adventure with E.T.
Learn more about this attraction or share your own review
Me Ship, The Olive
Hidden Play-area | Submitted by Alysha Rankin
I think this location could easily be missed with all of the hustle and bustle of Islands of Adventure. The area is mainly a play area for younger children, with different levels and buttons to press. However the attraction also allows brilliant views to be seen across the park.
[youtube_video]1O2uck6JTg0[/youtube_video]
We used this area when some of the older people in the group wanted to go on Popeye & Bluto's Bilge-Rat Barges, so the younger children went on this attraction. They were able to let of some steam and able to run around rather than being constricted to a line. The children also found it very enjoyable they could shoot people with the water cannons on the near by attractions. There are also many slides, ropes, bells and nets to play on and with to keep the young ones occupied!
Often when we have been to this area there have been little or no other people around, as many may be queuing up on the rides, this is a perfect little get away.
Learn more about this attraction or share your own review
Despicable Me Minion Mayhem
A Family Event! | Submitted by Tiffany Gentry
I grew up in Orlando and I've seen this building transformed many times. I rode it when it was still The Funtastic World of Hannah-Barbera and I rode it as Jimmy Neutron's Nicktoon blast. Although nothing can compare to the classic characters of Hannah-Barbera coming to life, this ride certainly gives it a run for its money! This ride is a blast from start to end. Fans of the film will love the attention to detail given to the queue all the way through the exit. From the drawings of Margo, Agnes, and Edith on the walls, to the shrink ray, and of course the fart gun, there is a lot to look at! The 3D simulation is fantastic as it really makes you feel as though you are a Minion in training. What I never expected out of this ride was the heart. You can tell there was a lot of love given to this ride with a call back to the sweet connection between Gru and his adoptive daughters. It always manages to get a "Aww" from its audiences.
Even when the ride is over the fun doesn't stop! Minions come out to join you in a dance party!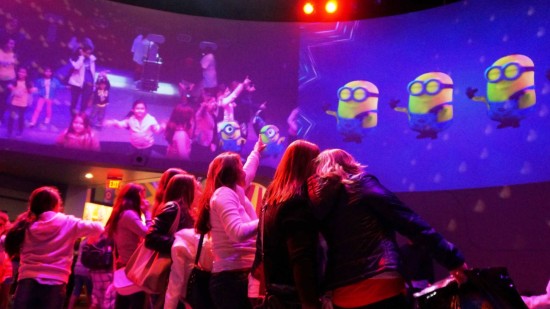 This is a true family ride, because even if you can't handle the simulator motion you can still participate. This ride is unique because it has stationary seats for anyone with medical issues or just doesn't want to ride. After a car accident last year which gave me back issues (they are now thankfully gone!) I wasn't able to ride a lot of rides with my sister who is a dare devil. This was the one of the few rides we could still do together. I was able to still enjoy the Minion Mayhem, just not with the simulator.
Of course now I'm finally able to ride the simulator, but I still won't forget how happy I was to participate with my family even if I wasn't moving. Its a great option for anyone! Don't miss this new classic!
Learn more about this attraction or share your own review
Revenge of the Mummy
Coaster for a Coaster Hater | Submitted by Anastasia
While contributing to the OI Forums, I came up with the handle CoasterHaterParkLover so you might be wondering why I ever chose to review let alone ride a roller coaster. This ride is the maximum level of coaster I can handle. In fact, every time I go on this (and I'm always down for racing through the usually abandoned lines to ride it over and over again), right before the biggest drop of the ride (just under 40ft), I think 'what the heck am I thinking?! get me off this thing!'. However, the rest of the ride is so enjoyable, I overlook it and almost black-out when getting strapped in for the next go round. Just writing about it makes my stomach jump a little…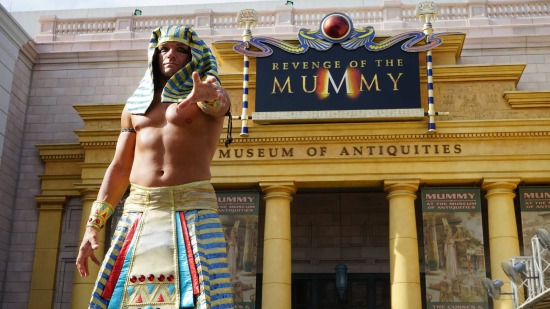 The theming is fantastic through the line too and it is so mysterious and exciting the whole time. The ride itself has a few things jump out at you and I can see how younger riders would be scared simply of the atmosphere but overall, this is the one of my favorite rides!
Learn more about this attraction or share your own review
The Simpsons Fast Food Blvd
Fabulous Doh!-Nuts and More! | Submitted by Cory Linton
We had the pleasure of experiencing this area last summer, just as it had opened and were completely blown away!
My girlfriend and I were both stoked to try the foods we had so often watched our favorite characters eat on TV for so long, so expectations were high. Fortunately, we were not disappointed.
The Krusty burger was, in my opinion, a refreshingly different taste for theme park food. This could be a result of the secret sauce used, which was fantastic. For dessert, we split a Homer-sized, pink doughnut, which reminded me of a cinnamon roll with frosting. I'm not one to usually buy sweets but this was too good to pass up. Thank God we shared it, because it was very filling and HUGE! The Buzz Cola was just OK but the food and the Simpsons ambiance of the area made up for its mediocrity.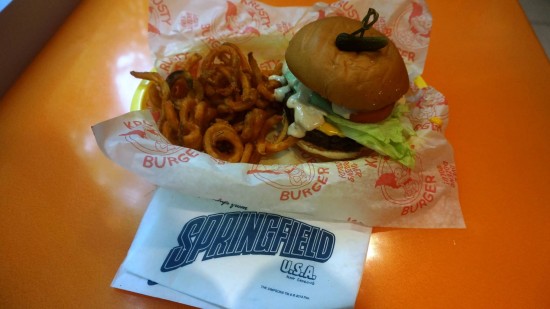 Walking into Moe's Tavern was surreal as I really did feel like I was inside the cartoon. I thoroughly enjoyed sitting at the bar and drinking a real life Duff beer.
Full disclosure… we expected to enjoy this area going in. However, it exceeded our expectations to the point where we upgraded our next day's ticket to Islands of Adventure to the Park to Park feature just so we could return and experience it once more.
I now look forward to returning this summer as the rest of Springfield is complete and will bee-line my way to the Duff Beer Garden and discover what else this area has to offer. A must-go for even the casual Simpsons fan.
Learn more about this venue or share your own review
Harry Potter and the Forbidden Journey
Astonishing! | Submitted by Veronica J
Harry Potter and the Forbidden Journey was CRAZY good! I can never get enough of this ride! Every little detail matches perfectly with the details in the movie, it's insane! As a Harry Potter fan myself, this ride seriously met past my expectations. I got tingles even listening to the music while waiting in line!
The line itself is spectacular – time goes by quicker while you're looking around at the props around the rooms – from Dumbledore's office to the Defense Against the Dark Arts classroom with Harry, Ron, and Hermione, there is so much going on, it's unbelievable! I really enjoyed this entire experience. Even the Team Members who work at this ride are wonderful – they wear the Hogwarts robes – and they really stay in character! I met a Slytherin Team Member and she was really meeting up to her role! She was great! Everyone there is so nice!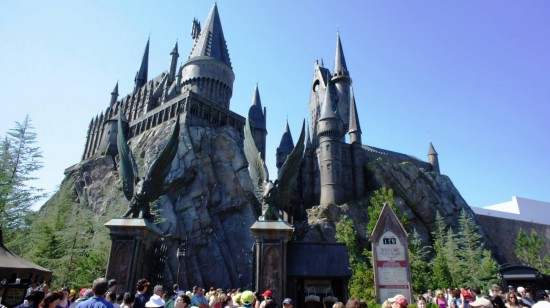 I remember the first time I rode this ride, I really wasn't into Harry Potter. However, afterwards, I was completely stunned by the experience! Now I am a HP fan and I understand the references made to the movies and books!
The only downside to Harry Potter and the Forbidden Journey is probably the locker room- where guests store their belongings and loose articles before they get on the ride. This area is a bit small in size and can get crowded, even though there are over 1000 lockers. Another issue may include that each bench only has four seats, so if you have a group with over 4 people in it, the Team Members will try to split your group up as evenly as possible.
If you plan on going on this ride for your next trip, DO IT! I know the lines can get up to high wait times – like an 100 minutes, but this is an experience worth it. If you are staying on an on-site hotel, getting to the park an hour early can really help! Or going on before the park closes! Also crowd levels can vary depending on the day and time of the week! If you are coming to Universal Studios from far away, plan well and make the most of your time! This is a ride I would definitely consider to put on your "to-do" list when you make your trip at Universal!
Learn more about this attraction or share your own review
Jurassic Park River Adventure
Perfection! | Submitted by Tara Jones
Jurassic Park River Adventure has it all. There is an impeccably themed queue that sets up the story of the ride, as well as a large ride vessel so that the line moves quickly. Then you get on your raft and the ride begins. The music swells, and those great gates swing open, and you really feel like you are in the movie. I love the gentle beginning, the tension building middle, and the terrifying end of this ride.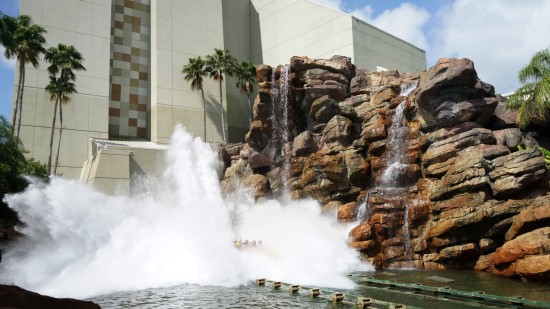 No matter how many time I ride it, that T-Rex makes me scream! You will most likely get very wet on this ride, so be prepared. Another element that I love about this ride is that the raft seats five people per row. It is rare that my family of five does not have to split up on rides, so we really like this one!
Learn more about this attraction or share your review
Thanks again to everyone who has submitted Universal attraction and restaurant reviews on our site! They help Orlando Informer become an even stronger vacation planning resource, and reviews are a fun way for all of us to experience the parks from a new perspective.
To read more reviews of the attractions and restaurants inside Universal's theme parks, or to submit your own reviews, click here.