Ahh! Summertime is knocking on Florida's door. The seasons of fall, winter, and spring are always short-lived in the Sunshine State – that's why an avid theme park goer always needs a refreshingly exciting way of cooling off from the unforgiving Florida rays. We look to the water parks of Central Florida to quench both our thrill needs and our watery wishes.
If you're familiar with the water parks here, then you know that they're open for most of the year. However, it's only during the summer months when all things – water and fun – began to kick into high gear.
To help guide you to a park that fits you, I've compiled a quick list of the water parks in Orlando. Let's discover the wild and crazy aquatic adventures that lie ahead for the mid-year solstice season.
Wet 'n Wild
One of the oldest water parks in Florida is known for having more multi-person rides than any other water park. This staple has made Wet 'n Wild a favorite among families and friends looking to share the attraction excursions together. Wet 'n Wild also has more thrill rides than many other parks in Central Florida, with a good balance for the more tamed rider.
For the bravest guests, rides such as the Storm will send you swirling into the depths of a torrential whirlpool, while Bomb Bay will have you holding on for dear life as the floor vanishes quickly from underneath your feet. For those of you braver in numbers, the best ride is Disco H2O, which takes you on the hippest trip combining soaked-filled thrills and disco tunes, leaving much more room for screaming rather than for singing.
[youtube_video]FLqQBy4sfFc[/youtube_video]
The must-do attraction for the summer is Blastaway Beach, Wet 'n Wild's newest addition that will allow the kid in you to come out and enjoy the six-story castle with two pools and over 160 interactive water features. Blastaway Beach has now given Wet 'n Wild the top claim of having Florida's largest family water play area.
The International Drive water park will also open a brand-new high-speed thrill ride called Aqua Drag Racer, which will replace the Bubba Tub this summer. The ride will have guests racing each other through twists and turns from a six-story start, ending up at a black-and-white-checkered-flag-inspired finish line.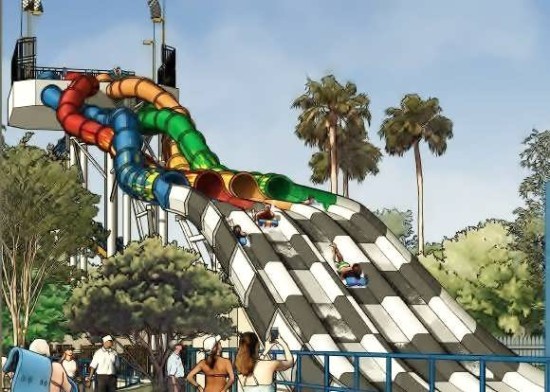 Wet 'n Wild will be offering unlimited BBQ throughout the summer (Fridays, Saturdays, and Sundays until May 24, and daily starting May 25). The selections are fresh-grilled hamburgers, pulled pork, hotdogs, BBQ chicken legs, corn on the cob, potato salad, baked beans, macaroni and cheese, fresh fruit, dessert, and ice-cold Coca-Cola drinks. The cost is $18.99 for adults and $10.99 for children (3- to 9-years-old).
Many offers are available for enjoying the daring side of Wet 'n Wild. Florida residents can enjoy a year of free visits with the purchase of one full-day ticket ($51.00 if purchased online, and $56.00 if purchased at the gate, for either adult or child). There are also group rates, afternoon discounts, and college and military discounts.
Check out the official website for a complete list of attractions, park hours, and pricing.
SeaWorld's Aquatica
Having opened in early 2008, Aquatica is Orlando's newest water park. It is an extension of SeaWorld, with lavish landscaping, colorful attractions, and beautiful sea life to bask in. This park offers something for thrill seekers, animal lovers, and lazy beach-goers.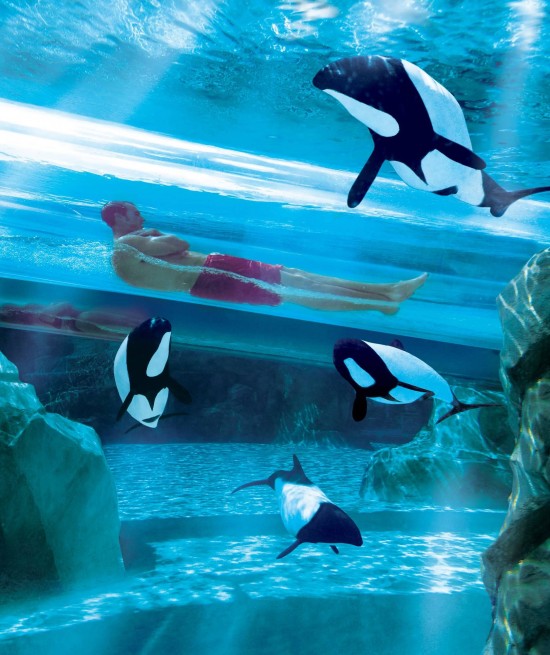 A must-do experience is the Dolphin Plunge, Aquatica's most popular ride, where you can enjoy the invigorating excitement of a high-speed watery ride alongside Commerson's Dolphins. Roa Rapids is for the less adventurous who still like a slight thrill. This attraction is like a lazy river if it swallowed three shots of espresso in less than 30 minutes.
Ihu's Breakaway Falls, opening May 9, will be Aquatica's newest attraction. This free-fall slide, which towers over the park, will be the tallest, steepest, and only multi-drop tower of its kind in Orlando. Pass Members will be able to preview the innovative ride on Wednesday, May 7, from 10:00am until 2:00pm.
[youtube_video]adcqn0-ineg[/youtube_video]
Aquatica offers the Cashless Wristband system, in which guests can put money on the band and enjoy the park without carrying cash or credit cards around. The wristbands are waterproof and can be purchased at Guest Relations.
A single-day admission price to Aquatica is $56.00 for guests over 10 years of age and $51.00 for guests 3- to 9-years-old. Check out the official website for a complete list of attractions, park hours, and pricing.
Disney's Blizzard Beach
For a wintery take on water parks, Blizzard Beach is the perfect way to cool off during the summer. What's great about this park is that you truly get wrapped up in the frosty holiday feel while still enjoying a Florida summer day.
Complete with reggae melodies and Christmas jingles playing softly in the background, this immersive experience makes Blizzard Beach Disney's most popular and most crowded water park, so arriving prior to opening hours is a must in peak season.
Summit Plummet is the most extreme ride at Blizzard Beach, reaching speeds up to 55 mph – a must-do for any thrill seeker. If you're more of a "drink with the cute umbrella in one hand and a book in the other" type of person, then a beach day is what you'll need at Melt-Away Bay.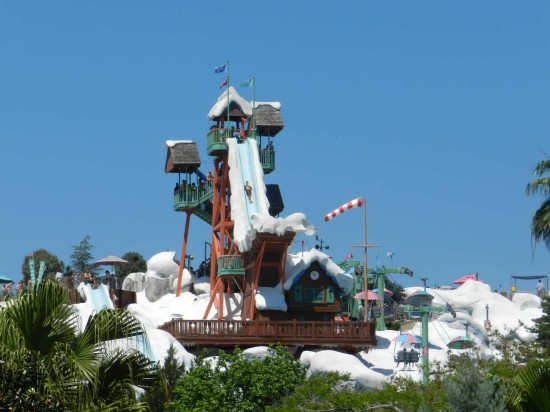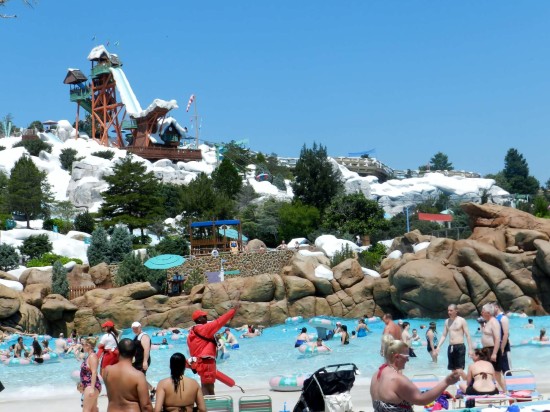 Another must-try at Blizzard Beach is the Jerk Chicken Nachos from the Warming Hut, which you can take over to the Polar Pub and wash it down with Gator's "juice" of the day. If you have a sweet tooth after a day of swimming, then stop at the Mini Donuts kiosk located near the Lottawatta Lodge and pick up a dozen mini donuts.
The cost of a one-day ticket starts at $53.00; however, purchasing a Park Hopper theme park ticket with water options will balance the cost.
Check out the official website for a complete list of attractions, park hours, and pricing.
Disney's Typhoon Lagoon
Get lost in the storm's aftermath at Typhoon Lagoon. Here you can discover the vastness of the plush island and all of its untold mysteries.
If you're quite courageous, then tackling a monstrous wave or snorkeling with sharks and stingrays may be your outlet for fun. For some, a few trips around the lazy river may bring a refreshing satisfaction to a hot Florida day. Whatever your journey is, Typhoon Lagoon is the water park that covers it all.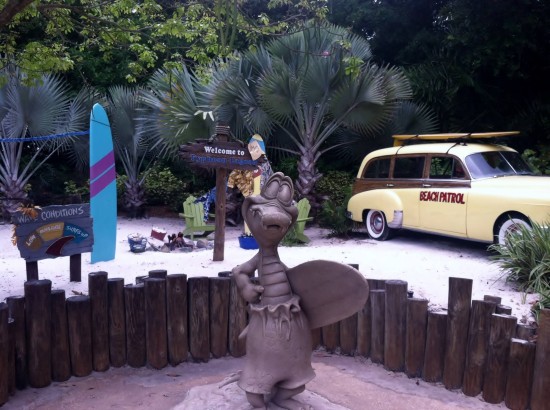 The must-do attractions are Crush 'n Gusher, a multi-passenger water coaster that propels you uphill by powerful water jets, and the Typhoon Lagoon Surf Pool, which is the park's signature experience. The Surf Pool sounds its Mayday alarm, warning swimmers of the incoming tidal wave. There's one word to describe this experience, and it's "epicness!" To witness such a feat makes you wonder how Imagineering brought this water park feature to a whole new level; this wave is not like any other wave pool in central Florida, which makes it the absolute best one.
You can check out the chalk board near the edge of the beach for the daily wave schedule.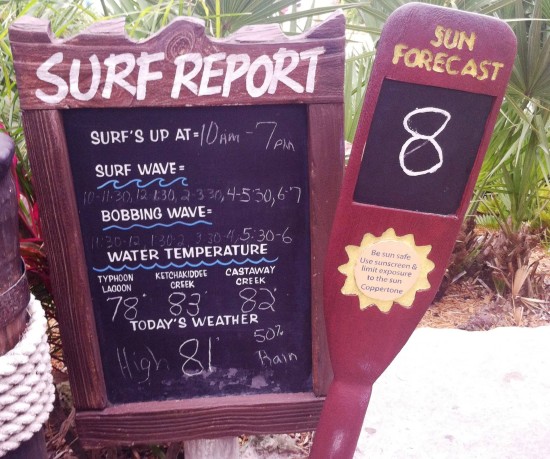 Typhoon Lagoon is known for providing surfing lessons for novice and experienced surfers both. Private lessons are available – just make sure to check the schedule and book the lessons ahead of time. The pricing is the same as Blizzard Beach, but for more information, check out the official website.
As you can see, there are many exciting water-filled adventures that lie ahead for the approaching season. What water park are you going to conquer this summer?
To read more about Wet 'n Wild, view our archive on the OI Blog, or you can check out all our entries covering Walt Disney World.
[sws_author_bio user="NikkyJ" size="105″ authorposts="More OI posts by NikkyJ" name_format="About the author"] [/sws_author_bio]