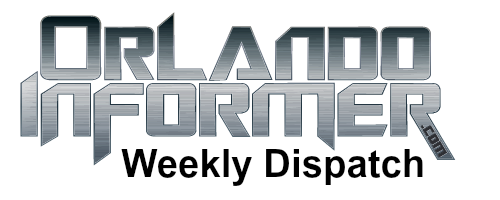 OI Universal Center updates
Greetings, vacation planners! Prepare to UPGRADE YOUR ADVENTURE to Universal Orlando with our Weekly Dispatch. This is a summary of all the latest Universal news and activity on our site. Please note that these updates are listed from newest to oldest:
FLASH UPDATE: The dragon was hoisted up to the top of Gringotts Bank on Saturday. Click here to see it
5/24 – It's a Review & Win Weekend! We haven't hosted one of these giveaways for a while, so we thought we'd have some fun this holiday weekend by giving our readers a chance to win a $100 Universal gift card by submitting attraction and restaurant reviews. Everything you need to know is on our Real guest reviews of Universal page. Have fun – we can't wait to read the stories and insights you share!
5/24 – Diagon Alley news is coming in fast now, and we're doing our best to stay on top of it every single day. Given all the latest buzz, we'd like to let you know that we've updated our soft opening projections. We had originally estimated that softs would start by the end of May, but now it's seeming more and more likely that they won't start until the first week of June. For a full explanation of our most recent update, head to this post in the OI Forums. To start back at the beginning, visit our Complete guide to Diagon Alley.
5/23 – You can now view our 93 photos from today's visit to Universal Orlando on our Flickr page (May 23 photoset). The collection includes our ongoing scrutiny of the progress at Diagon Alley and Hogsmeade Station, as well as over a dozen photos from around Portofino Bay Hotel. We didn't shoot any new videos this visit, but if you need some movement, there's always plenty of fun stuff to watch on our YouTube channel.
TIP: Twitter has redesigned their timeline page to make it much easier to view photos and their captions. So, if you look through our Flickr photoset and wonder what the heck it is we're taking shots of, view our Twitter timeline for guidance. Remember, you don't have to sign up for Twitter to see everything we post over there.
5/22 – Universal has released information about it's new "exclusive" Diagon Alley vacation package, which can be purchased now for travel starting June 29. The package includes breakfast at the Leaky Cauldron and Three Broomsticks, as well as other perks. There are still many unknowns here, so I strongly suggest you first learn more by clicking here, then follow the links in that section to our discussions in the OI Forums. (If you want to skip right to our forums, go to this new topic.)
5/22 – Tonight Show starring Jimmy Fallon update: tickets for the Universal Orlando shows sold out in 20 minutes on Wednesday, May 21, starting at 3:53pm EST. If you didn't get yours, we'll be giving away two tickets in the OI Forums at a later date. Otherwise, don't forget that Jimmy is hosting his own giveaway starting May 26 for VIP access to Diagon Alley. Need to start back at the beginning with all this stuff? Visit our Complete guide to Diagon Alley.
5/19 – For the month of June, Universal Studios Florida has reduced its hours on a few nights. On June 4, the park is closing at 6pm (likely a private event is now scheduled for that evening), and on June 14 through 18, USF is now closing at 8pm instead of 9pm. Reminder: all of our crowd predictions have been fully updated in anticipation of the opening of Diagon Alley. See it all on our free 12-month Universal Orlando crowd calendar.
5/19 – Diagon Alley briefing: As we enter into a new week, biggest news of all is the continued trying of our patience as we wait for Universal Orlando to official announce the grand opening date of their Harry Potter expansion. Based on last week's media preview invitations, we're tempted to say the grand opening will be June 20, but we're ready to report the date, not just keep guessing at it. Learn more in our Complete guide to Diagon Alley, or discuss the very latest developments with us in the OI Forums.
Thanks to @AmusementBuzz for sharing these larger resolution images with us #dragonwatch http://t.co/aVOjnJ6Kbv pic.twitter.com/Qw6q4b899i

— Orlando Informer (@OrlandoInformer) May 24, 2014
New on the Orlando Informer Blog
Along with our encyclopedia of Universal Orlando vacation-planning information, our weekly blog posts also provide you with an entertaining and informative way to learn more about everything there is to do in Orlando. Here are our new posts:
Orlando for beginners: Restaurant Row – best places to dine and tips for a great night out
Disney's Expedition Everest Challenge 5K: A personal transformation and an exhilarating time
Which Orlando theme park is best for kids? Here are picks by age group
Cabana Bay Beach Resort: The thrills of staying at Universal's newest on-site hotel
[youtube_video]9wpd_p3W3sY[/youtube_video]
Other useful links
Get our Weekly Dispatch sent directly to your email inbox
Receive daily notifications of new OI Blog posts
View all of our Universal Orlando updates
Start planning the prefect vacation using our FREE online guide