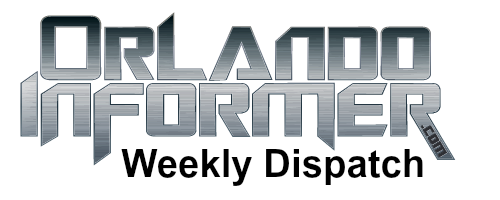 OI Universal Center updates
Greetings, vacation planners! Prepare to UPGRADE YOUR ADVENTURE to Universal Orlando with our Weekly Dispatch. This is a summary of all the latest Universal news and activity on our site. Please note that these updates are listed from newest to oldest:
3/23 – We're happy to announce that our Weekly Dispatch blog post (which you're reading right now!) and email newsletter are starting up again after a two-month hiatus. Each provides a summary of the Universal Orlando updates we published during the last week as well as list of our new blog posts. The Weekly Dispatch email is particularly useful for our readers who want to stay updated on everything we've been publishing – and everything that's happening at Universal – but who don't necessarily get a chance to visit our site daily. If you haven't joined our email list, you can do so by clicking here.
3/21 – It's the most spectacular celebration of the Big Easy spirit outside of New Orleans itself – Mardi Gras at Universal Studios Florida! Enjoy a dazzling parade, authentic Cajun food, and this weekend's double-header: A Great Big World on Friday and Gavin DeGraw on Saturday. To plan your visit, find the best spot to watch the parade, view our "best of" event video, and so much more, check out our Complete guide to Mardi Gras.
3/20 – You can now view our 170 photos from today's tour of Universal Studios Florida and Islands of Adventure on our Flickr page (March 20 photoset). The collection includes a full tour of the new Starbucks location at CityWalk, many new shots of the Diagon Alley construction, as well as some great Blues Brothers and Twister photos! Also, we've uploaded a quick walkthough video tour of Starbucks.
3/18 – We just finished posting what will likely be our last construction update for Diagon Alley. In addition, for the very first time in the two years we've been covering the Harry Potter expansion, we are now recalibrating our estimate of its grand opening date. To view our final construction update – understand why it is so – and see our new speculation about opening of the Harry Potter expansion, visit our Diagon Alley page.
3/18 – On Tuesday we took a significant step forward in finalizing the launch of our new forums section – where the greatest community of Universal Orlando fans and vacation planners will gather to discuss the greatest entertainment destination on Earth. We can now announce that the official opening date of our forums is Friday, April 4. Stay tuned for updates and technical rehearsals!
3/18 – Universal Studios Florida continues closing early on several dates in March. For vacation planners, it's important to know these dates because USF's must-see nighttime lagoon show, Cinematic Spectacular, does not run when the park closes early. The upcoming early closure dates are March 18, 30 & 31, and a friendly reminder that Cinematic Spectacular also doesn't run on Mardi Gras event dates, including March 21, 22, 28 & 29. To learn more, visit our Universal Snapshot page.
3/17 – This morning Universal Orlando published two new 30-second commercial spots for Diagon Alley on their YouTube Channel: "Who Says Lightning Never Strikes Twice" and "There's Something Brewing." While neither spot includes any new information, they are both entrancing to watch, and you can do that by visiting our Complete guide to Diagon Alley.
#Hogsmeade @UniversalORL pic.twitter.com/lUFpCyoU10 — Orlando Informer (@OrlandoInformer) March 20, 2014
New on the Orlando Informer Blog
Along with our encyclopedia of Universal Orlando vacation planning information, our weekly blog posts also provide you with an entertaining and informative way to learn more about everything there is to do in Orlando. Here are our new posts:
We predict the four biggest complaints about Diagon Alley
Rainy day at Universal Orlando: Best ideas for staying dry and having fun
From the files of a former MIB agent: When good tourists get bad advice
SeaWorld trip report – March 2014 (Sea of Surprises construction, Pets Ahoy, restaurant reviews, Ihu's Breakaway Falls & Just for Kids Festival)
Special needs are Universal: Guest's visit ruined by poor planning – how it could have easily been prevented
Outdoor kitchens at the 2014 Epcot Flower & Garden Festival: Try the returning dishes and all the new flavors
Celebrate Mardi Gras like you mean it: Our favorite ways to party before the parade & headlining concert
Rumor round-up for March 22, 2014: Disney's FastPass+ controversy – the good, the bad & the indifferent
Rumor Round-Up: Disney's FastPass+ controversy – the good, the bad & the indifferent http://t.co/XEvEDs1rn3 pic.twitter.com/8vequcjq3X — Orlando Informer (@OrlandoInformer) March 22, 2014
Other useful links
Get our Weekly Dispatch sent directly to your email inbox
Receive daily notifications of new OI Blog posts
View all of our Universal Orlando updates
Start planning the prefect vacation using our FREE online guide