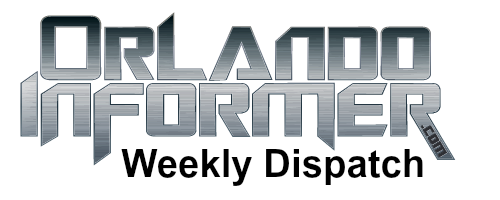 OI Universal Center updates
Greetings, vacation planners! Prepare to UPGRADE YOUR ADVENTURE to Universal Orlando with our Weekly Dispatch. This is a summary of all the latest Universal news and activity on our site. Please note that these updates are listed from newest to oldest:
6/28 – We need your help! The purpose of our site is to make vacation planning nearly as much fun as the trip itself, and if you feel we've been able to accomplish that for your family, we would really appreciate it your vote in the 10Best Theme Park Blogger Awards. Click here and look for "Orlando Informer – Dan Hatfield" in the list. On behalf of everyone who contributes to our site, I really appreciate it! (By the way, if you really like our site, you can vote once per day – thanks again.)
6/27 – I've posted our final Diagon Alley soft opening prediction and my thoughts about the last three months in the OI Forums.
6/26 – Yesterday evening, Universal finally sent out its email to Harry Potter vacation package guests who were promised access to Diagon Alley starting June 29 (which falls before the official opening date of July 8). The message informs us that these guests will have access at some point during their trip, but they won't know precisely when until they check in at their hotel, and access may only be offered one time for each party. You can view the email and pick up our ongoing discussion here in the OI Forums.
6/26 – We're still trying to figure out how Universal will handle Early Park Admission once Diagon Alley opens. We feel confident that Diagon Alley EPA will not be offered to all on-site guests starting June 29, but rather, only to Harry Potter vacation package guests (although the exact schedule remains to be seen for vacation package guests). Then, starting July 9, Universal has confirmed Diagon Alley EPA for all on-site guests and all vacation package guests. The big questions are, how will access to Hogsmeade work, and will Universal add additional limitations (for example, Cabana Bay versus the deluxe hotels) once we get closer? Pick up the discussion here in the OI Forums.
6/26 – We've got two on-site hotel events coming up. The first is this evening, as Hard Rock Hotel hosts "Velvet Sessions" featuring Vertical Horizons – it's Orlando's hottest lobby party. Then, on July 18, Jake's Beer Dinner is back at Royal Pacific Resort. Enjoy a four-course meal with craft beer selections paired throughout. To learn more about these events and everything else happening right now, visit our Universal Snapshot page.
6/23 – Starting today, Universal Studios Florida and Islands of Adventure are both open until 10:00pm at least through the end of July. If you needed a clearer sign that the summer travel season has begun, I don't think you'll find one! To help you prep for the crowds, we encourage you to visit these pages in the OI Universal Center: Attraction wait times based on crowd levels, Complete guide to Universal Express Passes, and our free touring plans. And yes, we will be publishing new plans that include Diagon Alley soon!
6/23 – We're all waiting for Diagon Alley softs to start, and we all have lots of questions about how the new Harry Potter vacation package will work, when travel begins June 29 but the official opening of Diagon Alley isn't happening until July 8. Regarding softs, we've posted our latest update here in the OI Forums. To address questions about the Harry Potter vacation package and Early Park Admission, visit this section in the OI Forums. Finally, for general info and answers to other pressing questions, visit our Diagon Alley guide.
6/23 – The third winner in our month-long Universal Photo Connect giveaway: congratulations to OI Forums member Johde! We'll contact you shortly with instructions for claiming your prize. If you're not Johde, no problem – we're still giving away one more Star Card Package this month. To learn what these are and how you can win, visit this OI Forums topic.
Starting today, both @UniversalORL parks are open until 10pm thru the summer #OIDailyUpdates http://t.co/vcEiBFKPlJ pic.twitter.com/dNoXjG61qR

— Orlando Informer (@OrlandoInformer) June 23, 2014
New on the Orlando Informer Blog
Along with our encyclopedia of Universal Orlando vacation-planning information, our weekly blog posts also provide you with an entertaining and informative way to learn more about everything there is to do in Orlando. Here are our new posts:
Rumor SPOTLIGHT: Diagon Alley's journey from rumor to fact (2011 – 2013)
Universal CityWalk trip report – June 2014 (VIVO Italian Kitchen review, Hot Dog Hall of Fame update, more construction)
Universal Orlando trip report – June 2014 (Hogsmeade spell markers, Diagon Alley dragon, Kong-struction & more)
SeaWorld Orlando Summer Nights 2014: New shows and experiences keep the energy up after dark
The Wizarding World of Harry Potter – Hogsmeade is still as magical as ever: Visit again for the first time
Uber's "shared driver service" is Orlando's slick new transportation option for saving money
Rumor round-up for June 27, 2014: Universal is building three more hotels, all the HHN 24 scare zones, and a few Diagon Alley updates
Other useful links
Get our Weekly Dispatch sent directly to your email inbox
Receive daily notifications of new OI Blog posts
View all of our Universal Orlando updates
Start planning the prefect vacation using our FREE online guide