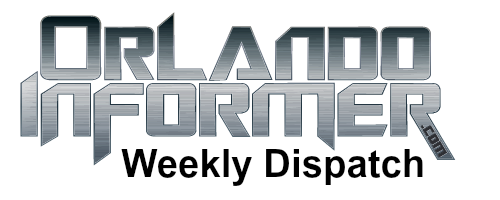 OI Universal Center updates
Greetings, vacation planners! Prepare to UPGRADE YOUR ADVENTURE to Universal Orlando with our Weekly Dispatch. This is a summary of all the latest Universal news and activity on our site. Please note that these updates are listed from newest to oldest:
6/21 – It was an immensely satisfying week for Orlando Informer. We may not have been invited by Universal to the Diagon Alley Preview, but our fans pushed us to 110,000 pageviews in a single day, you posted over 4,000 times in the OI Forums, we gained almost a thousand new followers on Twitter, and we're currently in the #1 spot on the 10Best Theme Park Bloggers list. Thank you so, so much!
6/20 – Now that we know the official opening date of Diagon Alley, our crowd calendar has been updated to reflect the news. A brief explanation: between now and July 8, we expect the typical busy summer crowds, as we have definitely entered the prime summer travel season. However, we don't expect the resort to feel quite as "busy" as it usually does this time of year because we also expect a significant number of families to postpone their Universal visits until after July 8. Then, of course, starting July 8, it'll be crazy busy for the rest of the summer. See the rest of our update and everything else on our free 12-month Universal Orlando crowd calendar.
6/20 – If you're interested in ordering an Orlando Informer t-shirt with our new look, we have preliminary information posted in the OI Forums.
6/18 – It's official: the grand opening date of Diagon Alley is July 8! For many of our fans that have been following these development all along, this is indeed a perplexing date, because you may remember that Universal is currently selling Diagon Alley vacation packages that seem to guarantee access starting June 29. We'll be working day and night to bring you the best vacation planning information we can. For answers to your most pressing questions, view our Diagon Alley guide. To discuss the latest developments, join us in the OI Forums. Finally, for instant updates, follow us on Twitter.
6/18 – Are you thinking this right now: "I love your site and your forums, but this Diagon Alley opening stuff is so confusing, and I just don't have the time to plan every detail myself. Can you help?" Yes we can. We're honored to work with Jennifer Green of Destinations in Florida. She is the only travel professional endorsed by Orlando Informer, and she can help you plan your vacation to Universal, Disney, and more. Best of all, her services are completely free to you. Seriously. To get in touch, simply complete this form, or you can learn more in the OI Forums.
6/17 – After an overnight at Universal, we've uploaded some great new media for you to check out. First, we have three new Flickr albums: Cabana Bay Standard Rooms, Cabana Bay South Courtyard & Lazy River, and a regular trip report album covering VIVO Italian Kitchen as well as more of Diagon Alley and the JLo performance (as part of the Tonight Show). To view our Flickr albums, click here. We've also uploaded several new videos to our YouTube channel, including a tour of the Cabana Bay Standard Room.
6/17 – We've updated our Universal Snapshot page to reflect the opening of CityWalk's VIVO Italian Kitchen on June 16 and USF's remodeled Starbucks as of the same date. Reminder: Hard Rock Hotel's "Velvet Sessions" presents Vertical Horizon live in concert on June 26.
6/16 – Starting today, Universal has invited media from across the world to enjoy its resort. The focal point will be Diagon Alley, but the media will also be exploring Cabana Bay Beach Resort (which is fully open as of June 16, as well as the CityWalk expansion). It's going to be one of the busiest weeks in Universal's history in terms of news coverage and potential announcements, and you can stay on top of the very latest by following us on Twitter or discussing with friends in the OI Forums.
6/16 – The Tonight Show Starring Jimmy Fallon will be live on-site this week to tape its show. Monday (6/16), Jennifer Lopez and Keenen Ivory Wayans; Tuesday (6/17), Kevin Hart and Jimmy Buffett; Wednesday (6/18), Rosario Dawson, Jeff Musial, and FUN; Thursday (6/19), George Lopez and Pitbull. Tickets to be a member of the audience sold out almost immediately, but if you're at Universal this week, you can catch the musical acts as part of general admission to Universal Studios Florida at 9:00pm each night. You can see the full announcement and learn about getting tickets in the OI Forums.
6/16 – As mentioned above, the second phase of Cabana Bay opens today for the first time to guests. This is the "tower" portion of the hotel, which includes its standard rooms (we haven't seen these yet because the first phase only had family suites). This portion of the hotel also includes Universal's first lazy river. We'll be checking in later today, so join us on Twitter to see the new areas of the hotel live, or you can learn more about Cabana Bay.
6/16 – The second winner in our month-long Universal Photo Connect giveaway: congratulations to OI Forums member Vikyvibs! We'll contact you shortly with instructions for claiming your prize. If you're not Vikyvibs, no problem – we're still giving away three more Star Card Packages this month. To learn what these are and how you can win, visit this OI Forums topic.
What real theme park magic looks like… #DiagonAlley @UniversalORL pic.twitter.com/NbAXjv4TkD

— Orlando Informer (@OrlandoInformer) June 18, 2014
New on the Orlando Informer Blog
Along with our encyclopedia of Universal Orlando vacation-planning information, our weekly blog posts also provide you with an entertaining and informative way to learn more about everything there is to do in Orlando. Here are our new posts:
Reader poll: When will you visit Diagon Alley for the very first time?
City of Winter Park: Take a vacation from your vacation in Orlando's most beautiful & historic suburb
Orlando for beginners: Solo theme park adventuring the right way
Complete guide to using the new official Universal Orlando mobile app
As if you were there: The Tonight Show at Universal Orlando with special guest Jimmy Buffett
Diagon Alley Preview & Red Carpet events: Reliving the excitement of Diagon's biggest day yet
[youtube_video]cyp6Y0lXaFY[/youtube_video]
Other useful links
Get our Weekly Dispatch sent directly to your email inbox
Receive daily notifications of new OI Blog posts
View all of our Universal Orlando updates
Start planning the prefect vacation using our FREE online guide