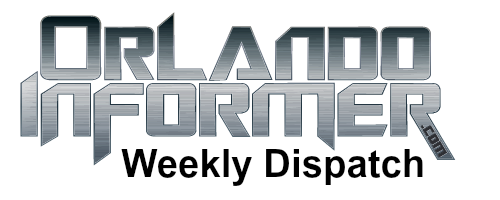 OI Universal Center updates
Greetings, vacation planners! Prepare to UPGRADE YOUR ADVENTURE to Universal Orlando with our Weekly Dispatch. This is a summary of all the latest Universal news and activity on our site. Please note that these updates are listed from newest to oldest:
6/7 – Our 74 photos from last night's Universal tour are now up on our Flickr page (June 6 photoset). The collection includes our first look at the Gringotts dragon with both its wings. We also examine the latest developments at Diagon Alley, enjoy Cinematic Spectacular, and much more. By the way, June 11 marks our one-year anniversary uploading to our Flickr page: 6,000 Universal photos and counting!
TIP: Twitter has redesigned their timeline page to make it much easier to view photos and their captions. So, if you look through our Flickr photoset and wonder what the heck it is we're taking shots of, view our Twitter timeline for guidance. Remember, you don't have to sign up for Twitter to see everything we post over there.
6/6 – Yesterday, Universal invited Harry Potter stars Bonnie Wright (Ginny Weasley), James Phelps (Fred Weasley), and Oliver Phelps (George Weasley) to tour Diagon Alley. While it's evident that the group had a wonderful day – and we got to see some new angles and peeks inside Universal's Harry Potter expansion – we didn't get what we've been waiting for lo these many months: a grand opening date. To continue reading this briefing, please visit our Complete guide to Diagon Alley. Then, as we wait and see if anything happens today, we invite you to follow us on Twitter for the latest news and discuss everything in the OI Forums!
6/3 – Diagon Alley briefing: Universal has revealed many of the food & beverage options it will be introducing with the opening of Diagon Alley. Among the most anticipated is butterbeer ice cream and two new wizarding ales – see more. The not-so-good news: the latest intel suggests that softs may not happen until this weekend or, more likely, next week. You can read our full briefing in our Complete guide to Diagon Alley, or you can stay on top of the very latest developments in the Diagon Alley and vacation planning sections of the OI Forums.
6/3 – On Monday, Universal confirmed that its newest CityWalk venues, VIVO Italian Kitchen and Hot Dog Hall of Fame, are set to open by the end of the month (no specific date given). They will join the just-opened Menchies and the previously opened Red Oven Pizza Bakery, Cold Stone Creamery, updated Starbucks, and Antojitos. Last up to bat: Bread Box and Cowfish Burger Sushi Bar, the later of which is the most anticipated development, which hopefully will open by the end of July. For a full recap of the 2014 CityWalk expansion, check out this blog post.
6/2 – It's the start of a new month, so we have now added May 2015 to our free 12-month Universal crowd calendar. We've also updated our crowd predictions for this month to take into account the delay in soft openings for Diagon Alley, which were originally planned to start by the end of May, but now will not likely start until a little later in June. Don't worry – we are still anticipating a Diagon Alley grand opening by the end of June. To learn more, check out our calendar.
6/2 – We've partnered with Universal Photo Connect to give away a Star Card Package every week in June to one of the members of our forums! The Star Card Package allows you to collect all your ride and in-park souvenir photos during your visit to Universal for unlimited viewing and downloading – forever. To learn how to enter, visit this post in the OI Forums. (And remember, registering to use our forums is completely free.)
6/1 – Our site growth continued last month with the posting of all-new records, including our busiest day ever on May 13 (72,256 pageviews) and our busiest month ever (total of 1.63 million pageviews, up 21% from April and a whopping 219% from May 2013). What's more, we hit new milestones on social media and in our forums with 20,000 Twitter followers, 63,000 Facebook fans, and already 32,000 posts in the two-month-old OI Forums! Thank you to all our fans and readers for your support. If you'd like, you can learn more about us.
Our 74 photos from last night's @UniversalORL tour are up on Flickr #DiagonAlley #PotterWatch https://t.co/kIWENE1CqE pic.twitter.com/l9k35u36X1

— Orlando Informer (@OrlandoInformer) June 7, 2014
New on the Orlando Informer Blog
Along with our encyclopedia of Universal Orlando vacation-planning information, our weekly blog posts also provide you with an entertaining and informative way to learn more about everything there is to do in Orlando. Here are our new posts:
Reader poll: Winning the theme park wars – Disney vs. Universal on food
Special needs are Universal: Diagon Alley attraction requirements, expectant mothers rider's chart, Team Members continue to impress us
Orlando for beginners: How to survive theme park trips with large families
I-Drive 360 and the Polercoaster: Orlando's two must-visit attractions of 2015 won't be in a theme park
CityWalk's next generation, wave two: Menchie's, Harry Potter, and the all-new Universal Studios Store
Harry Potter stars tour Diagon Alley: Relive the magic and examine every detail we learned
Rumor round-up for June 6, 2014: More Diagon Alley stores and their locations, casting spells in the wizarding world, and conversational goblins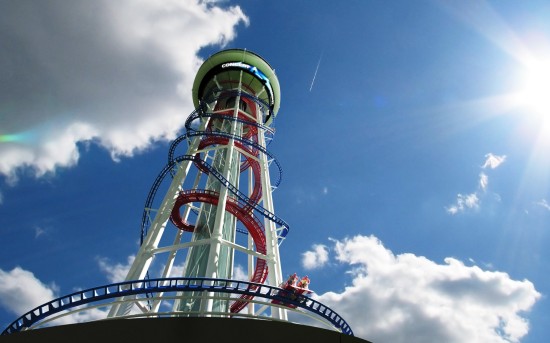 Other useful links
Get our Weekly Dispatch sent directly to your email inbox
Receive daily notifications of new OI Blog posts
View all of our Universal Orlando updates
Start planning the prefect vacation using our FREE online guide