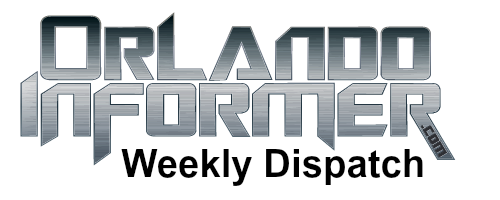 OI Universal Center updates
Greetings, vacation planners! Prepare to UPGRADE YOUR ADVENTURE to Universal Orlando with our Weekly Dispatch. This is a summary of all the latest Universal news and activity on our site. Please note that these updates are listed from newest to oldest:
5/2 – A new month means another update to our free crowd calendar! First, April 2015 has been added. Second, we want to bring to your attention that, if you're traveling this month, Islands of Adventure is closing early on several nights – so please plan your days accordingly. Now for the biggest reminder of all: our crowd predictions for the months of June, July, and August have been updated to take into account the opening of Diagon Alley. See it all on our free 12-month Universal Orlando crowd calendar.
5/2 – Universal continues to bump up its prices in preparation for a busy summer. This week, its full-service dining plan got the lift, bringing the adult per-day price from $45.99 up to $51.99 (the child price stayed put at $17.99). In better news, the plan is now accepted at CityWalk's Margaritaville, Red Oven, and Antojitos. But the real question is, should you buy the plan at all? We explain everything there is to know about the full-service and quick-service versions in our Complete guide to the Universal Dining Plans.
5/2 – Another week of TODAY Show broadcasts has passed, and no word about a Diagon Alley grand opening date. (If you're just joining us, the TODAY Show was supposed to appear live at Universal last Friday, but the broadcast was canceled. Then came rumors that a pre-recorded segment would air this week, but that never happened.) It's back to the drawing board as we wonder when an announcement will come, and, more importantly, if the announcement delay is a sign of construction delays. Learn more on our Diagon Alley page, or discuss it all with us in the OI Forums.
5/1 – Thanks to our amazing fans and the success of the OI Forums Grand Opening, we broke all our records again in April. For the month, our site recorded 1.3 million pageviews generated by over 300,000 visitors, up 30% from the previous month, and up a jaw-dropping 243% from April 2013. I can't begin to explain how thankful I am for our incredible community of fans, readers, and members of the OI Forums. It means the world to me that I get to help all of you plan the best vacations ever to Universal Orlando! Learn more about us
5/1 – We've posted our final construction update covering Hogsmeade Station at Islands of Adventure. To view the latest progress at what will soon be the new entrance to Hogsmeade village, including a dozen photos and our latest video, click here. Why will this be our last construction update covering the Hogsmeade Station site? We answer that question too in our article.
4/29 – Wednesday, April 30, is the final day that Florida residents can get up to three months free by purchasing a Universal annual pass as part of the resort's Mardi Gras promotion. Remember, new passes must be purchased and used for the first time by April 30 to qualify for the free extra months. Starting May 1, we expect a price increase for all annual passes for follow shortly. If the AP increase is anything like the general admission increase in March, we could be looking at pricing going up as much as 20 percent! One more reminder: the current buy-two-days-get-the-third-day-free ticket promotion ends May 9. More details here
4/29 – The price increases continue at Universal. First is was admission tickets as noted above, then it was parking at the main garages and the on-site hotels, and now it's popcorn's turn. Although small, the refill price for Universal's souvenir popcorn bucket is now $1.29, up from 99 cents previously. To learn everything there is to know about Universal's refill program for souvenir popcorn buckets, souvenir soda cups, and Coke Freestyle, visit our complete guide in the OI Universal Center.
4/28 – Universal has been busy expanding the Starbucks options for guests. In February, they opened a brand-new location in Islands of Adventure (see the video), and then, in March, they moved and expanded the Starbucks location in CityWalk (see the video). Now another expansion is in the works: starting today, Starbucks at Universal Studios Florida closes to become a larger store for guests. To see a complete overview of all of the resort's construction projects, visit our Universal Snapshot page.
This is it – we've posted our final #HogsmeadeStation @UniversalORL construction update http://t.co/ix8ATiX3qw pic.twitter.com/Bp3p13Xk0A — Orlando Informer (@OrlandoInformer) May 1, 2014
New on the Orlando Informer Blog
Along with our encyclopedia of Universal Orlando vacation-planning information, our weekly blog posts also provide you with an entertaining and informative way to learn more about everything there is to do in Orlando. Here are our new posts:
THE BIG 5: Top five sweet treats at Universal's theme parks
Updated guide to FastPass+ at Walt Disney World: Unlimited FastPass reservations now open to all guests
Fun Spot America trip report – April 2014 (new attractions, the Sweet Spot & deals to save you money)
Busch Gardens Tampa trip report – April 2014 (Falcon's Fury test runs, Pantopia progress, "Iceploration" & the new Refresh Market)
Rocky Horror Picture Show at Universal CityWalk: Giving in to absolute pleasure and a great night out
Special needs are Universal: Rider's guide for guests with sensory issues
Rumor round-up for May 2, 2014: New Harry Potter food & souvenirs, clues to Early Park Admission, but where's the grand opening announcement?
Other useful links
Get our Weekly Dispatch sent directly to your email inbox
Receive daily notifications of new OI Blog posts
View all of our Universal Orlando updates
Start planning the prefect vacation using our FREE online guide