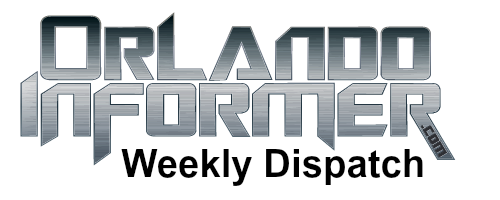 OI Universal Center updates
Greetings, vacation planners! Prepare to UPGRADE YOUR ADVENTURE to Universal Orlando with our Weekly Dispatch. This is a summary of all the latest Universal news and activity on our site. Please note that these updates are listed from newest to oldest:
4/27 – We want to thank all of our fans and our new forum members for making the grand opening of the OI Forums a smashing success! In one month's time, we've had 930 people join our new community, and we're proud to call each of you our friend. What's more, in just these four weeks, we've already exchanged over 18,000 tips, comments, and answers to each other questions. Thanks again for a tremendous start to the OI Forums!
4/26 – As you may likely know, predicting the soft opening schedule for Diagon Alley is our biggest priority at the moment. Today, we slightly updated those predictions to lean more toward the first soft openings – called "technical rehearsals" by the park – happening in the second half of May. For details about this specific update, see this post in the OI Forums. Otherwise, for a comprehensive look at the project, visit our Complete guide to Diagon Alley.
4/25 – First reported late Tuesday evening, the TODAY Show's appearance Friday at Universal Orlando has been canceled. Many of us speculated that we would get a grand opening date for Diagon Alley during the special appearance – now we're left to wonder what went wrong.
UPDATE: We're into the second hour of Friday's TODAY Show, and there has been no mention of Diagon Alley (plus, Al Roker is live in studio). The thinking now is that a segment was filmed yesterday at Universal and will possibly air next Friday to compete with Disney's Seven Dwarfs Mine Train press event. The discussion continues in the OI Forums.
4/24 – You can now view our 155 photos from today's tour of Universal Studios Florida and Islands of Adventure on our Flickr page (April 24 photoset). This trip was truly a grand adventure, with stops at Cabana Bay Beach Resort, Royal Pacific Resort, the theme parks, and our first taste of the Brain Freezin' D'oh-nut Sundae in Springfield USA. We also uploaded a new video: Hogsmeade Station construction update.
4/23 – Universal's deluxe on-site hotels have raised their parking prices. For overnight guests, it's now $20.00 per night for self-parking, $27.00 for valet. The on-site hotels also charge day guests for parking, but those fees have not increased. Also, the parking fees introduced when Cabana Bay opened recently have not increased. To learn more, visit our Universal on-site hotels page.
Think Disney is way better because they don't charge for parking at their on-site hotels? Think again
4/22 – As of last Thursday, CityWalk's Margaritaville has debuted its newly expanded Porch of Indecision, the large(er) outdoor seating area facing Islands of Adventure. The expanded space can now hold 64 additional guests, which is perfect for Margaritaville's second debut this past weekend: the Volcano Burger. See a sneak peek at the new porch – then imagine, for your next Universal meal, ordering this.
4/22 – SWEEPSTAKES ALERT: Universal is definitely in the mood to promote itself, as we've got another sweepstakes for you, this time presented by the Hallmark Channel. You can win a vacation for a whopping eight guests, including a airfare and three nights at Cabana Bay Beach Resort. Entry is available until April 30 by clicking here, and you may enter once each day. Sorry international visitors, legal U.S. residence only living in the 50 United States or the District of Columbia.
I present the Brain Freezin D'oh-nut Sundae, literally the best thing I've ever tasted #SpringfieldUSA @UniversalORL pic.twitter.com/A3l29sRAm2 — Orlando Informer (@OrlandoInformer) April 24, 2014
New on the Orlando Informer Blog
Along with our encyclopedia of Universal Orlando vacation-planning information, our weekly blog posts also provide you with an entertaining and informative way to learn more about everything there is to do in Orlando. Here are our new posts:
Reader poll: Winning the theme park wars – Disney vs. Universal on cleanliness & immersion
Attending a timeshare presentation: It could save you a ton of money (and it's not as scary as you might think)
Three incredible ways Diagon Alley is lavishly improving on Hogsmeade's wizarding formula
THE BIG 5: Top five wide-open spaces to relax at Universal's theme parks
Rumor round-up for April 25, 2014: Building more Potter, replacing KidZone, canceling Jurassic Park, and starting King Kong
Could this be the very beginning of Skull Island? #returnoftheking @UniversalORL pic.twitter.com/Oy45htCQZX — Orlando Informer (@OrlandoInformer) April 24, 2014
Other useful links
Get our Weekly Dispatch sent directly to your email inbox
Receive daily notifications of new OI Blog posts
View all of our Universal Orlando updates
Start planning the prefect vacation using our FREE online guide