Update – April 28, 2014
Starting today, Monday, April 28, guests can select more FastPasses once they are in the park and have used up (or have had the arrival window pass on) their initial three FastPass+ reservations. Simply go to one of the kiosks located in each of the Walt Disney World parks to make your additional selections. Once this new reservation is used up, another can be selected, and so on.
Even better, these extra FastPasses can follow you as you park hop – you just have to be at the park where you want your next FastPass to be.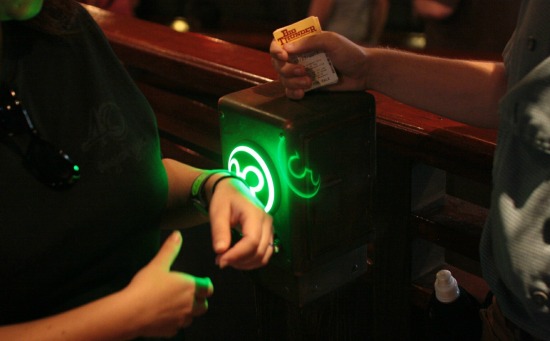 For Epcot and Disney's Hollywood Studios, which are on a tiered system, the additional FastPass+ bookings aren't restricted to one grouping or another.
The best advice we can offer on this new development is to make your initial three FastPasses as early in the day as possible – this way, you have as much time as possible to use the additional slots.
Previous article: Advance ride reservations now open to off-site guests
Disney's MyMagic+ has been going through lots of phases and changes, the biggest of which starts Monday, March 31: any guest of Walt Disney World Resort can now begin to pre-plan their FastPass+ reservations using the My Disney Experience website or app before they actually arrive for their visit.
Here's what you need to know:
Guests of select Walt Disney World hotels get a 60-day booking window.
All other guests get a 30-day booking window.
You must create an account at MyDisneyExperience.com or through its counterpart app, available for free at iTunes or the Google Play Store
To access the 60-day window, you must have a WDW hotel reservation – now including the Walt Disney World Swan and Dolphin Resort.
To access the 60- or 30-day window, you must have valid theme park ticket media.
MagicBands are now available for purchase for $12.95 plus tax.
The 60-day window: Guests of select Disney World hotels
For those that have already stayed at a participating Disney-owned and -operated resort and have participated in MyMagic+ using MagicBands, nothing has changed. However, Disney has finally enabled guests of the Walt Disney World Swan and Dolphin to pre-plan their FastPass+ selections in the same 60-day window. This is fantastic news for the Starwood hotel. In fact, the Swan and Dolphin is the only non-Disney-owned property to receive this benefit!
As before, in order to prove you are eligible for the 60-day booking window, you must first "link" your resort reservation with your My Disney Experience account. Once this is done, you need to make sure you have included everyone in your party. For guests of the Swan and Dolphin, it can take about 24 hours after you've booked your reservation for it to be loaded into Disney's system and therefore be recognized as a valid reservation.
The 30-day window: All other guests
While the 60-day window that WDW resort guests receive is a nice advantage, it is great news that all other guests can now pre-plan their FastPass+ selections up to 30 days in advance – this is a big development. Having the ability to plan your reservations before you arrive definitely beats waiting in line at one of the FP+ service kiosks.
In order to show that you are indeed coming to the Disney parks, as well as to find out how many days you can make FastPass+ selections, you must have valid theme park admission and link your ticket to your My Disney Experience account. You must also make sure that each person in your travel party is registered with MyDisneyExperience.com, and you must link the appropriate ticket to each person.
FastPass+ planning information
There is a lot to know about Disney's FastPass+ system, and nothing is carved in stone; things will change. If you are brand-new to the planning process, I recommend you begin with going to Start Your Disney Experience. This website will automatically launch the step-by-step process once you've signed in. Just make sure you have booked your resort reservation (if you are at a participating hotel that gets you the 60-day window) and have your theme park tickets in hand.
Here are some general pointers to keep in mind as you work your way through the process:
Currently, Disney allows three FastPass+ reservations per person per day. You must make three selections; you cannot make fewer, and you cannot make more.
Your FastPass+ selections are for one park each day. Disney has said this is something they are looking at changing in the future. Enabling the "park hopping" feature of FP+ is going to take a lot to manage, and I would anticipate that a tiered approach will be taken, much like what is in place at Hollywood Studios and Epcot. Speaking of which…
Hollywood Studios and Epcot currently rank their attractions on a tiered system. You are allowed to make one FastPass+ selection from the top tier group, and then the other two choices will be from the lower group. This is to help ensure inventory is available for all guests to enjoy at least one of the most popular attractions at the parks. I recommend using the single-rider line where available to help supplement this, but just remember that your party will be split up by doing so.
Here are Hollywood Studios' two tiers:
Experience Group 1 (allowed to select one)
Beauty and the Beast – Live on Stage
Fantasmic
Rock 'n' Roller Coaster
Toy Story Midway Mania
Experience Group 2 (select two)
American Idol Experience
Disney Junior – Live on Stage
Great Movie Ride
Indiana Jones Epic Stunt Spectacular
Lights, Motors, Action! Extreme Stunt Show
Muppet Vision 3D
Star Tours
Twilight Zone: Tower of Terror
Voyage of the Little Mermaid
And here are Epcot's:
Experience Group 1 (allowed to select one)
Character Spot
IllumiNations
Maelstrom
Soarin
Test Track
Experience Group 2 (select two)
Captain EO
Journey into Imagination
Living with the Land
Mission: SPACE
Seas with Nemo and Friends
Spaceship Earth
Turtle Talk with Crush
Itineraries: when you make your FastPass+ selections, whether prior to your arrival or in the park, you cannot do them one at a time. First, you select what day you want to plan, then which park, then which three attractions. Then you will be presented with up to four itineraries from which to choose. Usually, one itinerary will place everything late in the day, the other with everything in the morning, and another with the times spread throughout the day. All of this, of course, depends on availability.
Changes: many people have expressed concerns with flexibility. The great news is you can change one or more of your selections, if needed, altering the time or the attractions themselves. These modifications can be made on the website, via the app, or at the in-park kiosks.
FastPass+ service kiosks
In case you are not tech-savvy – though, if you are reading this, I doubt that to be the case – or if you need help with your reservations, you can visit one of the many FastPass+ kiosks located inside each of the four theme parks. Before you visit one of the kiosks, however, make sure you have at the very least linked your ticket to your My Disney Experience account. This will enable you to make changes using the app later on in the day.
TIP: do not go to the first FastPass+ kiosk in each park, the one near the entrance; most guests go for the first one they see, while the kiosks further in the park typically have half the amount of guests waiting to get help.
Here is a list of FastPass+ kiosk locations at all four parks:
Magic Kingdom (please note that the locations inside Tomorrowland and Fantasyland are typically the busiest. Usually, there is less crowds at Storybook Circus and Frontierland):
Near Pete's Silly Sideshow
Near The Diamond Horseshoe
Stitch's Great Escape!
Buzz Lightyear's Space Ranger Spin
Mickey's PhilharMagic
Jungle Cruise
Epcot (please note that the Tip Board location is usually the busiest, and that the International Gateway kiosk is, of course, ideal for guests staying at the Epoct area resorts):
Innoventions West Breezeway, near Epcot character spot
Innoventions East Breezeway, near Electric Umbrella
Tip Board
International Gateway
Hollywood Studios (please note that the location at the corner of Hollywood Boulevard and Sunset Boulevard is usually the busiest, and there are typically less crowds at the Muppet Vision 3D one):
Muppet Vision 3D
Sunset Boulevard
At the corner of Hollywood Boulevard and Sunset Boulevard
Animal Kingdom (please note that the locations at Island Mercantile and Disney Outfitters are definitely busier than the one near Yak & Yeti Restaurant):
Near Yak & Yeti Restaurant
Island Mercantile
Disney Outfitters
Guests of the Walt Disney World Swan and Dolphin Resort can visit one of the dedicated kiosks in each park marked by the Swan Dolphin logo. This enables Swan and Dolphin kiosks to receive more one-on-one attention from a FastPass+ Cast Member who can offer a multitude of options with itineraries, and it also allows the hotel's guests to avoid the crowds at the busier kiosks. These Swan Dolphin-dedicated kiosks are slated to be in place until the end of April to help those guests who arrive over the next month and did not have a chance to take advantage of the 60-day window.
The MagicBand
All guests can purchase a MagicBand for $12.95. Upon doing so, you can add your new MagicBand to your My Disney Experience account and then link your theme park ticket and PhotoPass. Please note that, at this time, if you're not staying on-site at a Disney-owned property, you are not able to use your MagicBand for "touch to pay" payments at the parks.
These changes are all part of one of the biggest phases to date. Enhancements and adjustments will be made in the future, and Disney has been very welcoming to guest feedback on this program. So give it a try, plan it out, and feel free to visit Guest Relations or write to wdw.guest.communications@disneyworld.com if you've got an opinion on the program.
Have strong feelings about FastPass+, one way or the other? Be sure to let us know in our current Reader Poll. Otherwise, you can view all the other Walt Disney World posts on the OI blog.
[sws_author_bio user="danidennison" size="105″ authorposts="More OI posts by Dani" name_format="About the author"] [/sws_author_bio]