The first time I attended a Medieval Times Dinner & Tournament show, I was easily under the age of 10. I loved the magic, mystique, and – of course! – the knights and horses.
Recently, my family and I were able to take part in another Medieval Times show (which was updated in 2012) close by in Kissimmee.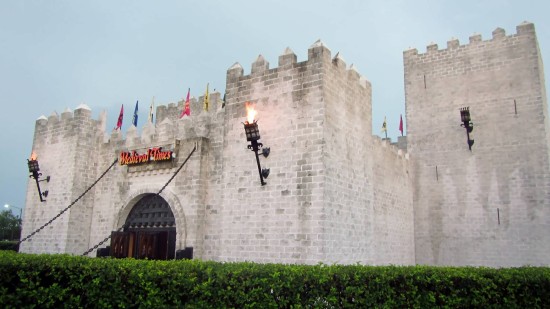 We arrived for the 6:00pm performance and, upon entering the castle, received our table cards and were given our blue crowns and flags. While we waited to be seated, we explored the Great Hall, which includes a full bar and shopping center. This is a great time to take some really fun photos!
Once it was time for table call, we heard trumpets sound and were taken to our seats with the other noble guests of our knight's allegiance in the King's Court. Each crown's color represents the knight for whom you will be cheering throughout the show.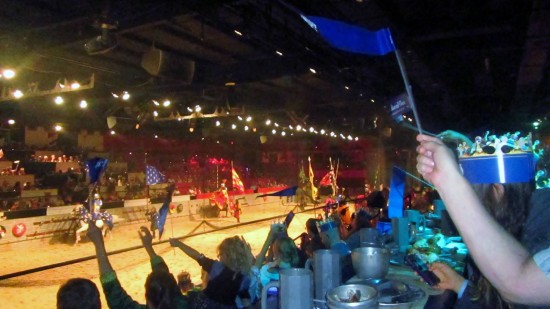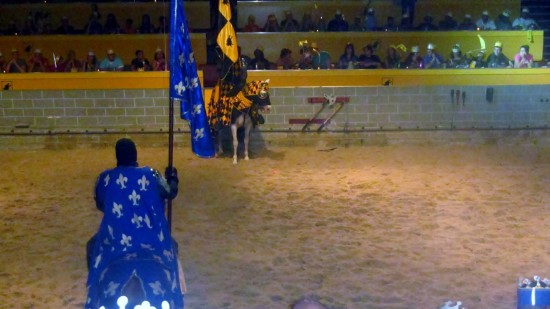 The castle we entered, I should mention, was the first in North America (it opened in 1983) and comes complete with a variety of suits of armor in the lobby. Along with the castle, the Medieval Times location in Kissimmee also offers an authentic eight-cottage medieval village which is equally as entertaining. I definitely recommend taking the family here prior to the show or even after the night's events are over.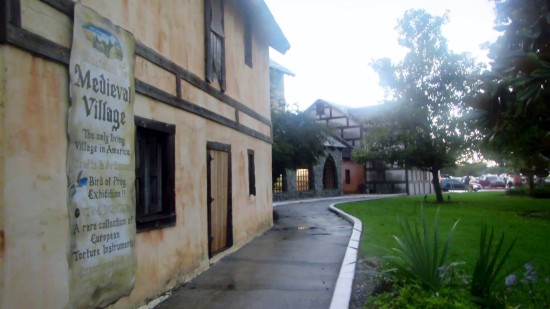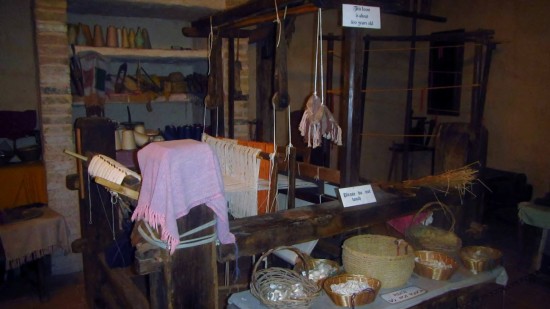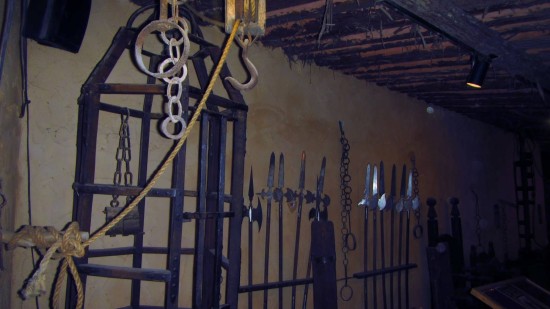 Once seated, we were greeted by our serf (server), and the Bill of Fare – or the evening's feast – was quickly served. The meal includes half of an oven-roasted chicken, garlic bread, tomato bisque soup, an herb-roasted potato, spare rib, and pastry of the castle for dessert. Select non-alcoholic beverages are also included, with a full service bar available for an additional fee. There is also a vegetarian option, which includes hummus, pita bread, carrot and celery sticks, a three-bean stew with fire-roasted tomato and brown rice, and fresh fruit or Italian ice for dessert. The children's option for both is identical, which we thought was a bit much for smaller children.
The meal was really quite delicious. I am not usually one to enjoy meat on the bone, but I really enjoyed this chicken, and I loved the spare rib! The herb-roasted potato was another group favorite, and the apple pastry we received was warm, soft, and tasty, too. It was a bit odd to eat with my hands (no tableware is provided), but I understand that this is all part of the Medieval Times culture, and it really does help to transport you to that time and place. As I looked around, I could tell that kids in particular were enjoying this sans-utensil style of dining.
My sister chose the vegetarian option for her feast and felt the portions there were a bit lacking. The "fresh fruit" that she ordered for dessert was just a whole orange sliced in a peculiar way – this might be what they serve regularly, but she expected more of a fruit cup of some sort.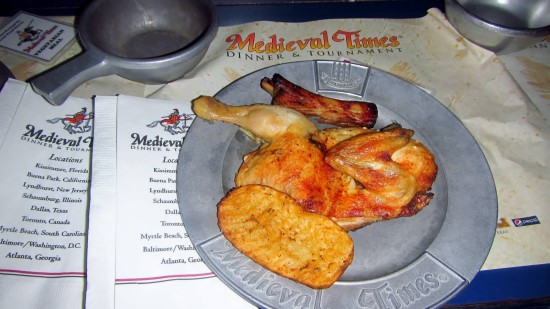 While you dine at Medieval Times, a tournament takes place that keeps you on the edge of your seat. Typically, while you are being greeted by your wenches and serfs, the knights are also being announced, followed by Don Carlos, the King, and his daughter, Princess Catalina, who is bound and determined to marry a man for love, not just one who has been chosen for her.
Shortly thereafter, the entertainment begins with various tricks on horseback, dancing horses, and a color guard. At this time, the Royal Falconer also appears with – what else – his falcon! The tournament includes a live flight of the royal falcon as he soars above the King's guests, which is really quite impressive.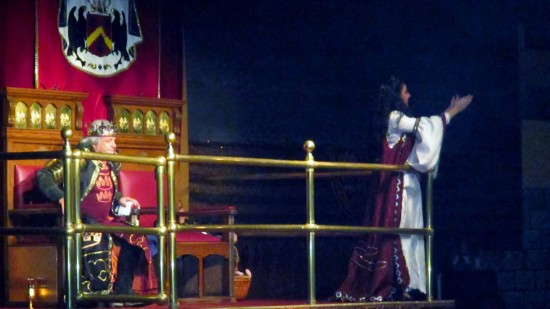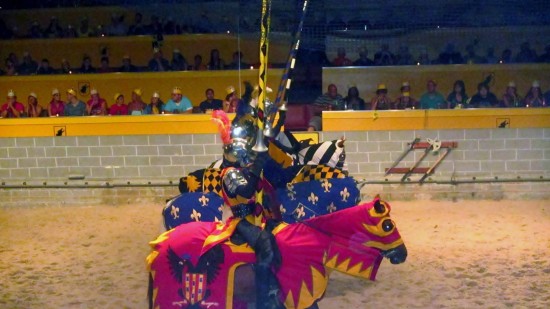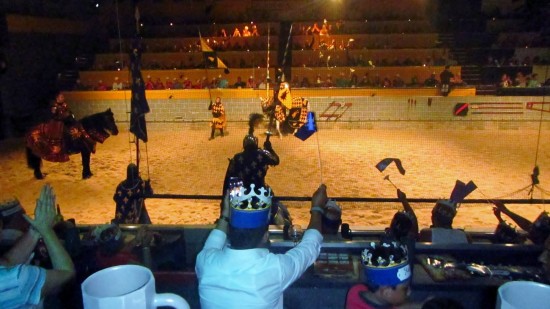 Once a few games are completed, the knights have to joust and battle to show that they are worthy – a thrilling up-close and personal look at the way things were done back in the day. One by one the knights fall, but the knight who wins (during our visit it was, much to our dismay, the Red Knight) chooses his Queen of Love and Beauty. This is usually a girl from the audience between the ages of three and eight. After each battle, the knights also throw beautiful roses to the women in their allegiance's section, which, of course, makes the crowd go wild, and women swoon. These knights are rather dashing with their stunning good looks and long, flowing hair!
Suddenly, just as the winning knight is celebrating, the Herald from the North storms into the tournament grounds and challenges him. The Red Knight battled the devious villain – and was triumphant! The King then thanked us all for joining him in his court that evening.
We filed out of the tournament grounds and were guided back to the Great Hall. Many guests stuck around, perusing the souvenir options (of which there are many) and enjoying the bar or taking pictures with members of the King's Court. Other guests, like us, opted to explore the Medieval Village just beyond the castle walls, which we found really entertaining and informative.
Unfortunately, my review wouldn't be completely honest if I didn't mention that our service was extremely lacking on the night of our visit. The only times we saw our serf was when he quickly dropped off food; our drinks were left unfilled after the first round, and we had to remind him multiple times of certain items our meal was to include. In terms of any "show" on his part, he just wasn't having it.
I understand, having been in hospitality for so long, that we all have bad days and off-nights, but I'm also a huge proponent of leaving that at your car, plastering a smile on your face, and making the absolute best of it so that our guests in Orlando really do get the experience that they came for. As I looked around, other serfs and wenches seemed to really be into their show, service, and guests, so I certainly don't want to say that this is an overall defect, as I truly believe it isn't.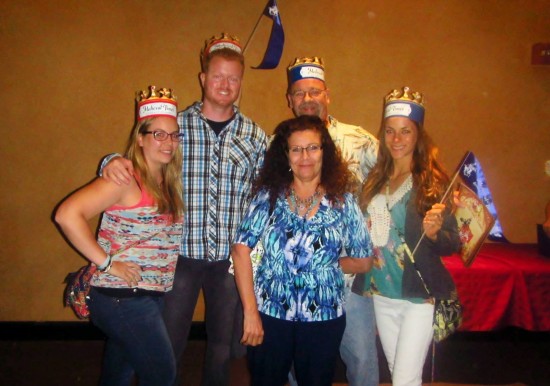 All in all, Medieval Times is a great journey back into time for families, groups of friends, and celebrating visitors. All of the kids I saw seemed to be in absolute awe of everything that was in front of them that night.
A standard evening's fare begins at $62.95 for adults and $36.95 for kids. Children three and under, who are able to sit on a parent's lap, are free. VIP packages and special rates are offered, as well, and can be found on the Medieval Times website.
Read more about live entertainment in and around Orlando in the OI Blog Archive, or discover even more fun activities by sharing stories in the OI Community Forums.
Medieval Times Dinner & Tournament – map
Click any marker to display the attraction or venue name. To scroll or zoom, use the controls on the top-left of the map. You may also switch to different map views by using the buttons on the top-right of the map.
Medieval Times Dinner & Tournament – photo gallery
Click any image to view it full-screen. When the full-screen image is open, click to the right or use the right arrow on your keyboard to advance through the gallery.