Take five days in early May, add in three theme park enthusiasts and one condominium a few miles from Downtown Disney, and you've got the recipe for a tremendous "staycation" at Walt Disney World. As part of our "staycation," my family and I visited Magic Kingdom on several days, and even though it rained for a significant portion of our trip, we had an incredible time.
After we checked into our condominium last Wednesday afternoon, we headed straight to Magic Kingdom. In our pre-planning, we scheduled our FastPass+ reservations for three outdoor rides. However, when we arrived at the park, it started to rain.
The rain didn't stop us, but we had to make adjustments to our reservations. It was easy to reschedule them using the My Disney Experience (MDE) app while we ate our picnic dinner in a covered area. That evening, we enjoyed several indoor attractions, including Buzz Lightyear's Space Ranger Spin, where I set a new personal record score of 875,500!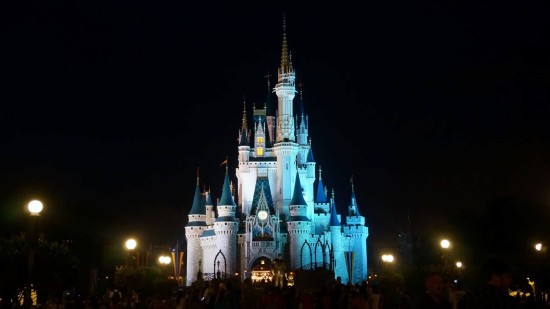 [wptouch target="non-mobile"]Remember, you can click any image to view it full-screen. And don't miss the complete photo gallery with 51 new full-screen images at the bottom of the post.
[/wptouch]
On Friday, we once again had big plans to spend the entire day at Magic Kingdom enjoying outdoor attractions that we don't usually get to experience, especially the new Festival of Fantasy parade. Unfortunately, Mother Nature still had other plans:  we arrived at the park mid-morning, and it started raining. The "rain, rain, rain came down, down, down" and lasted all day long. However, like most vacationers at Orlando's theme parks, we were prepared – we put on our ponchos and kept going.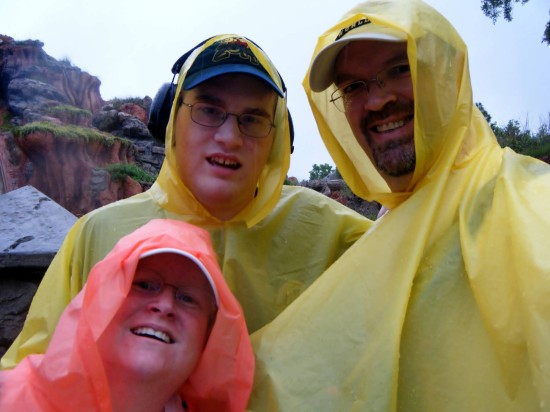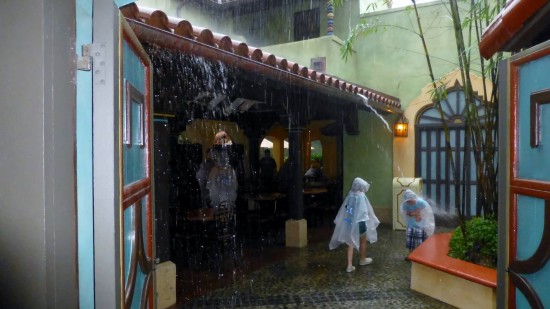 We rode several outdoor attractions until they were closed due to lightning. We took a break during the worst part of the storm and hopped on some indoor rides, as well. The outdoor attractions did reopen after the lightning subsided, but it continued to rain all afternoon. It is certainly a different experience when you ride Dumbo in the rain!
While in the New Fantasyland section of the park, we were excited to see Cast Members test-riding the new Seven Dwarfs Mine Train, and it looked like so much fun. The grand opening of Walt Disney World's newest attraction is set for May 28, 2014.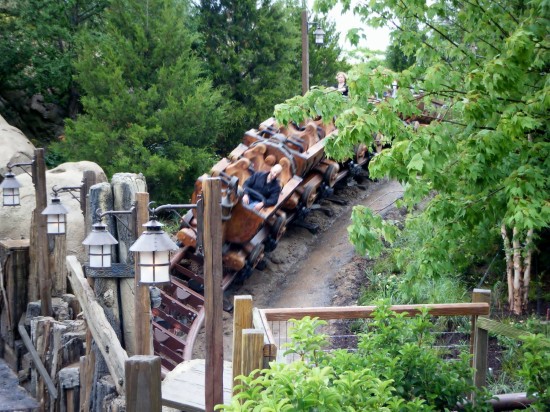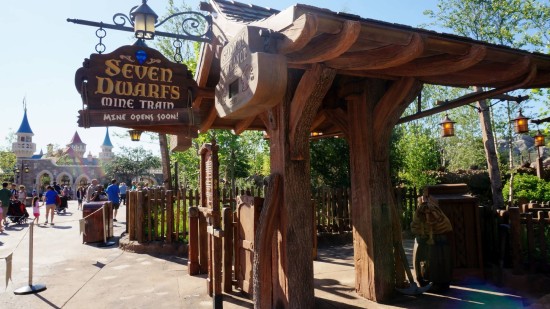 After we used our allotted three FastPass+ reservations, I went to a FP+ kiosk to book our fourth attraction. This new, recently-added feature worked well for us the day before at Hollywood Studios. However, on this day, a Cast Member tried to help me, but the My Disney Experience system was not cooperating. Since we couldn't add a fourth reservation, the CM gave me a paper FastPass for up to five guests to use at any attraction in Magic Kingdom.
Because of the rain, the afternoon parade was canceled, but we discover later in the day that the park has a "Rainy Day Cavalcade," wherein the characters ride in covered cars and double-decker buses along Main Street while catchy music about rain played over the speaker system. It was, without a doubt, cute and entertaining and also the first time we had seen this substitute parade.
By the end of the evening, our socks, shoes, and shorts were soaking wet, but our family had spent another magical day making memories at Magic Kingdom.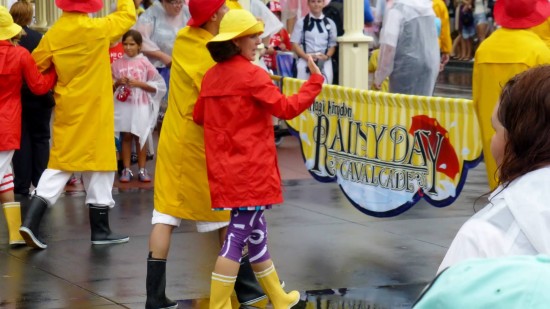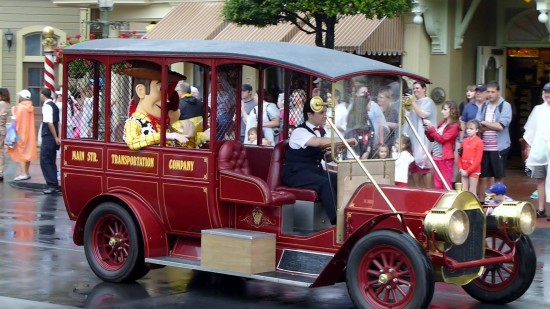 [youtube_video]hjNpOy-5o2s[/youtube_video]
On Sunday, Mother Nature finally provided us with a beautiful, sunny day, and we decided to go back to Magic Kingdom to see the Festival of Fantasy parade and enjoy other outdoor attractions we missed on Friday.
We arrived after lunch and soon realized it was going to be a busy day at the park. Wait times for the popular attractions were over an hour, with some reaching 90 minutes or more. Since Anna and Elsa from the movie Frozen recently moved to Princess Fairytale Hall from Epcot, the long wait to greet them has not changed – a posted wait time of 300 minutes(!) is not uncommon to see. The advantage to having Anna and Elsa at Magic Kingdom is that guests who plan ahead and are lucky enough to make FastPass+ reservations can meet with these popular characters without the unbelievable wait times.
Construction continues in the hub area near Cinderella Castle to make more room for the flow of park guests. The sections that are completed are lovely to see, but I am personally going to miss the covered pavilion in the rose garden; we always enjoyed having a snack there and getting away from the crowds.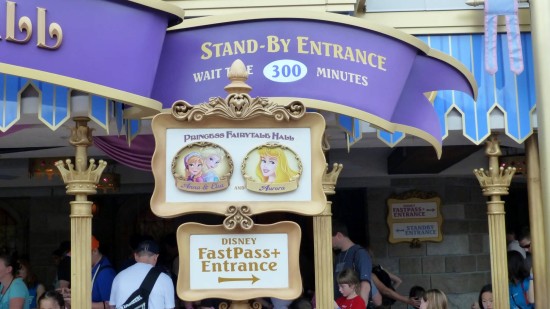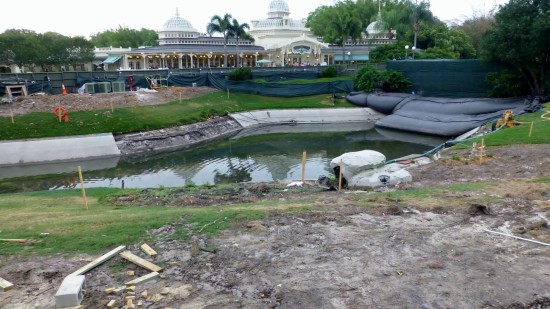 The highlight of my day – in fact, one of the highlights of the entire "staycation" – was seeing the new Festival of Fantasy parade.
I stood in an excellent location near the FastPass+ reserved area, toward the front of Cinderella Castle, and was able to see the parade easily. The beautifully-decorated, fantastically-designed floats and costumes were a sight to behold. The detail on each float is unbelievable; small details like Merida's bear brothers peaking out of the bagpipes and Dumbo perched to fly on the back of the circus float are hard to catch the first time you see them. I find something new every time I look at my photos.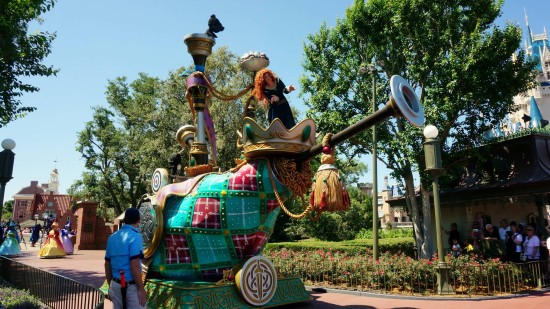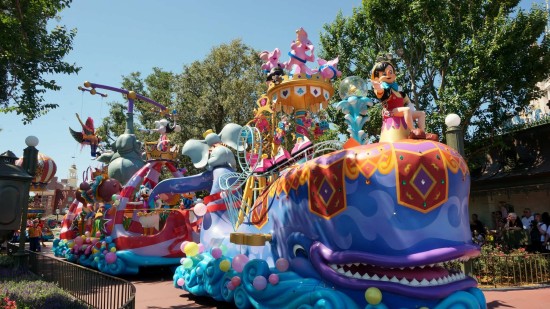 The crowd was excited to see Anna and Elsa from Frozen featured in the parade, and I laughed when I saw the Mime from Rapunzel joyfully walking down the street.
The best and most outstanding float in the parade, though, was Maleficent as the fire-breathing dragon. I was absolutely enthralled with the design of the float and the costumes of the Cast Members. I loved the fact that the dragon breathed fire while majestically towering above park guests along the parade route.
Hands down, this parade is the best I've seen at Walt Disney World.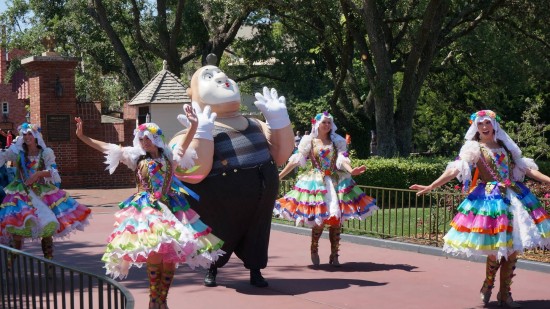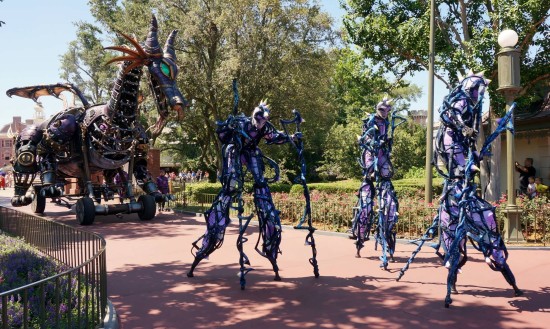 We spent the remainder of our day and early evening enjoying the beautiful weather, entertaining attractions, and great rides at Magic Kingdom. We sadly went back to the condominium to pack for our trip home on Monday morning. Although we were very tired at the end, and a lot of our time was spent in the rain, we had a wonderful "staycation" and look forward to our next visit to Walt Disney World.
To continue reading about Walt Disney World, view our WDW archive on the OI Blog. Or you can catch up on all our trip reports.
Magic Kingdom trip report – photo gallery
Click any image to view it full-screen. When the full-screen image is open, click to the right or use the right arrow on your keyboard to advance through the gallery.
[sws_author_bio user="MaureenDeal" size="105″ authorposts="More OI posts by Maureen" name_format="About the author"] [/sws_author_bio]