With so many theme parks to choose from in Central Florida, how do you choose which one to take your family to?
Well, if you've got older kids, you'll probably choose a park with more thrills. With younger children, you'd probably choose a park with magical princesses and characters they know. But what if you have really little ones – toddlers or infants? Which park can you go to where the entire family will have fun?
With the opening of Duplo Valley at LEGOLAND Florida, this park now fits that description perfectly.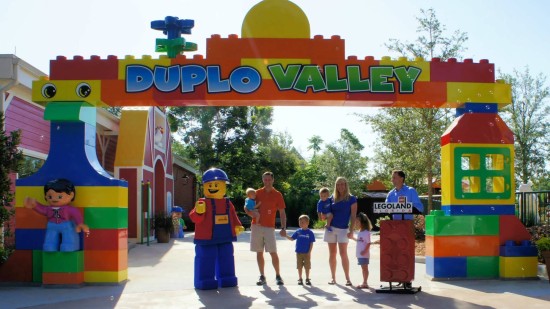 LEGOLAND had a Duplo Barn for toddlers since the beginning, but as Adrian Jones, General Manger of LEGOLAND Florida, said, it just wasn't as fantastic a place as the park wanted to have for toddlers. So they closed down the old Duplo Barn and, as of Friday, May 23, have unveiled the new and much improved Duplo Valley. Much more than just a barn, there are now rides, a splash pad, and an air-conditioned play area for the younger ones.
Let's break them down one by one:
The Duplo Tractor ride simulates a tractor ride through a farm. Here, kids see larger-than-life chickens, bunnies, and goats as they ride around a short track (or, in their minds, drive around it – each seat has its own steering wheel). Around the outside of the area, there are signs explaining what each animal is, with a large and easy-for-little-hands-to-push button that activates that animal's sound. What toddler doesn't like to push buttons?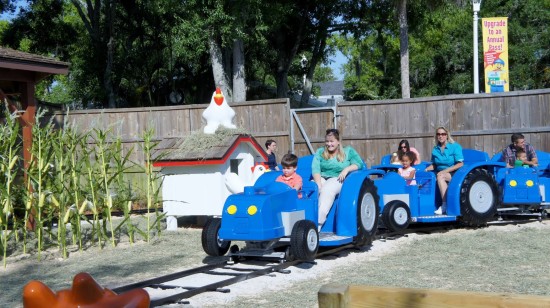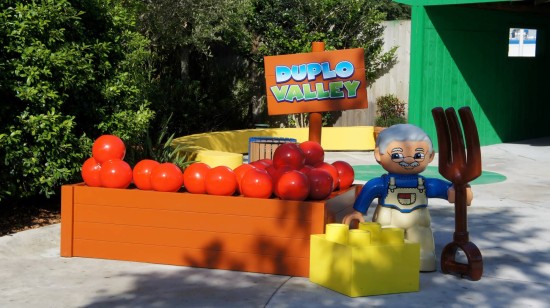 The Splash 'n Play splash pad area also has its own buttons. But when you press these, you don't hear animal noises – you get squirted with water! (Yes, parents, you'll want to bring a bathing suit for your child for this one… or, at least, a very absorbent towel. Your kids will get soaked here.)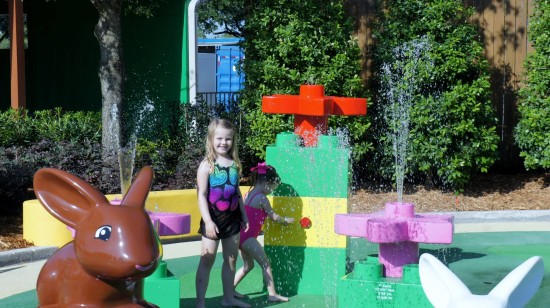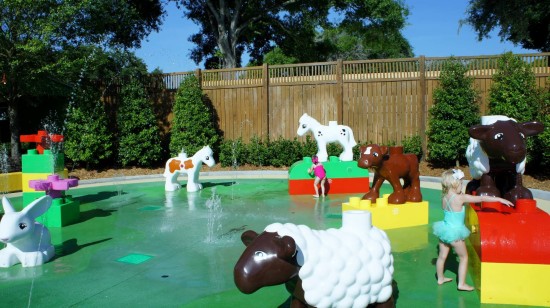 The Duplo Train is a charming ride aboard a life-sized, well, Duplo train. And the best part of this ride is the height restriction – there isn't one! Any child that is able to sit upright is able to hop aboard, as long as an adult accompanies them. So once your child has learned to sit up by themselves, the whole family can enjoy a ride on this adorable train.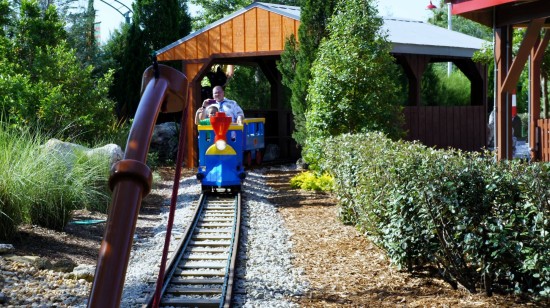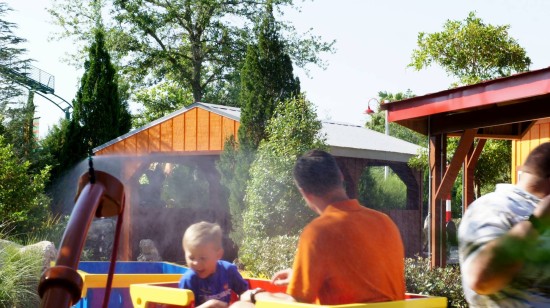 The return of the Duplo Farm as the air-conditioned play area is a wonderful spot on hot days.
There are child-sized playgrounds (aimed for ages two to five) on top of the soft rubber playground surfaces that is common these days… and it's all surrounded by blissfully cool air conditioning. They've even got a separate room for toddlers to play in, complete with large, soft Duplo bricks, where they can build to their hearts' content (oh, and parents – the air conditioning in the toddler room is even cooler than the rest of the building!).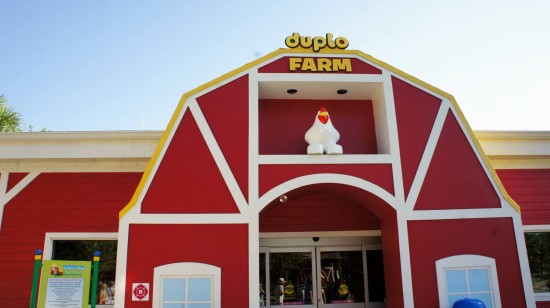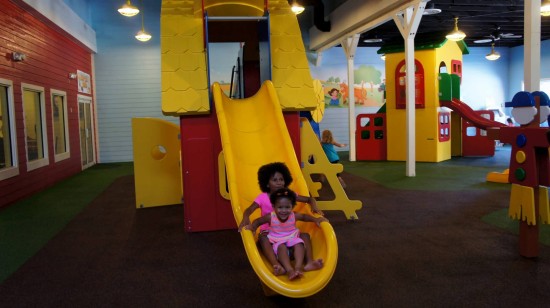 My favorite spot in the Duplo Farm was the baby care area.
This section is much more than a chair for nursing and a pull-down changing table – it's a complete area. Four rocking chairs are separated into stalls with curtains for privacy for nursing (and mini-rocking chairs are there, too, for any of baby's siblings). They have four separate baby changing areas – not a pull-down changing table, but a real, solid table, complete with soap and paper towels, if you need them. To top it off, they have two highchairs for feeding time, a microwave to warm the food up in if needed, and they even have a bottle warmer. They have absolutely thought of everything you could need, including a cell phone charging area for the parents – cord included!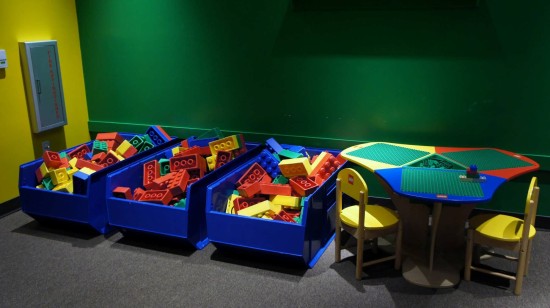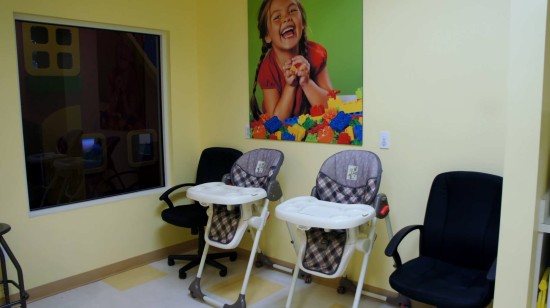 Adrian Jones explained to several of us that, while Duplo Valley is a wonderful place for toddlers, they're well aware that parents don't want to spend all day listening to farm animals and riding the Duplo Train; they want to enjoy the park themselves, as well as let their older children enjoy it, too – and they want to do it without having timed "swap-offs" of Duplo Valley duty.
So they're working on a plan to incorporate Tot Spots throughout the park, so that while big brother rides the rollercoaster, little sister has a place to play, as well. This will be similar to the "play with Legos while your parents hold your spot in line" areas they have now – but it will be more elaborate and filled with Duplos for the younger ones. He didn't have a date for when this will be in place, but he said five such areas are being planned for the park. While LEGOLAND Florida now has something for all kids, from one year of age and up, the addition of the Tot Spots would truly make this a park for the entire family.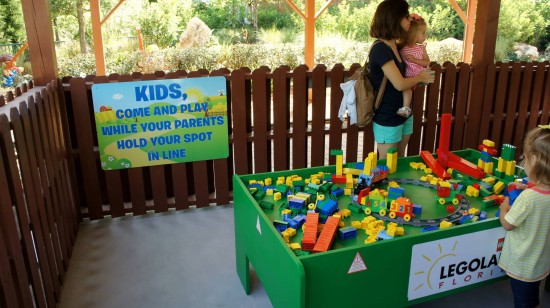 The bottom line? If you have little ones, or if you are just really young at heart, check out the new Duplo Valley at LEGOLAND Florida. And make sure to bring your camera – those little kid smiles are priceless, and you'll see a lot of them here.
You can read up more on LEGOLAND Florida in the OI Blog archive.
Duplo Valley at LEGOLAND Florida – photo gallery
Click any image to view it full-screen. When the full-screen image is open, click to the right or use the right arrow on your keyboard to advance through the gallery.
[sws_author_bio user="SalinaBristor" size="105″ authorposts="More OI posts by Salina" name_format="About the author"] [/sws_author_bio]