The DUPLO-sized fun starts May 23
A herd of cows, goats, chickens, and sheep arrived at LEGOLAND Florida to graze about in their new homes in the park's latest expansion, DUPLO Valley, specifically geared to toddlers ages 2 to 5. DUPLO Valley will officially open to guests on May 23, 2014, just in time for family-fun over Memorial Day weekend. The DUPLO farm animals will be key features in two of the attractions, the mini tractor ride and the water play area. DUPLO Valley will be the ideal place for park guests to play and relax with their toddlers with new farm-themed attractions, an air-conditioned indoor play area, and a water play area.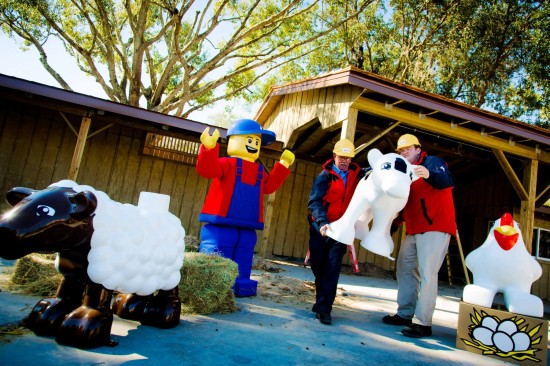 Among other activities, toddlers will be able to jump on a tractor their size and help the farmers plow the cornfields and hunt for missing farm animals.
For those looking to cool off, the new splash and play area will be refreshingly fun with intermittent water spouts and interactive water elements set among larger than life farm animals with a soft deck for safety.
The central feature of DUPLO Valley will be the DUPLO Train, where toddlers will be able to board a train on their own or with their parents to explore countryside-themed scenery passing through farms, fishing holes and campgrounds.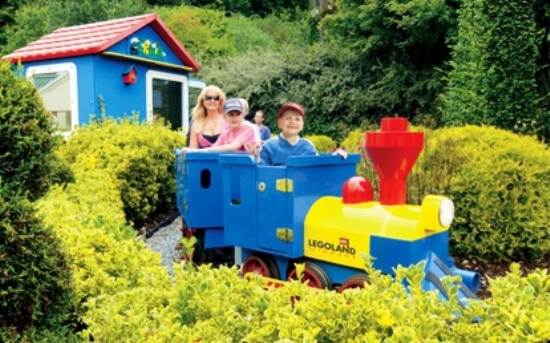 Another key element will be the existing DUPLO Barn, which will feature significant enhancements to allow kids to play indoors in the comfort of air conditioning. Existing attractions will be enhanced with additional DUPLO farm-themed play areas and a toddler room, where parents can relax while kids build with DUPLO bricks. The barn's Baby Care Center will continue to provide all the amenities to take care of young children. It offers private nursing stations, rocking chairs, microwaves, bottle warmers, high chairs, changing stations, cell phone charging stations and more.
During construction, park guests with toddlers are encouraged to explore the many other attractions the entire family can enjoy including the newest attractions in The LEGO World of Chima presented by Cartoon Network.
The new DUPLO Valley will add more excitement to LEGOLAND Florida's line-up of more than 50 rides, shows and attractions dedicated to children of ages 2 to 12.
LEGOLAND's 2014 Military Appreciation Days
LEGOLAND Florida salutes the men and women serving in the United States Armed Forces with the continuation of Military Appreciation Days throughout 2014. As an appreciation for their continued service, all active duty military personnel including the Army, Navy, Air Force, Marines, Coast Guard, National Guard and Reservists are now entitled to free single day admission to LEGOLAND Florida and the LEGOLAND Water Park (open seasonally). Specifically geared for families with children ages 2 to 12, LEGOLAND Florida also offers substantial savings for family and friends of military personnel so all can enjoy the more than 50 rides, shows, attractions and the newest expansion, The LEGO World of Chima presented by Cartoon Network featuring an interactive family water ride, The Quest for CHI.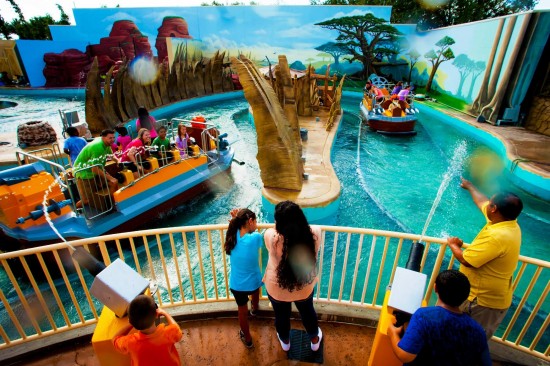 To redeem their free admission ticket, active duty military personnel should present their military identification card to LEGOLAND Florida's ticket window the day they plan to visit. Family and friends of military personnel also receive substantial discounts on admission tickets and should make purchases in advance through participating military base ticket offices.
"We are pleased to continue our Military Appreciation Days. This is a great way for LEGOLAND Florida to say thank you for the selfless service our military men and women provide every day throughout the year," said Kim Isemann, director of sales and marketing at LEGOLAND Florida.
To learn more, you can view all of our LEGOLAND blog posts, or visit the official site.