On Sunday, I visited Islands of Adventure (IOA) at Universal Orlando and spent a beautiful spring day walking around the park. But before I entered through the IOA turnstiles, I took a quick stroll around Universal CityWalk to see how its developments are going.
Universal CityWalk construction
Right away, I noticed that the construction walls have been removed from both Starbucks' new location and the all-new Cold Stone Creamery. The new Starbucks has signage, and its outdoor seating is ready to be put into place any day now.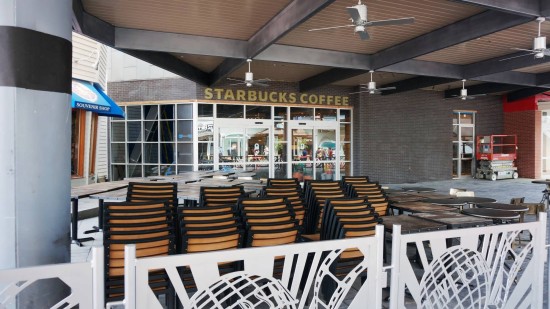 [wptouch target="non-mobile"]Remember, you can click any image to view it full-screen. And don't miss the complete photo gallery with 38 new full-screen images at the bottom of the post.
[/wptouch]
Next door, Cold Stone has its signs up, too.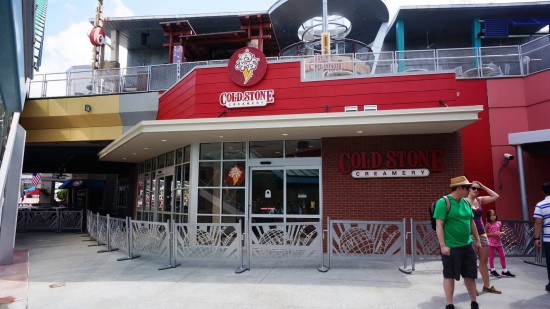 It appears both locations will be opening soon – I'd say by the end of March, for sure. Then construction can began on Cowfish Sushi Burger Bar, perhaps the most exciting of CityWalk's new venues, which will be located where the current Starbucks is right now (second floor, above Red Oven Pizza Bakery).
Islands of Adventure trip report
Starting with the biggest development at Islands of Adventure this month, the temporary walls surrounding the Hogsmeade Station construction zone in the Wizarding World of Harry Potter – Hogsmeade (WWoHP) have changed. They now extend inside Lost Continent, near the Mystic Fountain area, and block entry into the Wizarding World from that direction.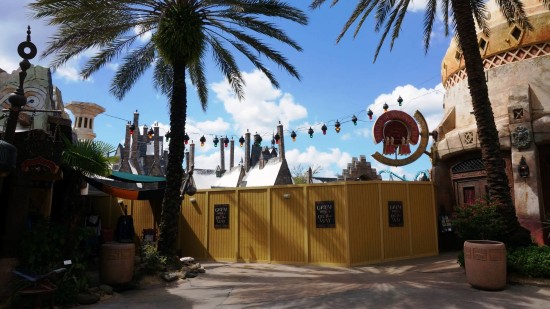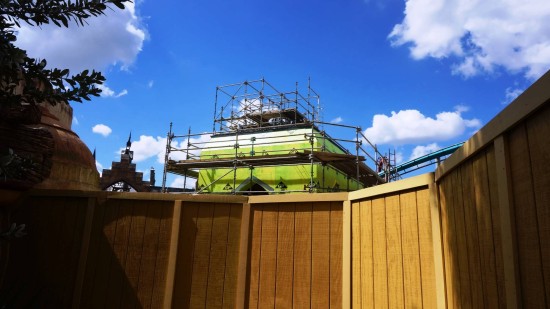 To help guests get to Hogsmeade with minimal inconvenience, a "detour" sign, along with a Team Member, are stationed near Fire Eaters Grill, instructing guests to proceed to the left and over the bypass bridge into Jurassic Park.
This path eventually brings guests near the Watering Hole in Jurassic Park. From there, they can proceed over the bridge into Hogsmeade, near the stage used for the Frog Choir & Triwizard Spirit Rally.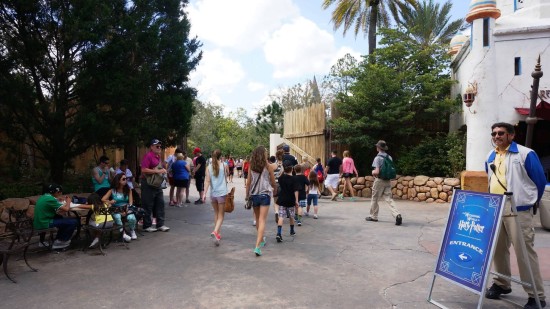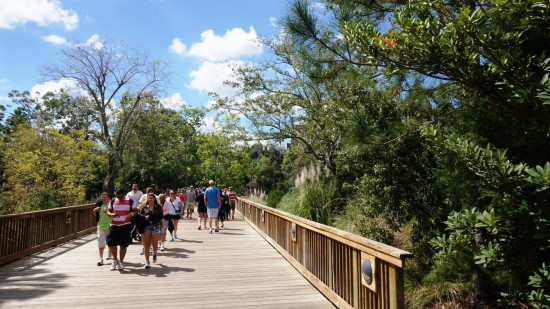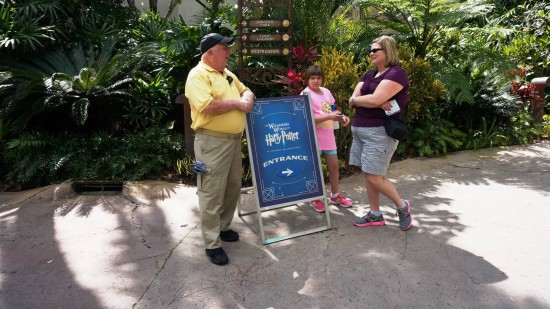 Unfortunately, a bottleneck occurs in this Hogsmeade entry area for several reasons.
There is a butterbeer cart line that extends onto the bridge and narrows the available walking space. I observed a blockage due to several large strollers trying to pass by each other in this section. Guests also stop on the bridge for excellent photo opportunities of Hogwarts Castle behind them, which, in turn, interrupts the flow of pedestrian traffic in and out of Hogsmeade.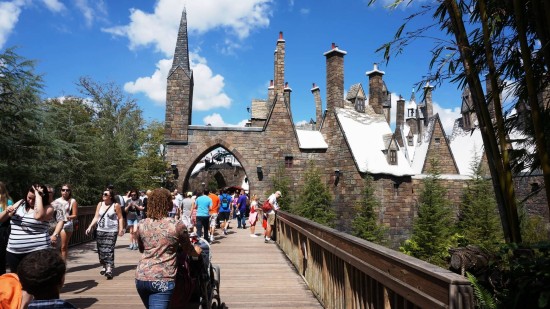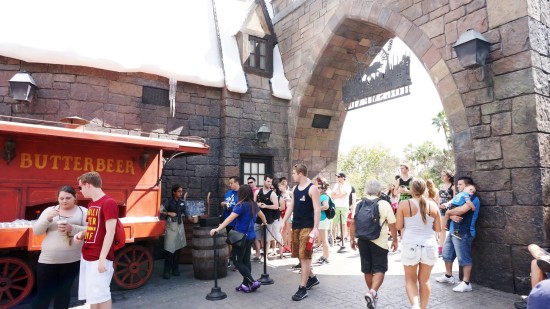 Since this may be the only access into and out of the Wizarding World until the new Hogsmeade Station is complete, I suggest guests be patient and aware of this potential backup.
Once inside Hogsmeade, I made my way to the construction zone near the current Hogwarts Express replica. The construction walls are now placed under the entry arch, blocking access to Lost Continent completely.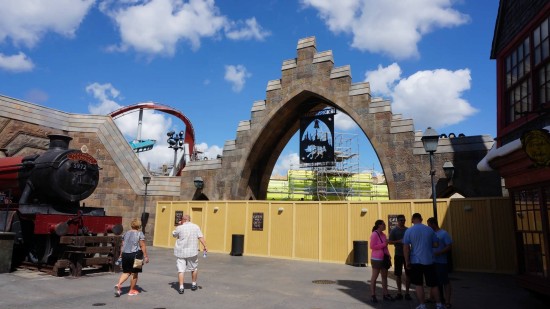 Since the new construction is not visible over the walls, it was difficult to determine whether any progress has been made on Hogsmeade Station. And, unfortunately, we were unable to take photos from Dragon Challenge this trip.
While this construction encroachment may be annoying to many park guests, I'm thrilled that this activity signifies that the real Hogwarts Express traveling between Hogsmeade and Diagon Alley is closer to becoming a reality!
Crossing back over the congested bridge to Jurassic Park, I observed that Jurassic Park River Adventure was closed for refurbishment (and will be through March 11). Temporary construction walls blocked the entry to the ride, and all visual access to the attraction and, even, the splash zone observation area was not accessible to park guests.
In Toon Lagoon, Popeye and Bluto's Bilge-Rat Barges and the surrounding area was open after being refurbished last month.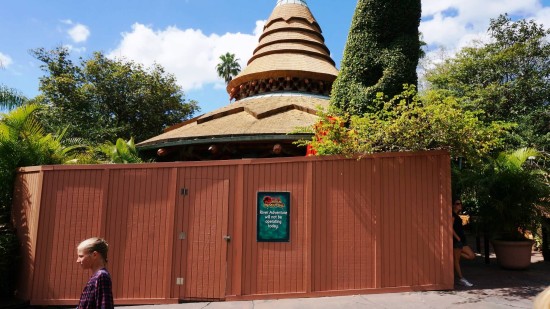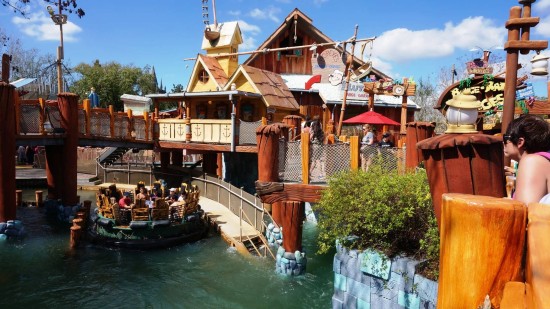 One attraction in Toon Lagoon that is fun for the whole family, which can be easily overlooked by IOA visitors, is Me Ship, The Olive. This interactive play area has three levels and provides entertainment for all ages.
An enclosed toddler play area is located inside on the first level of the attraction.
On the second level, guests can use the free water canons to shoot unsuspecting riders on Bilge Rat Barges below, which can be highly entertaining for everyone involved.
On the third level, guests can ring the ship's bell and use their imagination as they steer the ship. Kids can slide down a tube from the third to the second level, and another tube slide can be used from the second down to the first level.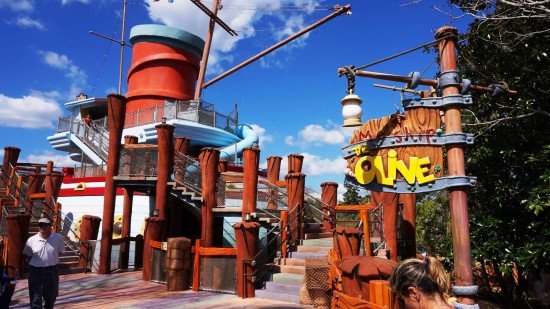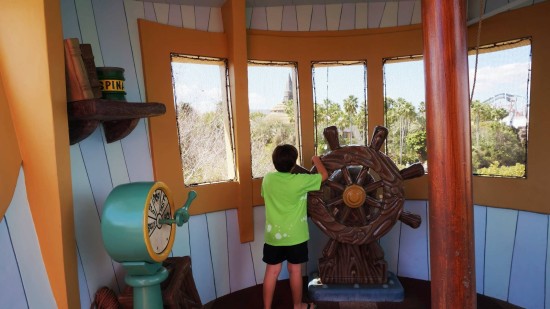 If your child needs to burn off some excess energy, you can have him or her climb back up to the third level and repeat this fun tube slide many times.
In addition, the spectacular views of Islands of Adventure from the top level of Me Ship, the Olive are not to be missed. Hogsmeade, Lost Continent, Seuss Landing, and Marvel Super Hero Island are all clearly visible and make great photo opportunities.
If guests aren't able to maneuver the three flights of stairs, there is a small elevator available to take them to each level.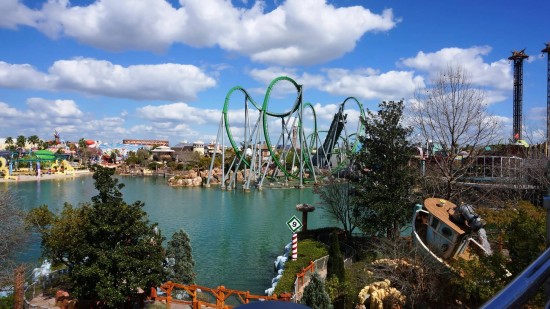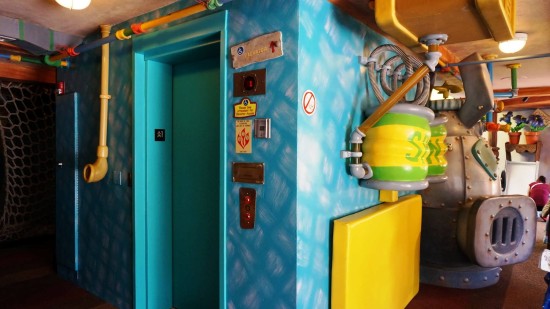 [youtube_video]1O2uck6JTg0[/youtube_video]
Even though the crowds seemed to be very busy, especially in the Toon Lagoon area, on this warm afternoon, wait times for attractions were moderate. Harry Potter and the Forbidden Journey had a posted wait time of 30 minutes; Flight of the Hippogriff, 20 minutes; Dudley Do-Right's Rip Saw Falls, 30 minutes; the Amazing Adventures of Spider-Man, 40 minutes; and the Incredible Hulk Coaster, 15 minutes.
I enjoyed my visit to Islands of Adventure this month. It was exciting to see the changes around Hogsmeade and what they will bring by mid-summer. I hope that, when you next visit Universal Orlando Resort, you make a point to explore Me Ship, the Olive and the many other unique and extraordinary attractions at Islands of Adventure!
To plan your next visit to Islands of Adventure, see the full walk-through in the OI Universal Center. Or you can catch up on all our trip reports.
By the way, this is the last "slow" week before Spring Break 2014 begins. To see our crowd predictions, visit our free 12-month Universal Orlando crowd calendar.
Islands of Adventure trip report – photo gallery
Click any image to view it full-screen. When the full-screen image is open, click to the right or use the right arrow on your keyboard to advance through the gallery.
[sws_author_bio user="MaureenDeal" size="105″ authorposts="More OI posts by Maureen" name_format="About the author"] [/sws_author_bio]