The summer always brings many tourists to Orlando to enjoy all the world-class attractions, especially Universal Orlando Resort. Over the weekend, I joined my fellow travelers and toured Islands of Adventure. But before I got to the park, I took a brief stroll through Universal CityWalk.
Universal CityWalk
As CityWalk continues to expand its restaurant and food options, I noticed two new eateries opened since my last report, which provide guests with more quick-service options.
Bread Box, located on the upper level next to Menchie's, offers CityWalk guests sandwiches, salads, soups, and beverages (including shakes), with pricing at $7.95 for a sandwich. The inside of Bread Box is modern with a unique decor that features a variety of brightly-colored lunchboxes adorning one wall and porch swings doubling as benches to sit and enjoy your meal. Outdoor seating is also available.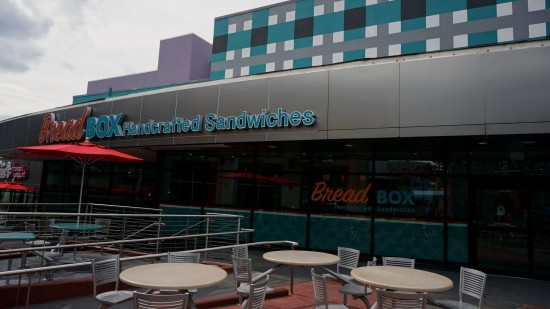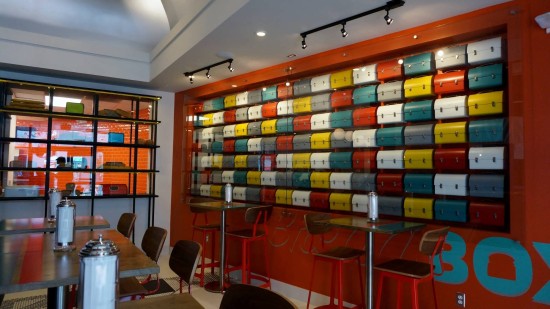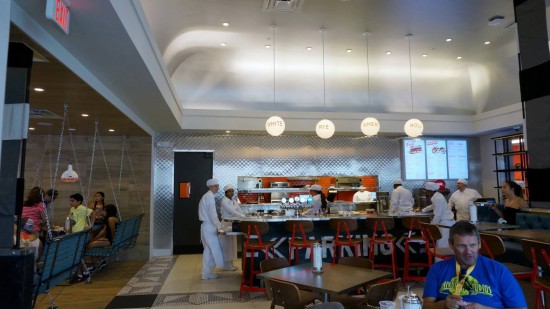 [wptouch target="non-mobile"]Remember, you can click any image to view it full-screen. And don't miss the complete photo gallery with 44 new full-screen images at the bottom of the post.
[/wptouch]
The Hot Dog Hall of Fame, located across from Antojitos, offers hot dogs prepared in a variety of styles, including New York, Chicago, and Detroit. They also offer kids' meals, beverages, side items, and beer. Prices range from $6.99 for regular-length hotdogs to $8.99 for a foot-long dog. All seating is outdoors, but guests can choose between stadium and covered table seating and watch baseball highlights on the enormous projection screen positioned above the restaurant.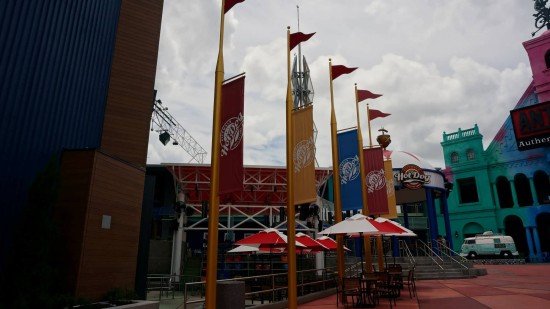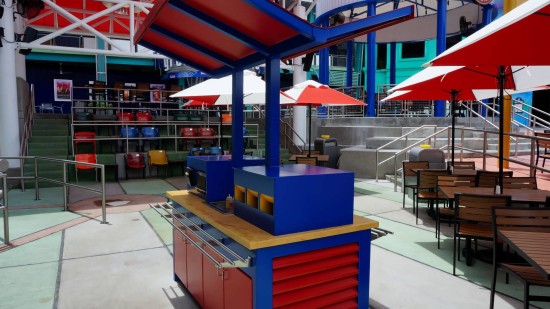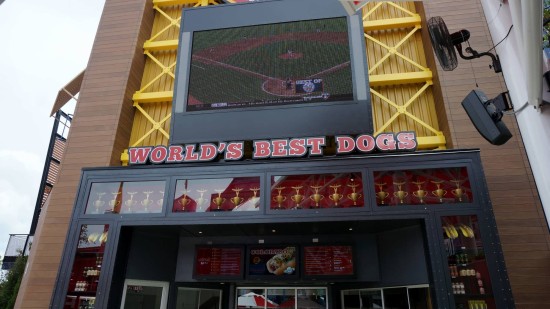 I didn't take this opportunity to try out the food at either location during this visit. However, OI contributor Dani did get a chance last week, and when you're done with this post, you can read her reviews here.
Islands of Adventure
After entering Islands of Adventure, I noticed the crowd levels were surprisingly moderate for summer. Posted wait times were almost ideal, with Harry Potter and the Forbidden Journey and Flight of the Hippogriff at 30 minutes; Jurassic Park River Adventure, 10 minutes; the Amazing Adventures of Spider-Man, 45 minutes; and Dudley Do-Right's Ripsaw Falls, 60 minutes (the longest posted wait time of the day).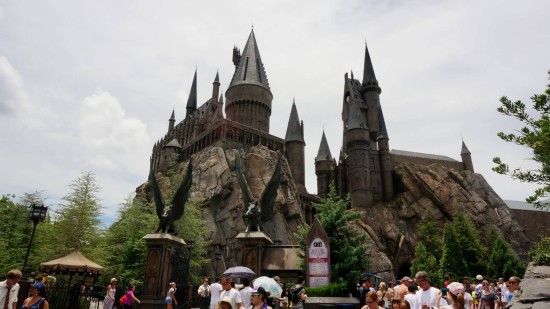 It was an almost agonizingly hot day at IOA, and I took frequent breaks to rehydrate and get out of the sun.
For those guests with younger children, please note that, in Seuss Landing, the Cat in the Hat ride has new height restrictions posted as of early summer: there is a minimum height requirement of 36 inches, and those guests between 36 and 48 inches must be accompanied by a supervising companion. Hand-held infants are not permitted.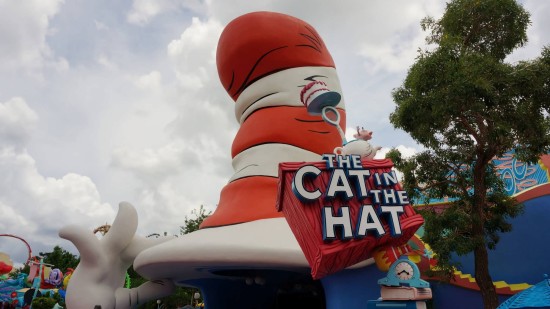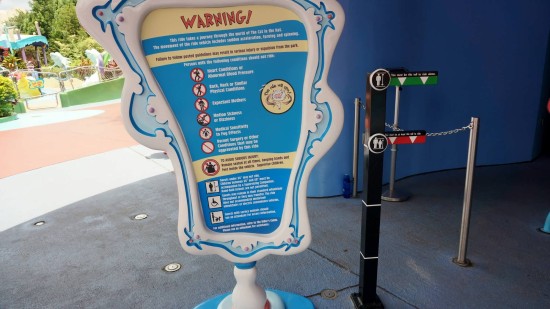 As part of the new features in the Wizarding World of Harry Potter expansion at Hogsmeade, there were many guests participating in the magical interactive wand experiences in front of several storefronts in Hogsmeade Village. Guests of all ages were enjoying this new addition.
Since my last visit, the Wizarding World of Harry Potter – Diagon Alley opened, including the Hogsmeade train station for the Hogwarts Express in IOA. The Hogwarts Express and Hogsmeade Station are both a sight to behold. Guests need to have park-to-park admission in order to ride this awesome, one-of-a-kind train to King's Cross Station in the London area of Universal Studios Florida. There are ticket booths at the entrance of Hogsmeade Station as a convenience for those guests who may need to upgrade their passes.
Anticipating large crowds, the queue of Hogsmeade Station twists and turns on its way up to the loading platform. Guests can enjoy the view of the Dragon Challenge coaster while waiting on the loading platform or after they have disembarked from the train.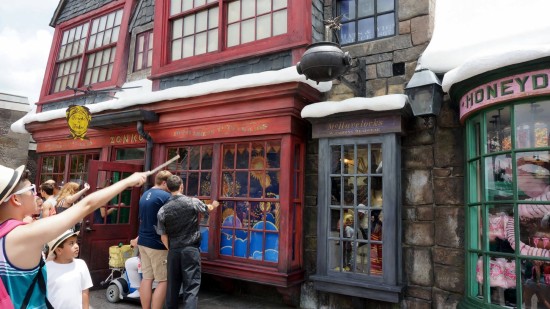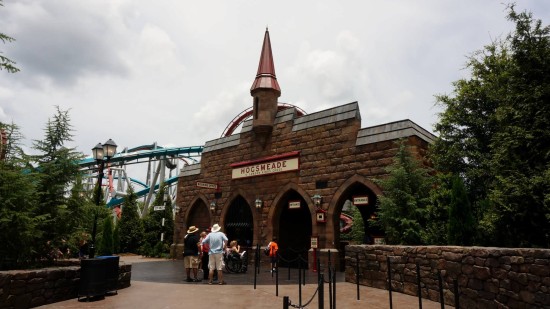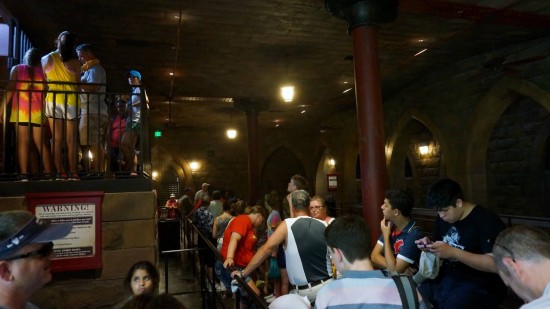 I was surprised to discover that a couple assigned to my train car only knew the Hogwarts Express took them to the other park, and that's it. They were asking where they would come out at Universal Studios Florida and if there was something else to see related to Harry Potter at that end of the train ride. I explained how to get to Diagon Alley from King's Cross Station. I later saw them in Diagon Alley, and they were very excited in this new, immersive addition to the Wizarding World (which I covered in yesterday's USF trip report).
Walking through the Jurassic Park section of IOA, I observed the continued construction in the rumored King Kong area between Jurassic Park and Toon Lagoon. In fact, the large archway signage between these two islands is in the process of being dismantled and will be moved closer to Thunder Falls Terrace.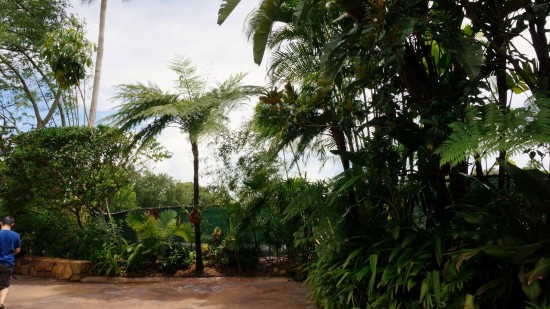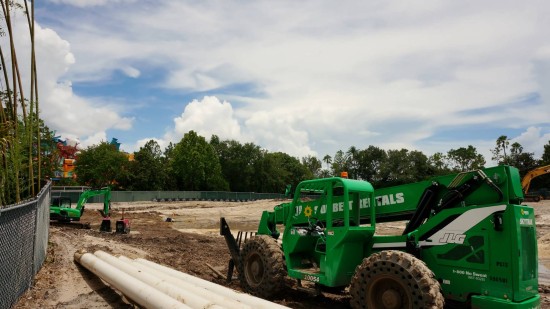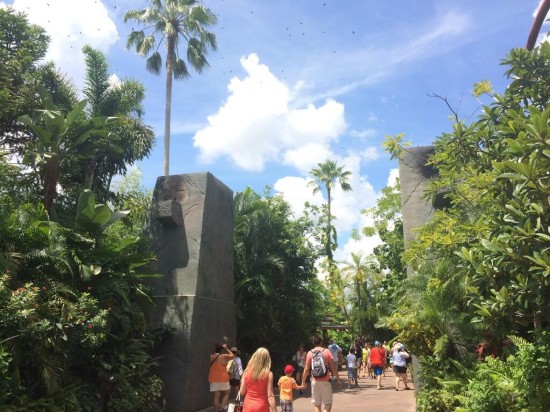 As guests explore Toon Lagoon, there is an opportunity for distinctive photos throughout the area. I'm a big fan of photos as a vital part of my vacation and consider them to be souvenirs longer-lasting than a t-shirt or hat. Universal Orlando offers a PhotoConnect card, which is a great way to make those memories.
Using your own camera or phone at Islands of Adventure with the comic "bubbles" in Toon Lagoon is another entertaining way to make memories. I've always liked walking through this section, seeing the captions, and taking pictures of my family under them. Serious or silly poses can be made under phrases like "I'm going to need a vacation from this vacation" and the ever-popular "Wish you were here" and "Thinking of you." Other captions include "It must be Sunday… we're in color!"; "Which do you think is my best side?"/"Inside"; and "Is this a great body or what?"/"Definitely or what."
Next time you visit Toon Lagoon, don't skip all the comic captions on both sides of the signage. And since IOA now has free wifi, you can post these photos to your Facebook or Instagram account for all your friends and family back home to see.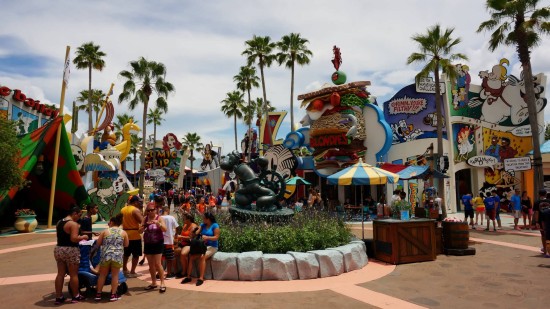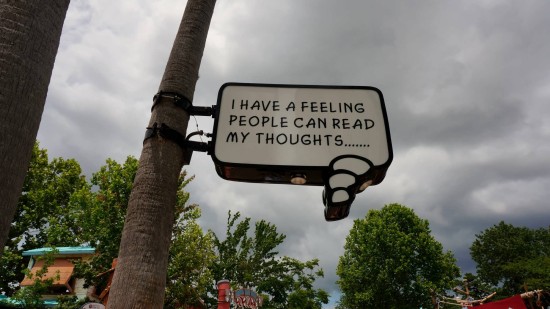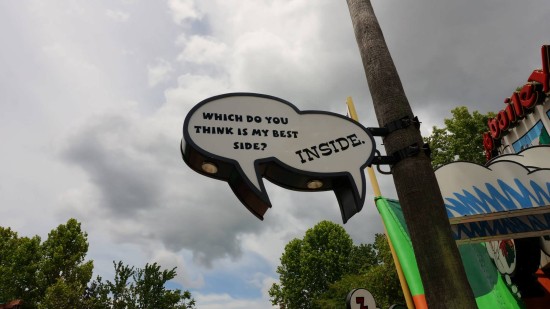 With the stunning and amazing expansion of the Wizarding World completed, Universal is already working on the next project. I look forward to the new rumored King Kong area and Universal Orlando Resort once again raising the bar for quality family theme park entertainment.
I hope you and your family can soon enjoy all that Islands of Adventure and Universal Orlando have to offer.
Reminder: See our reviews of Bread Box and Hot Dog Hall of Fame, or yesterday's USF trip report covering Diagon Alley (and the Hogwarts Express).
Then you can read all of our trip reports in the OI Blog Archive, or you can compare your wand moves with other vacationing Muggles in the OI Community Forums.
Islands of Adventure trip report – photo gallery
Click any image to view it full-screen. When the full-screen image is open, click to the right or use the right arrow on your keyboard to advance through the gallery.