This past weekend we visited Islands of Adventure, and it turned out to be one of those days where everything was fantastic!
I enjoy sharing my IOA experiences each month with Orlando Informer readers. I am always anxious to see and photograph the ongoing progress with the construction of Hogsmeade Station for the new Hogwarts Express attraction in the Wizarding World of Harry Potter – Hogsmeade.
This trip, the walkway between Lost Continent and the Wizarding World was open again.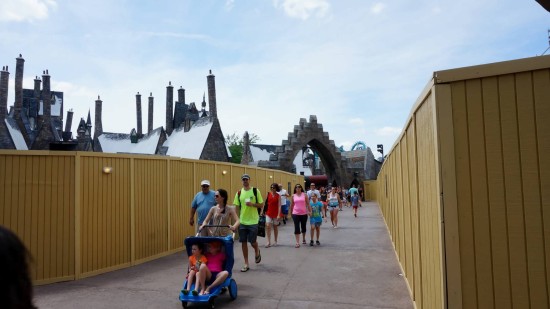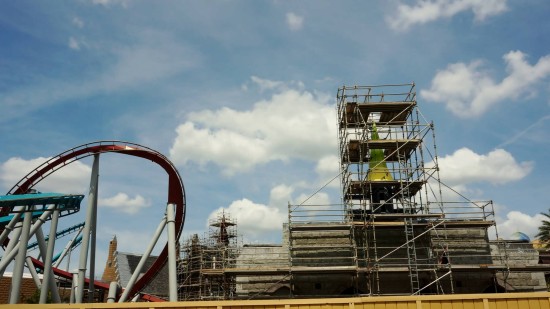 [wptouch target="non-mobile"]Remember, you can click any image to view it full-screen. And don't miss the complete photo gallery with 33 new full-screen images at the bottom of the post.
[/wptouch]
In Hogsmeade, I was sad to see Zonko's Joke Shop permanently closed (as of March 11). A wall has been built separating its former space from Honeydukes.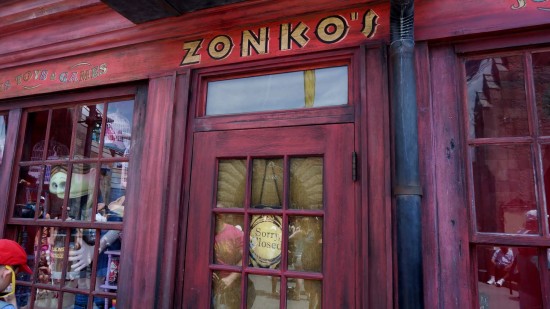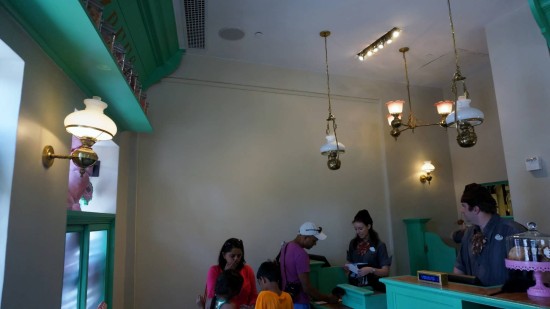 But our grief didn't last long, because…
We were lucky enough to capture some great photos of the almost-complete Hogsmeade Station from the Dragon Challenge coaster. If you look closely, you can see walkways and additional buildings being constructed in that area, which aren't visible from the guest side of the construction fence.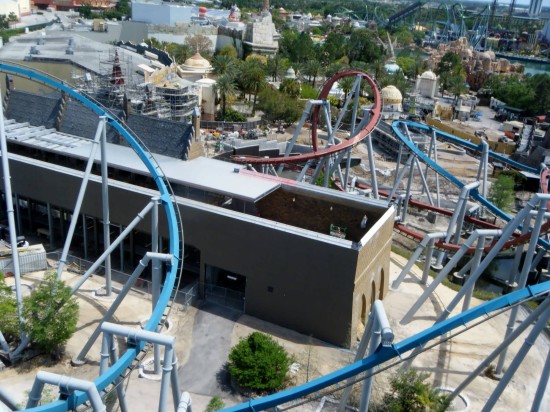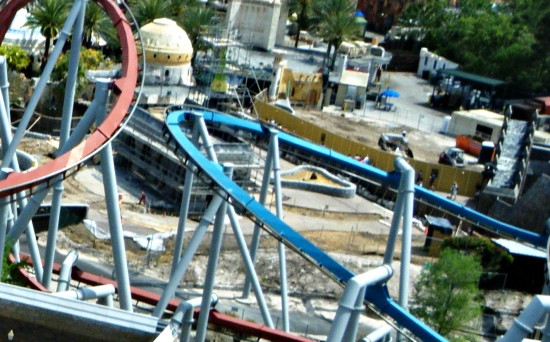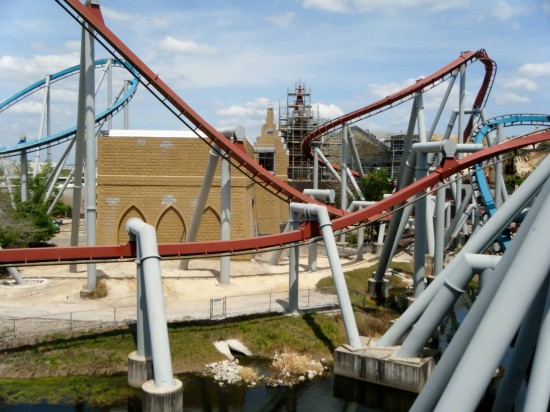 We were excited about the progress of Hogsmeade Station as seen through the photographs, but believe it or not, it wasn't the best part of this trip to Islands of Adventure – we will get to that in a moment.
Are you concerned about potential crowd levels during your visit to Universal Orlando Resort? OI has an incredible crowd calendar to help plan your vacation. The crowd levels were moderate at the park on this beautiful spring day, and the posted wait times were great: Harry Potter and the Forbidden Journey was only 30 minutes; the Amazing Adventures of Spider-Man, just 25 minutes; the Incredible Hulk Coaster, 15 minutes; Jurassic Park River Adventure, 45 minutes; and Dudley Do-Right's Ripsaw Falls, only 30 minutes.
And these fantastic wait times still weren't the best part.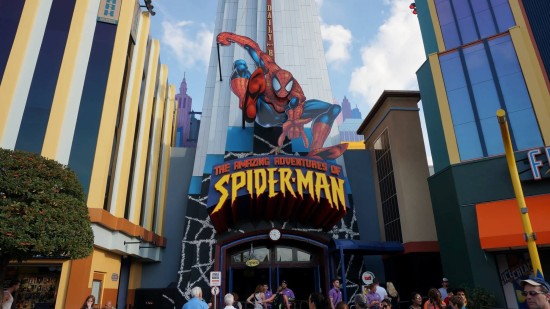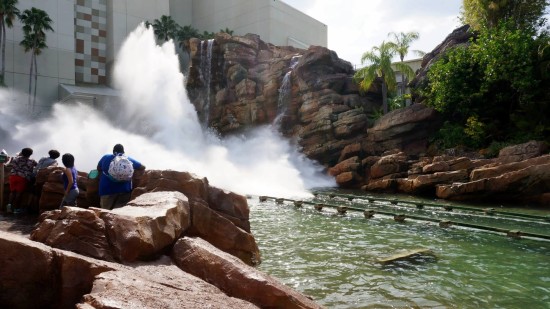 Each month, I strive to convey how much fun guests can have when they visit IOA. My family took part in almost every attraction this visit:  we got soaked on Ripsaw Falls and Popeye & Bluto's Bilge-Rat Barges in Toon Lagoon, flew with Harry and Ron on the Forbidden Journey in WWoHP, and rode Storm Force Accelatron in Marvel Super Hero Island. We also hopped on the Cat in the Hat (which is not spinning, apparently due to an incident earlier this month) – and it's at Seuss Landing where we had the most magical experience.
My son, who has autism and cannot speak, really enjoys live shows, especially those with music. We were able to see the Frog Choir and the Triwizard Spirit Rally in Hogsmeade, which are some of his favorites, but the Oh! The Stories You'll Hear show in Seuss Landing will remain in our memories for some time to come.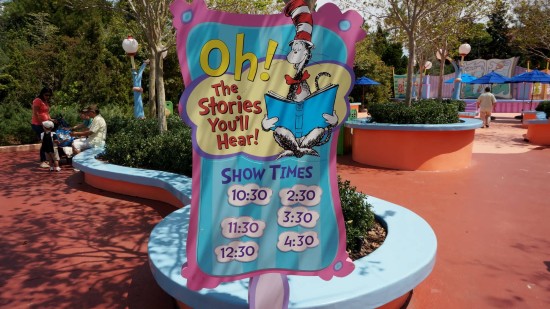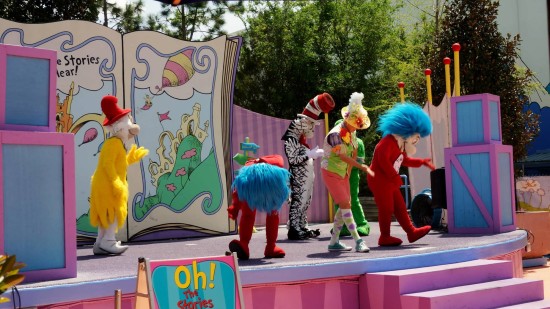 My son, although 19, loves the Dr. Seuss books and the PBS series. He reads a Dr. Seuss book each night before he goes to bed. My son expresses his joy by flapping his hands and loudly making happy sounds. Needles to say, you can't miss us in a crowd.
After "Oh! The Stories You'll Hear" was over, our son had his picture taken with the Grinch, and then we were approached by a Team Member. He asked us if we would wait about five minutes, because the cast wanted to meet our son backstage. We were thrilled and honored our son was given this awesome opportunity.
Behind the stage, all of the characters met our son (and us). To say he was ecstatic would probably be an understatement. He laughed and smiled and giggled the entire time. He hugged each character. When we told the cast how much our son loves Dr. Seuss and that he was the Cat in the Hat last Halloween, they hugged him again – especially the Cat. We posed for a few photos with the cast and profusely thanked them.
[youtube_video]mQ1qsCHASyY[/youtube_video]
It was an experience our son and we will never forget. The kindness and generosity exhibited by the Team Members and the cast of the show were overwhelming.
Could we ask for a more fantastic day spent at Islands of Adventure? I don't think so. Our entire day was delightful, but the opportunity to meet the cast of "Oh! The Stories You'll Hear" was the best part of our trip to Islands of Adventure and will be our favorite memory from IOA.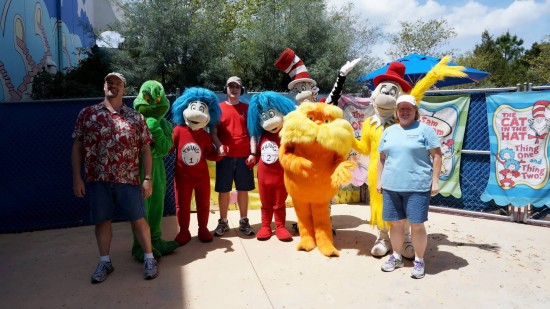 I hope you, too, can soon experience a fantastic day at Islands of Adventure and create lasting memories of your own.
To plan your next visit to Islands of Adventure, see the full walk-through in the OI Universal Center. Or you can catch up on all our trip reports.
Could you hear the party music from outside? We're celebrating the
OI Forums Grand Opening
, and you could win one of three $100 Universal Orlando gift cards!Just five full days after officially opening, we've already got over 600 members who have posted more than 6,300 times – join us, jump in, get your questions answered, and make vacation planning almost as fun as the vacation!Oh yeah, and get a chance to win a $100 Universal gift card too.
Start here
Universal Studios Florida trip report – photo gallery
Click any image to view it full-screen. When the full-screen image is open, click to the right or use the right arrow on your keyboard to advance through the gallery.
[sws_author_bio user="MaureenDeal" size="105″ authorposts="More OI posts by Maureen" name_format="About the author"] [/sws_author_bio]