Nickelodeon's Slime Time Live is fondly remembered by many of us as one of the shows taped live at Nickelodeon Studios, part of Universal Studios Florida theme park, before the studios closed in 2005 (the space eventually became home to Universal's Blue Man Group show).
[youtube_video]X2QekXgGivg[/youtube_video]
Many of us also fondly remember co-host Jonah Travick (@thisBeJonah), an integral, hilarious part of the broadcast. Jonah was best known for being the quirky and comedic part of the host trio, which also included Dave Aizer and Jessica Holmes.
Recently, I caught up with Jonah to recall some of his favorite memories about Slime Time Live and Universal Studios Florida, and to find out what he has been up to since his days of sliming and pieing.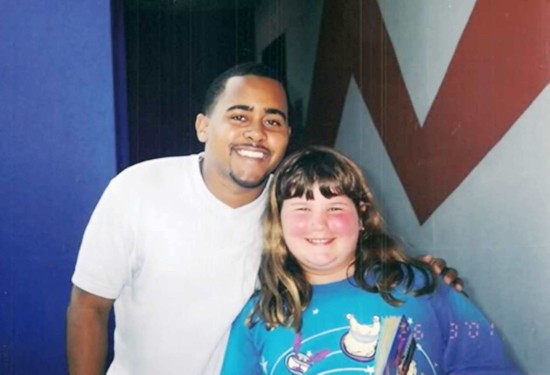 What is your most-missed memory of working on Slime Time Live?
The kids and families literally begging, even offering money, for us to pie or slime their kids. Sometimes parents wanted to be slimed and pied! There were even a few celebrities that were pied or slimed by their kids, even though they were not mentioned by name on air.
I wanted to yell "Babba Boey!" so bad live on the air when we slimed and pied Gary Dell'Abate from The Howard Stern Show, but the producers wouldn't let me. He even talked about it the next week on Howard Stern.
Was there one specific show or guest that you enjoyed the most?
The most memorable guest impressions I have were from the ones that I had the opportunity to socialize with behind the scenes and between takes. The guests that were really down-to-Earth and would share great stories and moments included Dana Carvey, Robin Williams, Ziggy Marley (son of Bob Marley), and David Arquette. They were very laid-back and cool. Jerry O'Connell and Anthony Anderson were just a riot and out of control!
Do you still keep in touch with Dave and Jessica at all?
Yes! Dave and Jessica will be lifelong friends of mine. We were all very close. We are still friends with many of the crew, as well. Dave and I see each other more often and have even worked together on recent television projects since he is still living in Florida. Jessica, however, is in Los Angeles, so I only see her if I go to LA.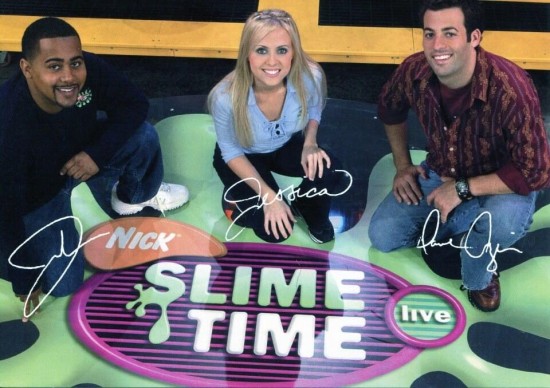 What was your favorite part about working at Universal Studios? Did you guys ever get to go into the park before opening or after closing to enjoy the rides?
Yes, we did! One of the many great perks at the time, especially since we had assigned parking right next to the soundstage. I could park and literally be just yards from the park. Our studio is now the home of Blue Man Group. Our parking was right there!
Do you still visit Universal?
Yes, my sister and daughter both work at Universal, so I get tickets from them, and there has been a few times that I have been on the backlot working on various production projects.
Do you prefer Universal Studios Florida or Islands of Adventure?
Universal… I still have a thing for movie-based rides.
What was your favorite ride when you worked at Universal? Has it changed with the large expansions since then?
My favorite ride was Back to the Future, which is still my all-time favorite movie. That is the movie that made me want to be a filmmaker. The ride spot is now a Simpsons-themed ride.  I rode it a few months ago and, as the nerd I am, spent most of the time looking for aspects of the ride that came from the original Back to the Future ride. I will say Spider-Man and Transformers, though, are pretty darn amazing. I think for the overall "fun factor," Harry Potter and the Forbidden Journey is the most fun of them all.
I was lucky enough to meet you when I was eight and on Slime Time Live. Do you still get stopped by people who remember you from the show?
Not so much anymore, now that I have aged 10 years and gained 10 pounds, but it happens sometimes when I meet people and they make the connection when they hear my name. I am a video producer now, and once, when I was shooting a golf promo, one of the young golf instructors on set heard my name when we were introduced, he made the connection. He said he was a huge fan of me and the show. To meet this twenty-something-year-old man, who said he was a fan when he was a "kid," that really made me feel old, but it is a nice feeling to know you had that type of influence on someone's life, and they remember you years later by name.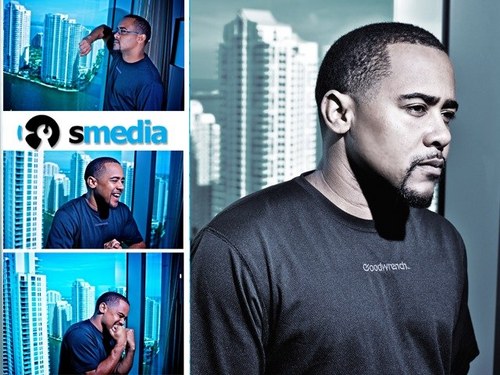 I have also had a few people find me on Twitter and Facebook. They post photos they have of me with them as kids, and that's always a hit with me! We took hundreds of photos and signed autographs each day after the show with people from all over the country.  It's mind-boggling to imagine how many family vacation photo albums I appear in. Remember photo albums?
What are you up to now?
I am a digital media producer now, and I specialize in video promos and commercials. I travel the state and the country doing projects. I am truly blessed to make a living at doing what is essentially my hobby and what I have always dreamed of doing. I also am producing an episodic series that is now in post-production, currently without a title. I'm very excited for everyone to see it once it is done!
Important question: sliming or pieing?
Hmmmm… I got them both several times a day for four years. They are both just as messy and sticky. However, anyone can make a pie at home and throw it in your face. There's something special about being slimed with genuine Nickelodeon slime made personally by our resident Gak-Meister!
Anything else you'd like to add?
My time on Slime Time Live was the most amazing time of my life. I never intended to be a television personality, but I am forever thankful that the producers at Nickelodeon gave me that once-in-a-lifetime opportunity. I'm rich with memories that, honestly, I can't even put the feeling in words. I wish I had a digital camera or smart phone back then.  My only regret is not taking enough pictures.
Thanks to the wonderful Jonah Travick for taking time out of his busy schedule to conduct this interview and share some of his favorite memories about Universal Studios Florida and Slime Time Live. To keep up on what Jonah is up to, follow him on Twitter at @thisBeJonah.
You can view more blog posts about Universal's history, or you can start planning your next visit right now.
[sws_author_bio user="AllyPfeiffer" size="105″ authorposts="More OI posts by Ally" name_format="About the author"] [/sws_author_bio]