Ihu's Breakaway Falls officially opens at Aquatica today, May 9. This is the tallest, steepest, and only multi-drop tower slide of its kind in Orlando. It's a whopping eight stories tall and sends you flying down at 20 to 24 feet per second. And if that's not enough, you actually face your fellow riders – and you have no idea who will drop first.
Orlando Informer was invited to a preview event for the media yesterday, and Dan asked if I wanted to check this out. Ride one of the most terrifying water slides I'd ever seen? Why, of course I couldn't miss that…
As we entered Aquatica, we could see Ihu's Breakaway Falls towering over the rest of the park. The brightly-colored slides twisted around the tower, but I couldn't help but notice just how far they seemed to drop before you went into the corkscrews at the bottom. And as we got closer to the ride, I had to wonder what I'd gotten myself into.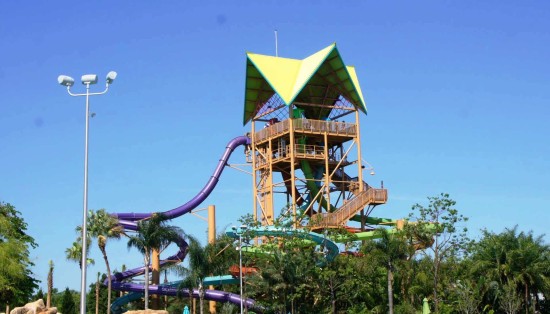 We climbed all 126 stairs to the top of the slide. (Yes, you read that right – 126 stairs. Talk about a workout!) When we got to the top and saw the tubes, I couldn't tell if my heart was beating so fast from the climb to get up there or from the fear I was about to face. A pleasant voice said "Welcome – please step inside," and I couldn't help but wonder why it sounded so cheerful about the fact it was about to send me screaming back to Earth. My heartbeat got so loud, it seemed, it echoed off of the tube's walls, and shortly after I gave the attendant my thumbs-up, I was screaming my way back down to earth.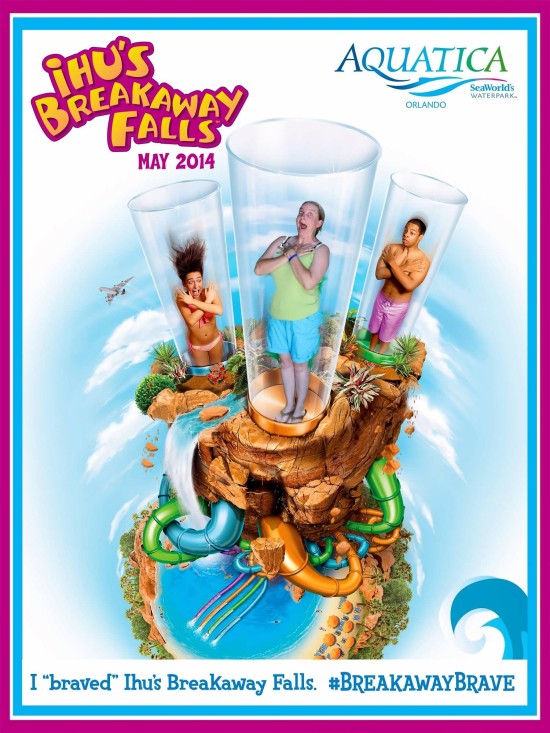 See – I really rode it! Okay, so maybe I actually still have my clothes on (only bathing suits are allowed on the slide), and even my flip-flops, too (again, not allowed on the slide)… but it really looks like I rode it, doesn't it?
Truth is, shortly before this event, I discovered a medical issue that kept me from riding Ihu's. But I brought along a designated rider (my husband), and that's actually how he described the whole lead-up to the ride. And, yes, your heartbeat does echo in the tubes – they've piped in a heartbeat sound effect to ratchet up your adrenaline. Not only did he agree that the heartbeat effect really works, but he said the slide itself was incredible. He actually even rode it twice, he liked it so much!
[youtube_video]TO4NmlQt8FM[/youtube_video]
This whole event was fantastic and very informative. I even got to meet Ihu (pronounced Ee-hu) herself – she's where the name of the ride comes from. Ihu was quite possibly the roundest iguana I'd ever seen.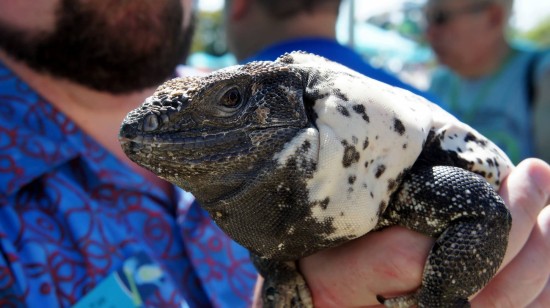 They had a photo opportunity set up near the actual ride for those who wanted to "brave" the falls without actually riding it (which is how I got my picture taken "riding" it), and you can actually get these pictures made with up to three of your family members in the same photo. It was a fun time taking the pictures ("Look up," "Now make a face like the floor just gave out"), and they're a great keepsake for the less daring of your party.
For the daring ones, though, there are four different slides you can choose from. The orange slide is the longest one, at 420 feet; the green slide has the shortest drop (which is still over 28 feet, though); the blue slide has the steepest incline (with the breakaway box); and the purple slide is the unique one. At first glance it seems to be the easiest way out, as there isn't a breakaway box at the top of this one (it's a traditional sit-down-and-push-yourself-off slide), but it's actually the steepest of all four slides.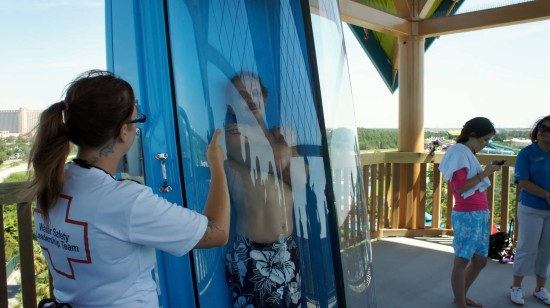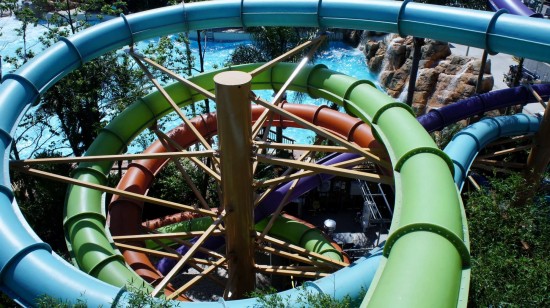 My husband rode the blue side and said it didn't seem all that steep to him, but the way that the water splashes in your face as you go down this tube made it difficult to breathe at times. The second ride was in the green tube, and he said it didn't seem nearly as fast until he hit the corkscrews, which sent you moving much faster than the blue one did – and the bonus was not a lot of water in your face.
He wanted to try more tubes, but the lines were getting much longer as they went ahead and let groups of the public on to ride, so we decided to call it a day. We have definitely decided we'll have to find a time to go back to Aquatica – he can try the other paths, and I'll actually get to ride it for real.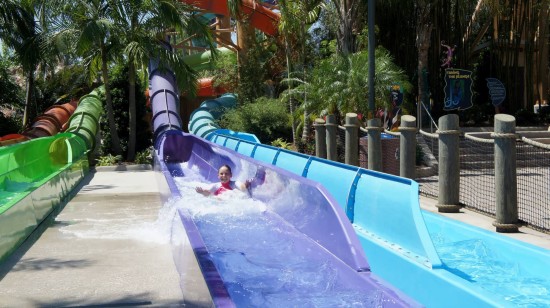 To continue learning about all the SeaWorld parks in Orlando, check out our archive on the OI Blog. Want to see all the other new attractions for this year that have us all excited? Read our definitive guide for 2014 (Ihu's was only number seven!).
Ihu's Breakaway Falls – photo gallery
Click any image to view it full-screen. When the full-screen image is open, click to the right or use the right arrow on your keyboard to advance through the gallery.
[sws_author_bio user="SalinaBristor" size="105″ authorposts="More OI posts by Salina" name_format="About the author"] [/sws_author_bio]