I-Drive 360: Orlando's newest entertainment complex
Having difficulty keeping up with I-Walk Orlando/I-Drive Live/Orlando Eye/I-Drive 360? You're hardly alone.
A lot has changed since last we checked in, and it has to do with much more than the never-the-same name of the shopping/dining/entertainment district.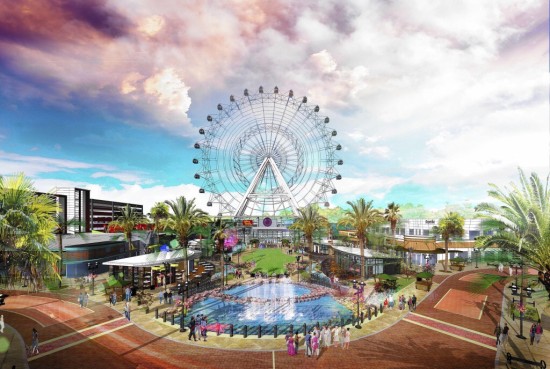 First, though, a brief recap. I-Drive 360 is located in the convention district (making it the prime stop for that part of town, which should take a chunk of business away from both Universal CityWalk and Downtown Disney Springs), is expected to create several thousand new jobs, and is being developed by Orlando-based Unicorp National Developments and New York-based Circle Entertainment. Headlining the area is a trio of brand-new attractions, all owned by Merlin Entertainments, the parent company of LEGOLAND Florida:
The Orlando Eye – a 425-foot-tall Ferris wheel, making it just a tad smaller than its London Eye sibling but still the tallest structure in Central Florida (for a short while, at least). One trip around will take almost 20 minutes.
Madam Tussaud's Wax Museum – the 19th installment of the internationally renowned franchise, Madam Tussaud's will have an extra attraction built into it: a 4D theater.
Sea Life Aquarium – the world's largest aquarium chain (with 45 locations already up and running across the globe), the Orlando venue will feature a kid's play area.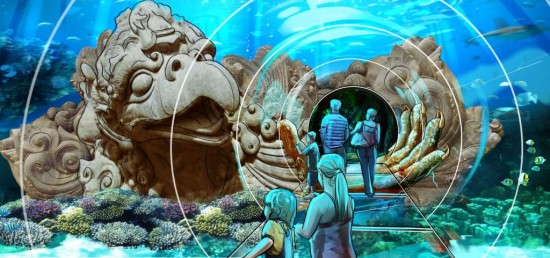 According to the Orlando Business Journal, all three have had their opening dates pushed back from New Year's Eve 2014 to March 2015 – nearly two-and-a-half years after their original target dates.
That's just the first of several announcements made two months ago, when Unicorp held a big press conference and unleashed a flurry of information, including the grand reveal of the complex's final (yes, they really mean it this time) name: I-Drive 360. Other reveals include the fact that the Orlando Eye, after some previous construction setbacks, is now standing at 200 feet tall – it's nearly halfway there – and that the 60-foot-high parking garage (that's taller than the garages going up at Disney Springs) will feature free parking, something which should make tourists and conventioneers happy.
Speaking of which: Merlin's annual pass will include year-round admission to not only Madam Tussaud's, Sea Life, and the Orlando Eye, but also LEGOLAND, as well. A new shuttle will transport guests between these two locations.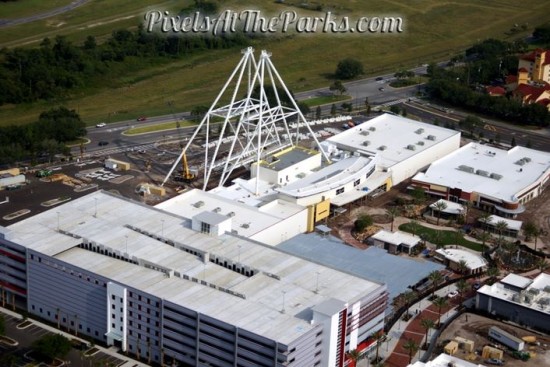 The area behind Yard House and in front of the trio of Merlin attractions is an outdoor plaza, where the $1 million, Las Vegas-style water display will be installed. Venues here will include Bar Jour wine bar, a Pretzelmaker/Great American Cookies combo store, Café du Paris, Ben & Jerry's, Sugar Factory, Tin Roof live music bar, Cowgirls country western bar, Outback Steakhouse, and, finally, Carrabba's Italian Grill.
BurgerFi was originally supposed to be part of this lineup, but the chain has since pulled out. Not to worry, though – Buffalo Wild Wings and Dick's Last Resort are still on the way.
Why do we care so much about I-Drive 360? It literally has the possibility to change the future flow of developments at both Walt Disney World and Universal Orlando (why do you think both resorts are in the middle of overhauling their respective shopping/dining/entertainment centers?), something which we've written extensively about before. And, beyond any effects on the theme parks, it has the potential to influence literally every other project in or around Orlando for the next decade, instantly making it one of the city's centers of gravity; there was a reason why we listed it as number three on our top 11 list of 2014's new attractions.
Yard House opened on April 24, making it I-Drive 360's first official tenant. Kings Bowl Orlando, a 22-lane bowling alley and bar, along with a few other next-door venues, have already been up and running since last year. (Look for Orlando Informer's review of Yard House soon!)
The Polercoaster: Orlando's – and the world's – tallest rollercoaster
After having been announced in November of last year, the Orlando Polercoaster finally has a home.
Unfamiliar with the Polercoaster? Don't worry – you're going to be, and intimately so.
[youtube_video]eNV_bt7UuZg#t=137[/youtube_video]
The rollercoaster-in-a-tower was first unveiled at a 2011 amusement park trade show (held, ironically enough, right here in Orlando). A joint venture between US Thrill Rides and S&S Worldwide, the concept is to thread intertwining rollercoaster tracks along a vertical stretch, allowing various amusement parks around the world that don't have huge footprints available for the ever-more-competitive coaster market to still provide thrills and spills for their guests.
And, of course, since no ride is complete without an obligatory gift shop, at the very top of the Polercoaster's tower is room for one or two floors of retail space, which could also include restaurants, observation terminals, and, most excitingly of all, dark rides. It's like a mini-I-Drive 360, hundreds of feet in the air!
Only one spot thus far has officially been confirmed for a Polercoaster: LakePoint Sporting Community in Georgia, whose Poler will be 325-feet-tall and will open sometime in 2015. Although Orlando was formally announced as the ride's second home, specifics as to its location have never been released – until now.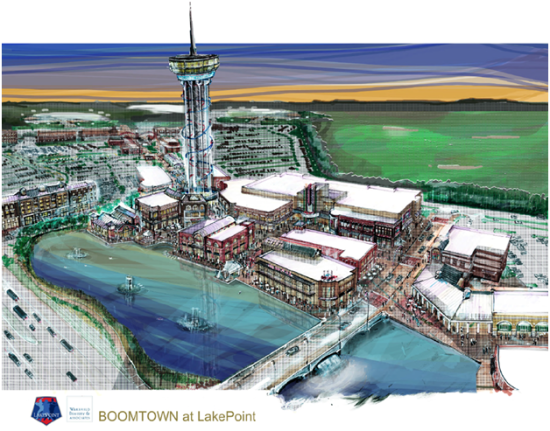 Orlando news station WESH has broken word that the world's second Polercoaster will be installed on the northeast corner of International Drive and Sand Lake Road (see a map), not too far from I-Drive 360 and within spitting distance of Universal Orlando Resort.
Sitting on a roughly five-acre plot of land (as of right now – the news report suggests that neighboring venues, such as a bowling alley and 7-Eleven, will be gobbled up, as well), it will be 570-feet-tall – nearly three times the size of Disney's Expedition Everest or Universal's Hollywood Rip Ride Rockit. It will not only be the tallest coaster in the world, but also one of the longest, with a track length of nearly 8,000 feet.  Oh – and just for good measure, it'll have the world's tallest inversion, breaking the previous record of 170 feet.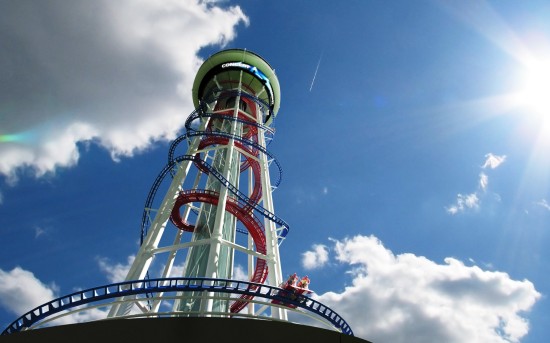 It's hard to see how this won't be one of Orlando's biggest tourist traps, and it's even harder to not get all giddy over the possibility of even more attractions being installed in its top few floors.
Indeed, even though Disney, in the form of its MagicBand ticketing/ride-reservation system and beefed-up Disney Springs entertainment complex, and Universal, in the form of its Wizarding Worlds of Harry Potter, are trying their damnedest to keep guests from leaving their properties, the Polercoaster and I-Drive 360 make an extraordinarily tempting counter-offensive.
2015 can't get here soon enough.
Polercoaster update #1
No more need to speculate: the Polercoaster is coming to I-Drive – just a little later than we reported above. A press conference was held on Thursday, June 5, to officially announce the project. In true I-Drive development fashion, the original name, Polercoaster, has been dropped and replaced by Skyscraper at the Skyplex. Breaking ground in 2015, the incredibly tall, 570-foot attraction is scheduled to open in 2016.
To read additional details from the press conference, click here.
Polercoaster update #2
Word has just reached us that Georgia's Polercoaster has been cancelled and replaced with a water park. This will make the Skyscraper the world's first Polercoaster when it opens in 2016!
[sws_author_bio user="msunyata@yahoo.com" size="105″ authorposts="More OI posts by Marc" name_format="About the author"] [/sws_author_bio]