After paying for admission to SeaWorld Orlando, then handing over $20 or more for parking, the last thing you want to do is spend a fortune to feed your family all day. The good news is that SeaWorld has many ways to make eating at the park very affordable – no matter how long you'll be there or how much money you want (or need) to save on food, the company has an option to fit your budget.
Let's dig into them all now!
SeaWorld's refillable cups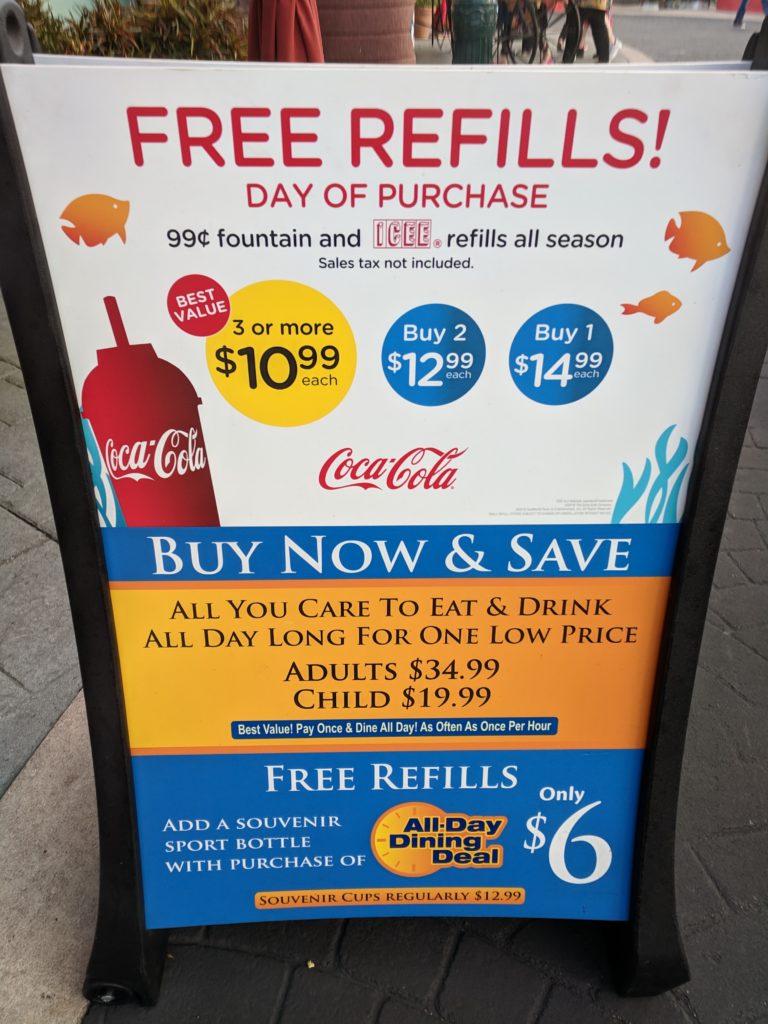 Let's start with the easiest option: SeaWorld's refillable souvenir cup, which can be purchased at any of the restaurants and most of the drink carts. The basic cost is $14.99, but if you buy more cups, you get a discount: two are $12.99 each, and three or more are $10.99 each. Once you get the souvenir cup, refills are free on the day of purchase and $.99 on the days thereafter (and keep in mind that the refills can be either fountain drinks or Icees).
You can also get an insulated cup or bottle, which is sold at many of the stores, including the first one when you walk in. Many of these run between $9.99 and $14.99, and they'll get you $.99 refills – or, if you want to upgrade for $5.99, the refills become free for the whole day. In fact, you can even take these cups to any of the SeaWorld parks nationwide (Aquatica, Busch Gardens, Adventure Island, SeaWorld San Diego), and they'll work for refills there, too. Finally, if you're an annual passholder, you can use your discount on the cups and the refills, so keep that in mind.
The Cup That Cares is a fun option for little kids and still saves you some money in the process – not to mention the fact that a portion of the proceeds goes to a great cause: saving wildlife! The Cup That Cares, which is available at the Antarctica gift shop, is shaped like a penguin and can be decked out with a bunch of fun accessories, including different beaks and hair. The cup itself, plus the basic trimmings, costs $14.99, and that includes a free first fill-up with the beverage of your choice, but you can also spend more for extra accessories, as well as a tote bag for your cup.
For each Cup That Cares, SeaWorld donates $1 to the SeaWorld & Busch Gardens Conservation fund, which, as of this writing, has raised over $16 million in conservation grants to over 800 organizations. This particular cup is also interactive, and when you fill it up at the Coca-Cola Freestyle machines, it will tell you how you're being more environmentally responsible by reusing your cup and give you some fun facts about conservation, in general.
(Speaking of conservation, if you buy a cup or water bottle at the SeaWorld Rescue Store located toward the front of the park, 5% of the proceeds goes to the SeaWorld & Busch Gardens Conservation Fund!)
Refillable popcorn bucket
Cups aren't the only thing you can refill at SeaWorld – they also have refillable souvenir popcorn buckets for snacking. The buckets themselves are $4.79 and come filled.
Once your family has devoured the popcorn, you can get a refill for $1.99 – and, again, these buckets can be brought back into the park time and time again. This is a great option for a family with teenagers who always seem to be hungry and are constantly buying snacks.
All-Day Dining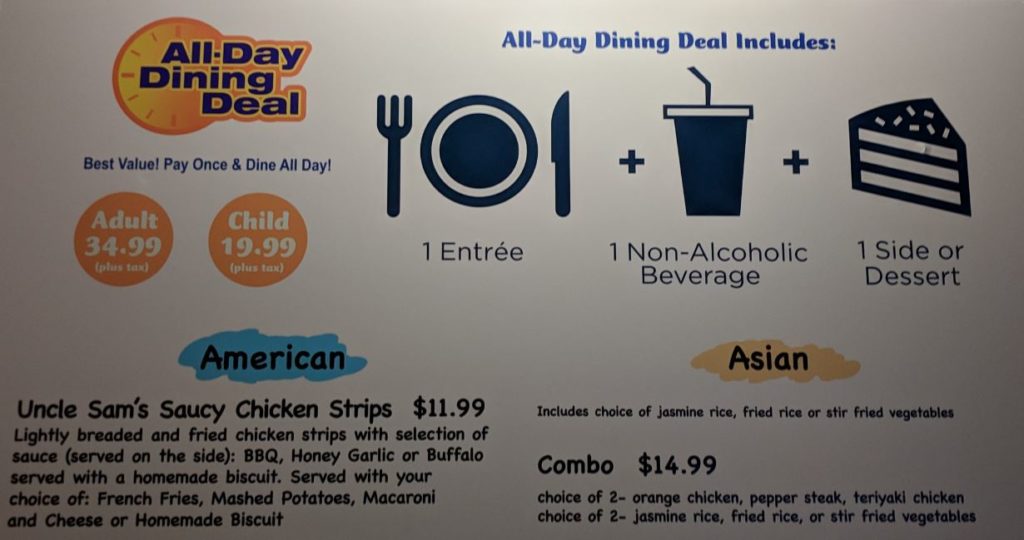 SeaWorld also has a fantastic way to save money if you're going to be in the park from the time it opens until the time it closes: All-Day Dining. This requires a higher fee upfront – the prices change based on the season, but you can expect the cost to be somewhere around $34.99 for adults and $19.99 for kids, plus tax. The deal allows you to go through the lines in the restaurants at least once per hour, including the newer pretzel and craft beer stand by Shamu Stadium, and receive one entree, one side or dessert, and one drink (with children getting a kids' meal and drink). They'll give you a wristband that they scan each time you go through the line, which makes it very convenient. I've personally verified that you can literally cycle through the line over and over again – but I was informed that, if they catch you sharing your food/drink with others (and if you go through the line a lot, I'm sure they'll be watching), they'll cut your wristband off, and you won't get a refund.
All-Day Dining starts working from the time the park opens until 30 minutes before a restaurant closes. So, on an average summer day, you can typically start eating at 9:00 am and keep going all day until 9:30 pm, all for one low price!
If you'll only be in SeaWorld for one meal, the dining plan isn't that good of an option – but if you eat just two meals, it more than pays for itself. Add in that sodas and bottled water are included all day, as well, and you have one heck of a deal! (Just keep in mind, All-Day Dining does not include special dining events, such as Dine with Shamu, Character Dining, or Sharks Underwater Grill.)
Picnic lunches
For those who want (or need) to seriously save money, SeaWorld has an option available that really isn't feasible in any of the other major theme parks: bringing a picnic lunch. Coolers larger than 14 inches by 14 inches are not allowed in the park, but you're welcome to bring in a smaller cooler packed with unopened water bottles, snack-sized items, baby food and formula, and/or medical necessities (just be advised that it'll be subject to a search at the security stand).
SeaWorld graciously provides picnic tables (near the pet kennel) for families to enjoy this cost-effective option. My personal favorite is the picnic table all the way at the end – at lunch time, this table is fully in the shade!
If you want to keep a larger cooler in your car, SeaWorld's parking doesn't leave you with multiple moving sidewalks to navigate or monorails and trams to take before you get to your vehicle; even on the busiest of days, I've never walked more than five minutes from the gate to my car. Call it the ultimate saver's lunch.
Seasonal options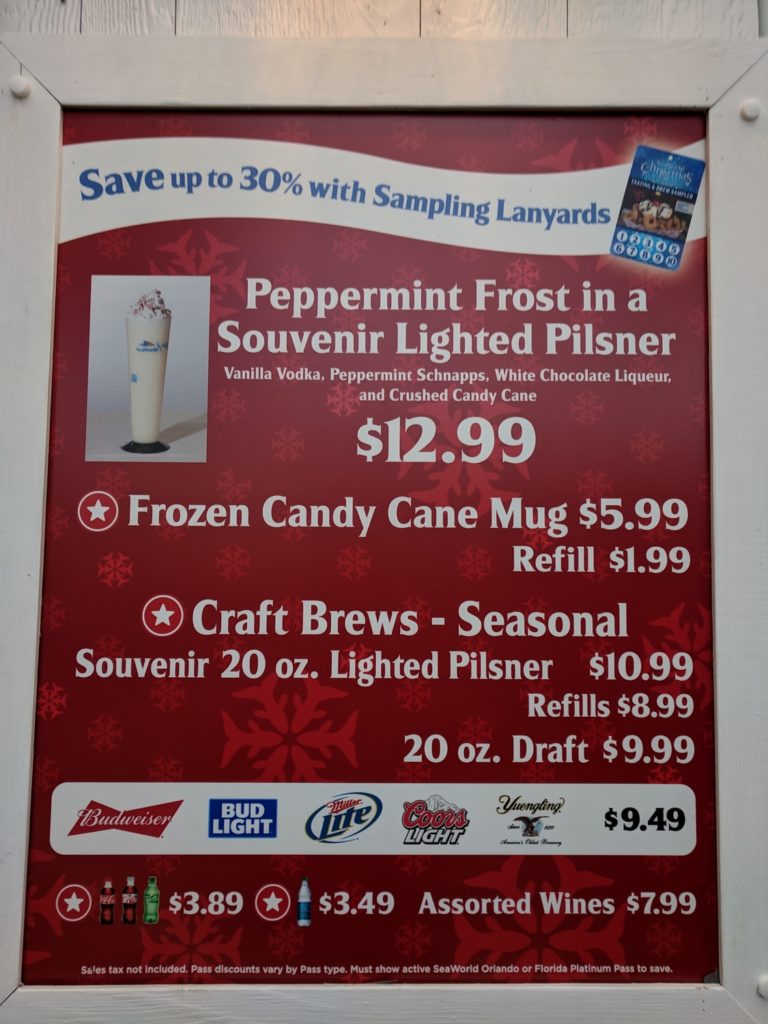 SeaWorld has really stepped up its game in terms of seasonal offerings, as well. Just last year, they debuted their Craft Beer festival, which boasts over 100 craft beers and 20 different food items that pair great with a cold brew, such as candied bacon lollipops, chicken wings, poutine, and bison sliders. My husband and I went and got the 10-sampler punch card, which was perfect – this Sampling Lanyard allows you to get a drink or food item per punch without having to reach for your wallet each time.
During the holidays, which SeaWorld does spectacularly, you can take the whole family and get refillable cocoa mugs, as well as a similar punch card for different food-and-beverage offerings (available in both adult and kid sizes); for example, you can get a flavored hot cocoa (butterscotch, toasted marshmallow, peppermint) with whipped cream and your choice of toppings in a souvenir mug for $6.99, with $3.99 refills. Grab your cocoa and watch the Sea of Trees show!
Another seasonal offering, for the grown-ups, is Happy Hour at the Waterway Grill, which features buy-one-get-one beer, wine, and mixed drinks. This was only offered until December 21 of last year, but based on its popularity, you can expect it will be featured again soon.
–
Do you have your own money-saving strategies for SeaWorld Orlando? Be sure to share them in our OI Community Facebook group!
And also be sure to follow Orlando Informer on Facebook, Twitter, and Instagram for the latest news and tips at Universal Orlando, Walt Disney World, and other Orlando destinations.