Yesterday, on Thursday, June 5, Harry Potter stars Oliver Phelps (George Weasley), James Phelps (Fred Weasley), and Bonnie Wright (Ginny Weasley) stopped by both Wizarding Worlds to get a personal little tour of the new additions.
While no press conferences were held and no actual news came out of the visitation – it's clear this was purely a PR move and, just possibly, the recording of material for future commercials and behind-the-scenes videos – there are still a number of goodies that leaked out of the stars' many photos, tweets, and, even, video clips. When taken together, guests can get a really good idea of what their future day in The Wizarding World of Harry Potter – Diagon Alley will look and feel like.
Needless to say, there is a lot of material to follow that some will consider spoilers. Please proceed at your own discretion. Also, if the embedded tweets in this post appear to be cut off, just try refreshing this page once.
(Please note that the following screen grabs were taken from UOLeaker's video, which, true to his name, seems to be a leak from Universal PR. While it's wonderful to have the footage in our hands early, the video quality isn't the best, which, in turn, makes for some low-resolution pics.)
Hogsmeade Station: The start of the journey
The stars began their journey in proper wizarding fashion by waiting for the train at the newly-constructed Hogsmeade Station in Islands of Adventure. Although not much footage of the station was shown – all we get to see are a few glimpses of the platform itself, and not any of the rumored thematic flourishes that will be entertaining guests while they wait in line – Alan Gilmore, the supervising art director for the Wizarding Worlds, who greeted the Weasleys on the train platform, can be overheard as saying it's a "genuine Scottish train station." The actors, for their part, respond by describing it as "incredible" and "huge."
It begins: @thisisbwright, @OliverPhelps & @James_Phelps at Hogsmeade Station #DiagonAlley #PotterWatch @UniversalORL pic.twitter.com/ouYaDgCOMD — Orlando Informer (@OrlandoInformer) June 5, 2014
One little tidbit that did manage to sneak out was the world's very first observance of how passengers will be boarding the Hogwarts Express. While not an Earth-shattering revelation, it does answer a number of questions about how, exactly, the queue will be set up and how guests can expect the overall experience to flow.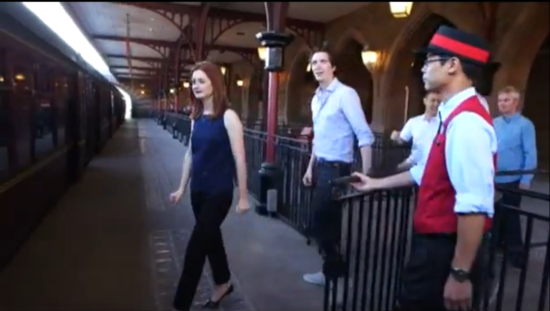 Of course, this is nothing compared to what comes next…
All aboard! Hogwarts Express details confirmed
While riding the Hogwarts Express over to Diagon Alley at Universal Studios Florida, Thierry Coup, the senior vice president of Universal Creative, was sure to point out the train's corridor to Bonnie, James, and Oliver, noting that shadow effects will be employed and that passengers will be able to hear Harry, Ron, and Hermione as they work their way down to their own cabin – which corroborates our complete telling of the train's ride experience from a month ago.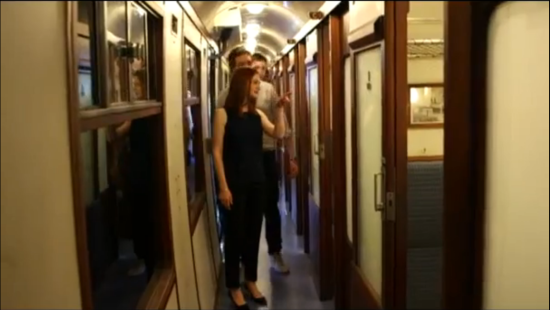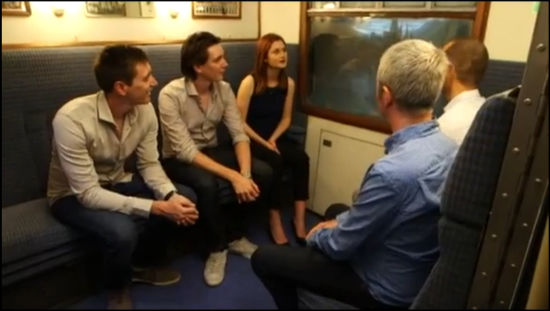 Other details pointed out include the authentic feel of the train's movement, including its bounce. In the background, meanwhile, Buckbeak the hippogriff can be seen swooping down over the Great Lake and gliding alongside the Express, providing a type of (temporary) escort.
Next stop: Muggle London
After a quick photo op with all the Platform 9 3/4 employees, the gang moved on to the waterfront area. The actors immediately recognized the cabmen's shelters, which Gilmore was happy to confirm. (And although not part of the official media tour, an over-zealous park visitor managed to hoist himself up over the construction wall to snap a picture of the merchandise-laden cabman shelter, confirming that particular rumor.)
Fans, we'll all get there soon! #PotterWatch RT @thisisbwright: Exciting day previewing #DiagonAlley @UniversalORL pic.twitter.com/pWhbU0YlQX — Orlando Informer (@OrlandoInformer) June 5, 2014
Cabmen's Shelter kiosk now stocked with UK merchandise (h/t @kevinscheidt for the pic!) #DiagonAlley #PotterWatch pic.twitter.com/OSrnIAsWPV — Orlando Informer (@OrlandoInformer) June 5, 2014
Other tidbits unearthed from the Weasley clan's tour was the fact that the already-famous phone box is a genuine article shipped over from London – just to make the area as authentic as possible – and the contents of the Knight Bus prop, which do, indeed, include a complete recreation of the movies' set, right down to the various beds scattered throughout. Oh – and in case that weren't enough, the entourage provided the world's very first look at the Knight Bus's Shrunken Head that guests will be interacting with, Mystic Fountain-style.
You know who at the Knight Bus with the shrunken head 🙂 #DiagonAlley #PotterWatch @UniversalORL pic.twitter.com/oJ7GFSG7BQ — Orlando Informer (@OrlandoInformer) June 5, 2014
Diagon Alley: The heart of the action
This is where the pictures came flying fast and furiously, providing us with some first-ever shots of Diagon Alley proper, its shops (both real and fake), its food, and its toys.
But the most electrifying – and, it turns out, the most controversial – find had to do with the entranceway to Diagon Alley itself. After literally years of hearing various reports on how Universal was planning on employing spinning bricks or projected effects to give the illusion of a magically moving wall, the actors came around the corner from the Leicester Station to find… a simple, standard doorway, cut out of the wall to give the appearance of a just-opened passageway.
Even worse, when looked at from farther down the street, the fabled entranceway looks like a fake brick wall has been hastily plastered across an otherwise realistic alleyway and cartoonishly cut through.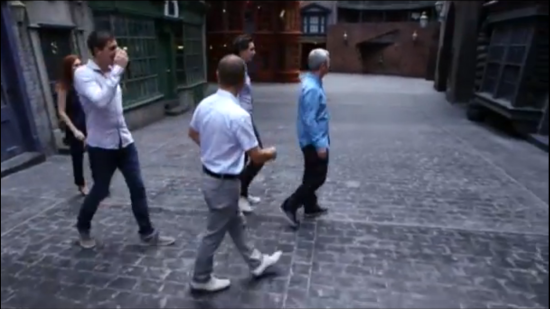 There is always the possibility, of course, that this is an unfinished effect – a somewhat likely scenario, given that construction can still be heard going on around the VIPs during their leisurely stroll – and that there is literally more than meets the eye.
The good news is that everything else in Diagon Alley looks utterly fantastic, most especially the flagship shopping venue of the expansion, Weasleys' Wizard Wheezes. Both the exterior and the interior are simply breathtaking in their attention to detail and their whimsical, vibrant atmosphere.
Not sure how much more we can take… tell us when it's going to open! 😉 #DiagonAlley #PotterWatch @UniversalORL pic.twitter.com/k8K05Rn5rH— Orlando Informer (@OrlandoInformer) June 5, 2014
Final statement from @UniversalORL today about #DiagonAlley: a fun tour, but no opening date http://t.co/ytOKm7g0dS pic.twitter.com/y9Cfd8NIrH — Orlando Informer (@OrlandoInformer) June 6, 2014
Finally, with shopping out of the way, the Weasleys proceeded to try out some of the land's new culinary offerings, providing us with the very first shots of the Leaky Cauldron's interior. The giant titular cauldron looks particularly impressive ensconced in its formidable fireplace, and the Butterbear – but of course – looks as delicious as ever.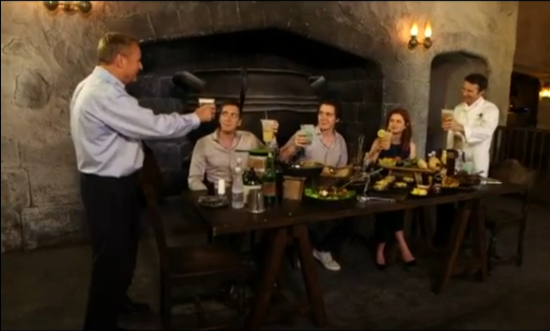 Butterbeer with @thisisbwright and our first peek inside the Leaky Cauldron #DiagonAlley #PotterWatch @UniversalORL pic.twitter.com/WM3D8VyXbS

— Orlando Informer (@OrlandoInformer) June 5, 2014
Of course, no visit to Diagon Alley would be complete without a stop at Florean Fortescue's Ice-Cream Parlor, which is exactly what the trio did before (reluctantly) making their way back to the everyday Muggle world.
The wait will be worth it #butterbeericecream #DiagonAlley #PotterWatch @UniversalORL pic.twitter.com/u633tTXi6t

— Orlando Informer (@OrlandoInformer) June 5, 2014
Until we all can make the trip for ourselves, we'll leave you with this parting shot of just how many experiences a single day in Diagon Alley actually consists of.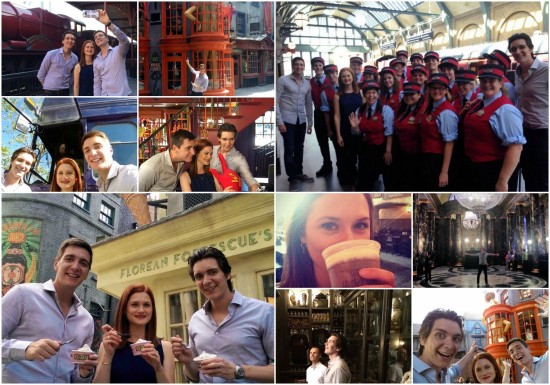 To find out even more about Diagon Alley, including the latest on soft openings, please see our complete guide. Or you can chat with like-minded theme park addicts in the OI Community Forums.
Note from Dan
Yesterday, our site recorded 79,984 pageviews, jumping over our previous record of 72,256 pageviews from May 13, when Universal had its big Gringotts Bank reveal.
It's absolutely surreal that we're now within striking distance of 100,000 pageviews in a day. Go back to early 2012, a little over two years ago: it took us an entire month to record 100,000 pageviews. It really blows my mind – and I'm so appreciative that all of you are making this happen for our community and for my family.
Thank you.
[sws_author_bio user="msunyata@yahoo.com" size="105″ authorposts="More OI posts by Marc" name_format="About the author"] [/sws_author_bio]