Last weekend my family and I visited Magic Kingdom and Disney's Animal Kingdom. I was very interested to learn how the new FastPass+ system was working for guests and Annual Passholders who do not stay at a Walt Disney World property. As you may have heard, Magic Kingdom and Disney's Animal Kingdom have removed all legacy FastPass machines (the paper FastPasses), and Epcot and Disney's Hollywood Studios will follow suit by the end of January.
As we entered the parking lot at Magic Kingdom, the parking attendant gave us an information sheet explaining the new FastPass+ system and a list of the attractions available for FastPass+.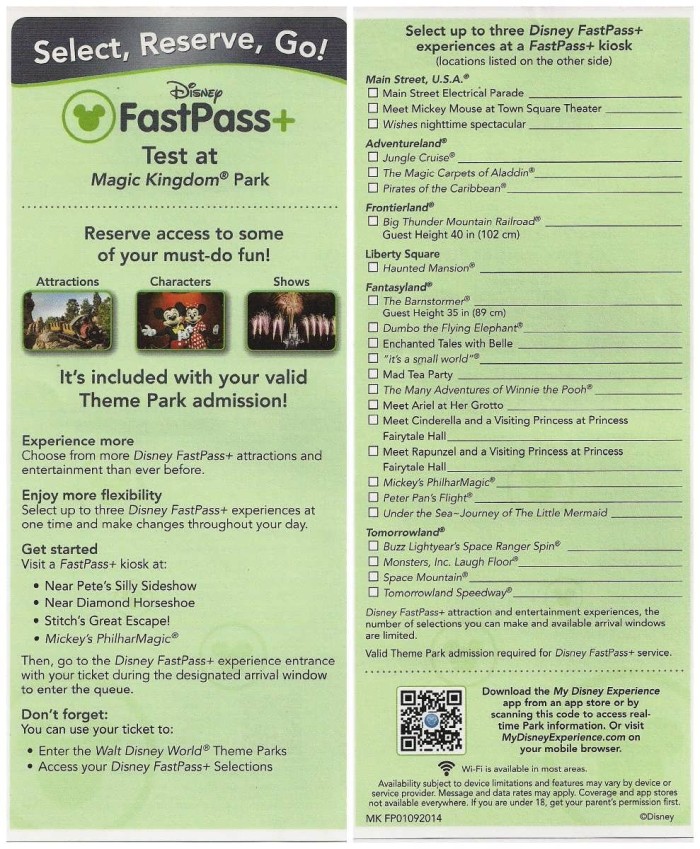 Terminology important to understanding this new process:
Park ticket is the plastic card that contains an RFID (radio-frequency identification) chip used to gain admittance to the Walt Disney World theme parks. If you have a paper ticket (some annual passes and non-expiration tickets may still be paper), you will need to visit a park ticket purchase window and replace it with the plastic card prior to entering any Walt Disney World park.

MagicBands are the colored soft bands with an RFID chip (usually worn on the wrist) provided to guests staying on-site at a Disney resort. The bands are used as a room key, park ticket, and can be linked to a credit card to pay for merchandise and food on Disney property. At this time, MagicBands are unavailable to guests or Passholders not staying on Disney property.
Legacy FastPass (aka paper FastPass) is the old system of a slip of paper printed at each attraction with a window of time to return and experience the attraction.
FastPass+ (simply pronounced "fast pass plus") is the new "online" attraction reservation system replacing the legacy FastPasses. Attractions have a separate entrance for those using FastPass+. You must have a plastic park ticket or MagicBand in order to use the FastPass+ reservation system.
My Disney Experience is the new Disney website and mobile app available for devices including phones and tablets that use iOS and Android apps. If you do not have these particular devices, use the MyDisneyExperience.com website. (I was told by several Cast Members that apps are still being developed for Blackberry and Windows phones.) The website and app provide a multitude of information about Walt Disney World, including, but not limited to, current attraction wait times, restaurants, and parade and show times. Those guests without a MagicBand cannot use the MyDisneyExperience website or app at this time to make or change a FastPass+ reservation. Instead, they must use an in-park kiosk to do so. However, after they have made their FastPass+ reservation at a park kiosk, they can view their reserved FastPass+ times on the website or app as long as their park ticket is linked to the MyDisneyExperience website/app.
End of an era. By January 23, 2014, Magic Kingdom, Epcot, Hollywood Studios, and Animal Kingdom will no longer offer legacy FastPasses for guests. If you would like to avoid the regular queues at popular attractions, you must use the FastPass+ system.
Getting our first FastPass+ reservation
For those guests without a MagicBand, the procedure to make FastPass+ reservations is not complicated. However, it may take some time initially to learn.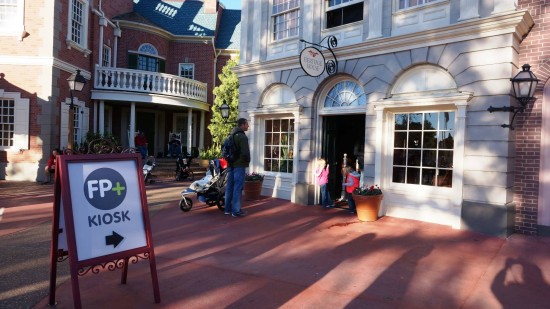 Once you arrive in the park, go to a FastPass+ kiosk. Follow the kiosk touch screen instructions and scan your park ticket. If you want all or some of your family members to have the same FastPass+ reservations, choose the "Add another guest to your travel party" option to link your park tickets. Select the three attractions for which you would like to make reservations (or the system can choose them for you), and then select one option of return time windows that best meets your needs.
At Magic Kingdom, we "linked" all three of our park tickets (mine, my husband's, and my son's) according to the instructions on the touch screen. Next, we chose, as a group, our attractions including Thunder Mountain Railroad, Haunted Mansion and Space Mountain. The program then gave us four options (A, B, C and D) of return time windows. Each option listed different return time windows for all three attractions, and we chose the best option closest to our needs.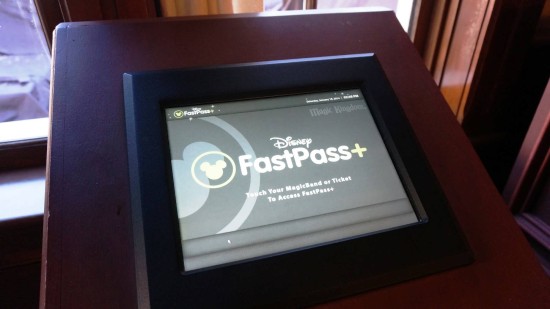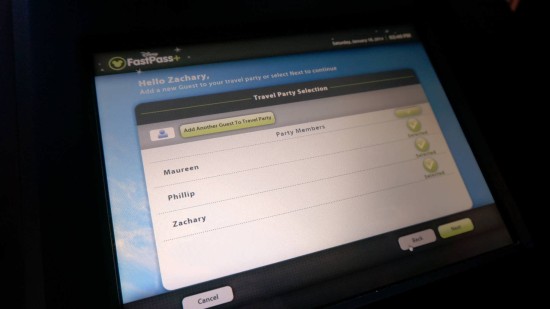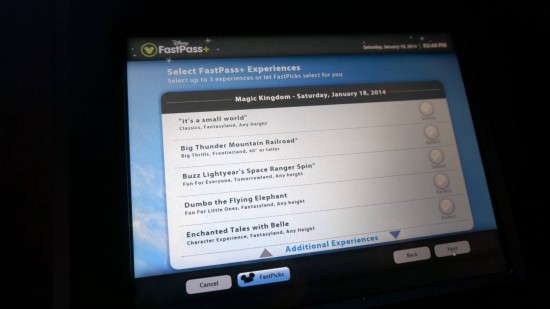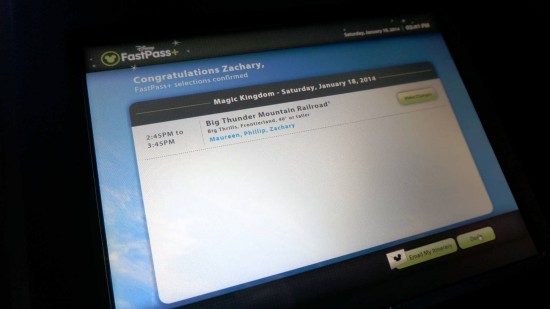 [wptouch target="non-mobile"]Remember, you can click any image to view it full-screen. And don't miss the complete photo gallery with 45 new full-screen images at the bottom of the post.
[/wptouch]
You can easily make changes to the return times either at the next step on the screen or later during the day. In order to keep a "copy" of your reservation times, you need to write them down, have them emailed to you, or if your park ticket is linked to MyDisneyExperience (you can view them through the website or app) in the My Plans section.
When it is time for you to return to your selected attractions, go to the FastPass+ line, scan your park ticket, then proceed through the line. Your park ticket will need to be scanned again prior to boarding the ride at most attractions, so keep it handy.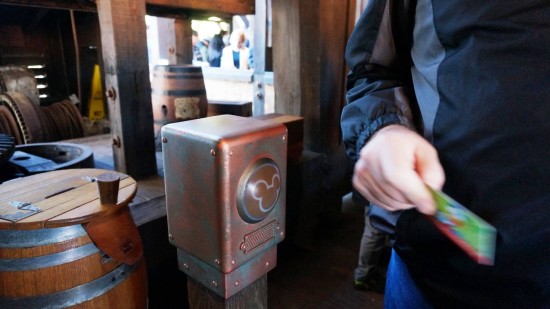 Using our FastPass+
Our experience at Animal Kingdom was similar. Once we arrived in the park, the first FastPass+ kiosk, located on the Oasis path to Discovery Island, had a line of approximately 75 people. The kiosk near Disney Outfitters was just as long. My husband and son proceeded to Dinosaur due to the short posted wait time of 10 minutes and I went to the FastPass+ kiosk near Primeval Whirl to make our reservations.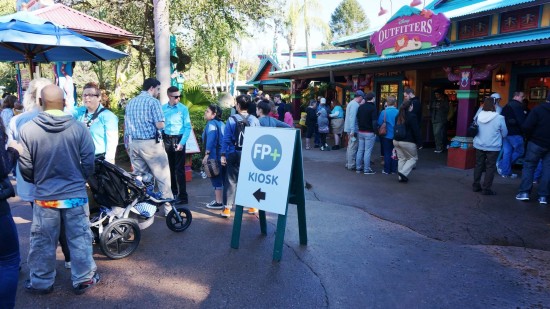 The line at this kiosk was much shorter. A Disney Cast Member assisted me with our FastPass+ choices using a tablet, and I was able to reserve return time windows for Primeval Whirl, Kilimanjaro Safaris, and Expedition Everest.
I didn't like the return time for Expedition Everest because it was too late in the day. After we rode Primeval Whirl, I went to the FastPass+ kiosk near Expedition Everest. The Cast Member showed me an earlier return time window for Expedition Everest, so I changed our return time. Return time windows change because guests alter their reservations or decide to forgo an attraction.
Legacy FastPasses vs. FastPass+
Compared to the legacy FastPass lines prior to the new system, we experienced unusually long lines at most of the FastPass+ entrances at both parks. I'm not certain if the long FastPass+ return lines were due to the new system, the busy holiday weekend, or a combination of both factors. At one point, after a brief shut down of only 15 minutes, Expedition Everest's FastPass+ return line had well over 100 people in it, and extended across the bridge toward the Finding Nemo show.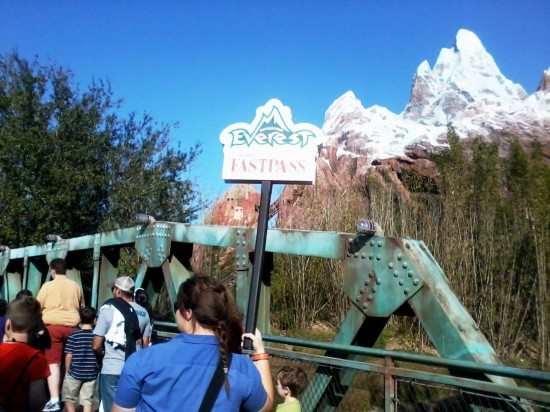 Top 10 tips for using FastPass+
If you already have a park ticket or annual pass, set up an account on the MyDisneyExperience website and download the app prior to visiting the parks.
Currently guests can only make FastPass+ reservations in one park per day. Keep this in mind before buying a park hopper ticket.
Currently guests can only make FastPass+ reservations for three experiences each day.
Know which three attractions are the priorities for you or your group (if you are linking your reservations) before you reach the kiosk. This saves time for everyone in line!
You cannot pick the FastPass+ return time window for each attraction separately; you are provided three attraction's return time windows as one option. However, pick the option that comes closest to your desired schedule, because you can then change the individual attraction return time window in the next step of the process – or later in the day.
One perk of the new FastPass+ system is you make all three reservations at once. With the legacy FastPass system, you could not get multiple FastPasses with your park ticket at one time. For example, if you had a legacy FastPass for Space Mountain, you could not get your next legacy FastPass for Thunder Mountain Railroad until you reached the return time window of the Space Mountain legacy FastPass.
Unlike the legacy FastPass system, with FastPass+ you can change your mind after you make your reservation. Just go to a FastPass+ kiosk and make your changes. A Cast Member will be on hand to assist you if needed. You cannot make FastPass+ changes using the MyDisneyExperience website or app unless you have a MagicBand.
Guests usually are required to use their park ticket two times at each FastPass+ attraction: once at the beginning of the FastPass+ queue and again before boarding the ride.
If you arrive at a park early in the day, you may want to check the MyDisneyExperience website or app for the posted wait times of a preferred attraction. If the wait time is relatively short, go ahead and experience that attraction immediately, thus saving that FastPass+ choice for another attraction with a longer standby wait time.
MagicBand users are able to make their FastPass+ selections prior to their arrival at the park. Annual Passholders who have a MagicBand can use them until their annual pass expires. The advantage and convenience of these perks may be incentive for Annual Passholders to book at least one night at a Disney resort in order to receive a MagicBand, which they can then use until their annual pass expires.
Please keep in mind that Disney is still very much in the rollout/testing phase with FastPass+, therefore it is quite possible that some of the guidelines we based on tips on may change. You can check for the latest information on Disney's official website.
In-park FastPass+ kiosk locations
For your convenience, below is a listing of FastPass+ kiosks for the two parks we visited (subject to change of course).
Magic Kingdom
Main Street: Guest Relations
Adventureland: Just over the bridge, next to Aloha Isle
Adventureland/Frontierland: In the restroom shortcut
Frontierland: Near the entrance to Splash Mountain
Liberty Square: At Heritage House next to Hall of Presidents
Fantasyland: Next to Mickey's PhiharMagic
Storybook Circus: Next to Pete's Silly Sideshow
Tomorrowland: Next to Stitch's Great Escape
Disney's Animal Kingdom
Oasis: Oasis path
Discovery Island: Disney Outfitters store near Tree of Life.
Discovery Island: My Magic+ Service center located in the Creature Comforts store near Pizzafari
Dinoland U.S.A.: Next to Primeaval Whirl
Asia: To the left of Expedition Everest
Africa: Next to Kilimanjaro Safaris
Final thoughts on using FastPass+ for the first time
The FastPass+ reservation system seemed to go smoothly for us, but the FastPass+ queues were longer than previously experienced.  For those guests who are used to the legacy FastPass system, the new FastPass+ system may take a period of adjustment, especially learning how to best use the MyDisneyExperience website and app, and the in-park FastPass+ kiosks. However, I learned that it is not too complicated, and as I noted in my top 10 tips above, there are some key benefits to the new system.
To continue reading about Walt Disney World, view our WDW archive on the OI Blog. Or you can catch up on all our trip reports (we now publish monthly trip reports for Universal Studios Florida, Islands of Adventure, SeaWorld, Busch Gardens, and one of the four Walt Disney World parks).
Walt Disney World trip report – photo gallery
Click any image to view it full-screen. When the full-screen image is open, click to the right or use the right arrow on your keyboard to advance through the gallery.
[sws_author_bio user="MaureenDeal" size="105″ authorposts="More OI posts by Maureen" name_format="About the author"] [/sws_author_bio]