One of the advantages that Universal Orlando has over Walt Disney World is the number of establishments on property that are popular national and worldwide brands with loyalty programs.
Even if you only dabble a little, these loyalty and reward programs can add a lot of value to your vacation. As a member of a few programs myself, I have examined the features of the ones offered by many of the venues within Universal Orlando, and I've put together this article to show you how to make the most of them!
Bubba Gump Shrimp Co. – Landry's Select Club
Did you know that Bubba Gump Shrimp Co. is part of the Landry's Restaurant Group? Dining at Bubba Gump will not only earn you points and, therefore, rewards there, but also at the 32 other restaurant brands nationwide that are part of the same program.
You do have to pay $25 to join the Landry's Select Club. However, you earn an immediate $25 reward, so you are basically joining for free.
For each dollar you spend (excluding tip and, in most states, alcohol), you earn one point. Every time you reach 250 points, you earn a $25 reward that can be redeemed at any participating Landry's establishment.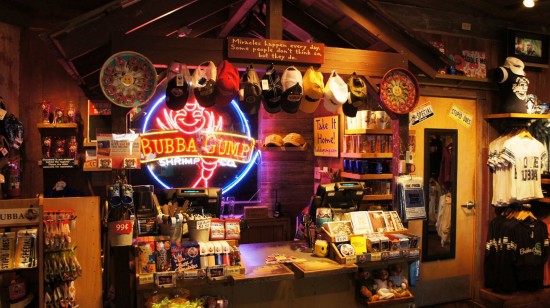 Here's where the good news really kicks in for Orlando visitors. If you are visiting both Walt Disney World and Universal Orlando, you can enjoy earning rewards at multiple restaurants.
There's Bubba Gump, of course.  At Disney, you can enjoy earning rewards at the Rainforest Cafes at Downtown Disney and Animal Kingdom, T-Rex at Downtown Disney, and the Yak & Yeti at Animal Kingdom. Then there's also the Oceanaire, located at Pointe Orlando, and Landry's Seafood near Disney World on Vineland Avenue (a few blocks from the Premium Outlets). And if you venture out to other Florida destinations, the Chart House – which has locations throughout Florida, including Tampa – is a great choice.
All in all, there are multiple ways to make the most of the Landry's Select Club.
Hard Rock Rewards
If you're a globe trotter who loves to channel your inner rock star, or even if you're just an occasional rocker who likes to dine on good burgers, barbecue, and steak, Hard Rock Rewards is a great program.
There are two options: a free rewards membership and a VIP level. Both options earn you points for purchases as well as special offers, while the VIP level cranks up the volume on both. Personally, I have only opted for the free program.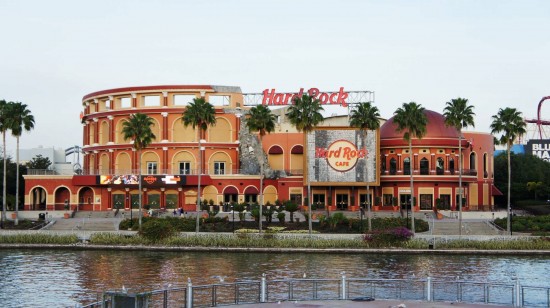 My first reward came because of my birthday (practically all reward and loyalty programs out there do a little something for your big day). I was pretty impressed when an email turned up with "buy one, get one free" adult entrees. My husband and I each ordered a juicy steak, so we enjoyed two satisfying steaks for around $35 total!
The Hard Rock Rewards program also works at the various Hard Rock Hotels around the world.
Loews Hotels YouFirst Rewards
As a hotelier, I have to tell you, we treat loyalty program guests a little differently than regular guests – partly because they've earned it, and partly because they expect it!
There is a downside to hotel loyalty programs, though: it takes a lot of stays and a lot of money spent to really get the sweet rewards – and, even then, depending on the property, they may not be able to honor it all (such as late check-outs and free upgrades).
Now that I have disclosed some inside intel, let's look at the Loews YouFirst program.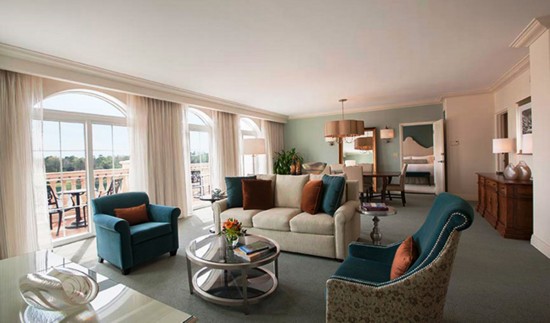 Loews has a smaller, more concentrated portfolio when compared to the big dogs of the hotel world, like Hilton, Marriott, and Starwood. Still, every Loews hotel I've visited has been a very quality establishment, one that makes me an envious little hotelier, and the on-site hotels at Universal Orlando offer some of the best environments and fantastic perks.
One of the useful features of the Loews loyalty program is that the different tiers of membership have smaller windows than the bigger hotel chains; after just two stays in a 12-month period, you make it to the second tier, which can get you free room upgrades and access to the fitness centers. And on your fifth stay in 12 months, you're already at the gold level!
So, if you plan on staying at one of the Loews hotels on-site, go ahead and join the YouFirst rewards program.
Margaritaville Fins Up Club
You don't have to be a Parrothead (super Jimmy Buffett fan) to get your fin on and join the Fins Up Club – though, if you are a Parrothead and you aren't a member of the Fins Up Club, then change that right away!
If you join the Fins Up Club online, you will get an email with a coupon for a free appetizer, so plan accordingly. And as is customary with any rewards program, you receive a special birthday treat – in this case, a free dessert.
Throughout the year, you'll receive special offers, promotions, news about events, and occasional coupons.
The Fins Up Club is currently focused on the restaurants and merchandise. While there are Margaritaville hotels and resorts starting to open throughout tropical and party destinations, the lodging portion of the company is a different entity than the restaurant and merchandising arm.
Even if you only use the Fins Up Club perks at Margaritaville Orlando during your visit to Universal, it is quick and easy to sign up for the club, and the extra little benefits are worth it.
AMC Stubs Rewards
Here's a rewards program that is perfect for anyone; you don't have to be a big traveler to get the most out out of it, which is often the case for the aforementioned programs. And although you do have to pay a small annual fee – currently only $12 – it easily pays for itself.
One of the simplest perks of the AMC Stubs rewards program is that whenever you purchase popcorn or a fountain drink, you will be upgraded to the next size for free, including when you order a small (just remember to ask for it!).
The AMC theater at Universal Orlando is state-of-the-art and a great way to end your evening, especially on one of the nights the parks may close a little early. Plus, the massive theater at Downtown Disney is also part of the AMC chain and has a fantastic dine-in theater experience, to boot.
My husband and I have been Stubs members for three years now, and the rewards dollars quickly add up. You get $10 in rewards for every $100 you spend, and with movie ticket prices being what they are, it doesn't take too long to hit that mark.
Keeping your rewards programs straight
It can be a little overwhelming with all the different rewards programs out there. A long time ago, I created a separate email address just for rewards programs and shopping promotions. It gets pretty full pretty quickly, but I never have to worry about all the special offers and coupons emails clogging up my regular inbox, so I recommend that you do the same. Additionally, it helps with logging into the different reward programs' websites.
If you are visiting for a birthday celebration, then definitely join the programs before you leave so that you can take advantage of the birthday rewards. I have yet to join a loyalty or rewards program that doesn't do a little something for my birthday. (And if you're visiting Universal during your birthday, don't forget your button at Guest Services!)
I hope you take a moment and sign up for a few of these programs so you can get a little extra magic during your Universal Orlando vacation. If you're looking for more advice, check out the comprehensive collection of Universal vacation planning information we have in the OI Universal Center. Otherwise, you can also see all the great posts in the OI Blog archive filed under vacation planing.
Did we miss anything?
[sws_author_bio user="danidennison" size="105″ authorposts="More OI posts by Dani" name_format="About the author"] [/sws_author_bio]