Universal Orlando
This time of year, I get a lot of fans asking about Independence Day celebrations at Universal Orlando. This happens because Universal itself doesn't publish much of anything about the holiday.
Well, unfortunately, there's a reason for that: Universal doesn't do anything special specifically to celebrate the Fourth of July.
Now, don't get me wrong – I'm not saying you shouldn't go to Universal to enjoy the holiday. What I am saying is that the parks do not host new activities in addition to running two amazing theme parks and offering the spectacular array of shows and rides that they already do, including the Wizarding World of Harry Potter – Hogsmeade, Transformers, Springfield USA, and Cinematic Spectacular (which does include fireworks, if you really want to see some on the Fourth).
So Universal is still a great option for families traveling to Orlando. And remember, there is a chance that soft openings of the Wizarding World of Harry Potter – Diagon Alley might be happening all throughout this week, which would add a certain amount of fireworks all its own to the holiday. For the latest up-to-the-minute news on this front, please follow us on Twitter or join us in the OI Forums.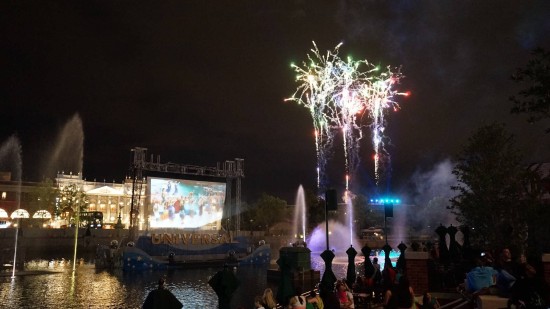 To see more recent photos from Cinematic Spectacular, scroll about halfway down our June 6 photo album on Flickr. To start planning your Universal Orlando vacation using our free, obsessively-updated guide, click here.
SeaWorld Orlando
Celebrate Independence Day at SeaWorld with a special Fourth of July extravaganza and even more Summer Nights fun this Friday, July 4!
During Summer Nights, SeaWorld is open from 9:00am until 10:00pm, so there's plenty of time to explore the sea's mysteries, learn about amazing animals, challenge thrilling rides, and watch incredible shows.
What's on tap for the Fourth of July festivities this year? Take in the awe-inspiring whales and light spectacle at the all-new nighttime show "Shamu's Celebration: Light up the Night," featuring new, original music and production elements, as well as new killer whale behaviors. Then head over to Bayside Stadium and end the evening with an even bigger bang: catch a magnificent, patriotic-inspired show featuring 25 singers and a nine-piece band that is topped off with a special Fourth of July firework finale.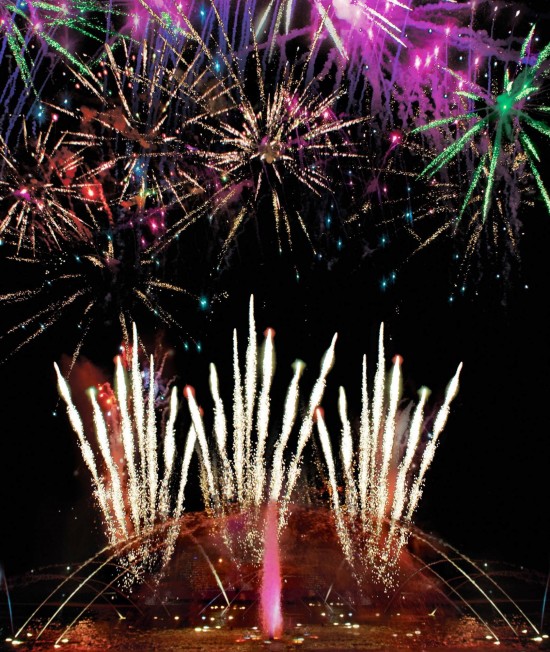 SeaWorld closes an hour later, at 11:00pm, on July 4.
Walt Disney World
On July 3 and 4, "Disney's Celebrate America! A Fourth of July Concert in the Sky" will be held. Starting at 9:00pm, three of Disney World's four parks will salute America with a dazzling display of fireworks and special effects set to inspiring music: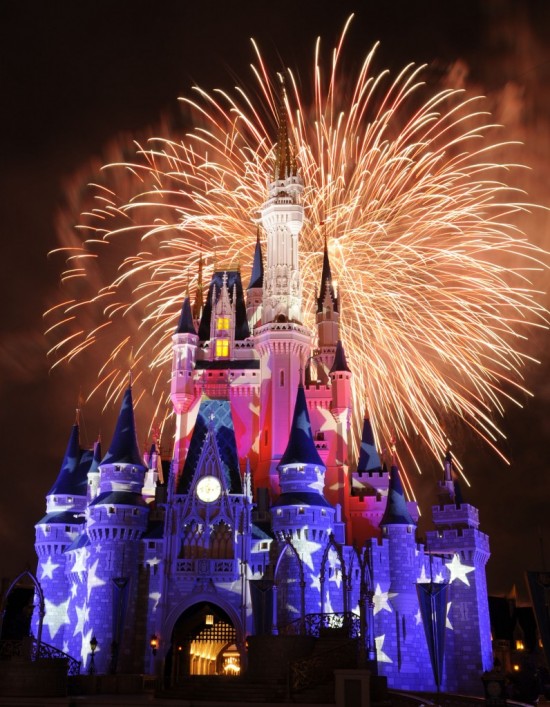 Magic Kingdom: "A Glorious Tribute to the Red, White, and Blue" – exploding with color, light, and sound, this thrilling show is a captivating patriotic extravaganza. Blazing fireworks and fantastic effects ignite the sky over Cinderella Castle, while a magnificent musical score surrounds you with joyous and uplifting songs. This lively tribute to America's independence is one of the most elaborate nighttime spectacles ever seen at a Disney theme park, and it will fill you with pride as it awakens your imagination.
Epcot: "Illuminations: Reflections of Earth – Fourth of July" – enjoy a fresh take on "Illuminations: Reflections of Earth" as the popular show culminates with a stunning fireworks display celebrating America's independence.
Hollywood Studios: "A Rockin' Fourth of July Celebration" – see the sky ignite in a shower of shimmering light as the Hollywood Rockers hits the stage for a rock 'n roll spectacular.
LEGOLAND Florida
LEGOLAND is celebrating the Fourth of July all weekend with its annual Red, Brick, and Boom event.  Three nights of fireworks set to the Lego Movie soundtrack will light up the sky for all guests to experience, along with fun activities for the entire family to enjoy, including a special scavenger hunt in Miniland USA and, our personal favorite, special viewing glasses to turn the fireworks into millions of exploding Leo bricks at night. The event allows visitors to celebrate the weekend in style while experiencing LEGOLAND Florida's more than 50 rides, shows, and attractions.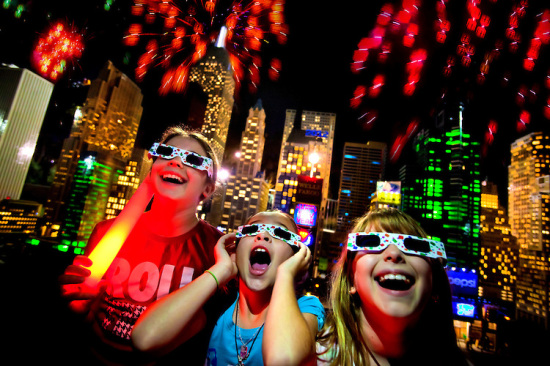 Red, Brick, and Boom will run from Friday, July 4 through Sunday, July 6 and is included in park admission. Park hours will be extended to 9:00pm during the three-day event.
Celebration Town Center
Celebration Town Center's world-famous Fourth of July event presents the second annual  "A Sci-Fi Fourth of July" in beautiful downtown Celebration, Florida.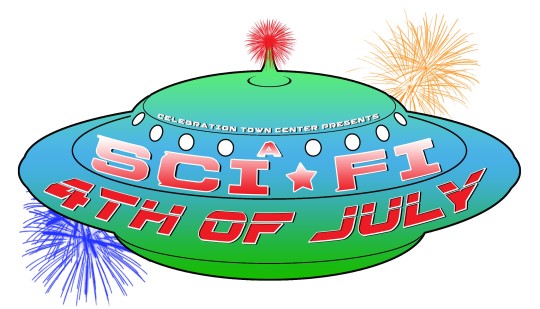 Celebration Town Center's "A Sci-Fi Fourth of July" will feature a movie themed costume contest at 7:30pm, so come dressed as your favorite character for a chance to win big prizes. It will also feature a synchronized fireworks spectacular set to a Sci-Fi themed soundtrack, bounce houses for kids, live music by Oliver's Queen, Carly Jo Jackson, Gina Marie Incandela, DJ Tami, your host-Mark Daniel, and more, as well as an unforgettable tribute to our veterans. So, get ready to dance the night away in a one-of-a-kind, family-friendly event with a fireworks show you will be talking about for years.
There will be something for people of all ages as Town Center's KidZone will feature an assortment of inflatable games for kids and teens that will include a jousting area, bounce houses, face painting, and more.
Additional music will be offered by the Dixieland Jazz Band. This unique group, made up of former members of the Rosie O'Grady's Good Time Band, will offer patriotic music for the whole family to enjoy.
As always, parking and admission are free!
For more information on Celebration Town Center and special events, visit us on the web at CelebrationTownCenter.com.
Lake Eloa (Downtown Orlando)
Orlando Mayor Buddy Dyer invites Central Florida residents and visitors to attend Fireworks at the Fountain on Friday, July 4, 2014 at Lake Eola Park in Downtown Orlando. Guests are encouraged to arrive early in order to find a great viewing spot. There will be a large kids' area and food and beverages available for purchase. The night will conclude with a patriotic firework display, which will begin at 9:10pm, accompanied by a performance from the Orlando Philharmonic Orchestra.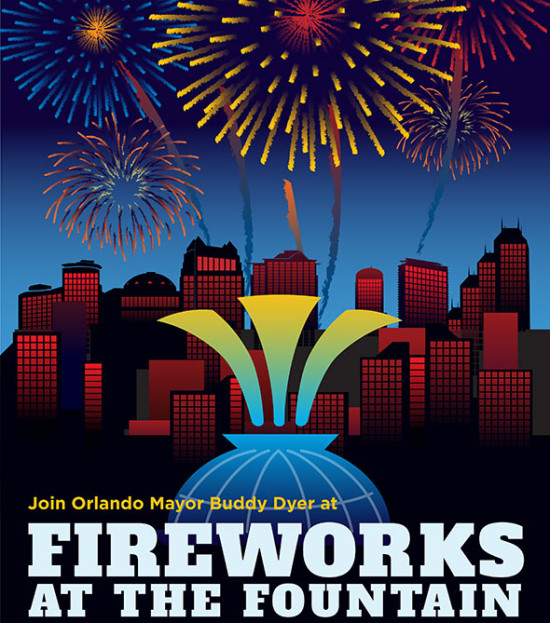 Entertainment begins at 4:00pm throughout the park, featuring live music on the K92.3 stage and the Lake Eola Amphitheatre. The evening includes music from the Orlando Concert Band, who will perform at 7:15pm. At 8:30pm, guests in the park will enjoy a patriotic performance from the Orlando Philharmonic Orchestra, who will play at the event for the first time. The fireworks will be televised live on WFTV Channel 9.