Fogo de Chao is best know for their continuous tableside service that includes 16 cuts of incredible meats in the main dining area. Guests control their service with small green- and red-sided chips that allow the servers to know whether to "stop" or "keeping coming!" It also keeps the tradition of "Churrasco" barbeques alive, which comes from southern Brazil and is centuries old.
However, I had the opportunity to visit Fogo de Chao recently to sample their brand-new bar menu, called Bar Fogo. The hostesses and manager who introduced me to my bartender for the evening, Lester, greeted me warmly. Lester was extremely knowledgeable, so I knew I was in good hands as he walked me through a few of his favorite bar selections.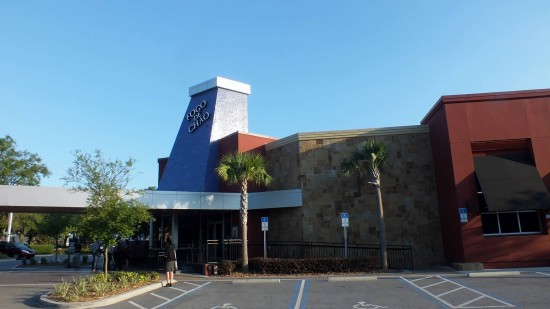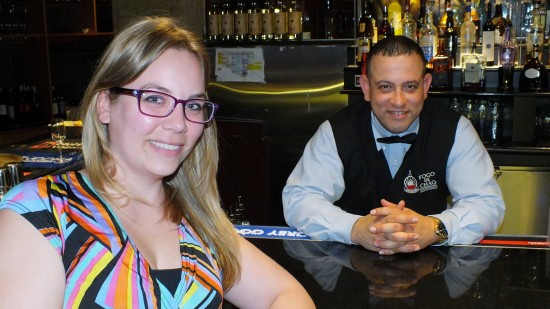 I chose their signature cocktail, the Caipirinha, which is the national cocktail of Brazil and contains silver Cachaça, fresh limes, and cane sugar. My friend Lauren chose the Strawberry Caipirinha. Both drinks were absolutely delicious. I was afraid they might be too sweet for my palate, but it was really quite refreshing!
Lester also took the time to tell us about Fogo de Chao's Cachaça, which is specially made just for the restaurant. Fogo de Chao Brazilian Rum and Malbec are also present on the menu and are made exclusively for the restaurant. Cachaça, from what Lester told us, is similar to rum, but it is made from sugarcane juice, whereas rum is typically made from molasses.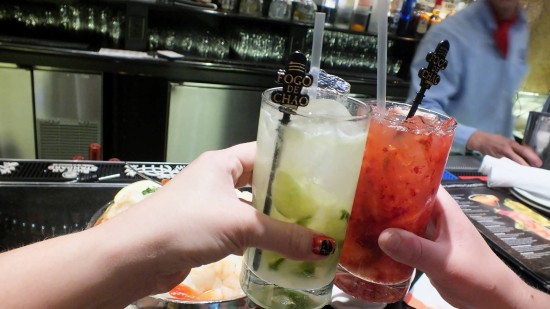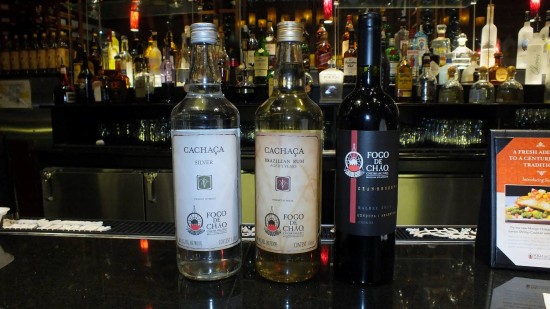 At this time, our first selection came out, which was the Jumbo Shrimp Cocktail ($19.00) – and they are not kidding when they say these shrimp are jumbo! Six extremely large, fresh, and tasty shrimp were presented to us in a beautiful display.
We continued with the Grilled Spiced Shrimp Skewers ($14.00) that had a passion fruit sauce, and Grilled Beef Tenderloin Skewers ($15.00) that had a chimichurri salsa. Fogo de Chao is known for their beef, so it may not come as a surprise that the Beef Skewers were one of my absolute favorite dishes of the evening; they were perfectly prepared, tender, and juicy.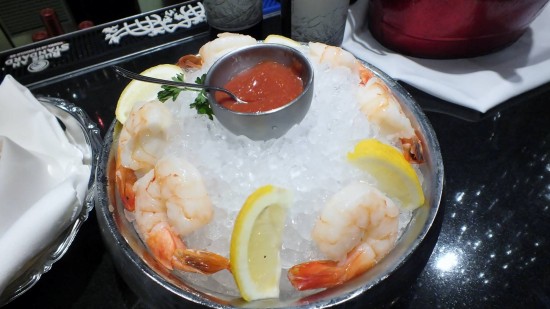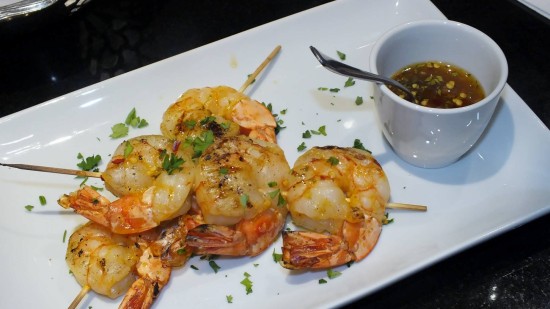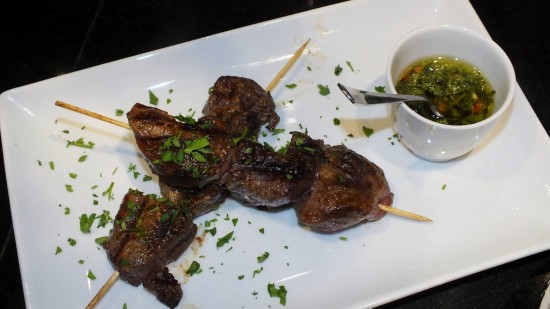 Next out was the Charcuterie Board ($14.00) with assorted cheeses, prosciutto, salami, figs, and crostini. This was another favorite of mine! I chose to combine the Brie, fig, and meats into two separate combinations, and both were flavor-packed. The Warm Hearts of Palm and Spinach Dip ($9.00) was savory and delightful, while the Picanha Sirloin Sliders ($9.00) were as mouth-watering as one can imagine. The Polenta Fries ($7.00) also came out at this time and were crispy and light. I loved the malagueta aioli they were paired with, as well. Last, but certainly not least, we sampled Fogo de Chao's newest offering, the Mango Chilean Sea Bass, which will absolutely please any and all fans of fish.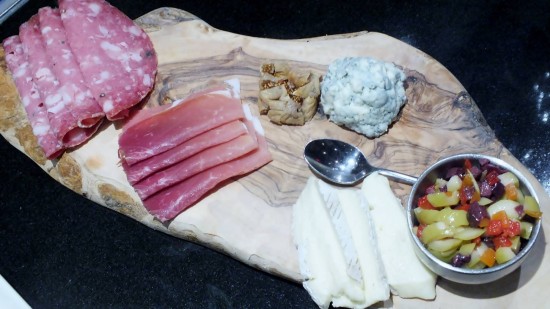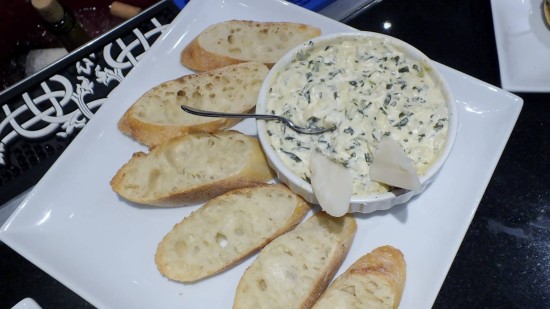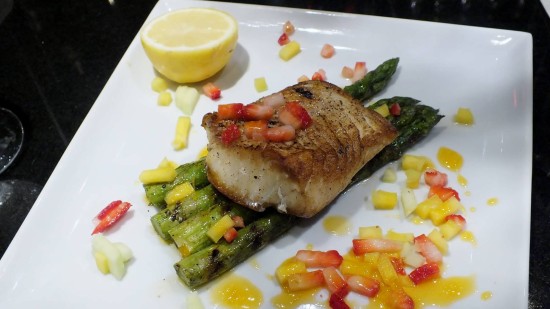 We also had the opportunity to meet Fogo de Chao's customer service manager, Rodolfo Melo, who was kind enough to deliver many of the evening's dishes. Rodolfo was extremely pleasant and took the time to inform us of what ingredients each dish was beautifully crafted with, while answering any questions we had about the ingredients and flavors. You can truly tell that the staff at Fogo de Chao is passionate about the quality of food and unique experience they are serving to their guests!
During our meal, we decided to sample another selection from the drink menu. Both Lauren and I simply could not refuse the Superfruit Lemonade that was staring at us from the menu page. Lester quickly concocted these drinks into a beautiful blend of VeeV Acai Spirit, Grand Marnier, fresh strawberries, blueberries, and lemons. It was another supremely refreshing beverage – a perfect treat for any hot summer day here in Florida. Specialty Drink prices seemed to average about $10-12.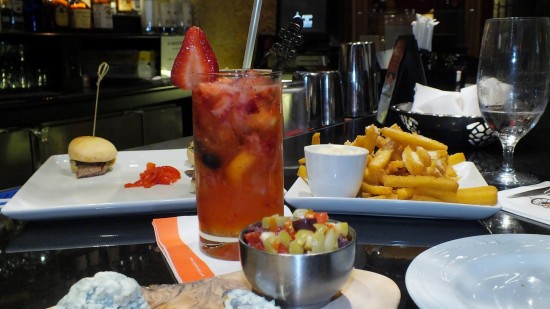 Our entire experience at Fogo de Chao was beyond exceptional. It was genuinely a night of thinking you had found a favorite dish, only to be introduced to a brand-new favorite with the very next delivery. We were well taken care of as the staff was very attentive, friendly, and informative, and they were excellent representatives of the hospitality industry – we were always greeted with bright smiles and engaging conversation from everyone we encountered. The dishes that we sampled were out of this world, and I would not hesitate in recommending this restaurant to anyone. The new Bar Fogo menu is perfect for those who want something quick in small-plated appetizer form, but who also seek flavorful, extraordinary dishes that go far above the regular bar scene.
I really was not sure what to expect as I walked into Fogo de Chao, but I left as a true fan of theirs and can't wait to experience their full table service one evening in the future.
Thank you for checking out my restaurant review. If you'd like, you can view Fogo de Chao's menu clicking here. If you'd like to keep reading, you can check out the OI Blog archive for restaurants or for I-Drive.
Fogo de Chao – map
Click any marker to display the attraction or venue name. To scroll or zoom, use the controls on the bottom-right of the map. You may also switch to different map views by using the buttons on the bottom-left of the map.
Fogo de Chao – photo gallery
Click any image to view it full-screen. When the full-screen image is open, click to the right or use the right arrow on your keyboard to advance through the gallery.
[sws_author_bio user="CasieShimansky" size="105″ authorposts="More OI posts by Casie" name_format="About the author"] [/sws_author_bio]