A while back, I highlighted my top five favorite hot spots on I-Drive, and I enjoyed sharing those exciting places so much that I decided to expand on that idea a bit. In this week's BIG 5 post, I will share five more places I love to visit for dinner and drinks around Orlando. As I've said before, it's so easy to get stuck in a serious theme park rut when visiting Orlando. To prevent that, get out for dinner and get a feel for more of what's happening around town!
#5 – Bahama Breeze
If you are looking for a tropical getaway within your Orlando vacation, Bahama Breeze should be on your list! This Caribbean-themed spot gives you the opportunity to eat delicious entrees bound to take you straight to the islands. Along with the amazing variety of dishes, they offer a selection of cocktails that is sure to make your mouth water. Any time I visit, I order a different cocktail to pair with my dinner, and I have never been disappointed.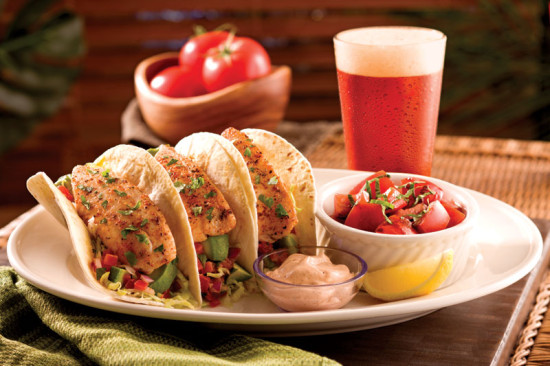 There are three locations around Orlando: one on International Drive, one near Disney, and another in Kissimmee. Visit their website to learn more.
#4 – Sea Dog Brew Pub
What could be better than great food, good beer, and the company of your favorite people, all together in one place?
Located near Walt Disney World, at Sea Dog Brew Pub you can enjoy fantastic Sea Dog handcrafted beer along with delicious pub food. When I visit, I usually pair my dinner with a beer sampler, which allows me to choose and taste four six-ounce pours of any of the beers on tap.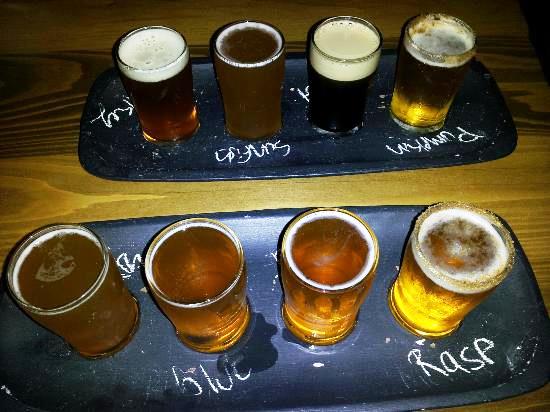 After you're done with their incredible fried pickles, one of the best entrees to pair amazing beer with is a burger – luckily, Sea Dog offers a large variety of burgers for any craving! (My veggie source also gives the vegetarian burger two big thumbs up.) Although Sea Dog offers a great kids' menu as well as a fun atmosphere, this stop caters better to couples or a group of friends out for a night of fun. Visit their website to learn more.
#3 – Bento Cafe
Located minutes from Universal Orlando on West Sand Lake Road, if you're in the mood for authentic and delicious Asian food, Bento Cafe is the spot for you. It's easily one of the best places to satisfy any Asian food craving, from its colorful sushi options to the flavorful bento boxes. For the uninitiated, "bento" means "boxed meal" in Japanese, and at Bento Cafe, it comes with rice, veggies, and your choice of protein and sauce – see the PDF menu online.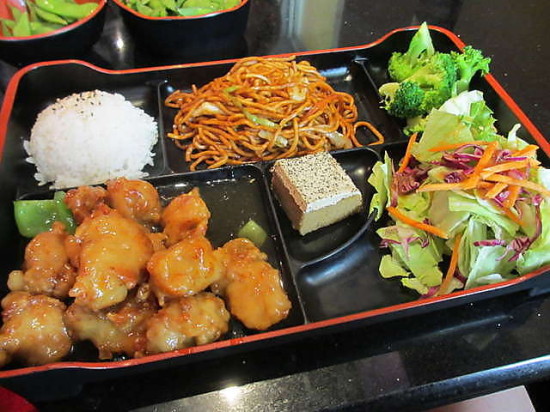 Although there are other offerings on the menu, I always choose a bento box when I visit, since the options are plentiful and the portion size is generous. As long as your kids have adventurous palates, your family will love visiting this spot. Learn more
#2 – Rocco's Tacos & Tequila Bar
Your desire for a colorful meal and a spirited environment for dinner is fulfilled at Rocco's Tacos, also located minutes from Universal Orlando. Not only do they serve up delicious Mexican food at Rocco's, but also some amazing margaritas and other specialty cocktails! My absolute favorite thing about this restaurant is their obvious attention to detail in both their food and drinks. From their guacamole made table-side to over 200 types of tequilas, they certainly have everything you could possibly want for a party night on the town.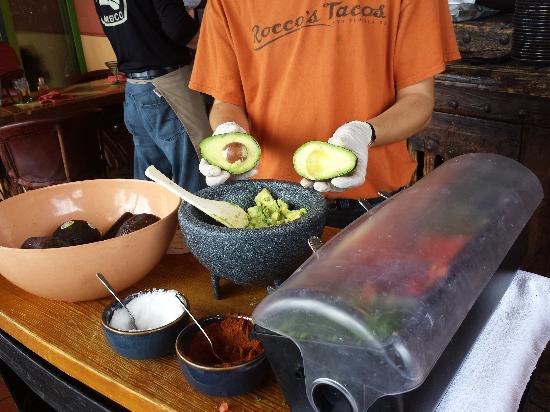 Which reminds me: if you are visiting Rocco's with your family, try to enjoy your dinner before 8:00pm. And, when you visit, try not to get too sidetracked by the amazing tequila bar right at the restaurant's front door! Visit RoccosTacos.com to learn more.
#1 – 4 Rivers Smokehouse
This is, without a doubt, the best BBQ I've had in Central Florida. Heck, it might even be the best BBQ I've had, period! Aside from the amazing BBQ, this place has a lot to offer. From their side dishes that are to die for (ahem, get the corn bread) to the fresh-baked cupcakes at their bakery, you really can't go wrong here.
From the moment you step in the door, you feel like a part of a huge family all gathered together to enjoy a great meal. 4 Rivers Smokehouse currently has five locations in Central Florida – and since none of the restaurants are located in the tourist corridor, visiting one of Orlando's culinary traditions also helps you see a little more of the city. Learn more
Honorable mention – World of Beer
Although World of Beer does not serve food, it's one of my favorite places to relax and enjoy some great company. My preferred location is near Rocco's Tacos and many other restaurants on West Sand Lake Road – also known as Orlando's Restaurant Row – so it's also the perfect after-dinner drink spot.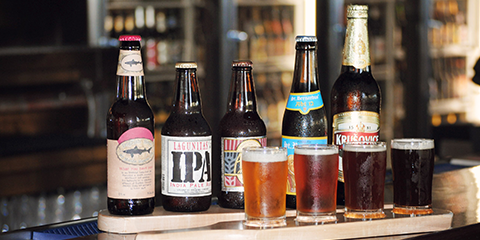 "We partner with thousands of craft breweries and rotate over 10,000 beer items. At a given time, we have 500+ craft beers and – somewhere in the world – each of them is local."
Like this idea but want something to eat, too? Grab a bite to go at the Chipotle or WhichWich next store – this World of Beer location allows you to bring that food in to enjoy with one of their delicious beers. Visit their website to learn more (trust me, the bar experience is far better than the website experience).
There you have it: five more fantastic spots to enjoy when you are visiting us in Orlando! If you want more ideas, see my previous post – Top five "hot spots" on I-Drive – or see all of our BIG 5 blog posts.
[sws_author_bio user="KaseyVandermark" size="105″ authorposts="More OI posts by Kasey" name_format="About the author"] [/sws_author_bio]