At the Embassy Suites Orlando, you'll find a friendly staff; spacious, clean rooms; and some really wonderful amenities. These are the things that all add up into helping make your vacation enjoyable and special – the way it should be!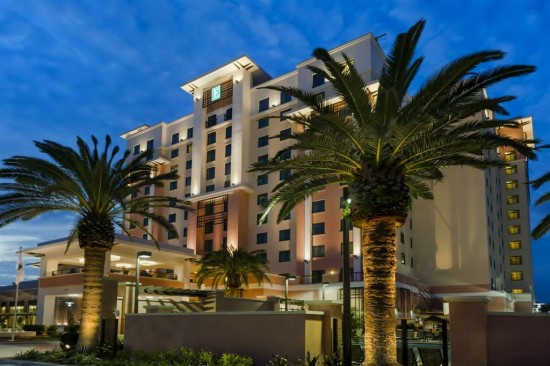 Located just half a mile from the Orange County Convention Center, this is an all-suites property. You have the option of choosing from a king room suite (452 square feet), a double bed suite (493 sq ft), as well as a two-bedroom/two-bathroom suite (1,088 sq ft). Executive and accessible rooms are also available.
The two-room suites each feature a private bedroom and separate living area. The living area consists of a sofa with bed, arm chair, television, work/dining table, and a wet bar with mini refrigerator, microwave, and coffee maker. The wet bar area is perfect for keeping your leftovers, snacks, drinks, and groceries for breakfast or light meals. Each room of the suite also has a 32" LCD flat panel television.
In the bedroom, you'll find a six-drawer dresser, wardrobe, ironing board, luggage stand, television, comfortable bed, and a feature that we really enjoy having: a vanity area with sink.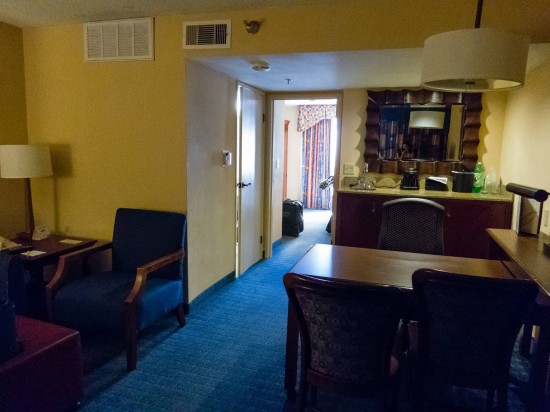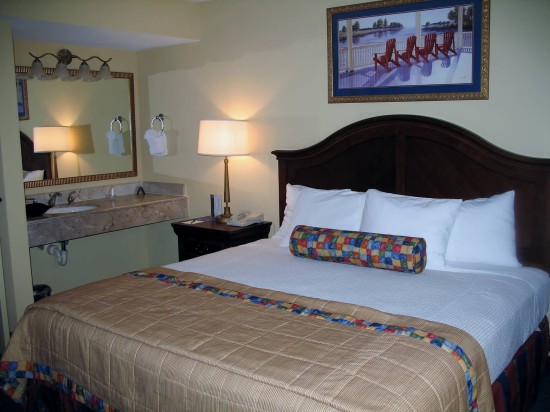 One of the really great perks of this hotel is their complimentary cooked-to-order breakfast, which is available every morning. The breakfast offerings you can expect to see are selections like scrambled eggs, made-to-order omelets, bacon, oatmeal, cereal, fruit, yogurt, toast, bagels, pastries, and more. You will also want to visit the evening reception for complimentary snacks and drinks, with both alcoholic and non-alcoholic options available.
Embassy Suites is also home to the Fisheye Grill restaurant. Enjoy a Florida-inspired menu featuring specials from both land and sea. You can enjoy your meal in the main dining room, bar, or outside patio – perfect for enjoying Florida's beautiful weather. The restaurant is open for lunch and dinner and is also available for in-room dining.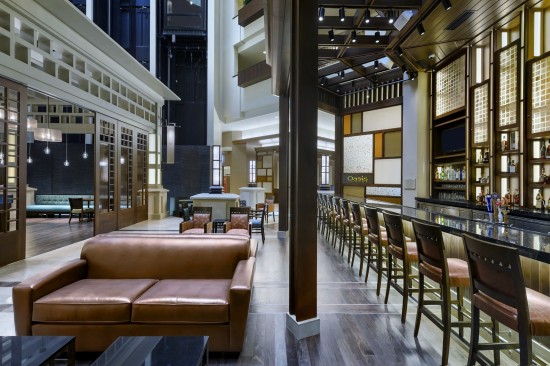 Beyond the in-house option, there's also many great restaurants within walking distance from the hotel, including Café Tu Tu Tango, Bahama Breeze, and Fogo De Chao, along with a variety of others.
Additionally, there are a lot of attractions you can visit by foot. Wonderworks, Ripley's Believe It or Not, Dave & Busters, mini-golf, and Pointe Orlando are all located on the International Drive strip.
If you'd like to venture out a little further around the area, you can hop on the I-Ride Trolley, which has pick-up and drop-off stops all along I-Drive. You can buy I-Ride Trolley tickets inside the hotel's lobby. There is also a car rental desk on-site, as well as a free scheduled shuttle to the Walt Disney World, Universal Orlando, and SeaWorld parks. And, finally, Fun Spot America and Wet 'N Wild are also conveniently nearby.
If you're looking to spend time enjoying the hotel itself, you will find an indoor and outdoor pool, spa, sauna, fitness and business center, arcade, room service, and a gift/convenience store.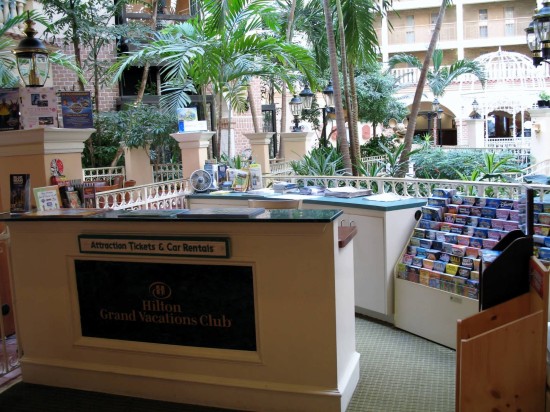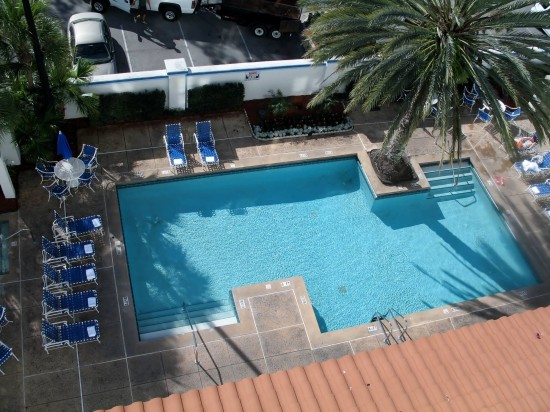 I can't forget one of my favorite features that Embassy Suites is known for – their beautiful atriums!
As soon as you enter the main lobby or step outside of your room, you are greeted by the atrium. It's the perfect place to enjoy your breakfast, have a drink, hang out with friends, or just sit back and relax.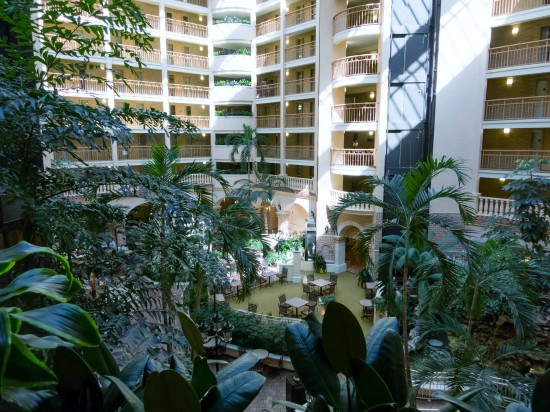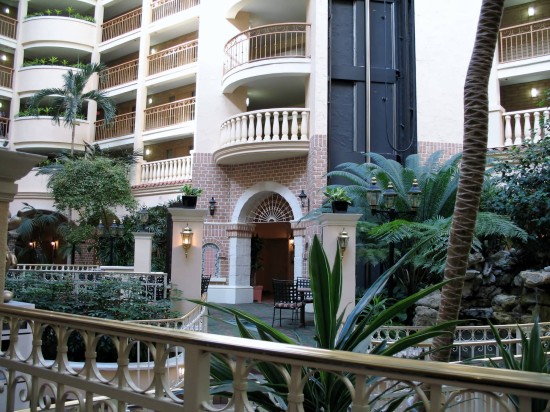 We've stayed at this location twice, several years apart, and have been more than pleased both times. There was some wear on the furniture in our room this last time, but I didn't even notice that until it was pointed out to me, and it didn't affect my thoughts on our stay. The room – and the entire property – was all very clean.
If you liked this article, you can see all of our blog posts about hotels & resorts or activities on I-Drive. Or start planning the rest of your Universal Orlando vacation completely for free in the OI Universal Center.
Embassy Suites Orlando – map & links
Click any marker to display the attraction or venue name. To scroll or zoom, use the controls on the top-left of the map. You may also switch to different map views by using the buttons on the top-right of the map.
Note: there are two Embassy Suites in this area of I-Drive. The one reviewed in this post is south; the other is north.
[sws_author_bio user="Jewels" class="gray" size="105″ authorposts="More OI posts by Julie" name_format="About the author"] [/sws_author_bio]