Staying on track in the New Year: How to eat healthy at Universal Orlando Resort
While most of the crowds at Universal Orlando are treating themselves to all of the sweets, fried foods, and large portions they can get their hands on during their vacation, some vacationers still like to watch their calorie intake.
Health conscious individuals used to be left with minimal options, but over the years the parks have expanded their menus to include delicious foods with lower stats. These healthier options are not only good for the weight conscious, but also for those with health conditions, which may require lower calorie intake or different meal preparations, including gluten free. In this post I will discuss the options each of Universal's parks offer along with CityWalk.
Healthy eating at Universal Studios Florida
The new Simpsons Springfield area brought along Fast Food Blvd, which includes Lisa's Teahouse of Horror among its tenants. This section of the mini food court provides several healthy options, allowing you to eat with your family, some of whom may prefer to indulge at Krusty Burger or Cleutus' Chicken Shack. Lisa Teahouse of Horror offers an array of what Universal's website describes as "healthy and delicious" items including salads, hummus, fruit plates and cups, yogurts, and healthier wraps and sandwiches.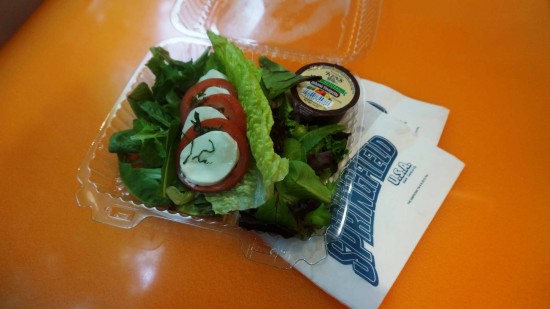 Lombard's Seafood Grille — the full-service, fine-dining restaurant at Universal Studios Florida — makes eating healthier a bit easier. Right on its menu, symbols are used to indicate which items can be prepared gluten free, vegetarian, or with reduced portion size to cut back on the calories. Healthier items on their menu include a variety of salads, all of which can be prepared gluten free, such as their featured grilled salmon salad. Lombard's also offers a grilled chicken sandwich, which you can substitute a side of sweet potato fries with for an additional 79 cents.
Additional options at Universal Studios Florida include the full-service Finnegan's Bar & Grill, which offers a garden burger served with fresh fruit and a grilled fillet of salmon, along with the quick-service Mel's Drive-In, which offers a grilled chicken sandwich and grilled chicken salad.
Healthy eating at Islands of Adventure
Mythos — the full-service, fine-dining restaurant at Islands of Adventure — has been voted best theme park restaurant on multiple occasions. This may have to do with the fact that their menu includes a variety of both healthy and indulgent items. Just as with Lombard's menu, Mythos' menu is marked with symbols for gluten free and vegan choices. Menu options include a variety of salads, which can be topped with grilled chicken, shrimp, or salmon. Other options include a pan seared Asian salmon or mahi-mahi dish, along with chicken wraps and blackened fish tacos.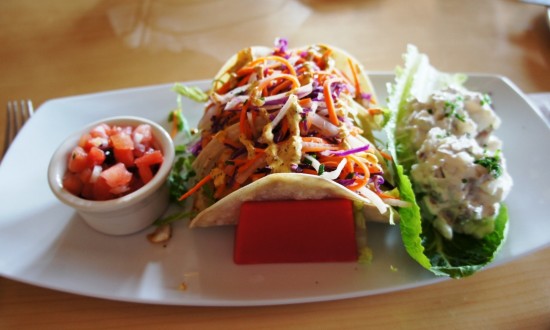 The second full-service option at Islands of Adventure, Confisco Grille, also offers a variety of healthy options, some of which are indicated on the menu with the gluten free and vegetarian symbols. Confisco offers a hummus appetizer, a fruit plate served with yogurt, a grilled chicken sandwich, and a daily signature fish of the day which are grilled or blackened. Keep in mind that, while salads include nutritious vegetables and may be able to be made gluten free or vegetarian, this does not automatically mean they are low in calories! Watch out for toppings, especially high fat and calorie dressings, which can raise the stats of the salad.
For quick-service venues at Islands of Adventure, Comic Strip Cafe in Toon Lagoon offers a grilled chicken sandwich, and The Burger Digs in Jurassic Park offers a grilled chicken sandwich along with a garden burger. Islands of Adventure also features the relatively new Doc Sugrue's Desert Kebab House, somewhat similar to Lisa's Teahouse of Horrors in Universal.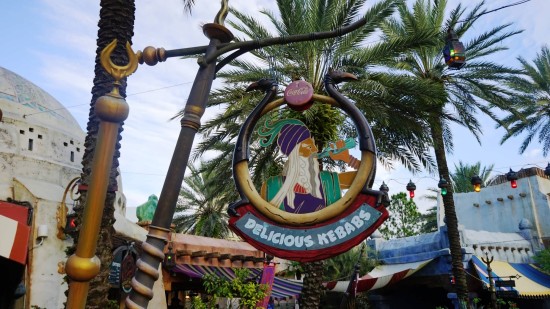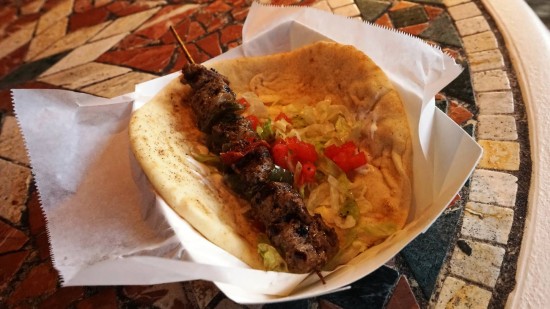 Located in the Lost Continent, Doc's offers beef, chicken, and vegetarian kebabs, salads, hummus, yogurt, and fruit cups. Doc's also offers the Coke Freestyle stations which provide diet and 'zero' versions of drinks which have little to no calories.
Healthy eating at Universal CityWalk
CityWalk features so many options, too many to include in just one blog post! Some of the best lower calorie options in CityWalk include the grilled chicken breast at Margaritaville, served with rice and corn, along with their 8-ounce filet served with rice and vegetables. Bubba Gump offers shrimp and veggie skewers served with rice, steamed shellfish, and a variety of grilled chicken/fish sandwiches.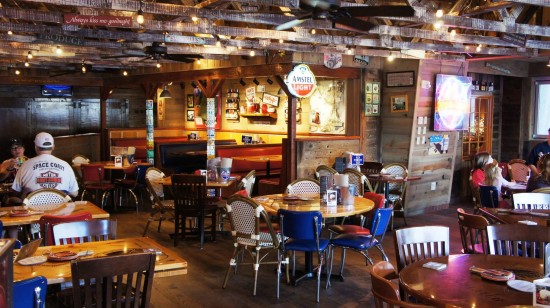 Hard Rock Cafe provides a grilled Hawaiian chicken dish which is to die for! If desired, you can substitute the mashed potato side for additional vegetables or another lower calorie option. The Hard Rock also has grilled fish dishes and a veggie burger.
Additional tips for eating healthy at Universal Orlando
Still want to indulge without all of the calories? Split with a family member or friend! The portions at the full-service restaurants are generally quite large, and you can easily split and still be full. By splitting the portion in half, you're still able to enjoy what you're craving while not suffering from a much higher calorie intake of the whole meal — plus your cost will also be cut in half!
Always feel free to ask your server or person where you're placing your order about healthier options. Generally they will be able to substitute sides or change options from fried to grilled.
But don't forget, you are on vacation — treat yourself to a snack here or there, because Universal has some the best around!
To learn more about dining at Universal, you can find almost every venue at the resort listed in the OI Universal Center table of contents. If you want to stay on our blog for the moment, you can view all our Universal Orlando posts.
[sws_author_bio user="AllyPfeiffer" size="105″ authorposts="More OI posts by Ally" name_format="About the author"] [/sws_author_bio]