While most of the crowds at Universal Orlando Resort are treating themselves to all of the sweets, fried foods, and large portions they can get their hands on, some vacationers still like to watch their calorie intake.
Health-conscious individuals used to be left with minimal options, but, over the years, Universal has expanded its menus to include delicious foods with lower stats. These healthier options are not only good for the weight-minded, but also for those with health conditions, which may require lower caloric intake or different meal preparations (including gluten-free). In this post, I will discuss the options each of Universal's theme parks offer, along with CityWalk.
Healthy eating at Universal Studios Florida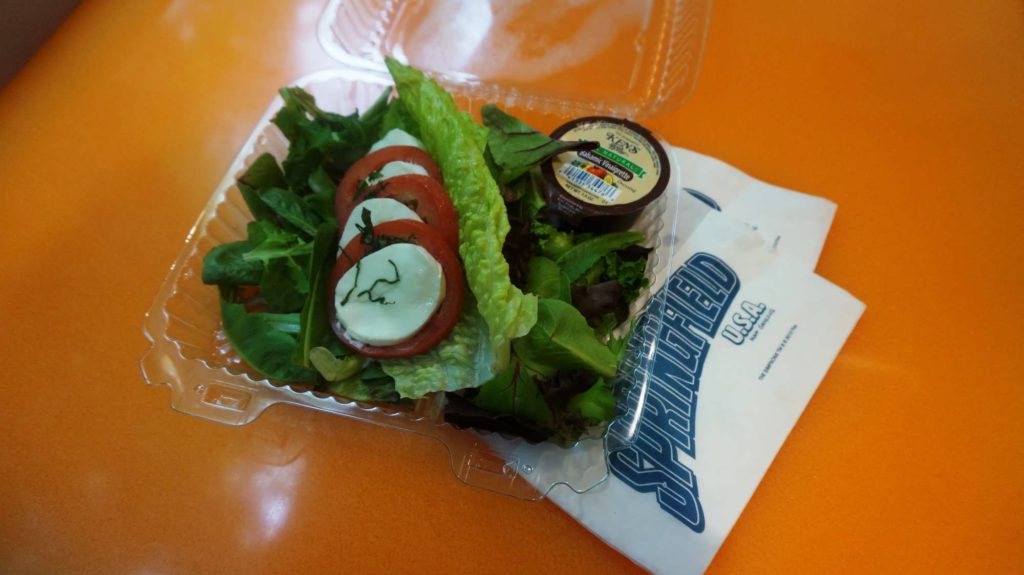 Springfield, USA brought along with it Fast Food Boulevard, a collection of various quick-service counters that includes Lisa's Teahouse of Horror. This section of the mini-food court provides several healthy options, allowing you to eat with those family members who may prefer to indulge at Krusty Burger or Cletus' Chicken Shack. Teahouse of Horror offers an array of what Universal describes as "healthy and delicious" items, such as salads, hummus, fruit plates and cups, yogurts, and healthier wraps and sandwiches.
Lombard's Seafood Grille – the full-service, fine-dining restaurant at Universal Studios Florida – makes eating healthier a bit easier: right on its menu, symbols are used to indicate which items can be prepared gluten-free, vegetarian, or with reduced portion sizes to cut back on the calories. Healthier items here include a variety of salads, all of which can be prepared gluten-free (like the San Francisco Cobb Salad); a grilled chicken sandwich, which you can substitute a side of roasted potatoes or white rice with for no additional charge; a tuna poke appetizer, which comes replete with sushi-grade ahi tuna diced and marinated in a soy garlic sauce and served over a bed of Frisee lettuce, scallions, tomatoes, avocado, wasabi, and crispy wonton chips; and, finally, Penne Genovese, which is made with vegan sausage-roasted broccoli, cherry tomatoes, and basil oil.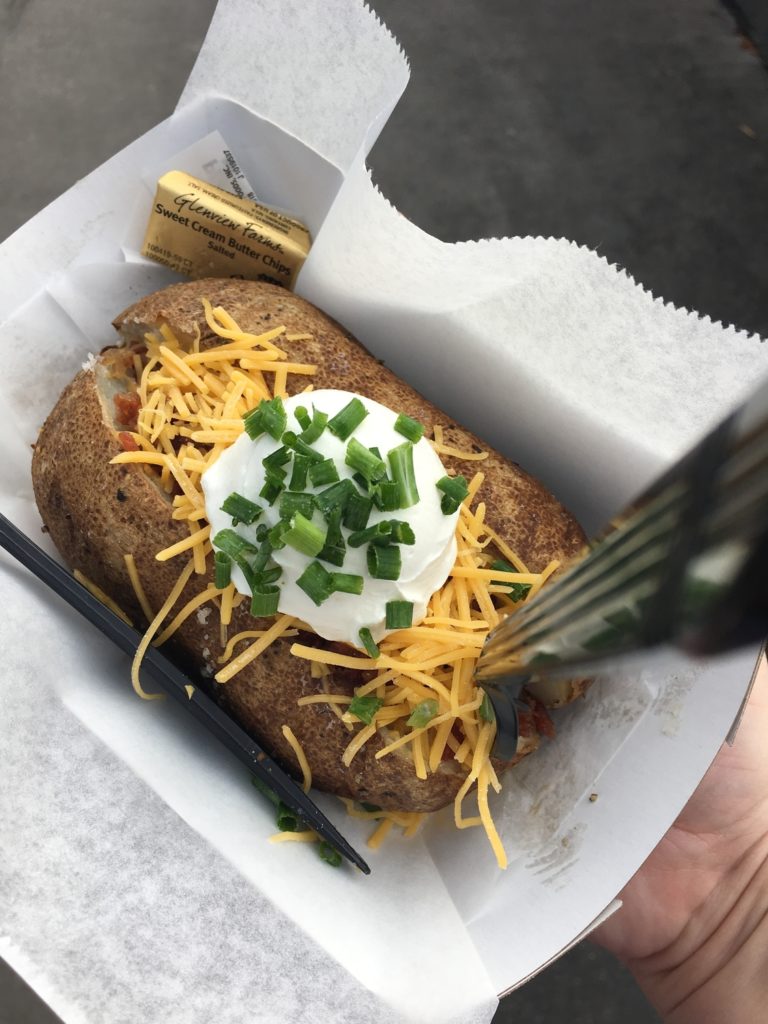 For a tasty and healthy breakfast at Leaky Cauldron, go with the apple oatmeal flan with yogurt and fruit; for lunch and dinner, meanwhile, try the soup and salad combo.
And speaking of The Wizarding World of Harry Potter – Diagon Alley, if you're looking for a quick-but-delicious meal, there is the jacket potato stand right outside, in the London waterfront area before you get into Diagon Alley proper. It offers baked potatoes with a variety of toppings to order (cheese, sour cream, scallions, etc.), but since they are to order, it makes it a great option for vegetarians and vegans – you can omit whatever doesn't fit with your diet.
Additional options at the park include: the full-service Finnegan's Bar & Grill, which offers a black bean burger served with fresh fruit and a grilled fillet of salmon; the quick-service Mel's Drive-In, which serves up a grilled chicken sandwich, the Chick'n & Avocado Sandwich Platter (a vegan chicken sandwich), and, on the lighter side, a grilled chicken salad; the quick-service Louie's Italian Restaurant, which features Spaghetti Bolognese (it includes vegan Italian sausage crumbles); and Richter's Burger Co, which now offers the much-talked-about Beyond Burger.
Healthy eating at Islands of Adventure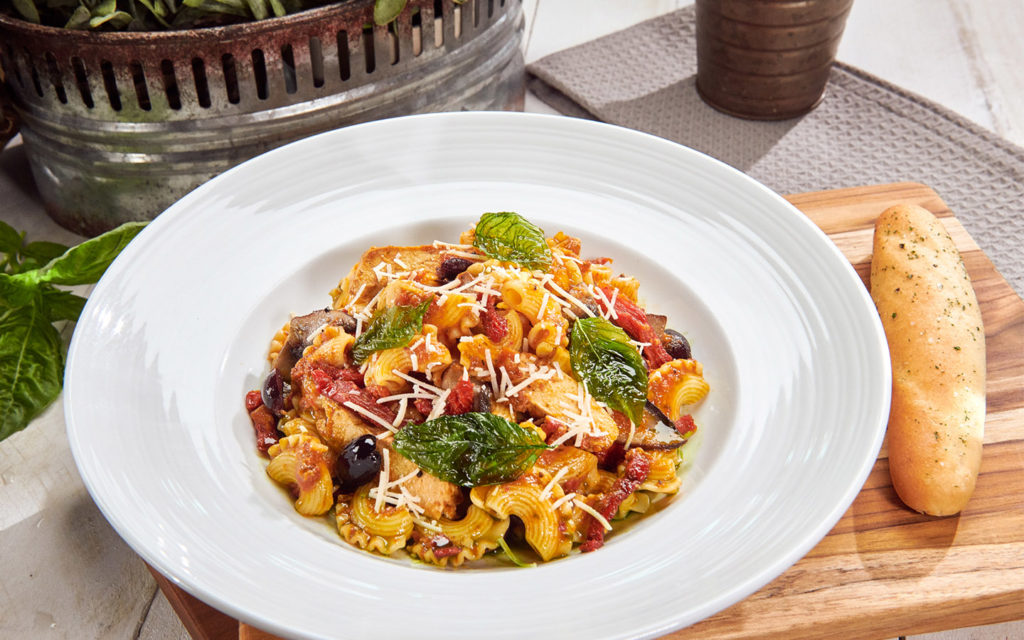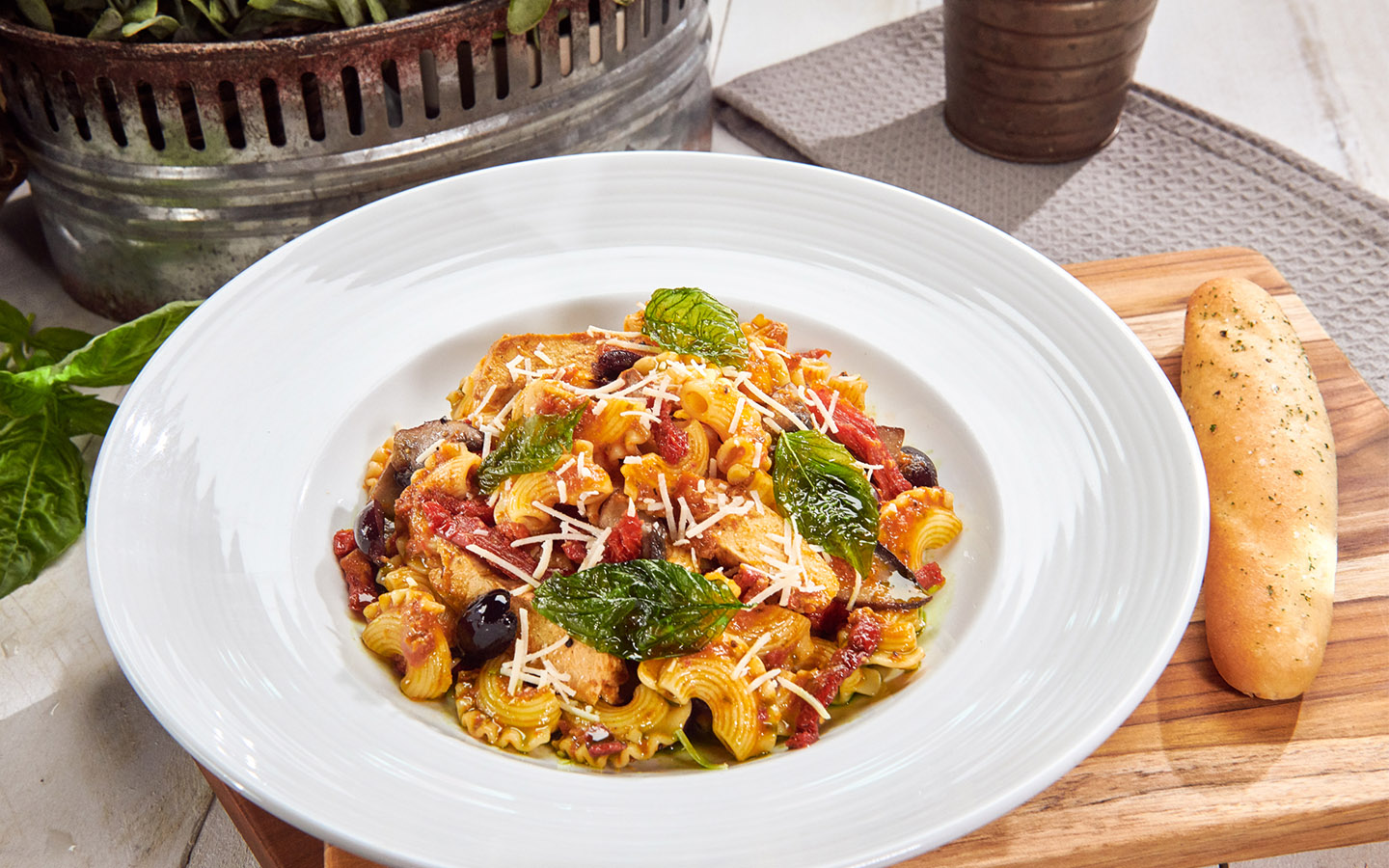 Mythos, Islands of Adventure's full-service fine-dining establishment, has been voted the best theme-park restaurant on multiple occasions, which just may have to do with the fact that its menu includes a variety of both healthy and indulgent items. Just as with Lombard's, Mythos's menu is marked with symbols for gluten-free and vegan choices; here, you'll find a variety of salads (which can be topped with grilled chicken, shrimp, or salmon), a pan-seared salmon served with sautéed mushrooms and zucchini ribbons, and the fantastic vegan Tomato Pesto Cresto de Gallo, which consists of vegetarian chicken, sundried tomatoes, roasted mushrooms, Kalamata olives, and fresh basil.
The second full-service option at the park, Confisco Grille, also offers a variety of healthy options, some of which are indicated on the menu with the gluten-free and vegetarian symbols. The restaurant offers a wonderful hummus appetizer, as well as Chipotle Sausage with Orzo and a variety of salads, like the Greek Salad, which can be prepared gluten-free and vegetarian (although you can also add chicken for an upcharge). Keep in mind that, while salads include nutritious vegetables and may be able to be made vegetarian-friendly, this does not automatically mean they are low in calories! Watch out for toppings, especially high-fat dressings, which can raise the stats of the salad.
For quick-service venues at Islands of Adventure, Comic Strip Cafe in Toon Lagoon offers a grilled chicken sandwich and a fish pita combo, and The Burger Digs in Jurassic Park serves a grilled chicken sandwich and two different vegetarian burgers – one a brown-rice-and-mushroom patty, the other a plant-based chicken and avocado sandwich similar to Mel's Drive-In. There's also Doc Sugrue's Desert Kebab House, a restaurant that is somewhat similar to Lisa's Teahouse of Horror over at Universal Studios Florida; you can find beef, chicken, and vegetarian kebabs, salads, hummus, yogurt, and fruit cups here – perfect if you're looking for a delicious high-protein snack. (Doc's also brandishes Coke Freestyle stations, which provide diet and "zero" versions of drinks, significantly limiting your caloric intake.)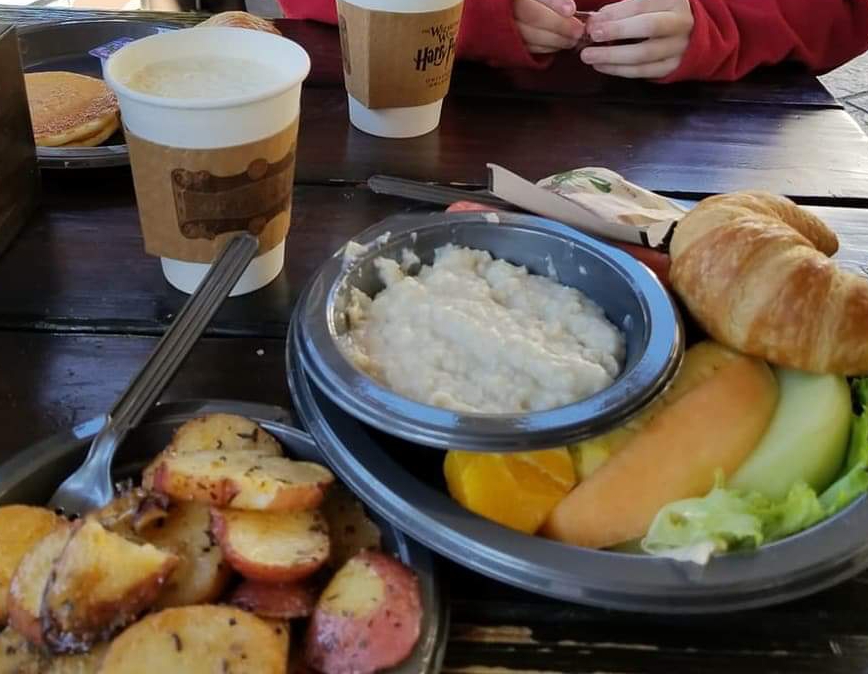 Let's focus for a moment on The Three Broomsticks, located in The Wizarding World of Harry Potter – Hogsmeade. On the lighter side for breakfast here, there is a Continental Breakfast with fresh fruit, croissants, and assorted jams, as well as old-fashioned steamed oats and fresh fruit. For lunch and dinner, meanwhile, there's not a ton in the way of super-healthy options, but can you imagine Hagrid stopping over for a salad? Still, they do have salads, and if you're looking for a smaller portion, you can order sides separately instead of getting an entire platter. They also have a children's menu, which I'm told adults can order off of if they would like to maintain a little portion control.
(Did you like some of those vegan dishes over at Universal Studios Florida and, now, want to re-visit them here at Islands of Adventure? Well, you can grab the Spaghetti Bolognese at Cafe 4 and the Beyond Burger at Captain America Diner.)
Healthy eating at Universal CityWalk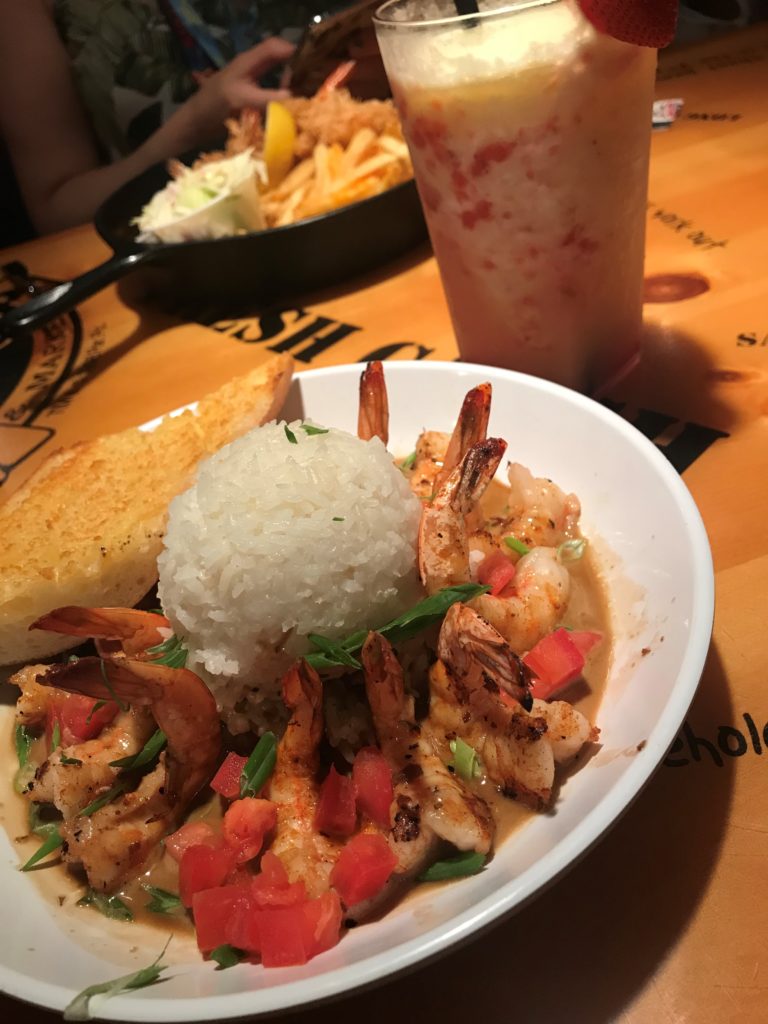 CityWalk features so many possibilities, there are too many to include in just one blog post! Some of the best lower-calorie options in Universal's dining/shopping/entertainment district include the Caribbean Blackened Salmon Salad at Jimmy Buffett's Margaritaville, served on a bed of mixed greens with papaya, mango, avocado, and red peppers. They also offer a Florida Grouper Sandwich, which you can get grilled instead of fried, and the ability to prepare certain dishes gluten-free – just be sure and ask your wait staff what options are available.
If you like seafood, check out Bubba Gump's Traditional Shrimp Cocktail as a starter. It features their jumbo shrimp served with Bubba's own homemade Zesty Cocktail Sauce and is only 270 calories. There's also a Grilled Seafood Trio, which includes a shrimp and veggie skewer, Shrimp New Orleans, and Bourbon Street Mahi Mahi. The dishes are big enough to share, which would cut the 1,100 calories in half, making for a nice light lunch or dinner.
Hard Rock Cafe has a few healthier options among their amazing burgers and appetizers. If you're in the mood for wings but want to go with a vegetarian option, they do Buffalo-style cauliflower wings served with blue cheese, celery, and carrot sticks. You also can't go wrong with their Classic Waldorf Salad, featuring grilled chicken, fresh spinach, and kale served with green apples, pomegranate seeds, and walnuts – a nice, filling salad with only 484 calories!
The Cowfish Sushi Burger Bar, known for their burgers and sushi (of course), also has a few offerings on its menu for the health-conscious, including the newer Cucumber Delight appetizer – it has hamachi, avocado, and asparagus rolled in English cucumber and topped with spicy poke and beet curls. If you're low-carb, there's also a fantastic nine-piece mix of sashimi, including a chef's selection of tuna, salmon, and yellowtail.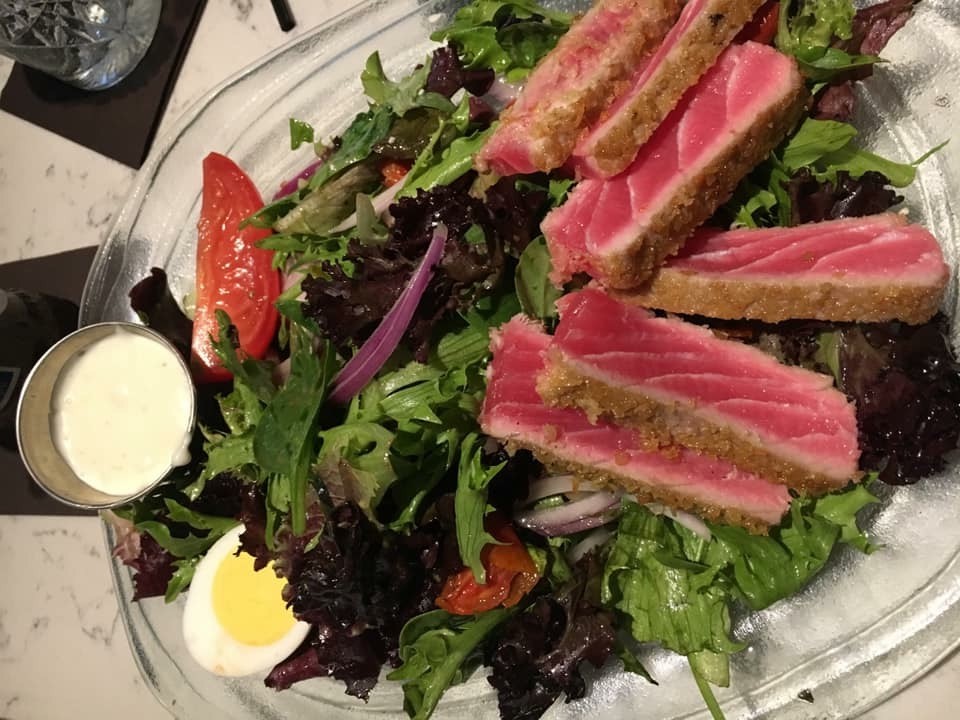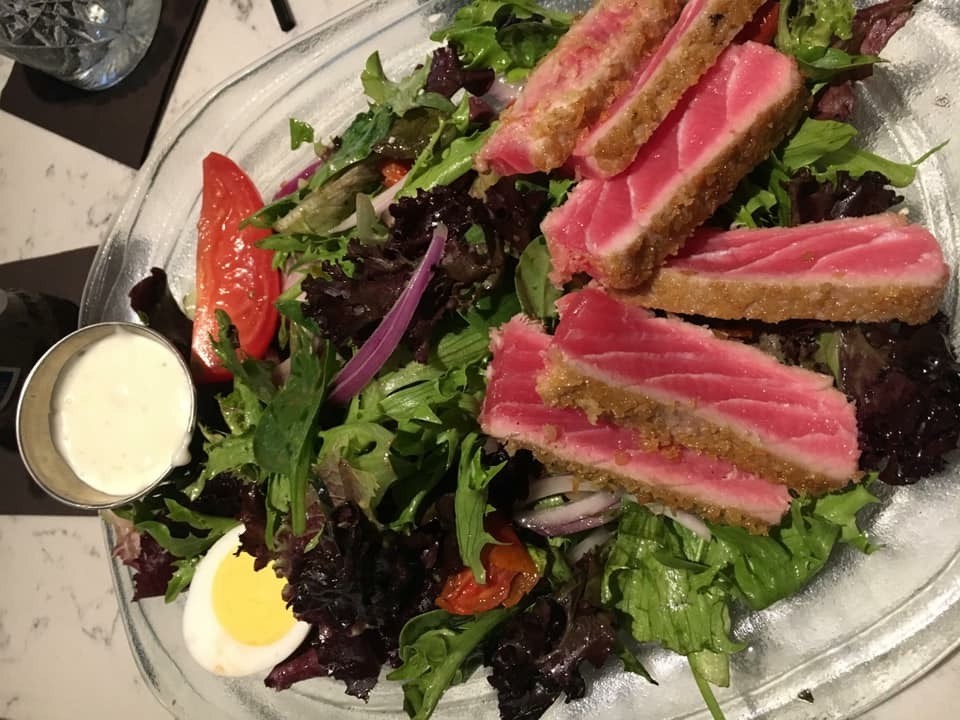 Red Oven may be the pizza place in CityWalk, but they also carry some fantastic and filling salads, including the Caprese, which comes packed with vine-ripened tomatoes, fresh hand-pulled mozzarella, organically-grown Harvill Farms basil, and organic first-pressed extra-virgin olive oil.
Ever since Toothsome Chocolate Emporium and Savory Feast Kitchen opened their doors, people have been talking about the decadent milkshakes, delicious chocolate almond bread, and every other chocolate delight you can get your hands on, but fear not – there are plenty of lighter options, as well. (But, seriously, you have to try one of the milkshakes!) Toothsome features a very unique menu, and the salad choices are no different, especially the Super Foods Salad – it has spinach, arugula, avocado, quinoa, asparagus, sundried tomatoes, red onion, pine nuts, and feta cheese and is topped with a citrus vinaigrette. It's an excellent way to get an energy boost before heading into a long day at the parks.
If you're looking for a quick-service option, Fusion Bistro Sushi & Sake Bar might be for you! Everything from sushi, sashimi, and hand rolls are available. They also offer bento boxes and beef skewers made to order.
Additional tips for eating healthy at Universal Orlando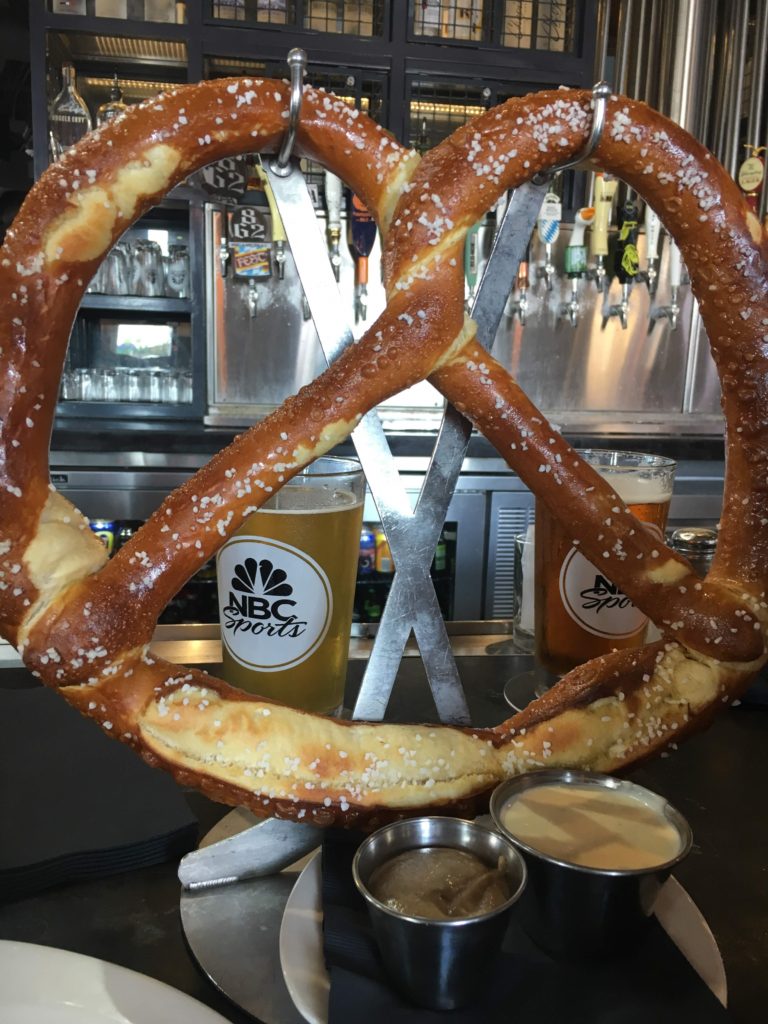 Still want to indulge without all of the calories? Split with a family member or friend! The portions at the full-service restaurants are generally quite large, and you can easily split and still be full. By dividing the portion in half, you're still able to enjoy what you're craving while not suffering from a much higher calorie intake of the whole meal – plus your cost will also be cut in half!
Always feel free to ask your server about healthier options. Generally, they will be able to substitute sides or change options from fried to grilled.
Many of the restaurants also offer "skinny" cocktails, so if you want to have a nice adult beverage but want to cut the calories a bit, be sure and check out the menu for what options are available.
Please keep in mind that many of the restaurants change their menus frequently, so be sure and check their websites for any updated or seasonal options.
And, finally, don't forget: you are on vacation! Don't be afraid to treat yourself to a snack here or there, because Universal has some of the best around.
–
Have your own tips and strategies for healthy eating at Universal Orlando? Discuss them with 70,000+ other vacation planners and Universal fans in our OI Community Facebook group.
And be sure to follow Orlando Informer on Facebook, Twitter, and Instagram for the latest news and tips at Universal Orlando, Walt Disney World, and other Orlando experiences.