When you hear the name Dick's Last Resort, your imagination is left to wander. If you are familiar with the brand, then you know you can expect a great time full of laughs and smiles – and a belly full of great food, too!
Dick's Last Resort is now open in Lake Buena Vista, and they are ready to serve you.
I was invited to check out the grand opening thanks to Orlando Informer last Thursday. Let's see what Dick's is all about.
Dick's Last Resort: History & concept
While the Lake Buena Vista establishment is the first Central Florida location, Dick's Last Resort has locations throughout the country. However, they're not some massive brand with thousands of chapters that has lost touch of who they really are as they become mass-produced. Instead, there are currently 13 locations nationwide, and, while they are expanding, they are staying true to what makes them great.
And what does make Dick's Last Resort so great is the staff and the fun atmosphere. Over the past 28 years, Dick's has gained more popularity each year. Their motto is "Fun for all, and all in fun!"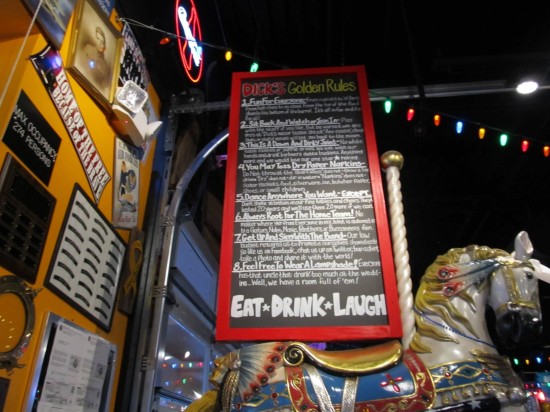 Really, you can be the grumpiest guy in the world, maybe looking like Dick's frowny face mascot, and you will still manage a smile by the end of the night. You can come as you are – as long as you bring along your sense of humor.
Now you might be thinking, "Okay, so this place sounds fun, but how's the food?" Everything is made from scratch, and with love.
Dick's Last Resort: Food
I spoke with Assistant General Manager Terry Kalb, and he said, "We make everything from scratch, except the ketchup and mustard!" Terry is very excited about his restaurant's opening and ready to welcome guests of all ages.
The food is very approachable – comfort food done right. You can sink your teeth into yummy appetizers, scrumptious seafood, BBQ, and even a half-pound burger.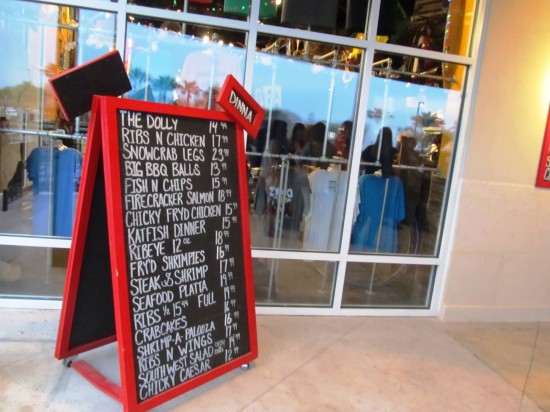 During the grand opening event, we were able to sample pulled pork that was extremely tender, chicken tenders, pork ribs, and, my personal favorite, fried catfish. Being a Florida girl, I love me some catfish, and Dick's catfish did not disappoint.
What really impressed me were the sauces and condiments, each made from scratch. The mustard BBQ sauce was the perfect companion for the pulled pork, while the honey mustard was addicting and made the chicken tenders irresistible.
We also sampled homemade cheesecake, which was very yummy and hard for me to put down; I had to keep telling myself "must… maintain… healthy eating habits."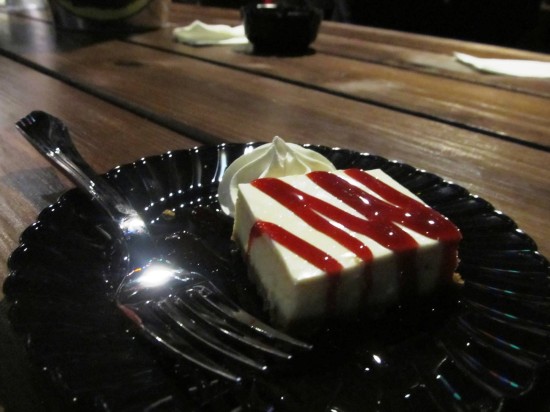 There are plenty of choices for everyone. If you're bringing along the family – maybe just the older kids – everyone will be pleased. The prices are very reasonable, especially for being smack dab in the middle of the Orlando attractions area.
There are some great appetizers, so if you live in the area, this is a fantastic place to meet after work for drinks and appetizers. I look forward to coming back so I can try more yummy food.
Dick's Last Resort: Service
The servers provide friendly, tongue-in-cheek service. In fact, they call it "service with sarcasm."
On the way over, I took a quick look at Twitter, and, admittedly, I got a little nervous. Would I be made fun of? Would I be embarrassed? I can give a speech to a thousand people with no problem. But put me in a social gathering with people I don't know, and I get nervous.
If a tree falls in the woods and nobody hears it, does a hipster buy its album?

— Dick's Last Resort (@DickSez) October 25, 2013
However, I felt perfectly at ease when I arrived. Everyone was laughing and having a good time. Then the servers kicked into high gear and started dishing out their famous lampshade-style hats. Each server picked up on each guest's style and personality. They came up with special quotes and sayings, which were funny and pushing the envelope a bit.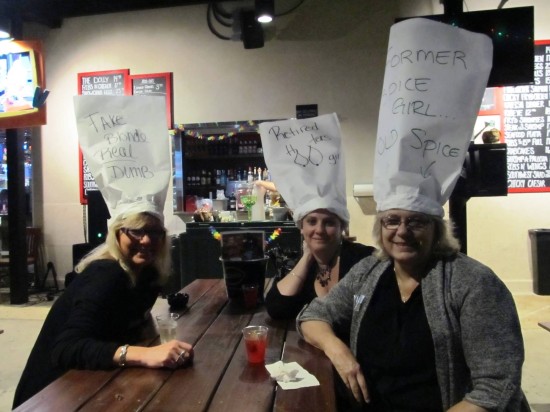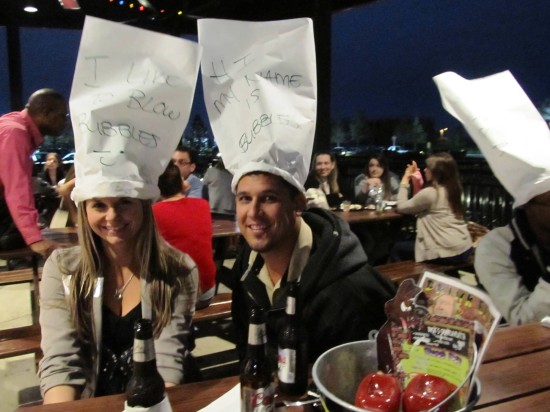 Every person who was "awarded" a lampshade hat smiled big and wore it proudly.
This is definitely the place to go when you want to let loose and let down your hair. Whether your family is on the verge of exhaustion from visiting the theme parks or an all-day shopping fest at the Premium Outlet Mall, this is a wonderful way to unwind. There's no need to put on airs here – just relax and enjoy.
In fact, I think my two stepsons, one being a teenager (cringe), would end up having a great time, despite themselves.
Dick's Last Resort: Location
The Lake Buena Vista location is among the shopping heaven of the Premium Outlet Mall. This restaurant is standalone and sits on a little lake with a great outdoor dining area.
Who needs a food court when you can walk over to Dick's Last Resort and chill? Once upon a time, I lived in this area and longed for better dining options. Oh, how I wish Dick's had been around then!
It is also easily accessible if you are visiting Walt Disney World or SeaWorld.
I really enjoyed myself at the grand opening event. I look forward to coming back and experiencing another night of fun and great food. Plus, the specialty drinks looked like a blast, too!
For locals and visitors alike, this is a great new option for a fun-filled evening. I can only imagination how great this place is for a birthday or other celebrations.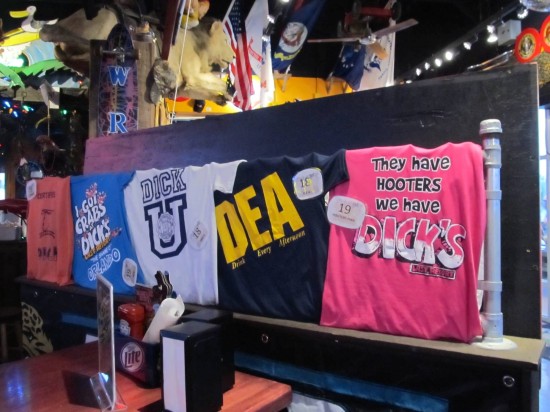 After spending the day in lines and dealing with crowds, take a vacation from your vacation at Dick's Last Resort.
Dick's Last Resort – map & links
Click any marker to display the attraction or venue name. To scroll or zoom, use the controls on the bottom-right of the map. You may also switch to different map views by using the buttons on the bottom-left of the map.
Make reservations online
Dick's Last Resort – photo gallery
Click any image to view it full-screen. When the full-screen image is open, click to the right or use the right arrow on your keyboard to advance through the gallery.
[sws_author_bio user="danidennison" size="105″ authorposts="More OI posts by Dani" name_format="About the author"] [/sws_author_bio]