Although various media outlets descended upon Universal Orlando Resort Monday night for this week's Wizarding World of Harry Potter – Diagon Alley festivities, yesterday was the first full day of events, ride-throughs, and – can you believe it? – official press announcements.
It was the biggest day yet for Universal's biggest theme park development yet, and it can be easy to be overwhelmed by the sudden cavalcade of announcements and details – or, even worse, to have some of them slip by in the wizarding cracks. Well, worry not, dear Muggle – we're here to help sort out all of the magical madness.
The State of the Universe
At 9:30 yesterday morning, Universal gathered all of their "VIP" media guests and unleashed a horde of executives, Imagineers, and Harry Potter celebrities – much, much more on them later – to talk about… statistics. And Cabana Bay Beach Resort. And how cool Harry Potter and the Escape from Gringotts is, despite the fact that very few people had, at the point, actually ridden it.
The presentation concluded with the media learning of Diagon Alley's opening date, but, by that time, the cat was already well and truly out of the bag, and whatever fanfare those reporters could have had breaking the news was already spent.
Why did @UniversalORL announce the opening date of #DiagonAlley when all the local media are in another meeting? Anyway, hooray for July 8! — Orlando Informer (@OrlandoInformer) June 18, 2014
Still, if you'd like to get a more thorough breakdown of the State of the Universe presser, Universal Orlando's excellent new blog has a write-up.
The Today Show
Al Roker made a second trip out to Universal Studios Florida yesterday, bringing along his Today co-hosts, and helped to unleash two of the most-sought-after bombshell announcements during the show's nine o'clock programming block. The first, of course, was the little matter of the new Wizarding World's release date:
The grand opening of @UniversalOrl's Diagon Alley will be on July 8th! #HarryPotterTODAY — TODAY (@TODAYshow) June 18, 2014
And just to make sure it was as official as official can be, Universal itself quickly followed it up with its own announcement:
[youtube_video]ZlZZGoAoZ_8[/youtube_video]
The tidal wave of excitement and shock (and, in some cases, disappointment, as the land's drop-dead date was the July 4 weekend, making Diagon Alley as delayed as delayed can be) blew away nearly everything else, but there was still one last surprise left to detonate in its wake: just exactly what the transition from Muggle King's Cross Station to Platform 9 3/4 looks like.
[youtube_video]GuQSvE560S8[/youtube_video]
Needless to say, the effect is every bit as magically stunning as we thought it'd be. In a day full of delightful sneak peeks, this was easily one of the best – though, unfortunately, also one of the shortest.
Publicity shots
As we approached noon, Universal decided to serve dessert before lunch: the company released a veritable flood of photographs of the lavishly detailed, and now completely finished, new land. Although the pics can't help but contain a certain whiff of artificiality – there are no people in the shots, and food is arranged in an overwhelmingly sumptuous display – they are nonetheless drop-dead gorgeous, and they positively demand at least a good five minutes of drool time.
Here are a few of our favorites along with some of the initial concept artwork to show how faithfully Universal created its vision: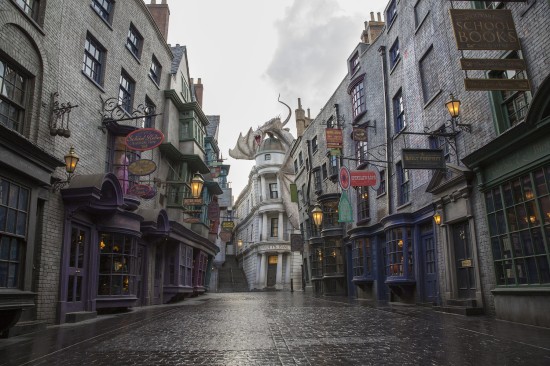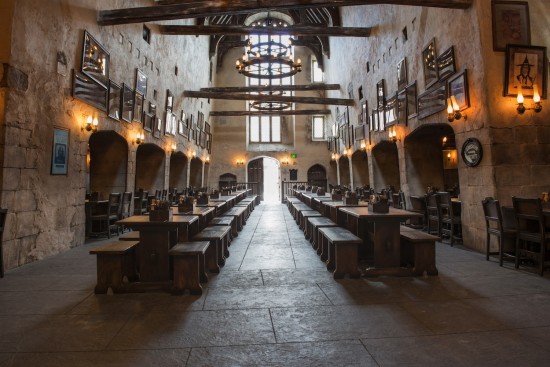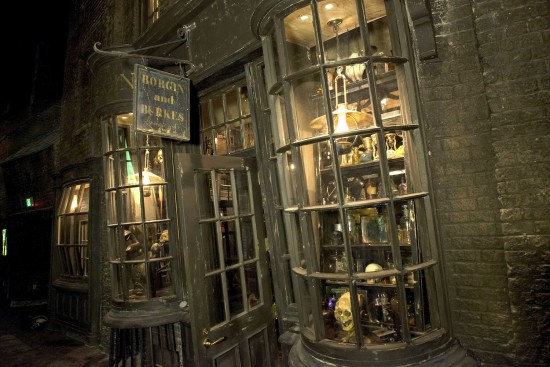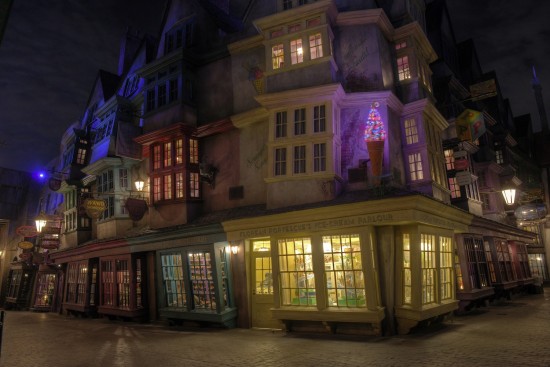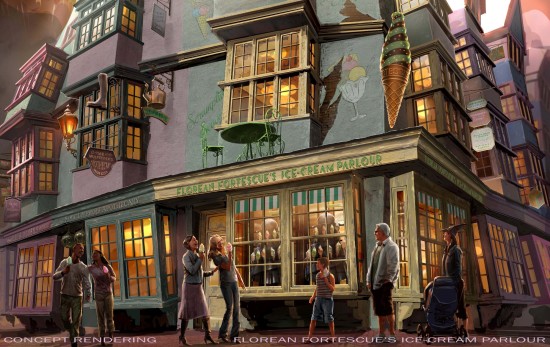 Twitter: The real star of the show
Thanks, in part, to the media invitees and, even more, to the winners of the Today Show contest from last month, we were served a smorgasbord of goodies to sink our teeth into literally the whole day long, starting with what Dan called the tweet of the day – a picture so good, so detailed, so larger than life, it seems to be some sort of CG creation from Hollywood upon first glance. (The tweet is followed by a video sent to us just this morning that is, perhaps, even more magnificent.)
*jaw dropping* #DiagonAlley #PotterWatch (h/t @JennyClinFranco) pic.twitter.com/AlO6mV18fN — Orlando Informer (@OrlandoInformer) June 18, 2014
[youtube_video]cyp6Y0lXaFY[/youtube_video]
Jenny, who provided us with the above image and video, let us also know that there is a distinct hissing sound that happens just before the fireball.
Katy Rogers, one of the contest winners, was on a one-woman mission to document as much of the new Wizarding World as possible. First she presented one of the very first glimpses of the new interactive wands, and then some beautiful shots of Carkitt Market's lavishly detailed facades followed shortly afterwards.
Interactive wands! #potterwatch pic.twitter.com/Q8q9cuPOZu — Katy Rogers (@KatyChemical) June 18, 2014
House Elf Placement storefront #potterwatch pic.twitter.com/x10ndeNzK6 — Katy Rogers (@KatyChemical) June 18, 2014
Wizard welding shop (creators of the golden snitch) facade – Never seen before in other alley #potterwatch pic.twitter.com/LZTy1gh2Bw — Katy Rogers (@KatyChemical) June 18, 2014
It's this last tweet that we need to pause briefly on, for it is, out of all the new material unveiled today, the most indicative of what Universal is up to with this little slice of theme park nirvana. On the one hand, this blacksmith storefront lives up to the description we initially were able to provide two months ago, with two spells able to be cast here (see what exactly they are on our leaked spell-casting map).
On the other hand, what could have otherwise been just a throwaway facade helps to reveal the inner workings of J.K. Rowling's fictitious universe – here is where the Golden Snitch, among other indispensable items from the wizarding world, are hand-crafted. It makes one wonder just how many other such hidden treasure troves there are buried away in the corners.
A Musion goblin, present in Bill Weasley's office, was photographed in Harry Potter and the Escape from Gringotts's queue. We can now say without a doubt that this set puts Professor Dumbledore's chambers from Harry Potter and the Forbidden Journey to shame.
Gringotts movie with holograms and real objects (did not get to ride though) #potterwatch pic.twitter.com/88AT2kVRLM — Katy Rogers (@KatyChemical) June 18, 2014
Our very first glimpse of Eternelle's Elixir of Refreshment, a drink cart located at the end of Horizont Alley, came next. (Need a refresher? Eternelle's allows you to bring your bottle of Gillywater and mix in a variety of elixirs, from Draught of Peace to Fire Protection Potion. "By mixing them," Universal tells us, "you'll see your drink transform before your eyes and experience a delightful flavor surprise.")
Elixir mixed #potterwatch pic.twitter.com/Yk9w3RPOq4 — Katy Rogers (@KatyChemical) June 18, 2014
And one final shot: one of the many heavily-detailed (and typically magically interactive) storefronts in Knockturn Alley, which, up until yesterday, was one of the most-mysterious areas of the new Wizarding World.
Interior Knockturn store #potterwatch pic.twitter.com/1itAOgWrk3 — Katy Rogers (@KatyChemical) June 18, 2014
All in all, the sheer amount of revelations zipping around the Twitterverse was nothing short of stunning. NBCUniversal's conducting of the Today Show contest was one of the single best marketing moves the company could've ever made. (However, from a media perspective, it still seems odd to us that the Today Show winners were able to share most of Diagon Alley via social networks well before the actual invited media got a chance.)
The "Diagon Alley Red Carpet Event" webcast
This was supposed to have been the highlight of Universal's press coverage – a live-streamed, 90-minute special hosted by Fandago's chief correspondent, Dave Karger, and starring a number of actors from the Harry Potter film series, including Bonnie Wright (Ginny Weasley), James and Oliver Phelps (Fred and George Weasley), Domhnall Gleeson (Bill Weasley), Matthew Lewis (Neville Longbottom), Evanna Lynch (Luna Lovegood), Robbie Coltrane (Rubeus Hagrid), Warwick Davis (Professor Flitwick/Griphook), Tom Felton (Draco Malfoy), and Helena Bonham Carter (Bellatrix Lestrange). Unfortunately, to quote Shakespeare, the grand "opening ceremony" was all sound and fury, signifying nothing.
Well, nothing, that is, except for a few choice nuggets dropped by none other than Michael Aiello, Director of Entertainment at Universal Creative, who, in addition to heading up the resort's annual Halloween Horror Nights, has been tasked with overseeing all the live entertainment being assembled for Diagon Alley. The biggest surprise here revolves around the street performers at the London waterfront, a long-ago rumored addition that, in recent months, had seemed to all but drift off the wayside, making us at Orlando Informer HQ start to question its very existence.
According to Aiello, there will be a small group of street buskers to greet guests as they exit King's Cross Station and enter Muggle London. Playing instruments that range from violins and guitars to saxophones – sorry, there'll be no singing here – they're going to draw from a repository of roughly 100 different songs, including, most surprisingly, Christmas music for the holidays (Rowling's steadfast refusal to allow the various holidays to encroach upon the Wizarding World[s] is already the stuff of legends).
You can catch the full broadcast here, thanks to the tireless efforts of Dan, who had the videos up shortly after the "event" finished:
[youtube_video]7DDjkXytaHw[/youtube_video]
[youtube_video]wLLTcco8j4g[/youtube_video]
Tell me show me more!
It was after the Red Carpet Event had concluded that a lot of the fun really began, as all of the VIP guests were allowed to stream into a gorgeously-lit and positively magical Diagon Alley to tour the area for themselves. The single most exciting news to come out of the post-festivities media deluge? After a day full of inactivity for the various reporters and contest winners (individuals could only tour the queue), Harry Potter and the Escape from Gringotts was finally prepped for all and sundry to take a spin on – literally. (The fact that the attraction kept breaking down didn't even manage to put a damper on the mood of either the riders or their ravenous readers.)
Out of all the published reactions, it was Orlando Weekly's Seth Kubersky who perhaps had the most interesting review:
Gringotts is pretty mild coaster-size, only 1 smallish drop at start. The spinning took me by surprise though. — Seth Kubersky (@skubersky) June 19, 2014
Gringotts was very good, not perfect. Video in Transformers is sharper & zero animatronics on ride. Need to process, but I like FJ better. — Seth Kubersky (@skubersky) June 19, 2014
For my money, though, what was even more engrossing was the opportunity to see nearly all of the new Wizarding World first-hand, thanks to those wonderful people over at Orlando Attractions magazine. Carkitt Market truly is captivating!
[youtube_video]nMG9cEnqlvk[/youtube_video]
And just to outdo the journalists at Attractions, an unknown VIP from the night's post-ceremony tour recorded the world's very first performance of Celestina Warbeck and the Banshees. Although it's obviously shot on a smart phone, the content more than makes up for the lack of quality.
[youtube_video]ND1rJBVS9Eo[/youtube_video]
Phew.  What a day.
What's that – you want even more Diagon Alley goodness? Well, be sure to check out our complete guide, and then continue to geek out with everyone else in the OI Community Forums.
My 100th article
On a completely unrelated, personal note, I am both happy and thoroughly astonished to announce that this is my 100th post here at Orlando Informer. To celebrate my various meanderings over the past two-and-a-half years, I thought it might be kind of fun – and thoroughly embarrassing – to quickly rummage through the digital trunk and see what little tidbits I could unearth.
Out of all 100 news articles, editorials, previews, and self-indulgent features, here are some of what I am the most proud of, what I think slipped by the most people on their initial publications, and what I wouldn't mind etching unto my OI tombstone once Dan wises up and tosses me to the curb.
Please to enjoy:
Harry Potter and the ambivalent theme: A discussion of theme and form in the Wizarding World
Queuing up the next generation: An examination of theme park attraction lines
Epcot turns 30: Celebrating the original spirit of the world's most ambitious theme park
The last Horizon: Remembering Disney World's best attraction
Back to the future: Restoring Epcot for the next 30 years
Universal Orlando: A culinary odyssey
From the PlayStation to Halloween Horror Nights 23: The evolution of Resident Evil
Designing Star Wars Land at Walt Disney World: What Disney's Imagineers should learn from Universal Creative
(That last one even caught the eye of some former Universal Creative execs, who reached out to compliment me on the piece.)
I've thoroughly enjoyed my time here, and I'm looking forward to expanding my usefulness 'round these here parts even more, including being the host of our brand-new radio call-in show. The only thing left to say on such a momentous occasion is thank you, to both Dan and all you wonderful readers, for indulging my inane drivel.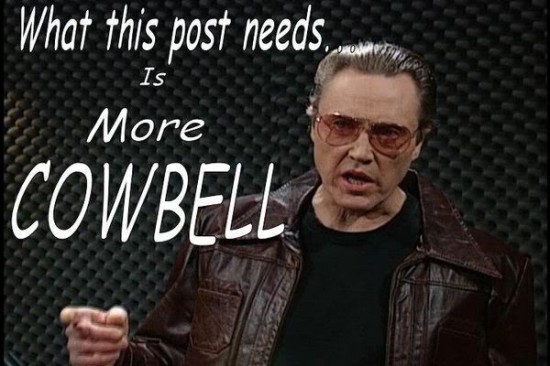 Well, that and "More cowbell!" but of course.