In all my years visiting Universal Studios Florida, I have never eaten at Lombard's Seafood Grille in the San Francisco backlot of the park. We've frequently walked past it but thought it would be too expensive or that it would take much longer than we wanted it to when our priorities were the rides.
Recently, however, we caught wind of Universal's Cinematic Spectacular Dining Experience and thought it would be a great way to not only try Lombard's, but to also add an additional little flair to an evening at Universal.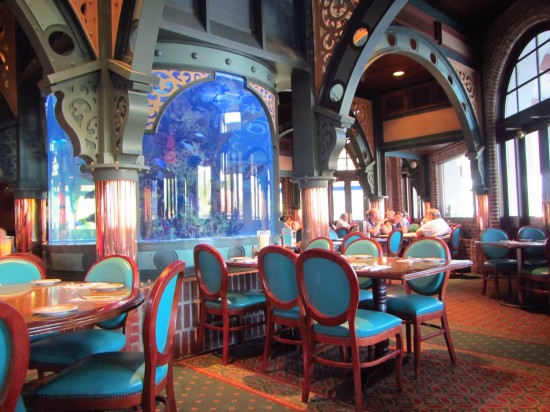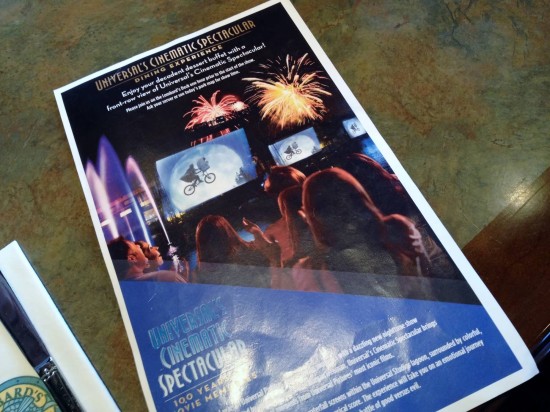 Lombard's specializes in seafood dishes, but it also offers a wide variety of entrees, including ravioli and even stir-fry. There is a children's menu available, as well as wine, beer, and specialty cocktails. I'm happy to report that prices outside of the Cinematic Spectacular Dining Experience are really affordable for a sit-down, in-park restaurant; they range between $5 – $8 for an appetizer and $10 – $16 for an entree. Alcoholic beverages are about $7 – $10.
For our appetizers, we ordered the Shrimp Cocktail and Fried Calamari, along with a frozen margarita and Bay Breeze. I have to admit that after a hot afternoon in the Florida sun, I really wanted a nice crisp beer, but Lombard's beer selection fell flat for my taste. I think it would be really great to see them add some San Francisco craft beers or even other beers found locally in Florida that pair nicely with seafood to enhance not only their options for beer drinkers, but also boost the San Fran theming. Perhaps it's just me, but I absolutely enjoy finding new options, and, as a cardinal rule to my traveling, I'll always go with the option that I can't get back at home.
Our appetizers and drinks were delivered quickly, along with a basket of sourdough bread, and, from there, we ordered Fish and Fries and the San Francisco Stir-fry as our entrees. While both appetizers were really tasty, our favorite was the Shrimp Cocktail. The Fried Calamari was good, but we prefer smaller pieces of calamari and a crunchier bite to our batter. The Shrimp Cocktail was cold, crisp, and very fresh-tasting. Both of our drinks were great, too!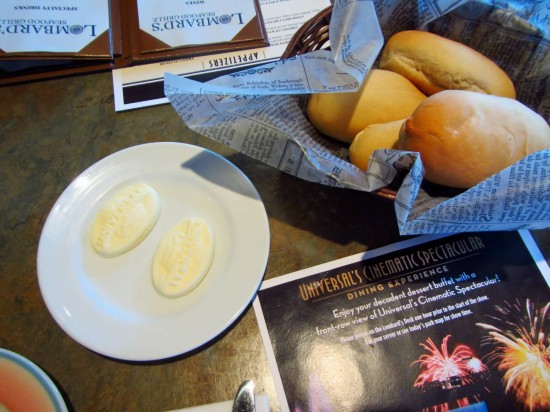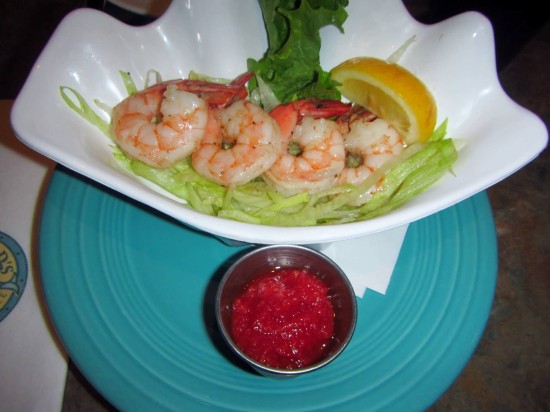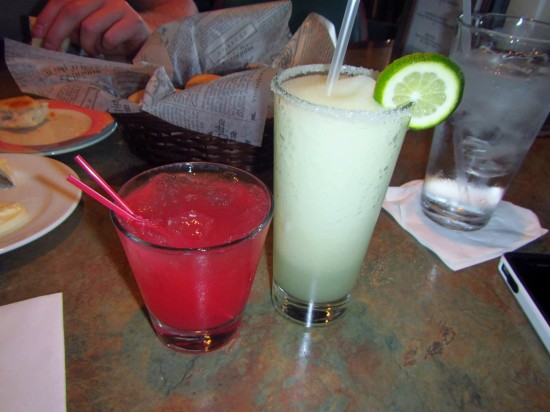 We really enjoyed our entrees, as we noted that the Fish and Fries were a slight step above those served at Finnegan's, and the San Francisco Stir-fry was amazing! I really enjoyed the zing of the teriyaki sauce that glazed the grilled chicken, and the Lo Mein noodles, vegetables, and shrimp and pork spring roll were all really exceptional.
All in all, I was impressed with the food at Lombard's. I wasn't quite sure what we should expect, but it was a pleasantly different experience while dining inside the park. I was really happy that it was a quick meal, too, but not one where we felt rushed. This is really important for those days where you're in the park, want to have a sit-down meal, and don't want to spend hours doing so.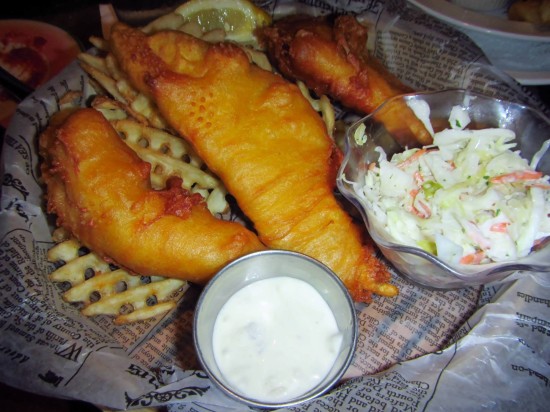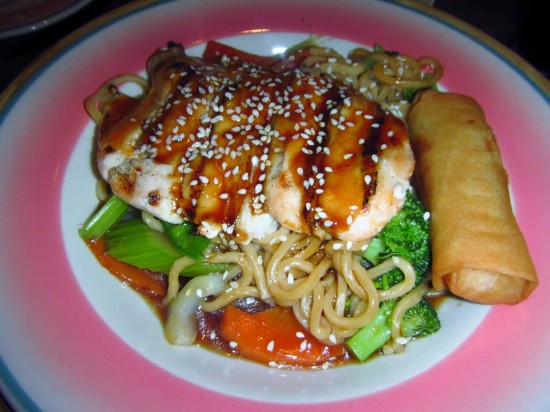 By the time we finished our meal, it was just a few minutes after they had opened the patio seating for those taking part in the Cinematic Spectacular Dining Experience. Our server was kind enough to reserve us a table, where she had already delivered two Cokes and mugs for our coffee.
We chose a few dessert options – while all were very tasty, the pumpkin tart was my favorite – grabbed a couple of coffees, and were able to relax for about 20 minutes before the Cinematic Spectacular began.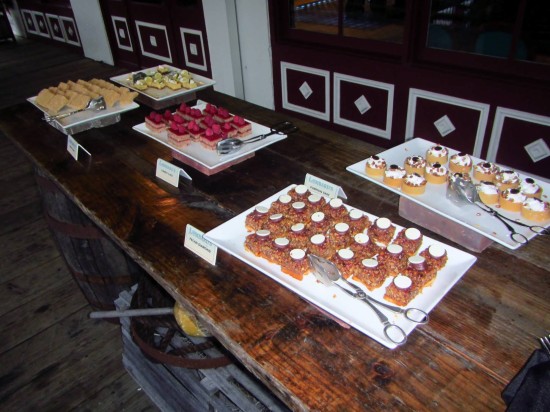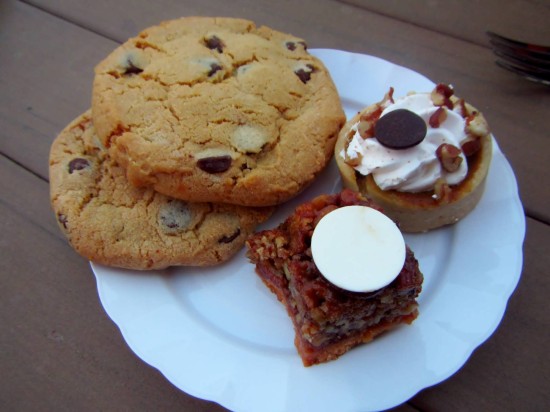 We had great seats, and a view that is nearly unmatched. At one point during the Cinematic Spectacular, I walked around to the front of the patio, where I had a panoramic view of the Universal Studios Lagoon. With all the lights, fireworks, screens showcasing Universal's history in movie magic, and water displays, it was truly one of the most intensely beautiful locations to view the "Cinematic Spectacular."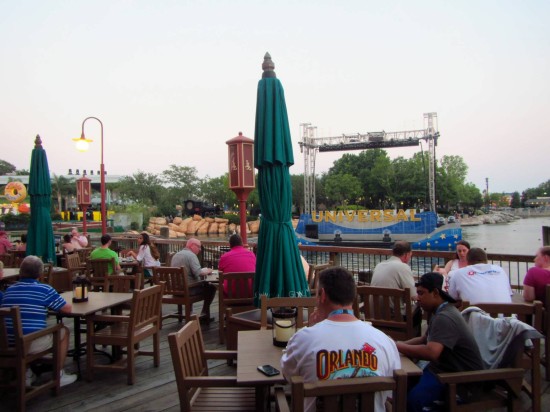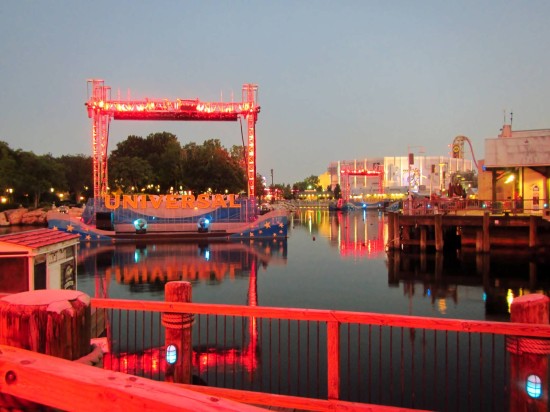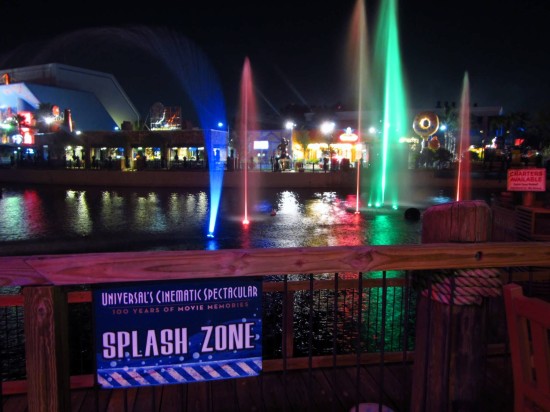 The dessert bar and VIP seating for the Cinematic Spectacular Dining Experience are, hands down, what made this experience entirely worth it to us. The meal was incredible, but something you can enjoy nearly any time while visiting Universal Studios Florida. The dessert bar and VIP seating are the special treat – the cherry on top, if you will – for this uniquely special dining adventure.
The Cinematic Spectacular Dining Experience is a premium add-on that requires reservations 24 hours in advance and is $44.99 for adults and $12.99 for children. What you get for the price is the meal at Lombard's that includes an appetizer, entree, and non-alcoholic beverage of your choice, followed by VIP seating for "Universal's Cinematic Spectacular: 100 Years of Movie Memories," and, as you saw, a dessert bar complete with nearly any dessert imaginable, along with coffee and tea. Alcoholic beverages are an additional charge.
No discounts are given for Annual Passholders, or even for Team Members, for that matter. The Dining Experience is not offered every night, so it is a good idea to confirm when booking that you have a night where it is scheduled to take place.
The package can be purchased via Universal's online ticket store by clicking here, then look for Cinematic Spectacular Dining. Note that you must call 407-224-7554 to reserve your table after you've made the purchase.
I would wholeheartedly recommend Lombard's and the Cinematic Spectacular Dining Experience to anyone who is looking for a unique dining experience within the theme parks.
To read more about the great dining options in Universal Studios Florida – and all the rest of Orlando – be sure to check out the OI Blog archive (which includes my recent review of Finnegan's). Or you can discuss it all with like-minded enthusiasts in the OI Community Forums.
Lombard's Seafood Grille – map
Click any marker to display the attraction or venue name. To scroll or zoom, use the controls on the top-left of the map. You may also switch to different map views by using the buttons on the top-right of the map.

View OI's map to Universal Studios Florida in a larger map
Cinematic Spectacular Dining Experience at USF – photo gallery
Click any image to view it full-screen. When the full-screen image is open, click to the right or use the right arrow on your keyboard to advance through the gallery.
[sws_author_bio user="CasieShimansky" size="105″ authorposts="More OI posts by Casie" name_format="About the author"] [/sws_author_bio]