The Crossroad Shopping Plaza in Lake Buena Vista, near Walt Disney World, is a popular place to find affordable, quality dining. Over the years many enhancements and new businesses have come to this shopping plaza while one staple has remained strong for many years: Chevy's Fresh Mex.
Now the time has come for Chevy's to get a fresh new look and an even fresh new menu, first tested right here in Orlando. I was invited to experience the newly refreshed Chevy's location through Orlando Informer.
The Fresh New Design
The overall feel of this new design is what I called "casually authentic." During my years living near the attractions area, my husband and I would frequently visit Chevy's, especially to get together with coworkers. One of the first enhancements I noticed is the increased bar space and the all-new outdoor bar.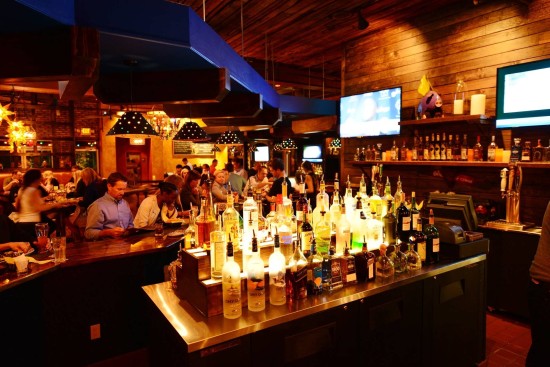 Unfortunately, on my visit it was very cold outside, so the outdoor bar was not in use, but it looked to be a great spot for a pleasant evening.
Many of the light fixtures are handcrafted and imported from Mexico. It is also difficult to miss the beer bottle chandeliers throughout the bar area, which immediately prompted me to think, "hmmm how would I do that with Landshark Lager bottles?" There are numerous hand painted murals that add a level of artistry to the atmosphere.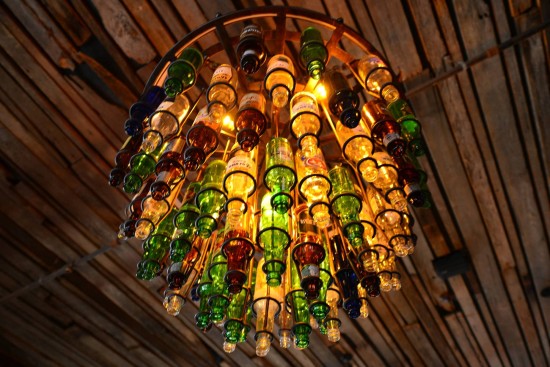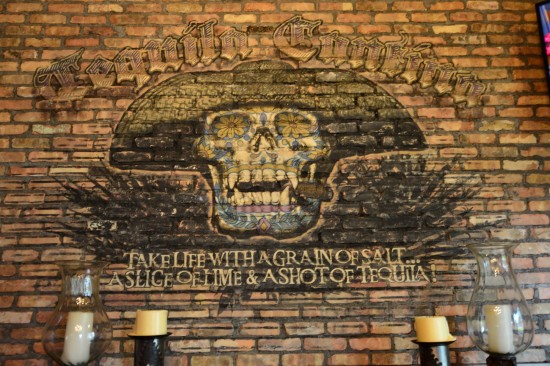 The dining room is much more open, allowing diners and servers to more comfortably move about. Although the footprint of the building has not changed, other than the added outdoor bar, the new dining room layout and design feels more open.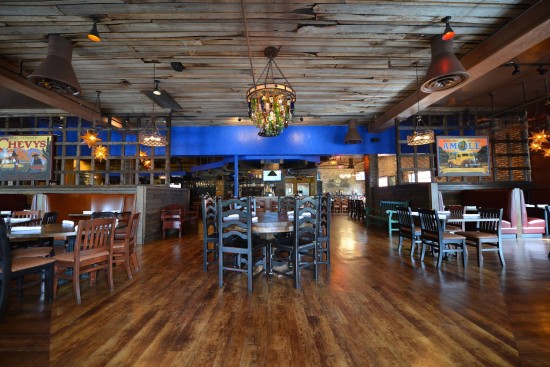 Next to the bar area is a section of the dining room ideal for large groups. Orlando vacation goers often travel in large groups, and it can be hard to secure a dining reservation or a table for a large group without a long wait. I think this special section of the dining room is a brilliant move from on Chevy's part.
The Menu
A noticeable difference in the new dining room layout is the missing tortilla machine that, for many visitors, was the centerpiece of the old Chevy's. The beloved machine is not gone entirely – it is now in the kitchen working hard. For those looking for a similar interactive dining experience that viewing the tortilla machine offered, I would recommend ordering the tableside guacamole. This has become a very popular offering in the Mexican cuisine world, and I must say, while I try to avoid tortilla chips and guac because they are unfortunately very high in calories and fat, I gave in to give it a try. It was worth the indulgence.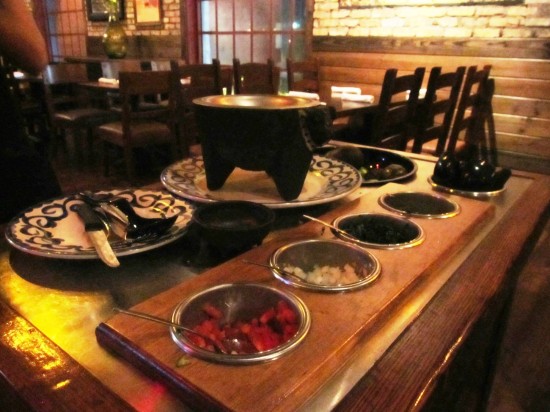 Our server, Jocelyn, was top notch, and she checked with us throughout the process of making the guacamole to ensure our preferences for spice, texture, and ingredients were observed. It is definitely a fun and memorable way to kick off your Chevy's dining experience.
Browsing through the menu, I was intrigued by the upgraded and authentic tastes. Of course, those that are comfortable with the classics like tacos, burritos, enchiladas, and the like will be pleased to find the popular combination platters are well preserved with a few new flavors added. There are a variety of new authentic Mexican tastes, such as Slow Roasted Carnitas Fajitas and the Chile Colorado Molcajete, as well.
Of course, if you want to wet your whistle, the drink menu is very enticing with lots of new choices, including a "marga-liter" that serves about six people! I started off with a skinny margarita. Many places offer a skinny margarita, but it can be overly sour and tart. Chevy's pours a very balanced skinny margarita, which is the perfect blend of sweet and sour. My husband made the ultimate selection with the Ultimate Margarita. With three types of tequila, this is ultimate indeed, and in fact was one of the smoothest margaritas I have ever had.
After indulging in the table side guacamole, we decided to dive into a new appetizer that caught our eye, the Pablano Veggie Queso. My husband is a sucker for chorizo, so we opted to top our queso with the spicy, crumbled chorizo. This is not your typical quaso dip, but rather an ooey-gooey delight served in a cast iron skillet. The amount of veggies gave it some crispness and the added chorizo, albeit a little dry, kicked up the spice quite a bit. This is served with a batch of warm, fresh tortillas. I folded the queso into the tortilla quesadilla style, a fun way to enjoy this appetizer.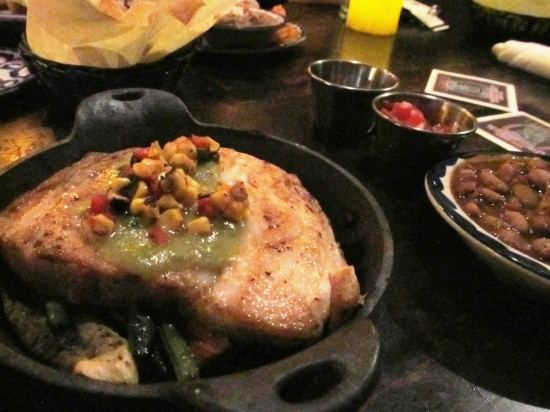 When it came time to choose our entrees, I knew I had to make up for the diet damage I had just committed with the totally-worth-it guacamole and queso. It can be nerve-wracking to navigate a Mexican menu if you are trying to eat sensibly, what with all the yummy cheese, rice, beans, sour cream, and so on. However, I was pleasantly surprised to find many sensible options, especially as a lover of seafood.
The Fresh Fish Fajitas sounded fantastic. The fresh catch was maji maji, and I chose to save on carbs by not using the fresh tortillas and instead eating the fish and veggies straight from the skillet. The fresh flavors filled my mouth, and I loved each bite. My husband went the traditional route and chose three items for a combination platter, a classic Grilled Chicken Taco, a beef burrito, and a Slow-Roasted Carnitas Enchilada with verde sauce. My husband is not normally a fan of verde sauce but this sauce was the exception to the rule.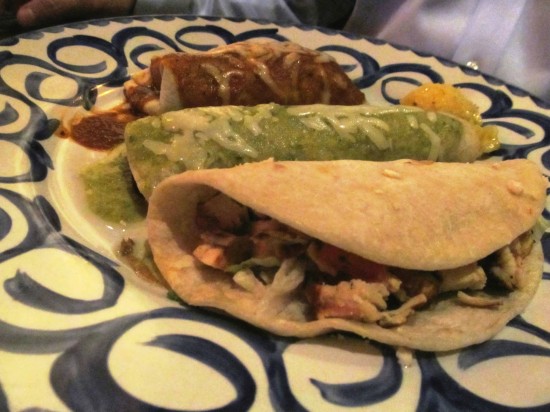 We barely had room for dessert, but we couldn't pass up the chance to try. The flan and tres leches cake were too much to resist. The flan is served chilled, a rich egg custard laying in a pool of caramel sauce. The tres leches cake is the moistest type of cake you will ever have in your life. Both are great ways to end your dining experience on a sweet note.
I will admit, it has been a long time since we had visited the Lake Buena Vista Chevy's Fresh Mex. But after our visit, we will be back soon! It is in a great location for vacationers and locals alike. With a daily happy hour and two beautiful bars to choose from, Chevys is a great place to gather after work. For visitors, the fresh new menu and large dining room are a great alternative to the overcrowded eateries located inside the Walt Disney World gates.
I look forward to going back and raising my margarita to toast this fresh new spin on Chevy's Fresh Mex.
Chevy's Tex Mex – map & links
Click any marker to display the attraction or venue name. To scroll or zoom, use the controls on the top-left of the map. You may also switch to different map views by using the buttons on the top-right of the map.
Official website: www.chevys.com
View the menu (PDF file)
Make reservations online
Chevy's Fresh Mex – photo gallery
Click any image to view it full-screen. When the full-screen image is open, click to the right or use the right arrow on your keyboard to advance through the gallery.
[sws_author_bio user="danidennison" size="105″ authorposts="More OI posts by Dani" name_format="About the author"] [/sws_author_bio]