For over a year, I drove by Cabana Bay Beach Resort's construction site, eagerly noting how much I couldn't wait to experience it. Just based off of its concept art, I knew it was going to be a special addition to Orlando. And a few months ago, my boyfriend, Sean, made it even more special – he told me we were staying at Cabana Bay for my birthday!
Cabana Bay Beach Resort, operated by Loews Hotels, is Universal Orlando's newest on-site property. It's designed to not only transport you back to a completely different time and place, but to also be much kinder to your wallet.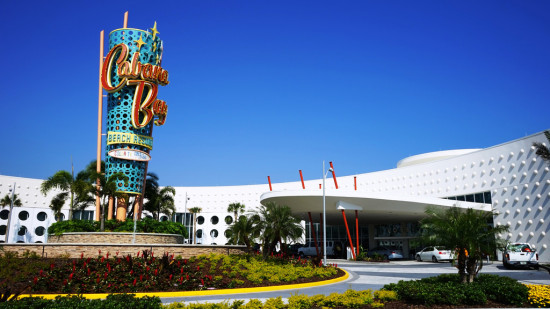 Cabana Bay opened on March 31, 2014, and, currently, only phase one is complete. Once all is said and done, it will include two massive pools, a lazy river, bowling alley, fitness center, and multiple fire pits. (The second phase, which will include the much-anticipated lazy river, is scheduled to open June 16.)
Driving up to Cabana Bay's main entryway is something I will never forget. I immediately felt as if we had stepped into the 1950s.
[youtube_video]9wpd_p3W3sY[/youtube_video]
A Cabana Bay Team Member welcomed us, and, after check-in, we walked up to our suite to find a retro-themed room with two queen-sized beds and a pull-out couch in the living area.
The rooms are vibrant and authentic, right down to the alarm clock on the nightstand, and the suites also come with a kitchenette that provides a good-sized in-room refrigerator and microwave. Sleeping six, the rooms are homey and spacious – perfect for families, couples, and even a group of friends looking for a Universal getaway. There is also a partition between the bedroom and living space.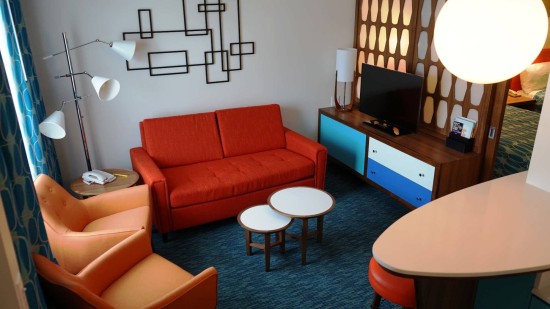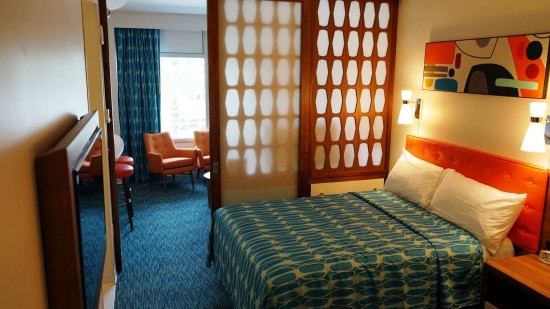 We immediately began exploring the property, and, with every turn, I found something new to love. We first headed back to the lobby, where palm trees towered over us as vintage furniture, a bar, and the check-in desks await new arrivals. The oldies tunes are carried throughout the resort, and we all found ourselves dancing and singing along. There is also an on-site Universal store here with a variety of souvenirs.
We wandered back beyond the lobby to find a Starbucks and then hit the Bayliner Diner, which is a cafeteria-style dining option with many delicious selections. From breakfast to dinner, we were never disappointed with what we chose, and the prices were really fair. We couldn't pass up the opportunity for photos with the classic cars out front, so that was definitely next, followed by a trip to Galaxy Bowl and the Jack LaLanne Physical Fitness Studio!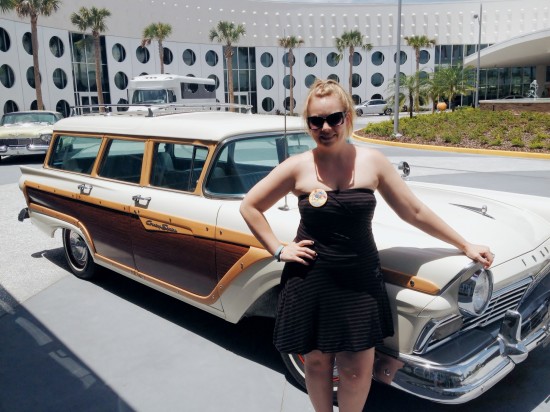 Galaxy Bowl seems a little pricey at $19 per person for the hour ($15 for the lane, $4 for shoes), but, then again, even "regular" bowling to me seems pricey. I predict that once Cabana Bay full opens in about a month, Galaxy Bowl will be packed, especially on rainy days and when guests need a break from theme-parkin'. There is also an arcade next door.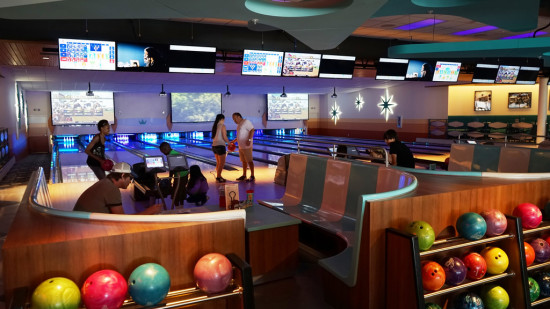 The Jack LaLanne Physical Fitness Studio includes state-of-the-art equipment that even allows you to choose where you'd like to work out – biking by the Eiffel Tower, running through New Zealand, and climbing in the Rocky Mountains are all options. A friend noted that it was very clean, towels were easy to find, there were lockers and showers available, and antibacterial wipes were provided for the machines.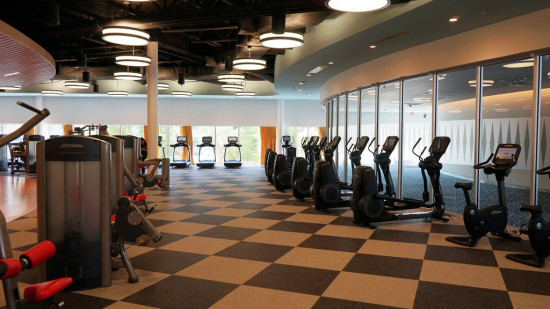 We then took a pathway that led us down to the pool area. Cabana Bay's zero-entry pool is a force to be reckoned with, as it includes a slide, enclosed kids' splash area, sand beach, and the Atomic Tonic bar. Every drink our group had throughout the weekend was more delicious than the next, and every bartender we encountered quickly became a new friend.
As our group sat here surrounded by Cabana Bay's signature "Castaway," "Thunderbird," and "Starlight" signs and classic oldies tunes, I no longer felt like I was in Orlando at all. The hotel made me feel as if I were on a remote '50s island, completely removed from my day-to-day life, and entirely transported to this place called "vacation" I hear so much about.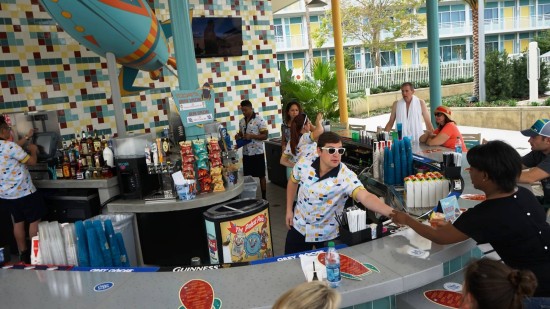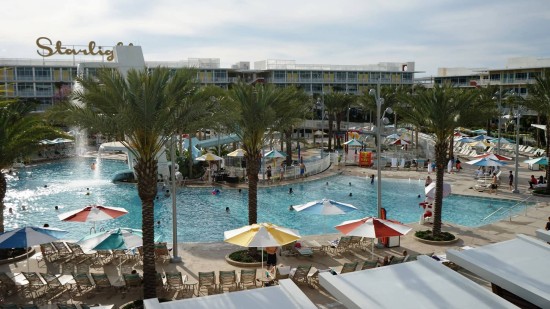 That night, we headed over to Pat O'Brien's in CityWalk and took the Cabana Bay bus, which was a quick and easy ride. The next morning, we took the same bus to start our day at Islands of Adventure and Universal Studios Florida with, again, no real trouble. It wasn't until later in the afternoon, when we started to notice the literal swarms of teenaged groups taking over USF, that we started to have problems.
These middle- and high-school groups were here to celebrate their graduation, which is a huge accomplishment, but they come by the busload, and those buses clog up the surrounding roadways – especially the one to and from Cabana Bay. As the bus system is really Cabana Bay's only supposedly quick means of transportation, this became a nightmare end to our nearly perfect day.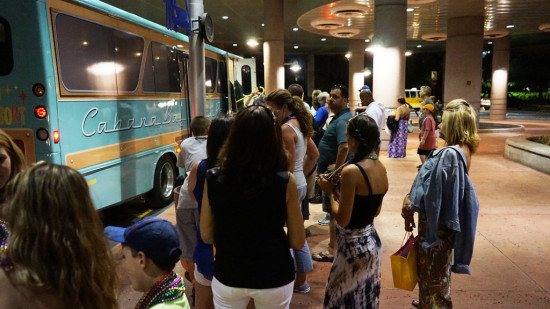 After waiting in line for nearly an hour for the bus, and not getting a straight answer as to what our next best option might be, our positive demeanors quickly faded. As a group of six adults and two kids, we didn't want to risk walking if it was unsafe. Finally, a Team Member assured us that sidewalks were provided, and we decided to make the trek back on foot.
The main walkway to and from Cabana Bay is not completed, and I hope it will eventually provide a much more pleasant way to get to CityWalk should the bus not be a viable option. After talking with Cabana Bay's Team Members, they noted that they do get a lot of complaints about both the walk and the Gradventure activities. (The final Grad Bash/Gradventure date was May 16, so we won't have to worry about this for another year.)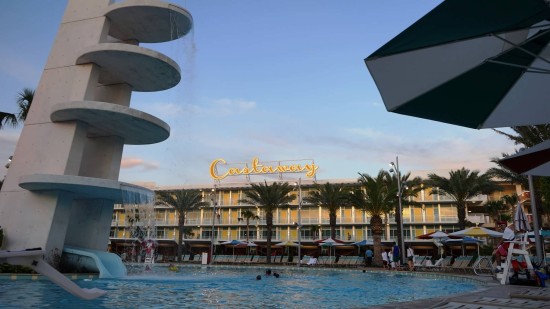 All in all, we were really pleased with our stay at Cabana Bay Beach Resort, even with a few minor hiccups. We all absolutely raved about the decor and attention to detail that has gone into making it what it is – and we are still talking about the pool, Atomic Tonic, and what a great experience it was for everyone in our group, who ranged from ages two to 32. My parents also stopped by to check it out, and you could see the twinkle in their eyes as they experienced Cabana Bay and the retro vibes it provides.
We're already discussing the possibility of a future trip to Cabana Bay, perhaps around the kickoff of our annual Halloween Horror Night festivities, and we can't wait to experience the lazy river!
To learn more about this hotel, visit our guide to Cabana Bay Beach Resort in the OI Universal Center. If you have questions, we have answers in the OI Forums. Otherwise, you can read more about all the hotels in and around Orlando in the OI Blog archive.
Cabana Bay Beach Resort – map
Click any marker to display the attraction or venue name. To scroll or zoom, use the controls on the top-left of the map. You may also switch to different map views by using the buttons on the top-right of the map.

View OI's Universal on-site hotel map in a larger map
[sws_author_bio user="CasieShimansky" size="105″ authorposts="More OI posts by Casie" name_format="About the author"] [/sws_author_bio]