Today's the day: Universal officially unveiled a slew of new details on Harry Potter and the Escape from Gringotts, the flagship attraction of its new Wizarding World of Harry Potter – Diagon Alley. And while many of these tidbits will absolutely appeal to the diehard Harry Potter fans across the globe (and we'll talk about that in our next blog post), there's actually a surprising amount to look forward to even if you're not a Potter-head.
Want to see how Escape from Gringotts will still be the must-ride attraction for everyone in your family on your next vacation? Read on…
#5 – The dragon
Epcot may have Spaceship Earth, and the first Wizarding World may have Hogwarts Castle, but Diagon Alley has a 60-foot dragon perched atop its icon, Gringotts Wizarding Bank. That's a massive structure in and of itself, and it's the first time that any theme park – here in America, at least – has attempted to add such a large theming detail, particularly as just a cherry on top.
It doesn't matter that the dragon is an Ukrainian Ironbelly, or that it's actually one of Gringotts's best lines of defense against would-be thieves, or that it's meant to (partially) simulate a key scene from Harry Potter and the Deathly Hallows, Part 2 – it will still inexorably draw you towards it and subconsciously plant the idea that you have to check out whatever ride it's perched on top of. And the fact that it actually breathes real fire at regular intervals just seals the deal.
Call it the next generation of theme park icon design.
#4 – The queue will tell you (mostly) everything
Once the Ironbelly has drawn you inside, you might feel initially overwhelmed by the imposing 50-foot entry hall and all the magical creatures and devices contained within it, but that should only last for a second: much more than in almost any other attraction, Gringotts's queue is going to walk you through exactly what you need to know in order to fully enjoy its ride – particularly because it is going to interact with its source material in an unprecedented way (more on that shortly).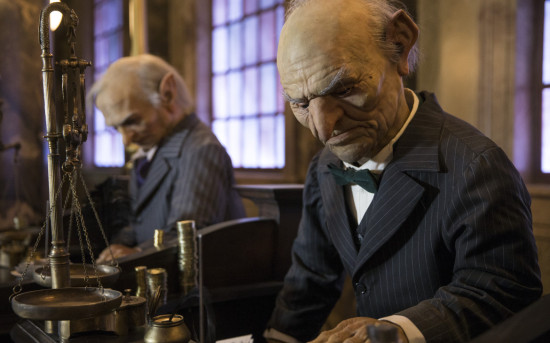 Sure, the audio-animatronic goblins and their real-life security guard counterparts may not fully explain the finer details of, say, a Horcrux to you, but you never really needed to fully grasp the (quantum) mechanical workings of the AllSpark to enjoy Transformers: The Ride, either; once Escape from Gringotts concludes its four-minute experience, you'll be ready to instantly hop back in line instead of scratching your head over why Bellatrix Lestrange was entrusted with a Horcrux in the first place.
#3 – Interactive storytelling
Here's the way it usually goes: there's a bestselling novel or, more typically, a blockbuster film, and one of the theme park operators uses this as a basis for a ride, either mining it for a "greatest hits" type experience (see Harry Potter and the Forbidden Journey) or adding on brand-new elements around it (E.T. Adventure).
Not with Escape from Gringotts.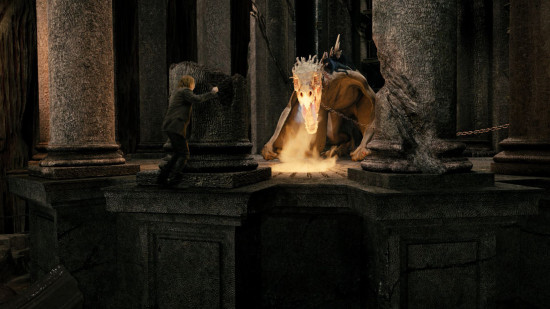 For the very first time, a full scene from the corresponding movie – in this case, Deathly Hallows, Part 2 – will be presented in its entirety, but guests will get to experience it from an entirely different perspective, as they'll be sitting literally right next to Harry Potter, Ron Weasley, and Hermione Granger as they go about their mission. Think Back to the Future, Part II – a brand-new narrative thread will be inserted into the scene's stitching, making for a much richer (and more rewarding!) overall tapestry.
While this may be particularly enticing for Potter fanboys and -girls, there's also an exciting element for the average theme park goer, as well: there's only one 10-minute sequence out of a 16-hour film series that prospective riders can familiarize themselves with in order to fully appreciate the ride experience. (Which is not to say that such a storytelling premise shouldn't get anyone excited, regardless of her familiarity with its corresponding overarching narrative.)
Here's a few snippets of the sequence in question, just to whet your appetite:
[youtube_video]isWBD76ZkVM[/youtube_video]
[youtube_video]FzoBupAe_Bo[/youtube_video]
#2 – It's a family ride
Escape from Gringotts may seem to be a thrill ride of the highest caliber, given the presence of fire-breathing dragons, armor-suited trolls, and dark wizards, but Universal has actually bent over backwards in an effort to make this as much of a family ride as possible.
Learning their lesson from Forbidden Journey, which features four-person "flying benches" that whip riders about, Gringotts's mine cars will seat 12 people – more than enough room to get the whole family to enjoy the ride together. And just to make sure that everyone can get on the ride, the height restriction is expected to be set at 42 inches – six inches shorter than Forbidden Journey or Revenge of the Mummy (but still two inches taller than such rides as the Amazing Adventures of Spider-Man and Transformers).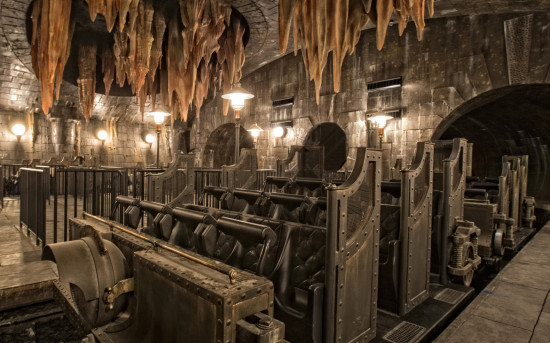 Even more important, however, was the desire to make the ride itself as sedate as possible while still allowing its experience to be action-packed and daring. "We wanted the level of thrills that Forbidden Journey has, but maybe make it more visual than physical in some ways," Thierry Coup, Senior Vice President of Universal Creative, has said. Don't expect steep hills or too many sharp turns or sudden stops, like you might find on Mummy or Universal Orlando's (outdoor) rollercoasters – but simulated freefalls, as in Spider-Man, and dragon fly-alongs are certainly on tap.
There aren't too many rides at Universal Studios Florida that allow the whole family to hop on together, and certainly none as high a caliber – in terms of either its technology or its thrill-simulating experience – as Gringotts. This reason alone makes the ride extremely hard to pass up.
#1 – It's a new type of ride experience
It may not surprise you that Universal is touting its newest flagship attraction as a "never-been-done-before" ride that is so new, it doesn't even have a name yet; "a mind-blowing next-generation thrill ride" is the best the company can come up with. Or, to quote Coup once more, the "multi-sensory, multi-dimensional" ride is "going to blow your mind."
The reality behind the hyperbole is that guests have already ridden similar attractions, such as the aforementioned Amazing Adventures of Spider-Man and Transformers: The Ride, but the marketing speak seems to be very much real when it comes to the marriage of physical sets and 3D projections – not to mention the latest technologies in depicting the presence of actors right alongside your ride vehicle. "The time you spend in each scene with the characters is greater than we've been able to achieve in any ride," Coup has also said. "It's really going to give you the sense of being there with your favorite characters."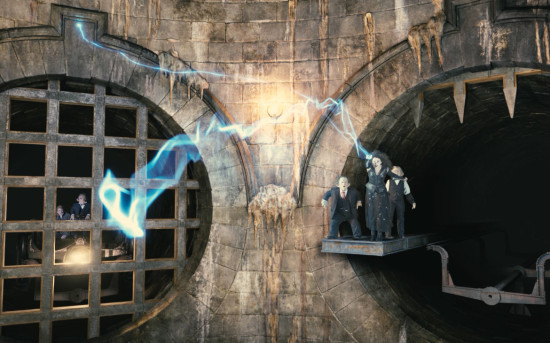 The very genesis of the theme park was to provide the guest with a barrage of sensations that he would never ordinarily be able to experience, and even the premise behind (modern-day) rollercoasters is to provide hitherto unreached goals of height or speed – all of which is to say that Harry Potter and the Escape from Gringotts is not only the very latest step in this evolutionary course, it's also, thus far, its greatest achievement.
How can you possibly pass that up?
Now it's time for: top five Escape from Gringotts features Potter fans have been waiting for.
When you're done, be sure to check out our recent breakdown of Diagon Alley's other must-ride attraction, the Hogwarts Express. Then, learn more about the Harry Potter expansion by visiting our complete guide to Diagon Alley. Finally, if you want to track the very latest developments, join your fellow vacation planners and Potter fans in the OI Forums.
[sws_author_bio user="msunyata@yahoo.com" size="105″ authorposts="More OI posts by Marc" name_format="About the author"] [/sws_author_bio]