All theme park fans can agree that there is a jolt of excitement and breathlessness that only new attractions can generate. And with a huge breadth and depth to Orlando's just-around-the-corner additions – from brand-new theme park land expansions to amusement park-style thrill rides to old-fashioned waterslides – 2014 truly looks to be the best year yet in a region that is renowned for best evers.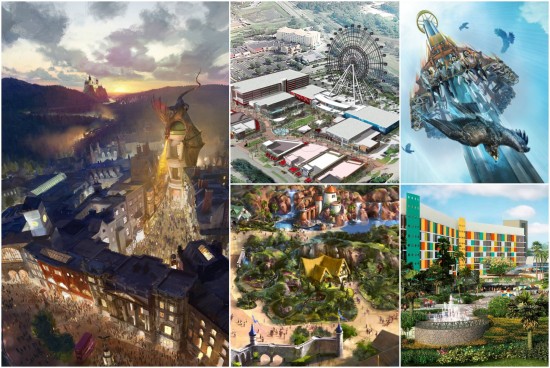 Care to take a peek at what new rides and developments will be dominating your attention (and wallet!) during your 2014 vacation? Let the countdown begin…
11. Festival of Fantasy Parade
Attraction type: parade
Location: Magic Kingdom
Opening date: spring
Billed by Disney as an extension of New Fantasyland into the rest of the park, this new daytime parade will utilize "fantastic" and "innovative" floats and costumes along with an original soundtrack. All of the company's storied fantasy films will be making an appearance here, including classics like Dumbo and Peter Pan as well as more recent fare, such as The Little Mermaid, Tangled, and Brave. (Yes, there's even a Disney Princesses float, the Royal Court Garden, but of course.)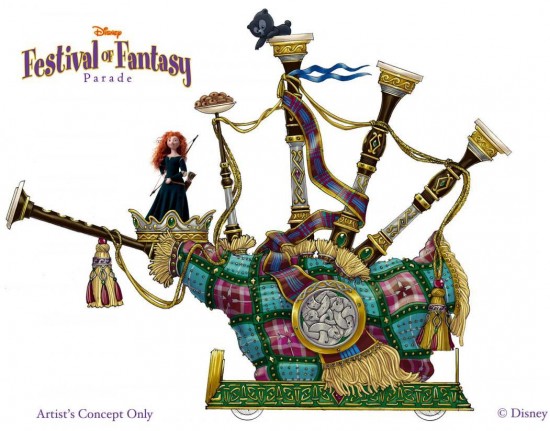 "Festival of Fantasy" will be replacing Magic Kingdom's current daytime parade, "Celebrate a Dream Come True," which will mark its final show on January 4, 2014. Filling the gap between January and the nebulous "spring" release date will be performances of the "Move It, Shake It, Celebrate It" street party and "Main Street Electrical Parade."
10. Sea of Surprises
Attraction type: multiple types of shows/performances
Location: SeaWorld Orlando
Opening date: March 21
SeaWorld is commemorating its 50th anniversary in a year-and-a-half-long program starting on March 21. Festivities include a new Shamu show, new fireworks displays, impromptu street performances that range from dance parties to giveaways to comedic stunts (including a "mobile bubble lab vehicle"), and, even, a national tour.
[youtube_video]6h9kfUQ5O2g[/youtube_video]
In addition to the Sea of Surprises celebration, the park is also debuting an all-new annual event: Wild Days. During select dates in January, families will enjoy new interactive shows, up-close animal encounters, and have the opportunity to meet leaders in the world of animal rescue and rehabilitation.
9. Universal CityWalk
Attraction type: shopping/dining/entertainment district
Location: Universal Orlando Resort
Opening date: December 31 (for all venues)
The 14-year-old CityWalk complex, long known as Orlando's nightlife capital, is getting its very first renovation, which Universal hopes will bring in a much wider variety of demographics, including a broader spectrum of age groups. Eight older venues are already in the process of being phased out, with eight brand-new replacements – two national chains, two just-expanding franchises, and four exclusive, original creations – on the way.
The highlights? Cowfish Sushi Burger Bar, combining burgers, sushi, and adult milkshakes, along with Red Oven Pizza Bakery and the Hot Dog Hall of Fame, which offers all the different dogs from all the different ball parks across the country. The new restaurants' open kitchens and al fresco dining, along with the area's new overall aesthetic, make this an exciting, intriguing development – especially considering that Universal promises this is only the first phase of CityWalk's grand redesign.
Once you're done with this blog post, you can visit this one to learn more details about the CityWalk expansion.
8. DUPLO Valley
Attraction type: new theme park land
Location: Legoland Florida
Opening date: spring
DUPLO Village, Legoland Florida's toddler-dedicated land, will be getting a major makeover and name change to DUPLO Valley this spring. Still designed for children ages two to five, it'll feature two new attractions, a water playground, and a renovation of the pre-existing DUPLO Barn indoor play area.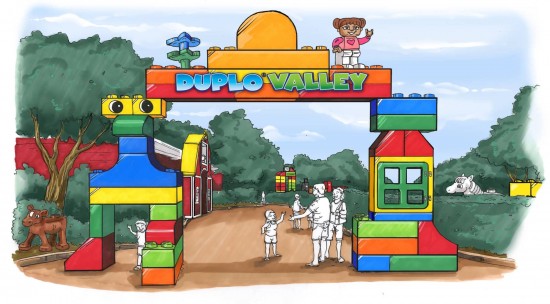 All the new additions extend the land's already-established farm theme: the new DUPLO train travels through farm scenery and past fishing holes, the mini-tractor ride has children plowing fields and searching for missing barnyard animals, and the splash-and-play area is set amidst "larger-than-life farm animals." The Barn's makeover includes new activities, a toddler room (that doubles as a DUPLO brick free-for-all for the kids and a rest zone for their parents), and the miraculous addition of air conditioning.
Most impressively, this will be Legoland's third expansion in as many years – and the park only opened in 2011!
7. Ihu's Breakaway Falls
Attraction type: waterslide
Location: Aquatica Orlando
Opening date: TBA
Ihu's Breakaway Falls will break a lot of records for Orlando once it opens sometime next year: at 105 feet, it'll be the tallest waterslide in the area, along with being the steepest and the only one to feature multiple tracks side-by-side (just see the teaser video below).
[youtube_video]lVzdGDSaGKo[/youtube_video]
Adding to the interest is the fact that Ihu will be the park's first new ride in four years, placing a lot of pressure upon SeaWorld (which owns Aquatica) to make the slide stand up to the hype.
Curious about the new waterslide's name, by the by? It comes from Aquatica's gecko mascot, who "searches for the biggest thrills, steepest hills, and the coolest spills." Here's to hoping that the attraction itself will be nowhere near as corny, in either its presentation or in its ride experience.
6. Falcon's Fury
Attraction type: drop tower
Location: Busch Gardens Tampa Bay
Opening date: spring
While Busch Gardens is slightly outside of Orlando, its new addition can't be ignored on our definitive list.
The Tampa park is set to wow the world with the tallest free-standing drop tower in all of North America – 335 feet, which riders will traverse in just five seconds at a speed of 60 mph. (Well, okay – technically, the ride vehicle tops out at 310 feet, with the remainder roped off due to technological and safety reasons.) Even better, once passengers reach the top of the tower, their seats pivot to a 90-degree position, meaning that they'll be face down for the entire drop. Here's the latest construction video as of the publishing of this post:
[youtube_video]TfjEq8kxw0k[/youtube_video]
It's a first-of-its-kind ride experience, and it genuinely looks to be one of the most enticing additions to Central Florida for all of next year – no small compliment, given the rest of the attractions on this list.
5. Cabana Bay Beach Resort
Attraction type: hotel
Location: Universal Orlando Resort
Opening date: March 31
Surprised that a hotel is on a list of best coming attractions? Don't be. Cabana Bay Beach Resort is the largest hotel currently under construction outside of China – yes, that's the whole rest of the world – and it has the amenities to match: two large pools (replete with sand beaches), 100-foot waterslide (making it almost as big as Ihu's Breakaway Falls), fast-moving lazy river, 10-lane bowling alley, a rock-climbing wall, and the first family suites available at a Universal on-site hotel (which sleep up to six guests).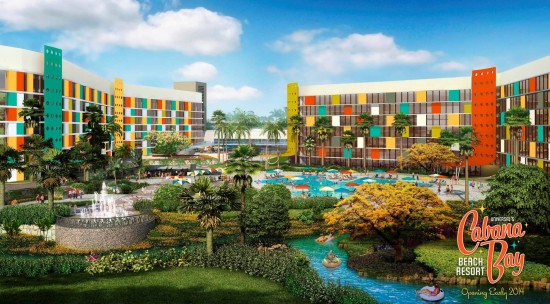 And even though this is a value- to moderate-priced hotel, Universal hasn't skimped on the theming – the '60s retro style is highly detailed and all-pervasive, running from the brightly-furnished rooms to the colorful courtyards. Poolside, you'll be able to shake your hips in a hula hoop contest while your partner runs to the "Atomic Tonic" for refreshments. Cabana Bay, in short, looks to raise the bar for the attractions-to-value ratio for all the rest of Orlando.
Just remember, there's a trade-off for getting to stay at Cabana Bay Beach Resort, where prices start at $119 per night: it will be the first Universal on-site hotel that won't offer its guests complimentary unlimited Express Pass access as a benefit (which is no surprise, considering that unlimited Express Passes as a standalone ticket can cost as much as $119 per person).
Want to follow along with the construction and opening of Universal's newest hotel? Visit the Cabana Bay page in the OI Universal Center.
4. Seven Dwarfs Mine Train
Attraction type: rollercoaster
Location: Magic Kingdom
Opening date: spring
The final part – and flagship attraction – of Magic Kingdom's long-under-construction New Fantasyland expansion, the Seven Dwarfs Mine Train is a family coaster that is highly themed and incorporates a number of traditional dark-ride elements, telling the story of Snow White and the Seven Dwarfs in a variety of indoor and outdoor sequences. The true star here, though, is the unique ride vehicle that is mounted on a cradle-like pivot, allowing the cars to swing back and forth around the various bends and turns of the track – kicking the ride's intensity up to just-below Big Thunder Mountain Railroad.
[youtube_video]SvLExG8CAQE[/youtube_video]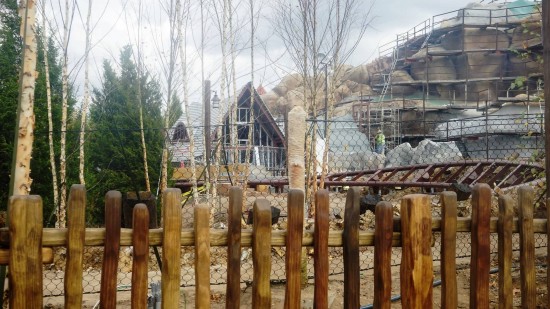 Add in Disney's next generation of audio-animatronic characters (which should come to life in "ways never before seen"), an interactive queue, and, of course, the company's penchant for solid storytelling, and one is left with a not-to-be-missed experience, no matter his age or thrill level.
3. Orlando Eye (formerly I-Drive Live)
Attraction type: new shopping/dining/entertainment district
Location: International Drive
Opening date: December 31 (for all phases)
232,850 square feet of stores, restaurants (including Buffalo Wild Wings, Seafood Republic, Yard House, Outback Steakhouse, and Carrabba's Italian Grill), themed hotels, and a $1 million water fountain show will all find a home throughout next year at the former site of the Mercado shopping complex. Originally dubbed I-Drive Live, the renovated area will be headlined by a trio of major attractions: Sea Life Aquarium, the latest installment of the world's largest aquarium chain (that includes a kid's play area); Madam Tussaud's Wax Museum (which will feature a 4D theater); and the massive Orlando Eye Ferris wheel itself, which, at 425 feet, will be the tallest structure in Central Florida (and will take nearly 20 minutes to complete just one circuit).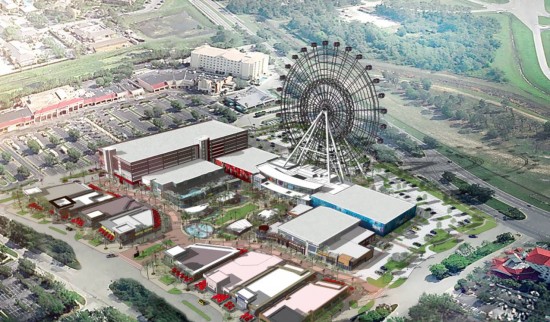 Why the name change? The developers believe that calling the whole complex "Orlando Eye" will give it more gravity, and, as a result, the new landmark will better promote itself. For example, they feel it's more distinctive and attractive to say, "I'm going to Buffalo Wild Wings at the Orlando Eye" versus "I'm going to Buffalo Wild Wings at I-Drive Live (which also happens to feature the Orlando Eye Ferris wheel)."
All in all, the $200 million Orlando Eye project looks to be every inch the worthy competitor to Universal CityWalk and Downtown Disney – and just may succeed in siphoning off a substantial number of its rivals' guests.
2. Hogwarts Express
Attraction type: train
Location: Islands of Adventure/Universal Studios Florida
Opening date: summer
The first attraction that connects multiple theme parks together in one seamless themed experience, Hogwarts Express looks to raise the bar not only for all future rides in Orlando, but for the entire globe over. Guests can board at either Diagon Alley in Universal Studios Florida or at Hogsmeade Village in Islands of Adventure – different ride experiences are featured for both trips, and they may even, if rumors prove to be true, be heightened by randomized elements.
[youtube_video]jcce3JQo4E8[/youtube_video]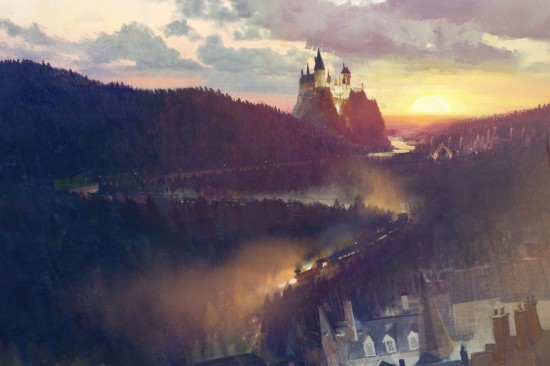 Monitors that double as the train's windows will help depict attacks from Dementors, while live actors will satiate passengers' sweet tooths by manning the famed candy trolley. A whole host of other special effects, both visual and aural, will be on hand, even at the two brand-new train stations – IOA's Hogsmeade Station and USF's King's Cross Station – which will include a complete recreation of Platform 9 3/4.
1. The Wizarding World of Harry Potter – Diagon Alley
Attraction type: new theme park land
Location: Universal Studios Florida
Opening date: summer
It may sound like hyperbole to name Diagon Alley as the greatest, most immersive theme park land in the country (and, possibly, the world), particularly since it has yet to open, but that's precisely the objective that Universal Creative, Warner Bros., and even J.K. Rowling herself have set for themselves. Occupying the former Amity area of Universal Studios Florida (which was home to JAWS), the new Wizarding World of Harry Potter will be bigger than its predecessor over at Islands of Adventure, featuring more streets and shops – replete with fully animated props and backdrops – and an entirely different theme, exchanging the quaint countryside for a hustling, bustling metropolis.
[youtube_video]VXktYOBTFcw[/youtube_video]
[youtube_video]9e7pNiZNi3M[/youtube_video]
The flagship attraction will be Gringotts Bank, an indoor rollercoaster that will feature a fully-rotating ride vehicle and which will be buffeted by a series of larger-than-life 3D projections. Finishing off the land will be a whole slew of never-been-done-befores, ranging from the exotic, like unique merchandise, to the mundane, such as new methods of crowd control. All should combine to create the next-generation of Imagineering.
Summer can't come soon enough.
Want to follow along with the construction and opening of Universal's Harry Potter expansion? Visit the Diagon Alley page in the OI Universal Center.
We hope you enjoyed our look at the best of what's coming to Orlando. If you'd like to see how 2014's attractions stack up to this past year's new additions (and also find out how reality treated our predictions), check out last year's list.