Editor's note: the grand opening of Antojitos Authentic Mexican Food, which replaced Latin Quarter, was February 5, but our super-fan Chuck was able to dine there on the night of February 1, during its soft opening phase. He was able to gather a considerable amount of info while enjoying the food, and in the first part of our article, he happily passes everything along to us. In the second part of the article, Dan, our site's editor, will share a few additional thoughts.

The facade of Antojitos is very large. It will anchor a marketplace/plaza that extends beyond the restaurant (the temporary walls for the Hot Dog Hall of Fame currently are consuming some of the marketplace area, seen to the left in the photo below).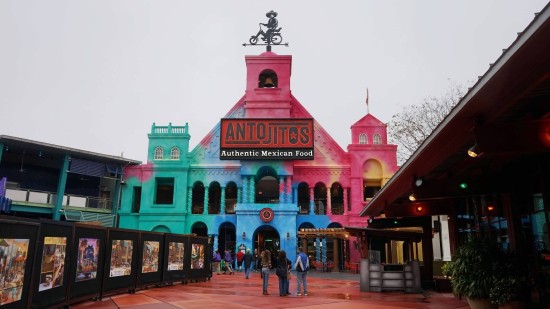 My server, Thomas, told me that there will be an old VW bus painted and fitted to be a walk-up bar parked out front. (Indeed, it was in place by the grand opening.) This bar will be a permanent addition to the restaurant once it arrives. There will also be roaming stilt walkers in this marketplace area dressed in Day of the Dead costumes, and they will also make their first appearance on opening day.
Antojitos is divided into two sections: upstairs and downstairs. The lower level has more of a marketplace feeling, which is carried in from the outside. When present, the stilt walkers will roam about down here, and there will be an "urban" mariachi band performing on the lower level stage during busier times. There is already a mask decoration area in place. The live music, stilt walkers, and face/mask painting seem to me to be like what Margaritaville often does during busier times, but with a Mexican theme.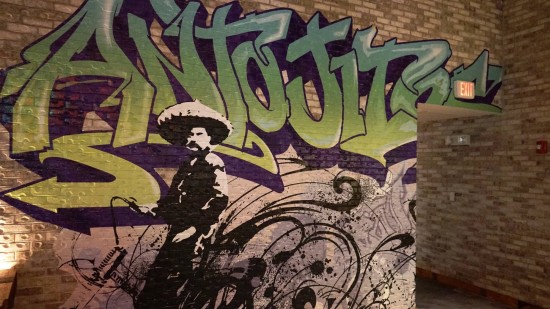 The upstairs level, where I ate, has a hacienda (home) feeling. The walls up here have a large number of photos, which conveys the home vibe. The pictures are, in fact, from team members in the restaurant that have been "stressed" or aged to look old. The upstairs has a different menu from the downstairs. Thomas mentioned that there would also be roaming entertainers upstairs, but I don't think that could be stilt walkers, since the ceiling is too low. There is, of course, an elevator to the second floor and restrooms up here.
The upstairs also features a semi-private dining room and a rather large balcony area.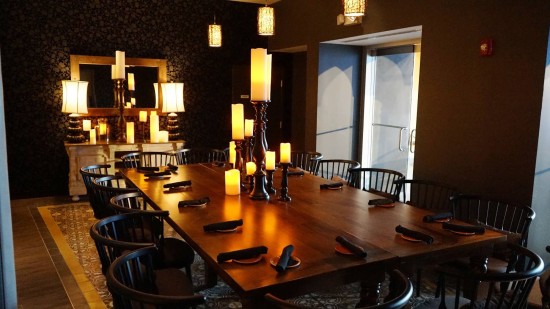 It's also worth mentioning that both upstairs and downstairs feature their own full kitchen and their own sit-down bar area. I strongly suggest, when you visit, that you take a look at both areas (and consider having a drink at both), even if you've already decided where you want to eat.
Over dinner, I learned a great deal about tequilas. Like wine, there are a great number of different flavors. And, like wine, tequila ages into more mellow or vibrant flavors. Just as a wine cellarier is valuable to select a good wine pairing to a meal, I found Thomas's suggestions valuable to match my drinks to my meal. When the drinks' and the food's power and flavor match, culinary magic happens. A "mixologist," Phil, stopped by my table, also made some suggestions, and asked how I liked the drinks. I think this was to gain information during the soft opening to be able to make better suggestions going forward. I ended up stopping at the upstairs bar after dinner to try two more of Phil's suggestions. Phil is one of three holdovers from the old Latin Quarter restaurant and is a knowledgeable mixologist.
Thomas told me that Antojitos's chef is Chef Marco, the chief chef at Universal, and that he personally oversees the opening of new restaurants. Chef Marco was overseeing the preparation and presentations of each dish (I was seated near the kitchen and could observe). He also instructed the serve staff on which side is "up" on each plate so that it is placed in front of the diner with the proper orientation (again, soft opening training to ensure consistent quality going forward after the grand opening).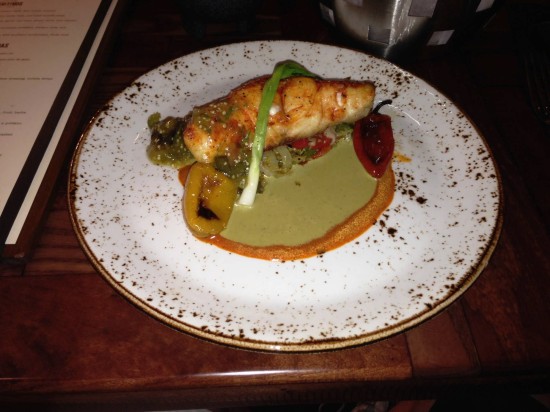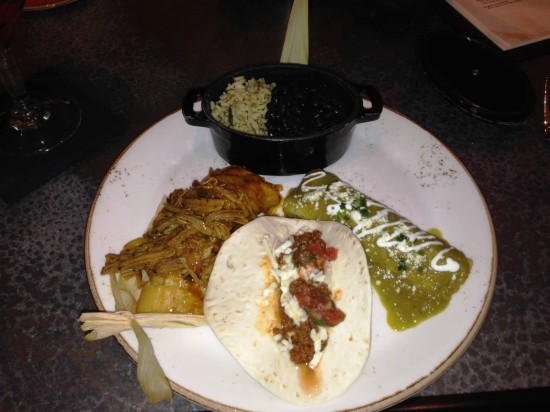 All the staff members were very friendly. The atmosphere is fine food, but not excessively formal. The serve staff has white jackets, but with blue jeans. During my visit, Chef Marco stopped by, as well as two managers, Jorge and Chris. Everyone was gracious, and I had a great experience.
At Antojitos Up (the second floor), I had the standard chips and salsa, an appetizer, soup, main course, and dessert. I had two margaritas that were suggested. (I did not finish all the dishes, or I would not have been able to enjoy it all.) Everything was great! The chips were made fresh in the restaurant and were warm and very good. The salsa was also freshly made – very good, and not too hot. They both were great, but I caution folks that it is easy to fill up on them.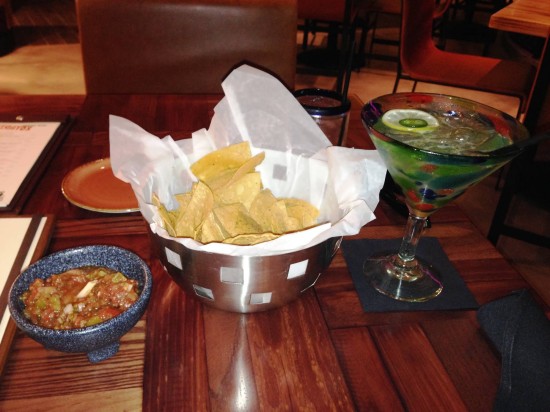 I would have everything again, but I probably won't until after I have explored the menu further. Based on this visit, I am confident that everything on the menu will be delicious. The total was $65. I made my selections based on suggestions and not on price, so two courses and one drink could easily bring the cost down to under $30. I will definitely go to Antojitos Up again, but my next visit will be to the downstairs to explore that menu.
Thomas also told me about what he understands about the rest of the CityWalk improvements. All the changes (Starbucks moving to the lower level, Cowfish Sushi Burger Bar in the old Starbucks location, the Hot Dog Hall of Fame, etc.) should be done in June. I assume that is to coincide with the opening of the Wizarding World of Harry Potter – Diagon Alley. Also, Universal's long-term goal is to challenge Disney and Las Vegas as a destination resort – a big goal against strong competition, but it should give us, the guests, an improved experience.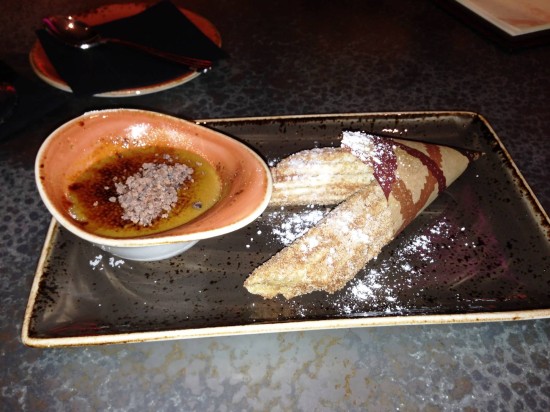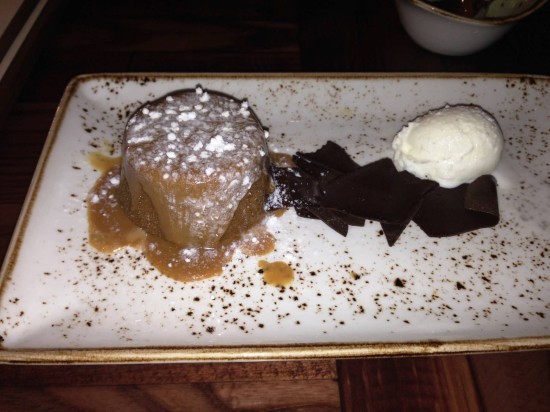 By all accounts, Antojitos is definitely a step in the right direction!
In part two of our article, Dan shares his thoughts based on a quick visit last Saturday.
It was the opening night of Mardi Gras 2014, so my main destination last Saturday was Universal Studios Florida. However, having not yet had a chance to visit Antojitos, I knew I had to make a little time at the start of my on-site visit to check out CityWalk's newest addition.
As Chuck mentioned, there are two distinct areas of the restaurant – the urban-like downstairs and the more intimate upstairs, and when you first walk in, you will be asked where you'd like to be seated. Menus are provided for both options, and you can see them here (these are PDF files that will open in a new window): Antojitos (downstairs) or Antojitos Up. Regardless of where you choose to eat, I also recommend that you take a look at both areas, because they really do have a different feeling – and the theming in each is very impressive.
My experience at Antojitos was short, but it was a great one. I started downstairs at the bar ordering the same thing I always order the first time I visit a restaurant: "I'll take the best thing you offer on the drink menu." In this case it was, simply enough, the house margarita for $10.
It was perfectly delicious, as a result of Antojitos's commitment to making everything fresh and authentic. No syrups or condensed juices – everything is squeezed and muddled to order.
One startling feature downstairs is the creepy dolls hanging on the wall that runs to the restrooms: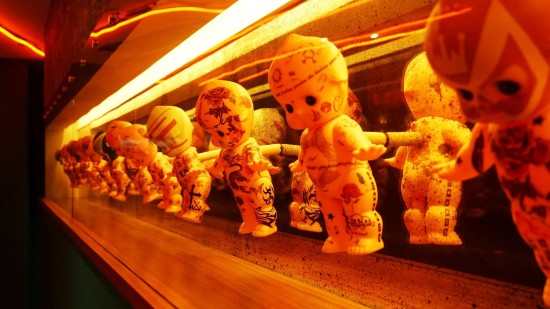 In a way that only would seem to work at Antojitos, they actually compliment the atmosphere quite well. However, there's no explanation given for their presence, so we're happy to provide it so you can impress your friends when you visit:
"Island of the dolls in Xochimilco, Mexico – Lying off the canals of La Xochimilco is a chinampa (floating garden) covered with thousands of dolls. Gathered by Don Julian Santana Barrera, who scrounged rubbish piles, the dolls were hung from trees to keep away evil spirits and remember the drowning death of a young girl. According to Barrera, the dolls he planted and hung around the chinampa were still alive but forgotten by their owners. While alive, Barrera would move the dolls around the island from different trees, creating a chilling sight. The chinampa is accessible by boat and the dolls are still around, despite Barrera's death in 1992." Lonely Planet
Get creeped out on Google image search.
After my tour downstairs, I proceeded to check out Antojitos Up. I was really taken aback by the change in atmosphere. In all the build-up to the opening of Antojitos, there was only talk of a new restaurant serving Mexican street food. But the upstairs really does have a completely different feel – it's basically like CityWalk opened two different Mexican restaurants that just happened to share the same roof.
Upstairs, I asked a few more questions, and we've shared the answers already in this article. What I'll comment on one more time right now is that the balcony space upstairs is rather impressive, and almost more casual than the upstairs interior. Once the weather starts cooperating more and the CityWalk nightlife picks up again, this will be a very cool place to be seated.
My visit was short this time, but I absolutely cannot wait to come back and have a full meal at Antojitos. I couldn't find anything I didn't like this visit, and, most importantly, the staff was stellar at answering questions, engaging in friendly conversation, and making me feel at home.
If I were you, I'd book a reservation for this restaurant right now. That brings me to the final point I want to mention:
You can make online reservations for Antojitos. However, in a move that may be the sign of bigger changes to come, Antojitos does not use OpenTable like virtually every other full-service restaurant on-site at Universal Orlando. Instead, they have a new system, which you can only access through the Antojitos page on UniversalOrlando.com. The point I want to make here is that, when you create your reservation request, be sure to specify as a comment whether you want to be seated downstairs, upstairs, or on the balcony.
(This may be a sign that Universal is going to migrate away from OpenTable to drive more traffic to their own website – which is fine with us as long as it works as well as OpenTable [which also has mobile apps].)
For more on the grand CityWalk renovation/expansion, which Antojitos is just one part of, check out our special report. Or you can also read up on all the rest of CityWalk.
Antojitos Authentic Mexican Food – photo gallery
Click any image to view it full-screen. When the full-screen image is open, click to the right or use the right arrow on your keyboard to advance through the gallery.