Middle Earth in the middle of Universal Orlando
Back in August our column introduced the possibility of an island at Universal's Islands of Adventure dedicated to JRR Tolkien's Lord of the Rings franchise. The discussion didn't go anywhere… until this week, when the Internets caught on fire with buzz about Frodo, Gandalf, and Gollum making an appearance at Universal's parks in the near future.
WHAT WE KNOW: One thing everyone wanted to make sure of before going full-on with a LOTR theme park experience is making sure guests still want to go to Middle Earth. Well, The Hobbit was released on December 14th, 2012 and as of January 2, 2013 has made over $700 million worldwide. That's a smash hit by anyone's standards, despite critics not praising the movie to anywhere near the level they did when Return of the King came out in 2003. The results are in, and it's clear people want to go back to Middle Earth.
The LOTR universe is also the perfect brand to continue exactly in the direction where both Universal and Disney are heading: heavily themed environments ripe with components in merchandise and signature dining experiences. The very concept of "second breakfast," a version improving on the one currently offered by Denny's, must have many a Universal executive drooling dollar signs. Apparel and merchandise catering to fans of the various Elf, Dwarf, Hobbit and Human characters in LOTR will rival what Universal already has in place for the four houses of Hogwarts over at WWoHP. There's also plenty of alcohol-based drinks in the LOTR universe, with Hobbits and Dwarves being very fond of them, so you can expect drink options — a huge market and rapidly growing at Disney at Universal — to be plentiful.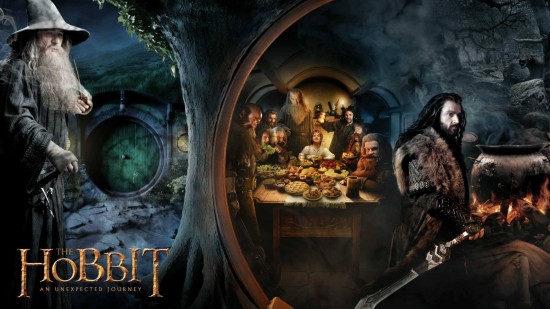 WHAT WE THINK WE KNOW: Even if a LOTR experience was a "go" for Universal Studios Florida, it almost surely won't even be started until Peter Jackson, the director for all the LOTR films, is available to spend some time on the project. Jackson is currently committed to getting the last two movies finished for the Hobbit trilogy, one to be released in December of this year and the last to follow in December of 2014. It's expected that Universal will want a hands-on producer in Jackson, similar to the relationship they have with Harry Potter's creator JK Rowling. Universal will also want to work with other creative personnel tied to the LOTR film franchise, as they did with Harry Potter's production designer Stuart Craig when designing the WWoHP.
Many believe if LOTR does come to Universal, it will take over a good amount of the island that currently is home to Toon Lagoon. Then there are others "in the know" who suggest Universal may have an ace up there sleeve and pull out something totally shocking, such as an expansion to the entire UOR property. One rumor we can just about dismiss is the idea of space around Lost Continent being used for this project. With rumored Potter expansion at IOA down the road and the possible growth of Seuss Landing, this doesn't seem likely. It would also create logistical nightmares within the park for traffic flow.
As for what would be in this land, speculation suggests elaborate walkthrough recreations of The Shire, including Bag End, the home of Bilbo Baggins as well as a couple rides. Here is some dynamic footage we dug up of a possible fully-enclosed, 3D horse riding attraction, likely designed for children:
[youtube_video]NuLvv2lrB_g[/youtube_video]
Compelling stuff, huh? Okay, fine, we're kidding — that's just raw footage from the LOTR online game. The truth is that it's way too early in the supposed life of this to think that any real work has begun on specific attractions. (And don't get mad at us for making a joke — it's Friday after all!)
So has LOTR been fast-tracked at Universal? Doubtful, but the success of the Hobbit movie has really stoked the flames of executives who were on the fence before. While Disney has a huge gamble on their hands if they go through with James Cameron's World of Avatar, anything based on the LOTR brand looks to be a slam dunk. Everything a theme park needs to make money is set in this place, and all we need now is for them to build it!
Is Harry Potter having a laugh?
In last week's rumor round-up we covered the rumor circulating that part of Harry Potter Phase 2 will be a walkthrough attraction based around the Borgin and Burkes store of Dark magic. This week we look at another rumor, based around another store, but this one will have a completely different tone and provide some comedic relief. That's right, the current buzz is building around another interactive walkthrough attraction based around Weasley's Wizard Wheezes joke shop, which is conveniently located in Diagon Alley.
Casual Potter fans will have seen this store in the 6th Potter movie, the Half Blood Prince, and early rumors indicate this attraction could provide guests with the wonder of walking through a magical joke shop in almost the same manner that the movie tries to deliver. We could even see Fred and George Weasley themselves, using the same technology used in USF's Disaster attraction with Christopher Walken and in several Forbidden Journey queue scenes. The iconic animatronic outside with a rabbit disappearing under a hat? Fireworks inside the store? How about daily fireworks outside the store? We could be seeing all that and more.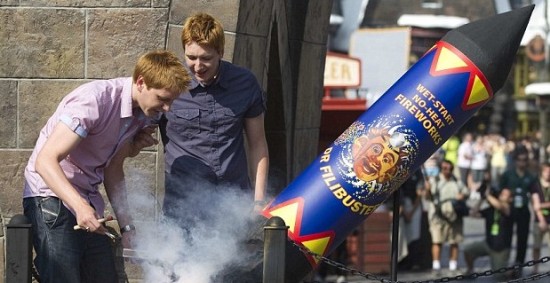 Over in Hogsmeade at the Wizarding World of Harry Potter, there is already Zonkos Joke Shop, but its gift shop offerings are not that impressive, especially compared to the Potter Universe themed treats (such as Cauldron Cakes and Chocolate Frogs) you can buy in the Honeydukes Sweet Shop. Expect the Weasley's store to be tricked out with items more directly related to the Potter films, much like how Universal delivered unique and original Despicable Me themed merchandise in the Super Silly Stuff gift store attached to the Despicable Me Minion Mayhem attraction. Love potions, extendable ears, and other items are sure to have Potter fans yelling out the spell Accio wallet!
By the way, did you know Chocolate Frogs are on my list of Top five pieces of merchandise available at Universal Orlando?
Agree, disagree, or have your own rumors to share? Leave a comment below. Or, check out all of our rumor posts.
[sws_author_bio user="derekburgan" size="105″ authorposts="More OI posts by Derek" name_format="About the author"] [/sws_author_bio]