Rumor round-up for Jan 25, 2013: Simpsons expansion, Transformers opening soon & new Jurassic Park attractions
"Now enjoy the Ferris wheel, or whatever this is."
– Krusty the Clown, The Simpsons Ride
Rumors percolated this week about a possible Ferris wheel coming to Springfield in Universal Studios Florida as part of the upcoming Simpsons expansion. The wisdom behind such an attraction is that it would be a "weenie" for the part, that is, an attraction people can see from a distance and be drawn to it. When the Wizarding World of Harry Potter Phase 2 opens, it doesn't take Nate Silver to predict that a stampede is going to immediately head over to Diagon Alley. Having a large Ferris Wheel would be almost a beacon to guests in Diagon Alley, especially when it's crowded, making some consider going to the Simpsons area to alleviate congestion and improve crowd flow.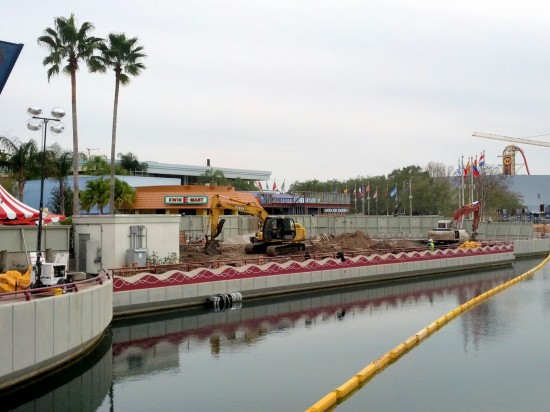 However, as logical and as sound as that rumor seems, Rumor Round Up sources insist that a spinner themed to Kang and Kodus is the direction Universal will end up with this attraction. Work is moving extremely fast in the entire Simpsons area (follow Orlando Informer on Facebook or Twitter for live photo updates from the park each week), and unofficial word continues to point to much of The Simpsons work being completed by early summer, along with Transformers: The Ride.
Transformers….RISE!
Speaking of our favorite robots in disguise, the Transformers have begun to make to make their way into the parks this week in the form of a dedicated merchandise kiosk set up in CityWalk, Universal Studios Florida, and Islands of Adventure. You've been able to buy some Transformers items previously in T2:3D's gift shop, but now Universal is putting them front and center as they get ready for a big – forgive the pun – roll out when Transformers: The Ride opens.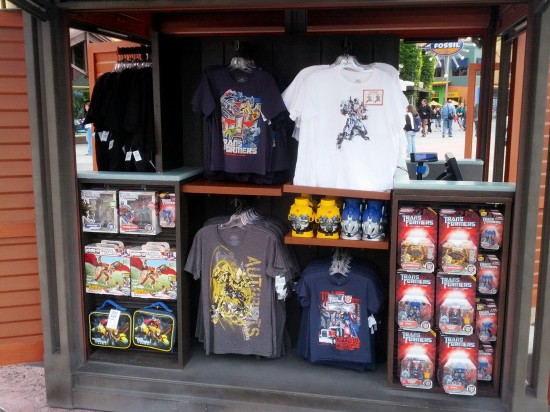 The latest ride opening rumor we have is guests will possibly be experiencing this attraction even faster than we thought! In previous columns we've discussed the buzz circling this attraction that pointed to soft openings almost definitely before the end of May. This week came some shocking news though, as reports are coming in that the entire ride is together inside that massive structure and ride cycling will begin this week! If these rumors are true we could legitimately be seeing soft openings as early as April. To put this timeframe into scale, consider that Disney's Hollywood Studios closed Journey Into Narnia: Prince Caspian on September 10, 2011 in order to replace it with another walkthrough attraction — The Legend of Jack Sparrow — which opened on December 6, 2012, more than 14 months later. Universal started demolishing Soundstage 44, where Transformers: The Ride currently is standing, in June of 2012, about seven months ago.
If you want more Transformers action, you can see construction updates and a photo gallery of the new merchandise on the Transformers page in the OI Universal Center.
A new, family-friendly dinosaur attack
Let's take a couple pieces of information we've been given lately and try to put some things together. If you've been watching TV this past week there's a good chance you've caught one of Universal's newest commercials. One thing obvious with the new Vacation Like You Mean It campaign is how much they are stressing a Universal vacation is a "family" vacation, focusing on interactions between parents and their children. Universal also announced that Jurassic Park 4 will be coming out on June 13, 2014. We've discussed rumors of a possible expansion to the Jurassic Park area in Islands of Adventure. We also just talked about the construction crews possibly being closer to finishing Transformers faster than anyone could have imagined.
Now some think, once Transformers is finished, Universal will put those resources towards helping get WWoHP Phase 2 finished earlier than the seemingly late 2014 date it's heading toward. However, rumors are floating about that Universal is looking toward putting their focus right on the Jurassic Park area with an emphasis on bringing in more family-friendly attractions. Over at OrlandoUnited.com, an interesting article explains how Universal could be ready to add a new Amber Mine Rollercoaster; a new slow-moving dark ride at the Jurassic Park Discovery Center (something akin to the ride in the original movie — see below); as well as add upgrades to Camp Jurassic, Jurassic Park River Adventure, and the entire Islands itself.
[youtube_video]iMsJe3TymqY[/youtube_video]
All of this information fits nicely together, enabling Universal to serve several masters at once. The resort gets to place a larger emphasis on Jurassic Park, which will surely get the blessing of Steven Spielberg, who has a lot of contracts within Universal and had to watch his JAWS attraction filled in for Potter. The plan would also draw people back over to IOA when many crowds will be piling heavily into Diagon Alley, Transformers and The Simpsons expansion. Finally, it gives IOA more attractions that the whole family can enjoy. A park with the Hulk Coaster, Dragon Challenge and Forbidden Journey needs a ride or two where mom and dad can ride with the kids.
Nothing is set in stone of course — or should we say, petrified in stone — but life does find a way.
Agree, disagree, or have your own rumors? Leave a comment below. Or, check out all of our rumor posts.
[sws_author_bio user="derekburgan" size="105″ authorposts="More OI posts by Derek" name_format="About the author"] [/sws_author_bio]