Our family recently visited Magic Kingdom over two days and truly enjoyed ourselves.
I was delighted to see the Halloween and fall decorations throughout the park. Main Street and other areas featured pumpkins, scarecrows, and additional fall decorations that also creatively incorporated Disney elements. Both days that we were at the Magic Kingdom, Mickey's Not-So-Scary Halloween Party was scheduled for that evening. We saw many guests walking around in remarkably imaginative costumes prior to the party, adding to the Halloween decor at the park and enhancing the fun atmosphere.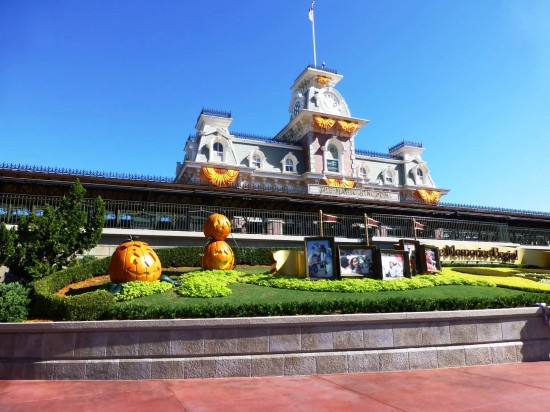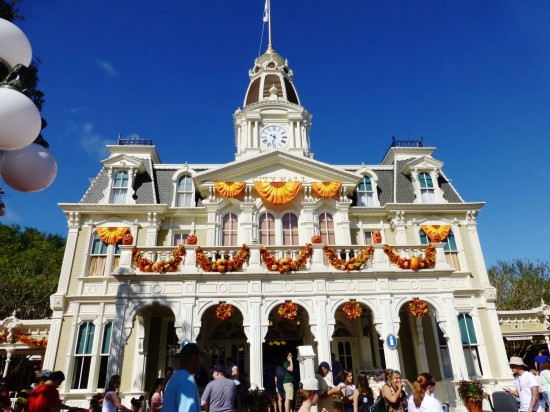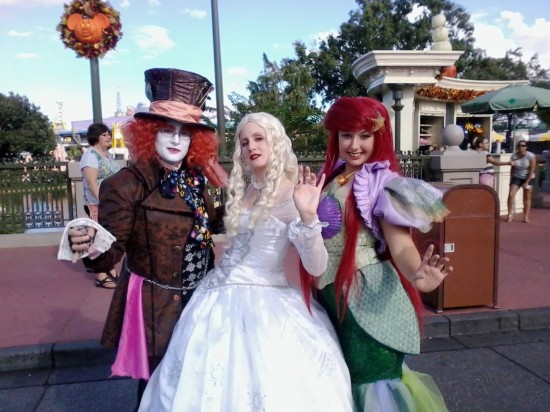 [wptouch target="non-mobile"]Remember, you can click any image to view it full-screen. And don't miss the complete photo gallery with 44 new full-screen images at the bottom of the post.
[/wptouch]
Another aspect of this trip to Magic Kingdom was the new Fall Trolley Show performances, which featured different songs based on the season. The Trolley Show is always an enjoyable experience for our family and our son's obvious enthusiasm and delight while watching the performance usually catches the attention of the cast members. They always make an effort to greet him and give him a high-5!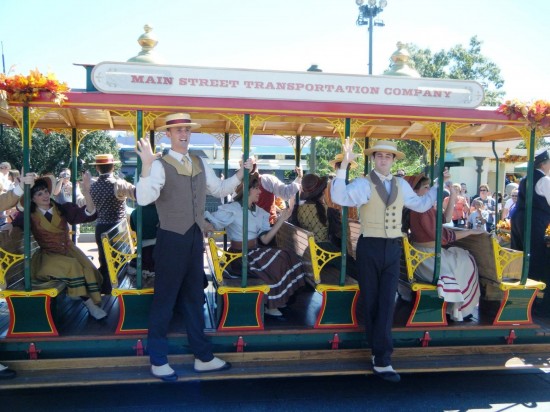 Walking the shops along Main Street, I noticed the new merchandise that recently arrived at Magic Kingdom including Halloween Vinylmations, Halloween ear hats, and reversible villain/hero ear hat covers. In addition, a new Disney collection by Vera Bradley was available for purchase along Main Street and included purses, duffle bags and backpacks in two different patterns.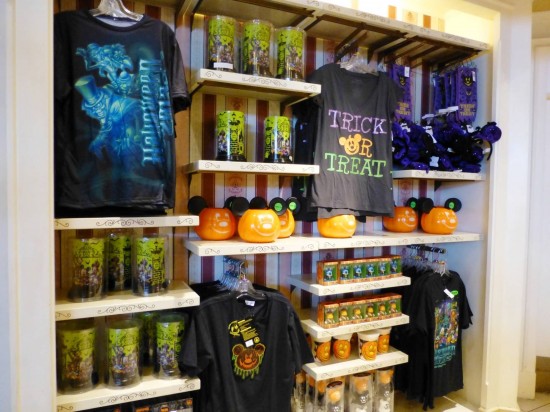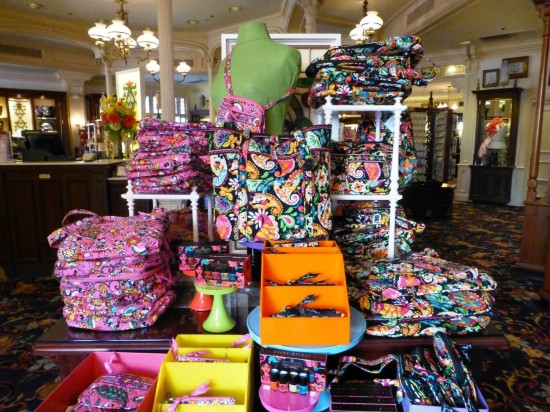 One apparent observation during our trip was the continued construction throughout Magic Kingdom. The new bus terminal just outside the park entrance gates appears to be progressing (a ferryboat to Magic Kingdom provides the best view of this bust terminal revamping). The left side of the park entrance turnstiles is walled off for more installation of the new MyMagic+ scanners. In Fantasyland, the outside of the Pinocchio Village Haus counter-service restaurant is under refurbishment and surrounded by construction walls. Peter Pan's Flight attraction is also under refurbishment and is expected to reopen around mid-November.
The highly anticipated Seven Dwarfs Mine Train seems to be coming along well and is expected to open sometime in 2014. The Disney Parks Blog recently reported that the mine cars have been placed on the track and "ran under its own gravity and completed its first drop out of the station".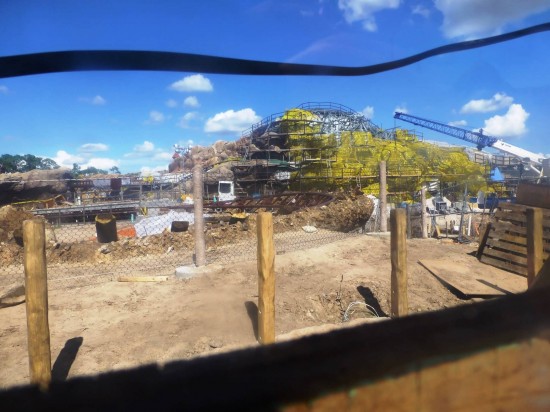 I was also able to experience the recently renovated Main Street Bakery featuring Starbucks. The renovation turned out well, and I found the stylish decor to be very pleasing to the eye. The menu lists several breakfast sandwiches along with a quick-service breakfast meal available for those on the Disney Dining Plan. On the back of the menu, in addition to smoothies and teas, various Starbucks signature drinks are available to tantalize guests' taste buds and supply a caffeine fix.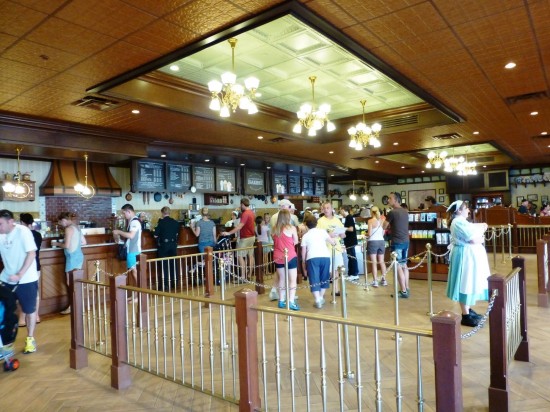 Some other areas of construction that are now completed: The refurbished buildings in Liberty Square, the refurbished building near Tinker Bell's Magical Nook, and the recently refurbished Jungle Cruise attraction in Adventureland. Princess Fairytale Hall in Fantasyland, which replaced Snow White's Scary Adventures, also recently opened, and I was able to meet some of the featured princesses.
The detail both inside and outside of Princess Fairytale Hall is stunning, and it provides a splendid transition to meeting the princesses. While waiting to enter the meet-and-greet room, there are life-sized portraits of the Disney Princesses hanging along the hall. Other majestic elements include the large tapestries and stained glass windows. The high ceilings, intricate tile floors, and chandeliers invoke the feeling that you are inside a wing of Cinderella's Castle. A featured focal point and photo opportunity is Cinderella's glass slipper, delicately perched atop a satin pillow.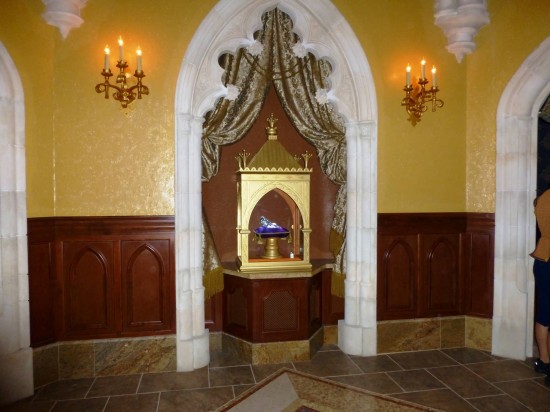 For a Disney Princess fan like me, it was a wonderful, immersive experience. I decided to meet Rapunzel and her guest princess, Snow White. In the center of the beautifully decorated meet-and-greet room was a table that displayed an open illustrated storybook of the story of Snow White, a subtle tribute to the attraction that was previously found in this location. In all honesty, even though I'm not a young person, I was very excited to meet both princesses and have my photo taken with them. Rapunzel commented on my backpack and said it probably was something good to carry things in. I replied, "Yes, especially frying pans." She laughed and said she would be certain to pass that information on to Flynn Rider!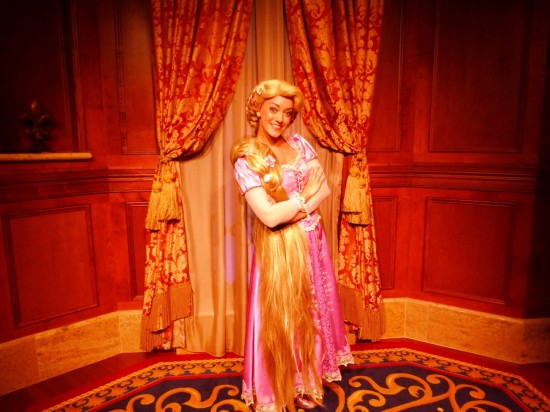 Another newly opened area in Fantasyland was Prince Eric's Village Market. This themed kiosk is located across from Journey of the Little Mermaid and provides guests with healthier choices for snacks and drinks including fruit, hummus, Greek yogurt and juices. Prince Eric's Market is not indicated on the park map at this time.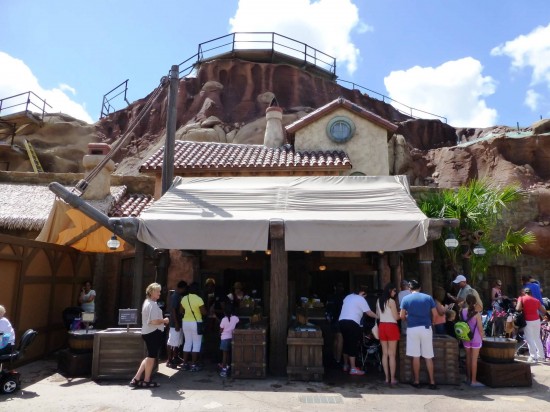 The crowd levels both days we visited the Magic Kingdom were moderate, with wait times for the headliner attractions less than 45 minutes and most of the other attractions' posted wait times were 30 minutes or less. With the introduction of the new Disability Access Service (DAS) card on October 9, posted wait times now play a vital role in planning and executing our day at any Walt Disney World park. We also found it necessary to find creative activities to engage our son while waiting for his attraction return time. One of those activities this trip was purchasing and enjoying a Dole Whip float from Aloha Isle in Adventureland. This was a delicious, refreshing treat on a beautiful, warm day in Central Florida.
For my family, Magic Kingdom still provides that unique feeling of wonder, especially as we walk onto Main Street and see Cinderella's castle in the distance. I hope that your next visit to this classic theme park will be a magical one for you and your family.
Updates
Since our visit earlier this month to Magic Kingdom, there have been two interesting updates I'd like to mention. First, the Disney Parks Blog reports, "We just got word from our friends in Walt Disney Imagineering that an Adventureland attraction will receive its first-ever holiday makeover this year. Beginning in early November, Jungle Cruise at both Disneyland park and Magic Kingdom Park will temporarily transform into 'Jingle Cruise' for the holiday season!"
Second, guests visiting the Mickey character at Magic Kingdom can now share a conversation with the mouse that started it all…
[youtube_video]8VVY-xw-zLE[/youtube_video]
To continue reading about Walt Disney World, view our WDW archive on the OI Blog. Or, if you'd like to catch up on all our trip reports, click here.
Magic Kingdom trip report – photo gallery
Click any image to view it full-screen. When the full-screen image is open, click to the right or use the right arrow on your keyboard to advance through the gallery.
[sws_author_bio user="MaureenDeal" size="105″ authorposts="More OI posts by Maureen" name_format="About the author"] [/sws_author_bio]