Welcome to the newest edition of Special Needs Are Universal, featuring questions and answers to help those with disabilities plan their visit to Orlando's theme parks. Our ultimate goal is to give families the confidence to enjoy all there is to do across this amazing vacation destination!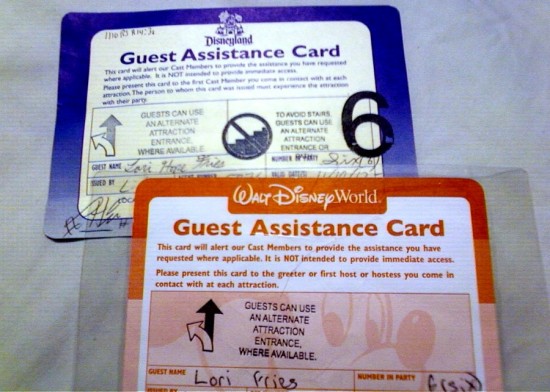 As you may have already heard on local news casts, Disney is dropping the Guest Assistance Card (GAC) for disabled/wheelchair entry on rides and attractions at Walt Disney World, Disneyland and Disney California; the last day of use for the current card will be October 8, 2013. Because this is such a major change at the world's largest theme park resort, I am dedicating this 'Special Needs are Universal' post to the topic.
The actions of a few affect the many
In May the TODAY Show did an expose on how some supposedly disabled guests were selling their services for big bucks to act as tour guides for customers who wished to gain "front of the line" entrance to the rides and attractions at Disneyland. (As those of us with disabilities know, the GAC has never really been a front of the line pass, at least at WDW. I recently heard a local news program actually say those with this pass are waved through to the front of the line. My family has NEVER been sent right to the front of the line, but has used the same line as those with FastPasses. If we happen to get to the FP entrance at the same time as those with FP return times, we wait behind or with those guests, and at some attractions like Toy Story, we've wait up to an hour. )
Because of the TODAY Show report, those of us with true disabilities, seen and unseen, will now have a whole new way of not having to stand in the line, but we will have to wait much longer, and it looks like it can be almost as long as the guests standing in the standby queues. For those with family members who have intellectual disabilities, or those with a diagnosis on the Autism spectrum and other learning disorders, they are not going to be able to handle this change from their usual "routines". It really is not as simple as making the child (or in my case, adult) learn to understand "wait" like you would a 3-year-old child. It doesn't compute.
This was the common thread throughout the Special Mouse Tea Party discussion group I had the honor of speaking with via Skype on Tuesday. Maureen Deal (an OI contributor and owner of Autism At The Parks) and I were part of a roundtable discussion with several others from the West Coast to the East. Invited by Special Mouse moderator Kathleen Kelly, RN, we're all very concerned on how our family member will react when they realize there will be no "routine" from here on out.  Our discussion focused on two topics: 1) How the proposed changes will affect our families and 2) What suggestions we would give Disney to improve the DAS. This podcast is now online.
In the last few days since the news of this change broke, there has been much discussion of the unconfirmed changes in the GAC. But Temporary Tourist blog author Aunesty Jannsen received confirmation from Suzi Brown, Director, Media Relations and External Communications, Disneyland Resort. Also, Kathleen Kelly (also of Disney Lovin' Spectrum Mom) received Disney World confirmation from Leanne Jakubowski, Director of Social Media at Walt Disney World Resort.
Disney's Guest Assistance Pass becomes the Disability Access Service Card
The new card, The Disability Access Service Card or DAS, will roll out on October 9, 2013. Disabled guests will stop into Guest Relations to request the card, and if qualified, will be photographed and that picture will printed on the DAS. No doctor's note has ever been required (per the ADA), but I will be carrying one with me as I always have. If you have some kind of a mobility or stamina issue, you will NOT be given the DAS, but asked by the cast member to get a wheelchair or other device to help you wait in the standby line.
Disneyland will have a kiosk system to get their ride return times (similar to the FastPass machines), but they will not be in Disney World for now. Disabled guests with the DAS will have to find a cast member at each ride to have a return time pass issued. The ride wait time will be based on the current wait times on the Disney Mobile Magic app, less 10 – 15 minutes. For example, say the wait time for Splash Mountain is 90 minutes. Your return time probably will be written for 75 minutes later.
The DAS holder will not be able to obtain another ride time using the DAS until that first "reservation" has expired. The holder and their party will be free to enjoy other aspects of the park; enjoy a meal, shop, take in a show or even use a regular FastPass while they wait. The holder will then return to the reserved ride at the designated time. When we are able to use the Magic Bands and RFID/FastPass + program (now in the testing phase at WDW), hopefully everything will be built into those bands and you'll be able to set your ride selections from home. Extensive training for cast members will begin shortly.
My family and I are planning to be at Epcot on the day of roll-out for the DAS card, and will report on our experience after our visit.
The good, the bad & the just plain ugly meltdowns

Does the new DAS program sound good? Hey, this new program makes it equal for all those normal park guests who have been complaining that we disabled get all these extra perks, and it most likely will greatly deter those who were taking advantage of the system. Problem is, most of those "normal guests" do not have the day-to-day life challenges that those with handicapped families do. Many of our kids are not able to enjoy the life experiences that normal children and families can. We look for help at places like Walt Disney World where, until now, has been so accepting and understanding of our differences.
The first concern our Special Mouse podcast panel discussed was how the proposed changes will affect our families. We found holes in the new DAS that will make it very difficult for those with Autism, intellectual disabilities (i.e. Down Syndrome), and many other conditions. With the old GAC system, cards were stamped with the reason for accommodation – sensitivity to sun, visual/hearing impairments, and wheelchair transfer, among others – six reasons in total. All the team member had to do was see these stamps and know how to help the guest. Now it looks as though parents, or the individual, will be required to verbally explain what they need in order to ride.
On October 9 there is only one thing that will happen for all guests with disabilities: they will mostly likely be required to wait for as long as any other WDW guest. They just won't be in a line.
None of us is asking for immediate entrance – we never have. What about those who don't understand "wait", can't be taught to do so, and can only physically delay their excitement for 15 to 20 minutes before having a meltdown? Many, like my daughter, have their own routines that have been established over the many years we have been Annual Passholders. Some reported that kids in the Autistic spectrum have a comfort in being able to ride their special cocooning ride three times in a row before their need is satisfied. Will they be able to do that without having a meltdown right there on the spot? In my daughter's case, she will have to go up to the ride entrance, thinking she is entering the FastPass line, only to have to turn around and wait. Breakdown time – all participating in our panel discussion said they would most likely have the same result with their children.
Another hole in the system is those who have muscular disabilities and use adaptive devices other than a wheelchair or ECV (Electric Conveyance Vehicle).  They have been able to get a GAC as part of the old system, but most likely will be denied the DAS as part of the new system. They are going to have to pay another $12 for the privilege of waiting in line with those with NO mobility problems. That's real equal, considering the ADA says that parks should make reasonable accommodations for the disabled person. Is Disney is going to charge others the $12, too? I foresee a park FILLED with wheelchairs, with Disney making more money than ever with those rental fees, taking up even MORE room in the standby lines!
I use my daughter's wheelchair as my walker due to my muscle diseases; after a couple of hours my strength gets weaker and the muscles in my legs hurt so badly there isn't a pain killer made that stops it. I must sit for a few minutes every twenty minutes or so, and there is no place to sit in any of the Disney lines. A walker or a cane doesn't stop the pain – these devices just keep me from collapsing. I also envision older adults who insist they can walk collapsing in the lines (older people sometimes won't admit they have a problem).
Even if I got a wheelchair, my husband can't push two of them, and I don't have the strength in my arms to roll the wheels by myself; Post-Polio stripped me of that ability. I have been told by a Disney cast member that if I'm not in a wheelchair, I am not disabled! Even if we park ourselves on a bench near the ride to wait the allotted time, our daughter will keep signing "GO NOW" until she works herself (or me) into a frenzy. Based on what I have discovered, Disney seems to be using the issue created by the abuse of a few to make it overwhelming difficult to allow families like mine to have a day where we can just forget, for a few hours, that our daughter is disabled and her care consumes our daily life. It is all I can do after a day trip to the parks to get out of bed to take care of my daughter, but I do it for her.
The Disability Access Service begins October 9
We need to wait and see how this system will really work and hope that Disney realizes there needs to be another option for our family members because they are different and need different accommodations. Life is not fair and equal. If so, all normal people would have handicapped individuals or maybe our kids would be normal! As for me, I'm hoping the one thing that hasn't been announced is a second level of pass that will be issued when our family member is introduced to the GR cast member. We can't expect for these people to be clinicians, but perhaps with training, there will be understanding that not all disabled can use the same accommodations.
Then we must give lots of feedback to Guest Relations before we leave the parks, so they can see if this system is working or not. Also, here's the address of someone you can write to now and explain why you may be anxious about using the new system: Meg Crofton, Walt Disney Parks & Operations, PO Box 10040, Lake Buena Vista, FL 32830.
I look forward to reviewing this pass next month!
DISCLAIMER: Neither the author of this post nor any of us here at Orlando Informer are official representatives of any theme park in Orlando. While we work diligently to provide you with the very best advice from our collective expertise and experience, it is still your responsibility to verify your plans with each theme park. Thanks for your understanding!
View all of our Special Needs Are Universal posts
Do you have a
Special Needs Are Universal
question for Debi? She is available to assist your family in the
SNAU section of the OI Forums
. Registration is free, and once you have an account, we invite you to join the conversation or ask a new question.
[sws_author_bio user="iamdollie" size="105″ authorposts="More OI posts by debi" name_format="About the author"] [/sws_author_bio]