Every January for the past nine years we've had the tradition of vacationing to Orlando. But this year we stepped away from our usual winter escape and visited the great state of California. Even though we would be missing out on Universal Orlando, it was exciting to know that we would be visiting Universal Studios Hollywood! I have an endless love for Universal (Orlando) and have always been very curious about the Hollywood version.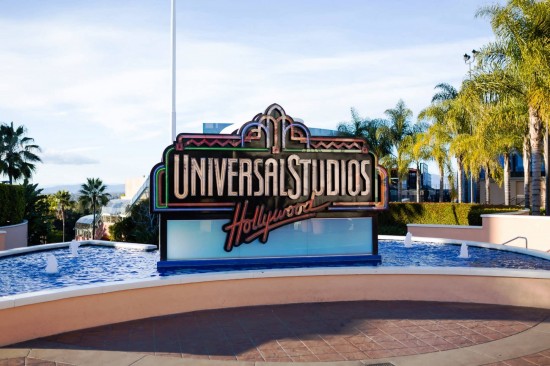 Although Universal Studios Hollywood (USH) and Universal Studios Florida (USF) share some of the same attractions, the park experience itself is quite different. Both are excellent in their own ways.
USH vs. USF: The park experience
When approaching Universal Hollywood, the atmosphere seems a bit more "reserved" compared to when you approach Universal Orlando. The parking decks are more cramped compared to Orlando and not as orderly and controlled when being directed to an open spot. In fact, once you got into the garage there was little direction where to go. However, Universal Hollywood does provide cards with you parking location. Maybe not the most "green" option, but I thought it was a nice touch!
It was very exciting entering CityWalk. I had seen it on television and in photos many times. It was like a dream becoming a reality as we made our way in, especially seeing the iconic King Kong sign that hangs off one of the buildings in CityWalk. My group thought Hollywood's CityWalk was brighter and, in a way, more fun than Orlando's. Both are great, but we liked the variety of shops and confectioneries Hollywood has.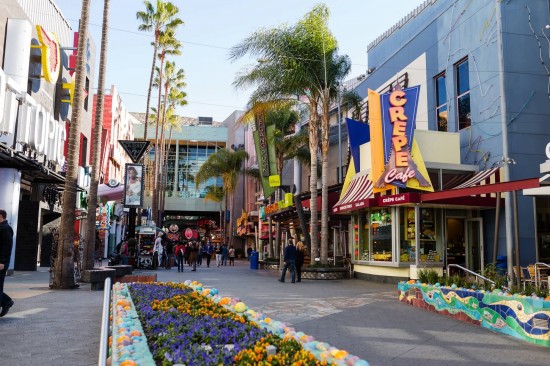 Of course, there is no Margaritaville or Lone Palm in Hollywood, so that is quite sad! The Lagoon in Orlando also adds for a very relaxing setting, so both locations have their pros and cons.
As we got closer to the park we saw the famous Universal globe! The lack of it setting on the water with the mist around it made it less exciting than Orlando's version.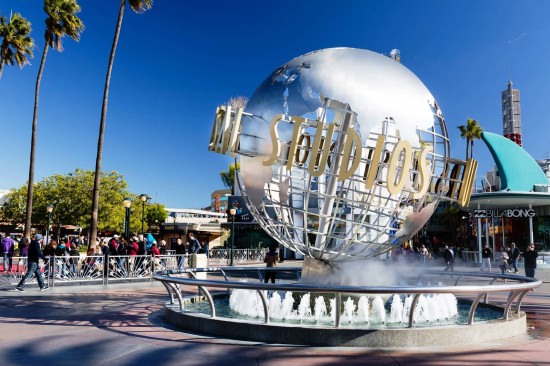 But something I really enjoyed about Hollywood's entrance is the red carpet leading up to the entrance archway. It really made you feel like a VIP upon entering the park.
As soon as we entered into the park we immediately noticed was how COLORFUL it was. Everywhere you looked were vibrant colors and great theming. Universal Orlando has some great themed areas, but Hollywood wins for overall atmosphere and street settings.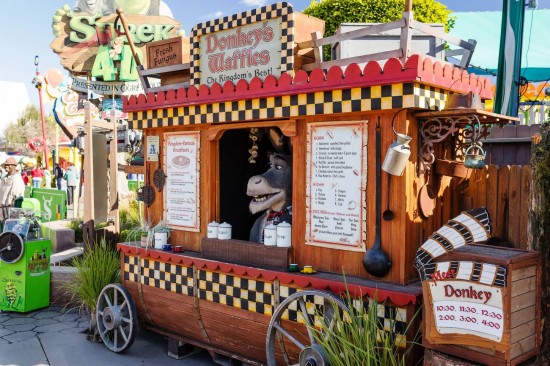 It was so fun exploring the park! Being there kind of played tricks on my mind. It was like being at the Orlando park that I know and love, but yet completely different and new at the same time. I felt like a kid in a candy store.
Along with the colorful atmosphere, the Hollywood park also boasts some incredible views! We were really captivated by California's mountainous beauty and Universal is a perfect place to take in some amazing views with all the scenic overlooks located throughout the park.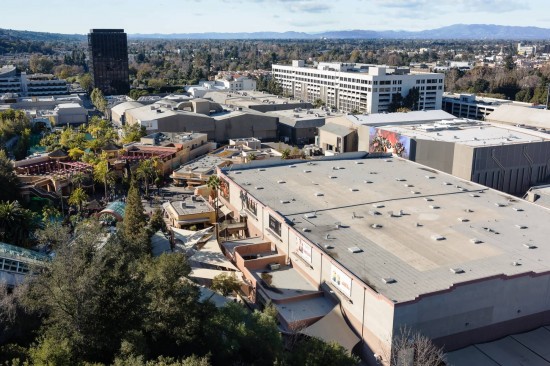 Another unique feature of Universal Studios Florida is the park's three different levels: the upper level, which includes the entrance of the park; the mid-level, which includes the Studio Tour; and the lower level, which is home to a few of the signature park attractions.
All levels are accessed by a series of elevators, and the main upper to lower level escalator is known as the Starway.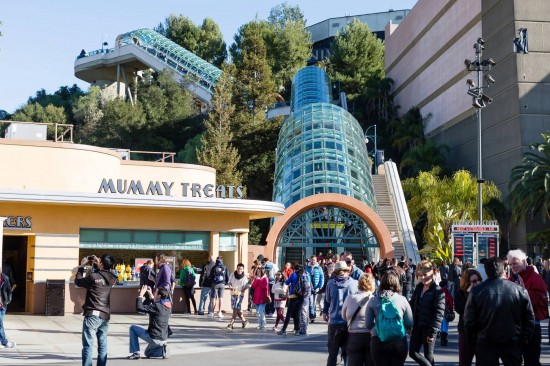 Each level is complete with a collection of attractions, shows, and food and merchandise shops. The first time we took the Starway I felt like it took forever, but the more we rode it the more we got used to it. It's interesting having the multiple levels, but I prefer Orlando's one level easy access.
USH vs USF: The attractions
House of Horrors
Universal's House of Horrors was the first attraction we came across. We got in line immediately, as this was something I was very excited for.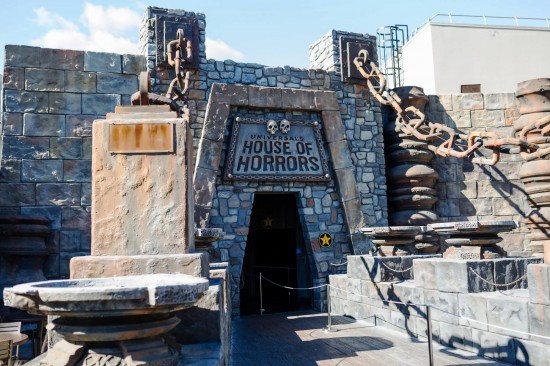 The queue is much like a horror museum with props for you to look at while you wait. This attraction is fantastic! Having missed Halloween Horror Nights the last few years, it gave us some good memories of the event and allowed us to experience some haunted house fun (and scares!). We were surprised how many times the cast got us, given the minimal staff inside. The house is complete with very effective scares, great props and theming. Got to love a year-round Haunted House, especially done Universal style!
Jurassic Park – The Ride
We love Orlando's Jurassic Park River Adventure and were curious to how this one would compare. Some slight changes we preferred: the heavy mist at the beginning (never seems as effective in Orlando), the famous movie scene with the jeep falling down the wall and having two T-Rex at the top of the lift, prior to the drop. Overall it felt like a more immersive atmosphere. Both are excellent, but the edge goes to Hollywood.
Revenge of the Mummy
We were really looking forward to this after years of reading comparisons online. Crazy how different they really are!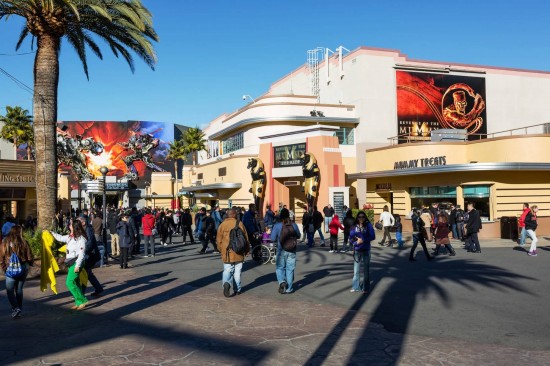 We really enjoyed some of the animatronics and effects at the beginning of the ride, but that was about it. We feel that Orlando's version is a MUCH better ride. Hollywood's coaster portion was not nearly as good and the ending was weak. It was still a fun ride, though.
Transformers: The Ride 3D
A lot of you might be curious about Transformers, since it will be opening soon in Orlando. It is a very well done attraction, but I prefer The Amazing Adventures of Spider-Man an at Islands of Adventure much more. Having been on Spider-Man so many times, riding through Transformers was not all that thrilling. More impressive (to me) are the huge Transformers that roam the area outside for photo ops — but the actual ride experience is so similar to Spiderman, with less physical props, that it actually felt a bit downgraded to us. Maybe there will be some beneficial tweaks that will be integrated into the Florida version to make it stand out a little more.
Studio Tour
Along with House of Horrors our other favorite attraction was the Studio Tour. Having been on Orlando's tram tour a few times, this brought back some memories and created many new ones as well. It's about a 45 minute tour, where you pass by working studios, street sets, Alfred Hitchock's office, some great movie and television sets such as a scene from War of the Worlds, the streets of Desperate Housewives, the Grinch that Stole Christmas and more. Also included along the tour are some rides and special effect stops. The Bates Motel scene was my favorite part and really made me miss the Alfred Hitchcock attraction that used to be in Orlando.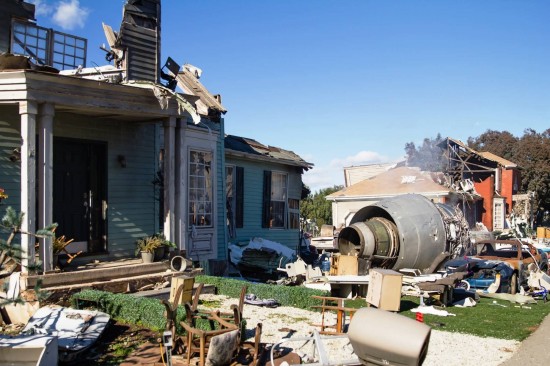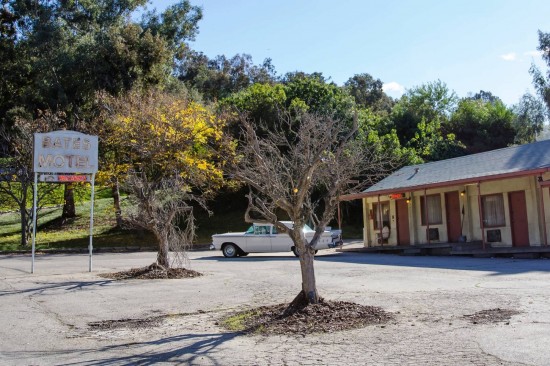 Along with that, they also had an Amity/Jaws area, King Kong 360 3D (very well done), Tokyo Drift and their earthquake simulator, which is identical to Disaster. Jimmy Fallon, who is an on screen tour guide during your ride, sings a special song for you at the end, which will be forever burned into your head for hours after riding. Needless to say, it is on my iPod now.
Other attractions
We didn't visit the Shrek attraction but enjoyed watching Donkey interact with all of the park guests at his Waffle Stand. This is very similar to the talking fountain located at IOA in the Lost Continent, but Donkey style! We also skipped The Simpsons, as we did not expect it to be any different from Florida.
The love affair with Orlando continues
There were many things we deeply enjoyed about Universal Studios Hollywood, but overall Universal Orlando still holds my heart. If only I could transport House of Horrors and the Studio Tour to Orlando…
Overall, USH is a very beautiful park. We had a great experience and would very much like to come back the next time we visit California. We really got a kick out of all the movie history, the museums and the "feel" of the entire park.
How fortunate we are to have a Universal resorts on each of our coasts!
Learn more about Universal Studios Hollywood
Learn more about Universal Studios Florida
Universal Studios Hollywood – photo gallery
Click any image to view it full-screen. When the full-screen image is open, click to the right or use the right arrow on your keyboard to advance through the gallery. If several thumbnails are missing, try reloading this page in your browser.
[sws_author_bio user="jewels" size="105″ authorposts="More OI posts by Julie" name_format="About the author"] [/sws_author_bio]