Last Saturday I spent an enjoyable and warm fall day visiting Universal Studios Florida.
I experienced an unexpectedly higher crowd level as soon as I entered CityWalk, but I soon realized it was Columbus Day weekend for U.S. residents and Canadian Thanksgiving weekend for our friends to the north. (For some schools, principally those in the northeast, this is also popular time for Fall Break.) The turnstiles at USF were also very busy. The wait times for the most popular attractions in Production Central varied from 75 minutes for Despicable Me, to 45 minutes for Transformers and 30 minutes for Hollywood Rip Ride Rockit.
Keep in mind that what feels "busy" to even us park veterans is often subjective to the season. For example, the wait times I just mentioned are actually a bit on the lower end if we were talking about the peak summer season.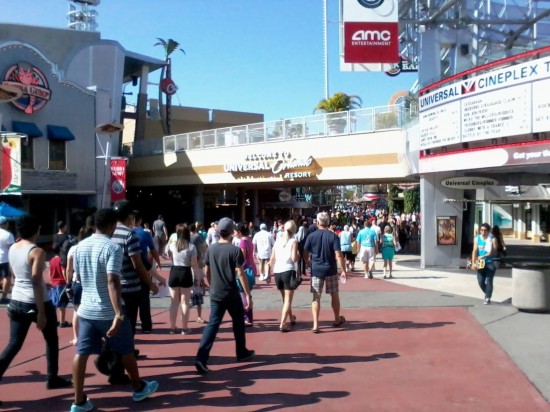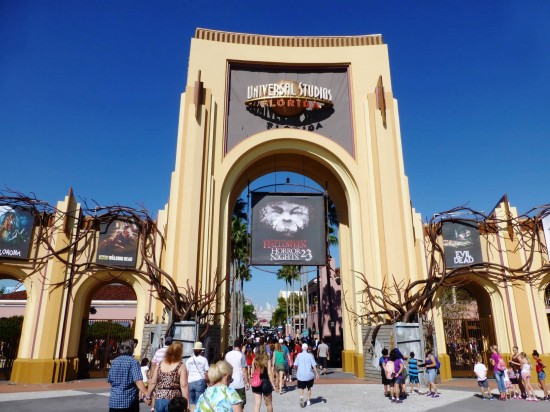 [wptouch target="non-mobile"]Remember, you can click any image to view it full-screen. And don't miss the complete photo gallery with 34 new full-screen images at the bottom of the post.
[/wptouch]
The entry area of the park looks awesome with the signs promoting Halloween Horror Nights 23, and the props located throughout the park make excellent photo opportunities during the day when things are not scary. Since my last trip to USF, a sign was installed at the temporarily closed Fear Factor promoting Bill & Ted's Excellent Halloween Adventure, a popular feature of HHN 23. Several kiosks throughout the park had merchandise for sale related to Walking Dead, one of the HHN 23 haunted houses and the theme for this year's HHN street experience.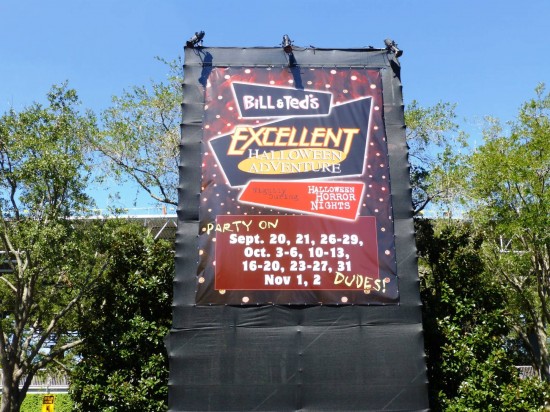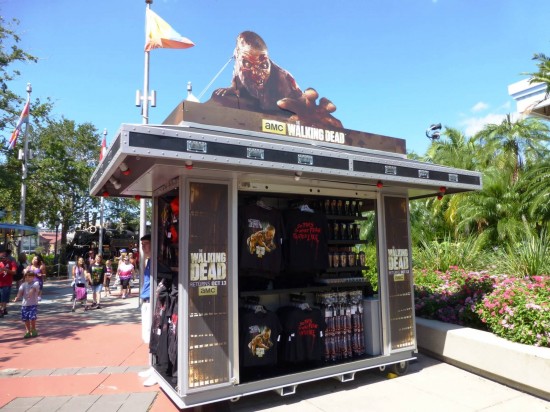 The entertaining Superstar Parade time was scheduled earlier, at 2:00pm, because the park closed at 5:00pm for Halloween Horror Nights (vacation planners will also want to note that USF opens at 8:00am on HHN event dates, an hour earlier than usual). It's always fun to see Minions, Sponge Bob, Hop, Dora and their friends perform along the parade route.
Across from Revenge of the Mummy attraction, the building that houses Finnegan's Bar & Grill is still wrapped for refurbishment. Not to worry though, guests can get a good meal and a pint to wash it down even while the refurbishment continues.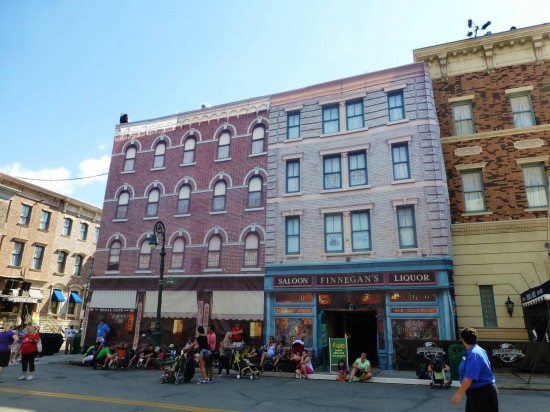 In the Simpsons area of World Expo, the Simpsons couch gag photo op is now open, and it makes a great souvenir. Further down the street, Chief Wiggum is still missing his patrol car. I also happened to spot some Universal team members dancing in the streets of Springfield and entertaining park guests — apparently a new feature. They were very amusing, and I thoroughly enjoyed watching them! Several guests joined in for a short time, adding to the fun experience.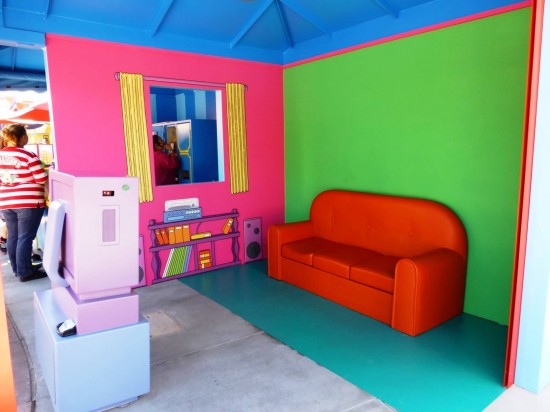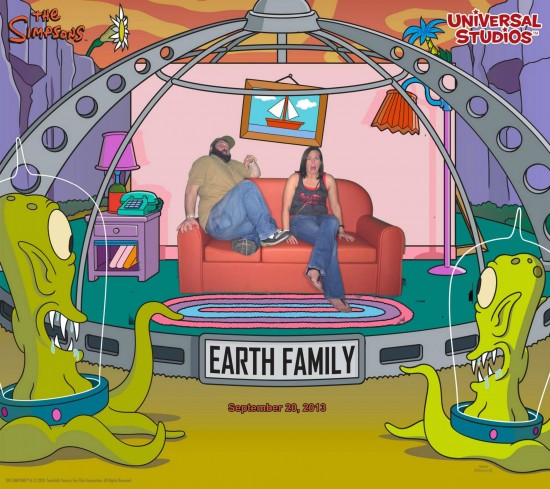 Inside Fast Food Boulevard, LCD monitors in the queue now display the menus. The team members didn't provide a hand-held menu like before, and I think I prefer the hand-held menus while waiting in line. I was pleased to see that the park map now reflects Kang & Kodos' Twirl 'n' Hurl being open. However, Duff Gardens, Lard Lad Donuts and Bumblebee Man's Tacos are not listed on the map at this time.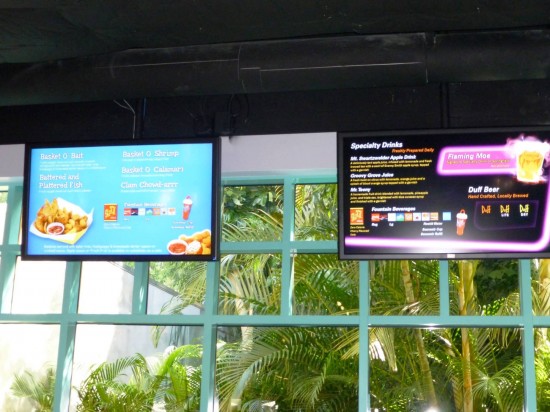 I was delighted with the availability of free wifi throughout USF now. (Last week Dan let us know that park-wide free public wifi is now in testing at USF and should soon be added to IOA.) This was fun for me since I use an iPod Touch to 'check in' with the Foursquare app. And more importantly, I was able to reclaim my status as Mayor of Diagon Alley!
Speaking of Diagon Alley, the construction progress of this Harry Potter expansion continues to enthrall me. Bricks are now being laid on the buildings' facade. I was excited to see a stone carving at the top of the center building. I was also amazed at the dome of Kings Cross Station — it is truly incredible.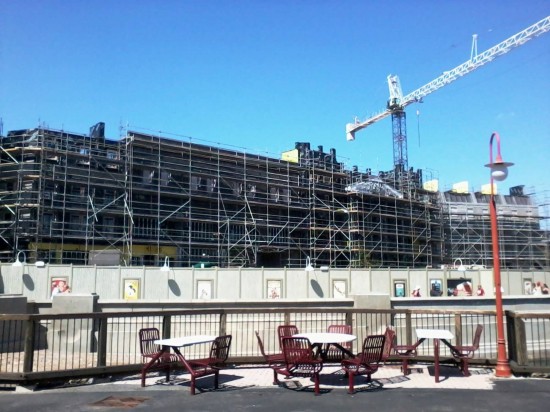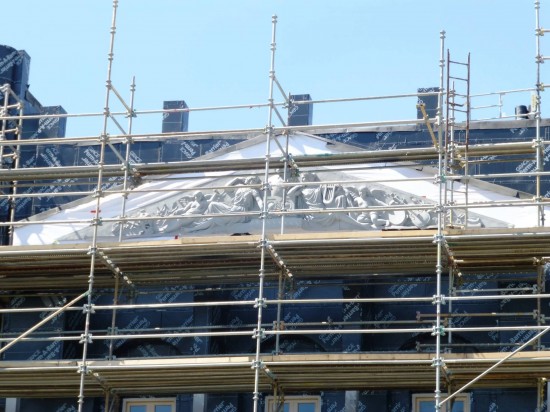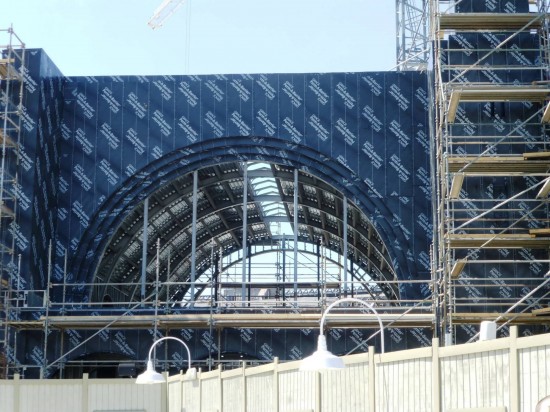 Looking through the dome and also next to Kings Cross Station, I could see parts of the Hogwarts Express train tracks. In addition, in the alley between the Irish Imports shop and Louie's Italian Restaurant, you can see the Hogwarts Express tracks. I hope the tracks remain visible once the attraction is complete; it would be fun to watch the train rush by on its way to Hogsmeade Station in Islands of Adventure.
Although I was pleased with the progress at Diagon Alley, the highlight of my day was riding Transformers: The Ride. I decided to use the single rider line since the posted wait time was 45 minutes. I waited about 30 minutes in this queue. Even though the queue is very entertaining, it can get quite loud and sometimes become overwhelming. In the future, I'll keep this aspect in mind for my son with autism since he is sound-sensitive.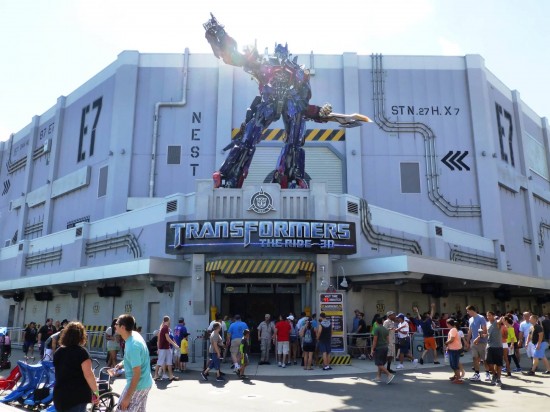 I was thrilled as I was assigned to the front row of the Evac vehicle. This perspective made a remarkable difference in my experience. Being in the front row, the other passengers almost disappeared from my view and allowed me to feel like I alone helped Evac, Optimus Prime and Bumblebee protect the Allspark!
If you'd like to learn more about this attraction, you can get details, read many real guest reviews, and write your own review on the Transformers page in the OI Universal Center.
As the hot and humid Florida summer wanes, October is a great time of the year to visit Orlando and Universal Studios Florida. I hope that you will soon experience the thrills and fun I had at Universal Studios Florida.
UPDATE: In case you missed OI's Rumor Round-Up last Friday, there's new artwork for Diagon Alley. You won't find this anywhere in the park just yet, but it will surely be added soon.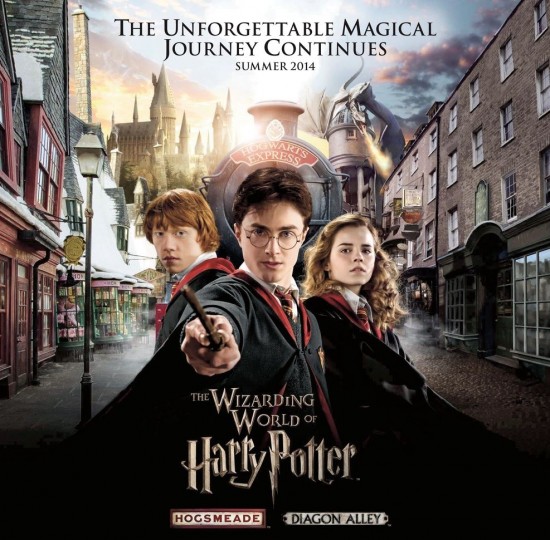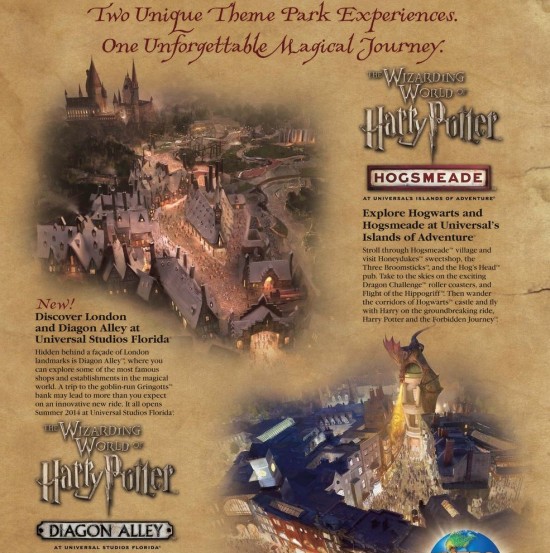 Visit the OI Universal Center table of contents for more details about all the topics discussed in this trip report. Or, if you'd like to catch up on all our trip reports, click here.
Universal Studios Florida trip report – photo gallery
Click any image to view it full-screen. When the full-screen image is open, click to the right or use the right arrow on your keyboard to advance through the gallery.
[sws_author_bio user="MaureenDeal" size="105″ authorposts="More OI posts by Maureen" name_format="About the author"] [/sws_author_bio]