It was a beautiful fall day at Universal Studios Florida when my family and I recently visited. Temperatures were in the low 80's with a lot of Florida sunshine, and we had an enjoyable day.
As I approached the entrance gates, I immediately noticed the absence of the Halloween Horror Nights décor. As a result, the entrance seemed bare. After entering the park, I noticed holiday decorations and some seasonal merchandise throughout USF. I expect there to be additional decorations in the coming weeks including the impressive Christmas tree near Macy's.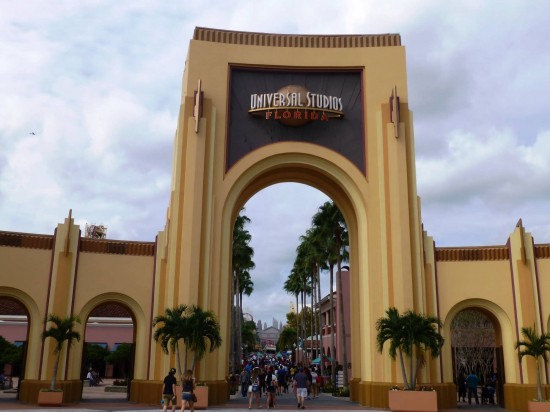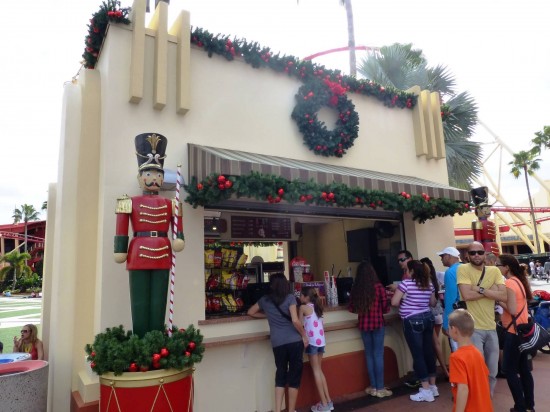 [wptouch target="non-mobile"]Remember, you can click any image to view it full-screen. And don't miss the complete photo gallery with 32 new full-screen images at the bottom of the post.
[/wptouch]
In the New York backlot, the building housing Finnegan's Bar & Grille is refurbished and no longer wrapped. However, there is a small area outside the entrance to Rosie's Irish Shop surrounded by a construction wall for refurbishment (but the shop is still open for business). The Fear Factor Live stunt show was still closed during this trip, but it reopens for regular show on Wednesday, November 13. In The Simpson's Springfield area, Chief Wiggum's patrol car is finally back in place after almost two months' absence, albeit with a new paint job. The patrol car is now mostly white, rather than the traditional police car colors of black and white. A siren effect has also been added. This fun photo op even sprays water for those who can't resist getting wet.
[youtube_video]qKACIyd4qI4[/youtube_video]
The construction progress continues to amaze me at the new Wizarding World of Harry Potter – Diagon Alley section of USF.
It appears that almost all the windows have glass now, including the extraordinary King's Cross Station. Brick is going up on most of the frontage of the buildings along with additional carvings on the Wyndham's Theater section. The detail visible, even at this stage of construction, is striking. This large addition to USF is impressive in photos, but absolutely amazing in person. I spend a lot of my time visiting USF just looking at the buildings and taking it all in.
[youtube_video]ye5oNNBcDvw[/youtube_video]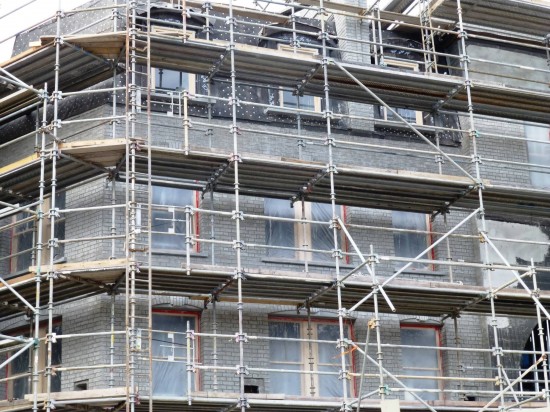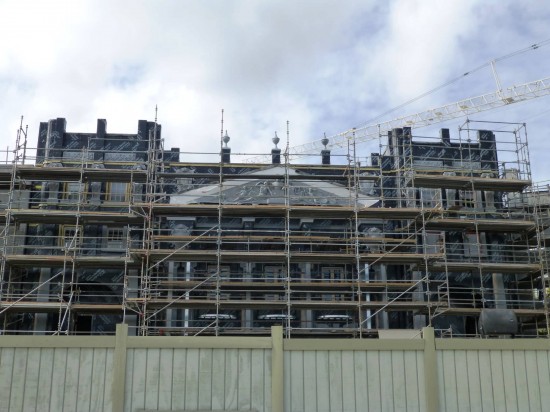 The most exciting aspect for me this trip to USF was seeing the Hogwarts Express train on the tracks. I first got a glimpse of the Hogwarts Express engine from the alley next to Rosie's Irish Shop. Then, walking a few steps to the parade start area next to Beetlejuice's Graveyard Revue, I was able to see the engine, coal car and one passenger car fairly well. I was able to capture some good photos of the engine with the zoom on my camera.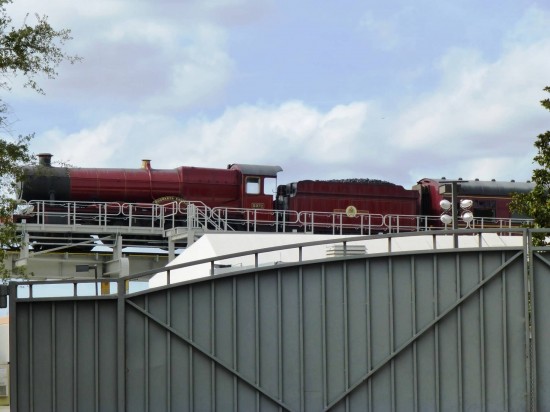 But even better, while riding Rip Ride Rockit my husband captured some pictures of the second Hogwarts Express train parked on the tracks close to Hogsmeade Station at Islands of Adventure. The placement of the Hogwarts Express trains on the tracks is exciting to me knowing that we are one step closer to riding the Hogwarts Express from London to Hogsmeade!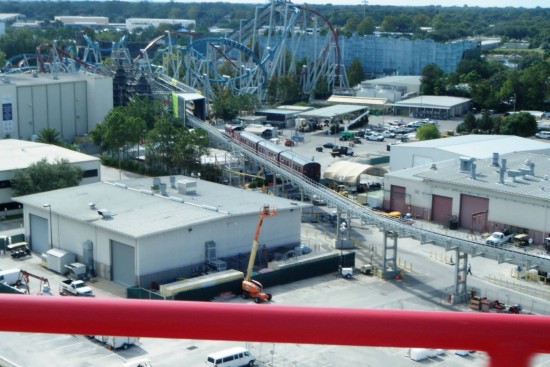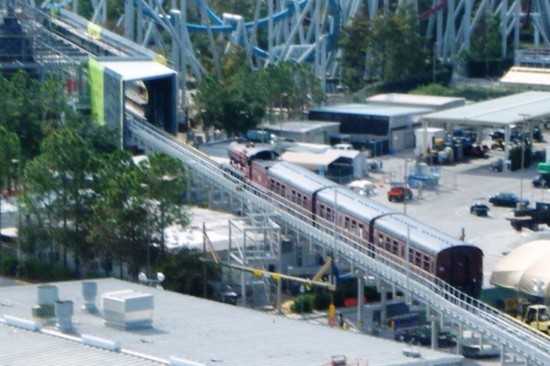 Another fun part of our USF visit was watching the Hop Character Street show at the Character Party Zone near Mel's Drive-In. My son, who has severe autism, really enjoys live performances, especially performances involving music and acrobatics. The talented Hop drummers, outstanding pogo-stick performers, dancing "candy girls", and catchy theme song — along with the costumed characters from the Hop movie — present a very entertaining show.
After the event, all the performers are available for meet and greets. They are always kind to my son, which we sincerely appreciate.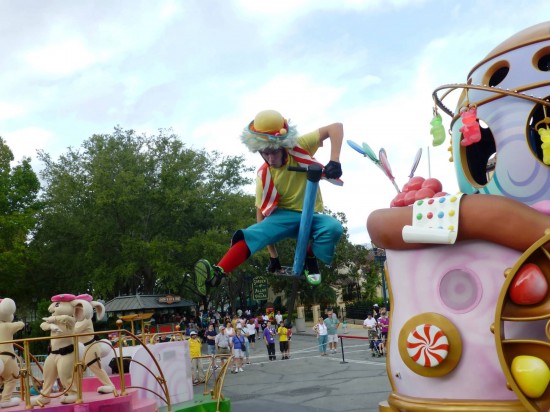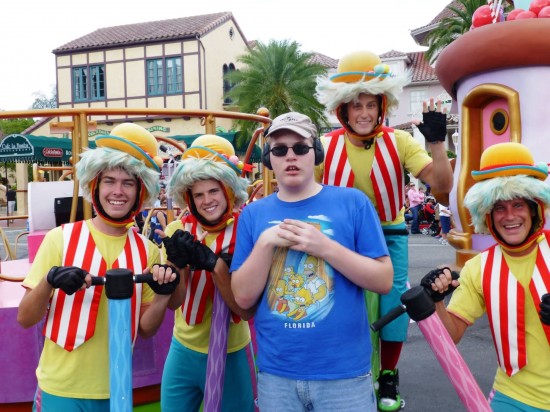 The crowds at USF were busier than I expected for the middle of November, but still no more than moderate. In the middle of the day, posted wait times were 60 minutes for both Despicable Me Minion Mayhem and Transformers the Ride 3D, and 30 minutes or less for most of the other park attractions.
As usual, Universal Studios Florida provided fun, thrills, and excitement for my family. These same adventures await your family, and I hope you can visit soon.
News updates
If you've been tracking the Daily Updates on Orlando Informer, you may already know about these developments. But for those readers who might have missed them, here are a couple of news bits you'll want to know about:
> As mentioned above, Fear Factor Live is scheduled to return to regular operations on Wednesday. In other attraction news, Cinematic Spectacular will not be performed this Tuesday or next Tuesday (11/19). Third, Disaster! will be closed for a one-day refurb this Wednesday and Mummy will be closed for the same thing next Monday (11/18). All these details and more can always be found on OI's Universal Snapshot page.
> Universal switched up their hours for the week of Thanksgiving, extending some of them earlier in the week and reducing some of them later in the week. In addition, Universal also switched tings up for the busy period at the end of December. If you are planning a visit during either of these times, be sure to see the new hours on OI's free 12-month crowd calendar.
> Our friends at Universal have also published their park operating hours for March & April 2014. The new hours line up very well with OI's Spring Break crowd predictions as well as the estimated dates for Mardi Gras. However, there is something peculiar about the new data that may be the best evidence yet we'll see HOGWARTS EXPRESS technical rehearsals open to the public starting in March. To see the new numbers and an explanation of what looks odd, visit OI's Universal crowd calendar.
> Finally, if you're on Twitter, join in today's #ThemeParkBattle…
#ThemeParkBattle – which queue is better? RT for E.T. Adventure FAV for Revenge of the Mummy pic.twitter.com/PSH5aMekvb— Orlando Informer (@OrlandoInformer) November 12, 2013
Visit the OI Universal Center table of contents for more details about all the topics discussed in this trip report. Or you can catch up on all our trip reports.
Universal Studios Florida trip report – photo gallery
Click any image to view it full-screen. When the full-screen image is open, click to the right or use the right arrow on your keyboard to advance through the gallery.
[sws_author_bio user="MaureenDeal" size="105″ authorposts="More OI posts by Maureen" name_format="About the author"] [/sws_author_bio]