Although the weather was very hot and humid — and the crowds were heavy — I had a great time during my recent visit to Universal Studios Florida.
As I entered the park, I enjoyed the talented Studio Brass Band. They were performing television and movie theme songs. At the same time, Men In Black characters were greeting guests nearby and the band played music from that movie which enhanced the experience for everyone.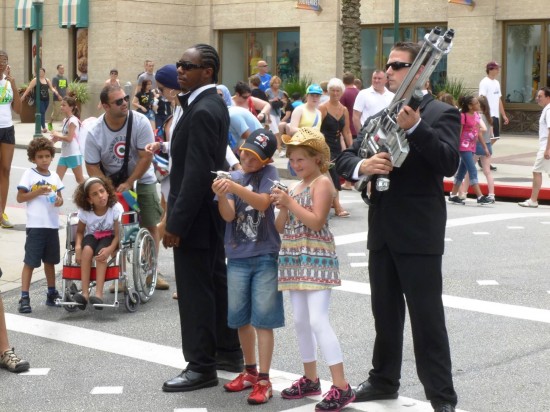 [wptouch target="non-mobile"]Remember, you can click any image to view it full-screen. And don't miss the complete photo gallery with 40 new images at the bottom of the post!
[/wptouch]
In Production Central the always fun Shrek 4-D experience had a posted wait time of 15 minutes for the standby line. As I walked toward Despicable Me Minion Mayhem, an attraction not to be missed when visiting USF, I laughed when I noticed bananas hanging on the trees outside the queue. The posted wait time was 100 minutes but decreased to 85 minutes later that afternoon. The awesome Rip Ride Rockit's posted wait time for the standby line was 60 minutes. It is always fun to watch those who have never ridden this coaster before exclaim their amazement after riding. The incredible and immersive Transformers: The Ride 3D had a posted wait time of 70 minutes for the standby line but is well worth the wait. Optimus Prime was meeting and greeting guests at the Transformer's character greeting outside the Supply Vault gift shop.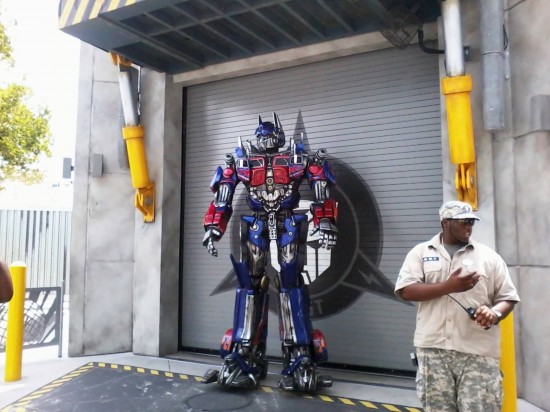 In the New York backlot Twister had a posted wait time of 10 minutes. Heading toward Revenge of the Mummy, I noticed the covered bus/taxi stand across from Macy's is no longer there — likely a modification to prepare for Halloween Horror Nights 2013.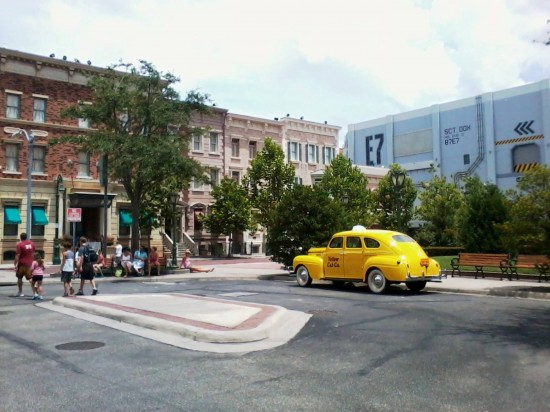 Another noticeable change in this area is the building across from Revenge of the Mummy. It is now uncovered after being refurbished last month. Revenge of the Mummy had a posted wait time of only 20 minutes for the standby line and nearby, the Blue Brothers Show was entertaining a crowd of park guests with their antics and energetic music.
Heading into the San Francisco backlot, Beetlejuice's Rock n Roll Graveyard Revue and Disaster! are fun experiences for the entire family. The construction for the Wizarding World of Harry Potter – Diagon Alley caused me to exclaim "Wow!" Compared to my last visit, construction had progressed with the fronts of the buildings going up and the structure beams becoming more concealed.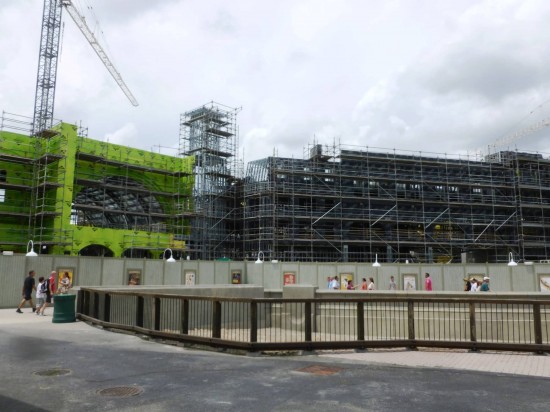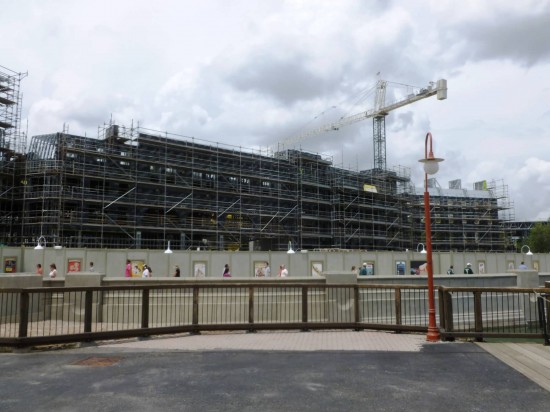 Steady sounds of construction were coming from the area even on a Saturday afternoon. It is exciting to see the pace of construction, and I'm hoping the rumored completion date of next summer is on track.
Speaking of "on track", the following photos were recently posted on the WDWMagic forum. They appear to show the first of Universal's real Hogwarts Express trains being delivered. We're not taking any credit for the photos or making a statement of their legitimacy, but the images do make for some really awesome eye candy!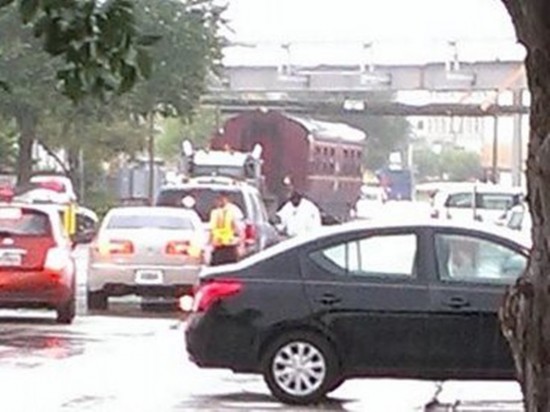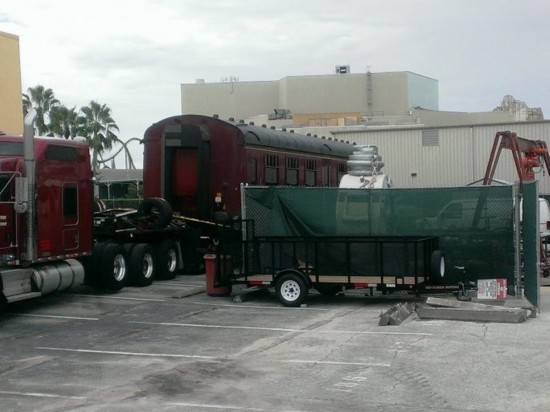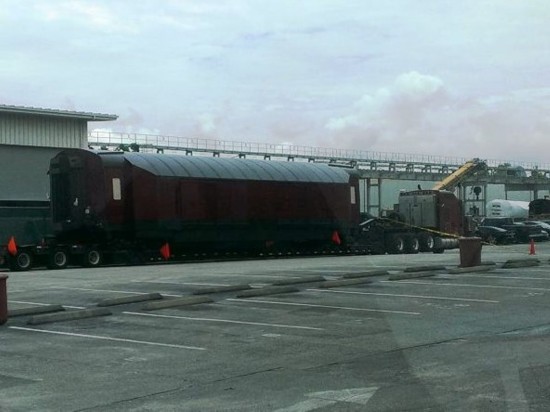 Continuing with our tour of USF, in World Expo Fear Factor Live is now closed to make way for HHN 2103's Bill & Ted's Excellent Halloween Adventure. MEN IN BLACK Alien Attack, a fun, interactive experience, had a standby line posted wait time of 45 minutes. Rounding the corner to the fun and audacious Simpsons Ride, I noticed a posted wait time of only 15 minutes for the standby line. In addition, a new street sign outside Kwik-E-Mart indicates the Fast Food Boulevard and Evergreen Terrace intersection.
The highlight of my USF visit was seeing the completed Springfield USA section of the park, whose final piece — Kang & Kodos Twirl 'n' Hurl — opened August 11.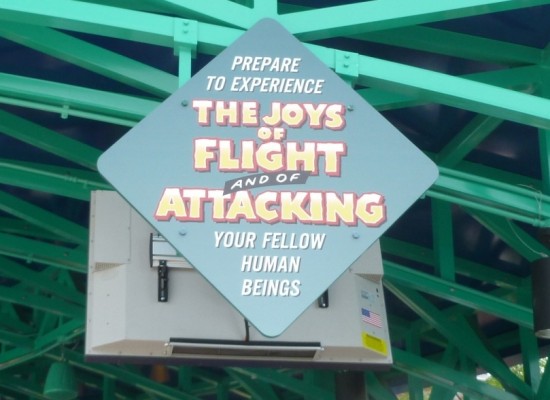 Kang & Kodos' Twirl 'n' Hurl, an in-the-air ride that appeals to children of all ages, had a posted wait time of 25 minutes for the standby line. Standing in line for this ride was entertaining in itself. Tongue-in-cheek signs indicating that there is more line to stand in occur every so often and the announcer's soothing voice and comical script were funny for adults and children alike. The covered section of the queue has powerful fans blowing air and screens with Simpsons episodes to help stay cool and pass the time while waiting to board the ride.
[youtube_video]BARrCO3ojkQ[/youtube_video]
In addition to giving young kids another attraction option at USF, this ride also provides some great views of The Simpsons waterfront and the rest of the park for adults.
Next to Kang & Kodos and also along the waterfront is Duff Gardens, the covered outdoor bar with a section dedicated to selling Duff related merchandise along with a life-sized Duff statue standing guard. The bar offers traditional counter seating as well as seating next to the lagoon, allowing guests to enjoy the scenery while partaking in their favorite beverage. The statue of Jebediah Springfield presented a very popular photo opportunity. Another popular photo opportunity is Chief Wiggum and his police car crashed into a fire hydrant (which sprays water — a popular feature with the younger crowd).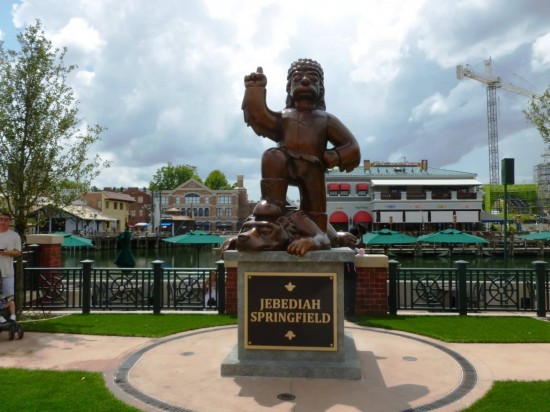 Also open for business in Springfield was the Lard Lad donut shop and Bumblebee Man's Taco Truck, both offering unique and tasty food items for park guests.
During this trip I also noticed new covered outdoor picnic tables for park guests outside of Fast Food Boulevard. This new feature is a welcome addition since table seating is reserved inside Fast Food Boulevard only for guests who have purchased something from that area. Also, Barney is back in his spot next to the bar inside Moe's Tavern.
A new sign welcomes guests to Springfield at the northern entrance to this new area. Now that the construction walls have been taken down from both sides of the walkway, the pedestrian traffic flowed much better even though the crowds were heavy on this day.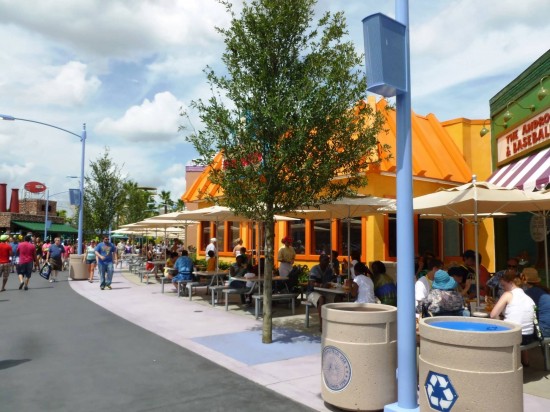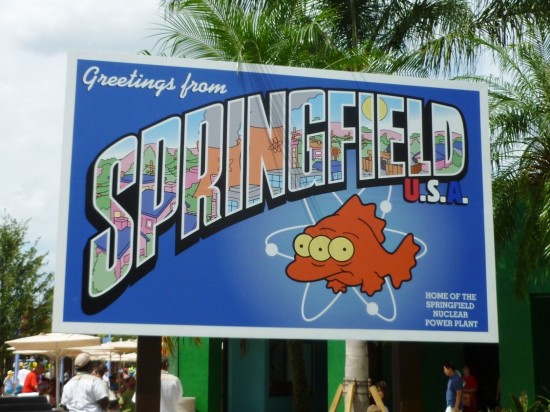 Would you like to see more of Springfield USA and Kang & Kodos Twirl 'n' Hurl? While Orlando Informer is in the process of building individual pages for the most recently opened areas, you can see over a hundred high resolution images of the new stuff courtesy of OI's Flickr page:
August 2 photoset – daytime shots of The Simpsons waterfront
August 5 photoset – nighttime shots of The Simpsons waterfront (toward the end of the set)
August 11 photoset – Kang & Kodos' Twirl 'n' Hurl, more nighttime shots
And two new videos: Kang & Kodos daytime (also displayed above) or Kang & Kodos nighttime
Moving on, in Woody Woodpecker's KidZone the family-friendly E.T. attraction had a posted wait time of 15 minutes. The water playground at Curious George Goes to Town was very busy as guests young and old tried to cool off in the spraying water. Woody Woodpecker's Nuthouse Coaster, a fun kid-sized coaster, had a posted wait time of 20 minutes.
In the Character Party Zone in the Hollywood backlot, SpongeBob and his gang were meeting guests after their scheduled performance. Café LaBamba was open and I was able to enjoy tasty chicken tacos for lunch. I noticed the super cool Hollywood Hills photo op across from the Horror Makeup Show is no longer there — again, likely a modification to prepare for Halloween Horror Nights 2013.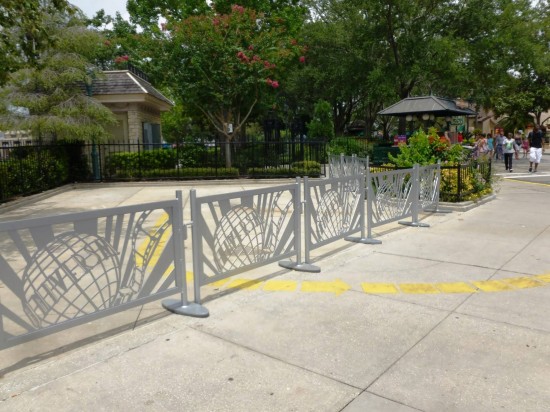 Before leaving the park I took a few minutes and browsed through the main Universal Studios store, looking at the merchandise and souvenirs for sale and adding to my mental wishlist of t-shirts and novelty items including a Lard Lad Donut pillow.
Overall, my visit to Universal Studios Florida was a fun and delightful experience. I really enjoyed seeing the new Springfield area finished and open for park guests to enjoy. Now that Transformers and Springfield are completed, the countdown clock is on for Diagon Alley with an opening date sometime next year — a date that can't come soon enough for this Harry Potter fanatic!
During the past year, Universal Studios Florida continued to change each month and enhance their guest's experience. I hope you get to visit this extraordinary park soon.
Thanks for reading this trip report. Please leave your questions and comments below! Or, if you'd like to catch up on all our trip reports, click here.
Universal Studios Florida trip – photo gallery
Click any image to view it full-screen. When the full-screen image is open, click to the right or use the right arrow on your keyboard to advance through the gallery.
[sws_author_bio user="MaureenDeal" size="105″ authorposts="More OI posts by Maureen" name_format="About the author"] [/sws_author_bio]