Universal Orlando launches 2013 campaign: Vacation Like You Mean It
Yesterday Universal Orlando introduced their new marketing campaign for 2013: Vacation Like You Mean It.
While still maintaining the resort's signature "attitude" that many Universal fans cherish, this year's promotion seems to reach out to our more sentimental side. The first TV spot (see below) starts with a noticeably soft-spoken voiceover and the line: "Vacation is a precious thing." Later in the spot, we are tickled with statements like "turn spending time with your family into spending time as a family" and "where letting go is the best way to hold on."
But don't worry that your next visit to Universal Studios Florida and Islands of Adventure is going to turn into family therapy. The spot also manages to describe Universal Orlando as "the one place where heroes rise and inhibitions fall," cutting to a shot of mom doing her grove thang.
There are currently two versions of the commercial. Here is the first, shorter version, which Universal uploaded to YouTube:
[youtube_video]pOShD-IljLY[/youtube_video]
The second, longer version cannot be embedded, so you'll have to visit this page on UniversalOrlando.com to see it.
Instagram & win
Along with the touchy-feely TV ad, Universal launched a sweepstakes highlighting its new Instagram account. To win an all-expense paid trip for a family of four to Universal Orlando, you gotta…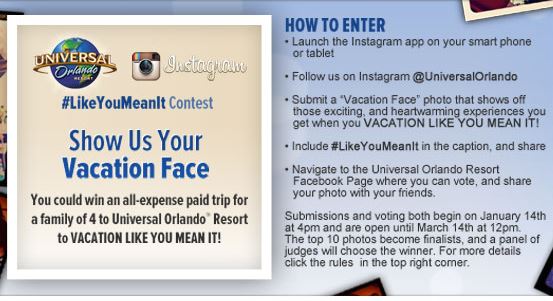 Even though the instructions are fairly straightforward, I'll reiterate that you need to submit your photo via Instagram. Since hashtagging was brought into the mainstream by Twitter, I think some fans are mistakenly trying to submit with a tweet (here's a fun example of an entry that won't count because it's on Twitter, and here's another one).
Those who enter the sweepstakes are then asked to visit this app on Universal's Facebook page to vote for their favorite photos. Even though I think the Instagram/Facebook process is a little confusing, there are some great submissions already. Here's my favorite: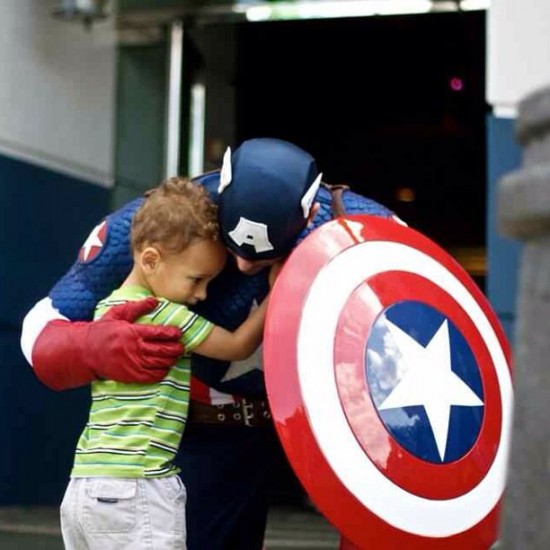 There are a couple of interesting things I noticed about this giveaway:
First, "Universal's 'Vacation Like You Mean It' Instagram Photo Contest (the 'Contest') is open only to permanent, legal U.S. residents of the fifty (50) United States and the District of Columbia (excluding Puerto Rico, Guam, the U.S. Virgin Islands and other United States territories) who are at least eighteen (18) years old at the time of entry." Why can't our friends in Canada, the UK, and other places around the world play?
Second, be aware that "by entering the Contest, entrants grant Sponsor the non-exclusive, royalty-free, and irrevocable rights to use, reproduce, copy, publish, display, distribute, perform, translate, adapt, modify, edit (including for length) and otherwise exploit the Photo, and to incorporate the Photo in other works in any and all markets and media worldwide in perpetuity." Hopefully, if you are on Instagram, you already know you're giving up all the rights to your photos, but I thought I'd include the reminder anyway.
You can read full sweepstakes rules by visiting Universal's Facebook app and then clicking Rules in the top-right corner.
How long with Universal mean it
It is unclear at this time whether Universal will incorporate any in-park activities or contests to go along with their new promotion. 2012's "Year To Be Here" campaign got some traction with fans, but it had mostly fizzled out by the middle of the year and we weren't left with much other than this inaugurated Super Fan Reporter…
[youtube_video]dMw8Gx1PLFc[/youtube_video]
I'm really liking the 2013 Vacation Like You Mean It campaign as we get into its opening phase, so let's hope Universal gives us a little more than a few TV commercials and a lady wearing pink-rimmed sunglasses!
Oh, by the way, did you see anything oddly missing from the Vacation Like You Mean It material? If you were looking for a cameo by Optimus Prime to plug Universal Orlando's new Transformers: The Ride attraction — opening this summer, see our complete coverage — you'll have to keep looking for now. I'm uncertain why Universal wouldn't include Transformers at this point, as you have to imagine the ride is at the heart of their 2013 / 2014 marketing schemes. After all, if they weren't opening Transformers this summer, I'm certain hundreds if not thousands of families would decide to wait until the Harry Potter expansion is completed before visiting again.
So what will your family do in 2013?
Will you: a) Vacation Like You Mean It, or b) experience Limited Time Magic?
Editor's note: This new campaign is just the tip of the iceberg for what's happening now at Universal Orlando. To get a overview all of the current news, rumors, ride refurbs, events, and promotions, check out our Universal Snapshot page.