If you're a horror film junkie like me, you've probably caught yourself thinking about how they make it all look so real. Obviously, we know highly professional editing plays a huge role in bringing Universal's most harrowing creatures to life, but you might be pleasantly surprised at the amount of detail and artistry that goes into creating horror make-up effects.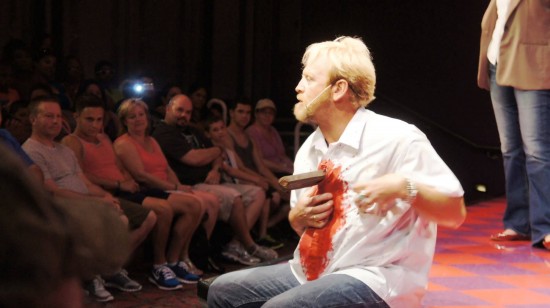 The Horror Make-up Show at Universal Studios Florida gives you an up close and personal look at some of film's greatest tricks of the trade. You'll be laughing, gasping and jumping out of your seat from start to finish! Before you even enter the intimate yet eerie theater, full of garish props and buckets of fake blood, you can browse the many display cases in the theater lobby.
Loaded with props, cosmetics, original effects and more, these display cases are a film history lover's gold mine. They are covered with photos and information placards from some of Universal's most legendary films like Frankenstein, The Wolfman and Jaws. I could spend at least an hour, or more, walking through the lobby reading all of the signs and plaques that are chock full of information about make-up effects, the people that created them and the talented actors that became these well known monsters. The coolest part is that the masks, cosmetic sets and props are all authentic, so you're looking at things that were actually used on film sets!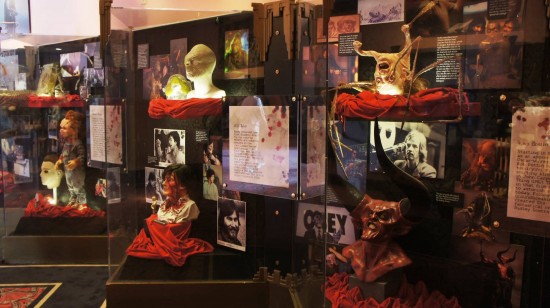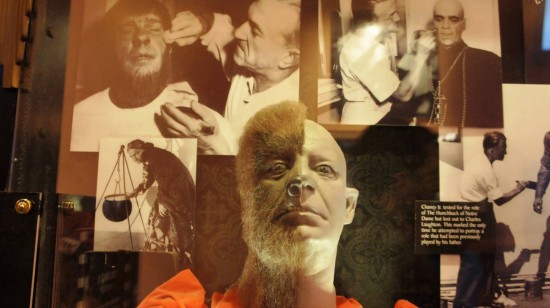 Moving on from the fantastic displays, the show itself was even more spectacular. From start to finish the audience was fully engaged and interactive. Even the older children in attendance were excited, sitting on the edges of their seats to see what would happen next.
It is a truly entertaining show to watch, and the hosts will have you in stitches with laughter as they goof off on stage.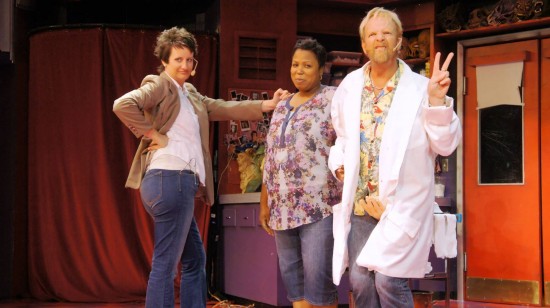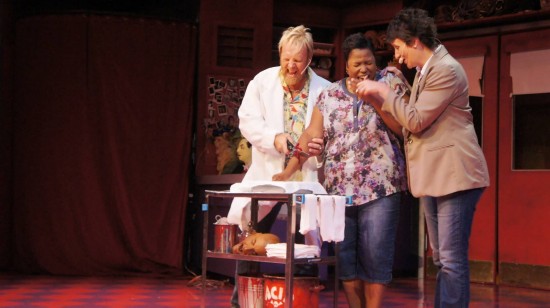 Universal brings in top make-up and special effects artists to show how different effects are done and how masks, body costumes and facial cosmetics are created. You'll learn the cool knife trick shown above, see some great fake blood and so much more — I'd be taking the fun out of it if I gave too much away. However, I will say this: for guests that decide to sit in the first two rows, you may or may not get slightly wet! Everyone must be sure to keep their eyes open all the way until the end so you don't miss the awesome grand finale.
The Horror Make-up Show is available to all park goers, and since the whole show is performed in the comfort of a wonderfully air-conditioned theater, there are no height restrictions for children. The entire family can come and enjoy the action and comedy together. This venue offers a great place to escape the summer heat or an after thunderstorm for a little dark comedy, behind-the-scenes action, and genuine family fun.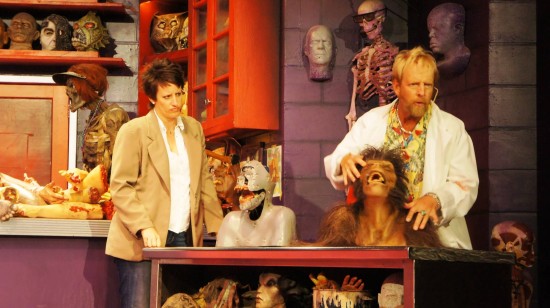 Parents be advised: throughout the show audience members will be viewing clips from horror films that may scare some children. There are also points when the lights are dimmed or turned out completely. If your younger children scare easily, this might not be the show for them.
The Horror Make-up Show Theater is located in the Hollywood backlot of Universal Studios Florida (see the map below). The generally runs four to five times a day, and the current times are available in Universal in-park guide map.
To learn more, read real guest reviews, or write your own review, visit the Horror Make-Up Show page in the OI Universal Center.
Horror Make-Up Show – map
Click any marker to display the attraction or venue name. To scroll or zoom, use the controls on the top-left of the map. You may also switch to different map views by using the buttons on the top-right of the map.

View OI's map to Universal Studios Florida in a larger map
Horror Make-Up Show – photo gallery
Click any image to view it full-screen. When the full-screen image is open, click to the right or use the right arrow on your keyboard to advance through the gallery.
[sws_author_bio user="DinaFayeMagdovitz" size="105″ authorposts="More OI posts by Dina" name_format="About the author"] [/sws_author_bio]